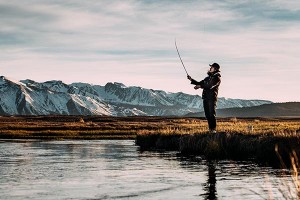 By Pete Rogers
It is that time of year when spouses of sportsmen and women are scrambling for something to get for Christmas that they don't already have. Many dedicated anglers do not wait for a holiday to get what they absolutely must have. When they see something they want, they just go out and get it. But there are always those fishing items that they really would like but just cannot justify getting for themselves.
Here is a list of items for the angler in your life, (or one you can show your spouse) of items that will make great Christmas gifts.
There was never an angler who ever had enough rods. There are so many specialty rods out there that few of us have them all, and even if we did, we would need more of them. Length, weight, number of sections, there are so many variables. Here are a few that will fit most occasions.
TEMPLE FORK OUTFITTERS 9ft 5pc Fly Rod
The Temple Fork Five Piece Fly Rod offers one key feature many fly anglers like, and that is that it breaks down into five pieces. Perfect for backcountry fishing trips. This five weight rod is a great "all species" rod for fresh water. Many fly anglers see the five weight as the middle of the road and capable for casting a variety of flies.
ST.CROIX ROD Legend Elite 5wt 8.6ft Freshwater Fly Rod
St. Croix has long been a favorite among fly anglers. Their dedication to expert craftsmanship and balance make these excellent rods. This St. Croix Five Weight Freshwater Rod is another great example of a middle of the road rod. Coming in four pieces, this rod is not quite as compact as the Temple Fork, but it will still break down small enough for a good tube in your pack.
ST.CROIX ROD Triumph 6.6ft MH Travel Rod
Travel rods are something I am partial too. The nature of my work is that I spend a lot of time traveling from place to place. Being able to pack a small spinning rod into my carry on is essential to a great time regardless of where I land. The St. Croix 6.6 ft. Medium Heavy Rod and the comparable light version are perfect for travel rods for the angler on the go. This rod breaks down into four pieces. The cork handle is something I am also partial to when selecting a rod. Carrying a SCII Graphite blank, this rod is one of the best travel rods you can find in this price point.
Besides rods, there are many other accessories that angler's need that should be considered for your list. When the waters are too deep or too cold, how about a float tube to reach the bigger water?
OUTCAST Prowler Float Tube
One of the accessories many fly and spin anglers really enjoy is the float-tube. This simple device allows anglers to access remote and deeper waters with ease. The Outcast Prowler has some features that I personally love. The above water line seating is a plus especially in colder water. The added height also aids in casting. One addition is the built in hydration bladder. No more having to carry on your back a separate hydration system, the Outcast 200 has one built right in. Ease of maneuverability is also a plus.
Many anglers prefer spinning gear. Personally I am one of them. Good spinning gear can be used to catch everything that swims. The reel is primary and Shimano is top of the pile when it comes to excellent spinning reels. There are few better than the TPDX 4000XG
SHIMANO TPXD4000XG Twin Power XD 4000 Spinning Reel
As someone who is fully addicted to inshore fishing, the Shimano TPXD4000XG is top of the line. Designed for the hard core inshore angler, the Shimano brand has long been a brand that many anglers turn to. It is fully sealed and salt protected. The smoothness of this reel is top of the line. The oversized handle makes it easier to handle those long fights with big fish. Large line capacities also make this a great choice for the inshore angler in your life. As a side note, even if you are a dedicated freshwater angler, get the salt water reels. They are built so much stronger and should the rare chance occur for you to head to the coast, you are covered.
Other than the obvious rods and reels, anglers have a plethora of other items that we need to make our experience the best it can be. Here are a few accessories to consider.
HODGMAN CORINS Core INS Wader Liner
If there were ever an accessory for the wading angler it is these Hodgman Wader Liners. It is truly amazing how fast your legs can get cold, bone-chilling cold, in swift mountain water. Anglers have tried all sorts of concoctions to stay warm. The wader liner from Hodgman is the solution we have all been looking for. It covers more than your legs too. With a full bib insulation, these are well worth their money. And don't restrict them to your waders either, they make a great insulation layer for hours in a deer stand also.
TEMPLE FORK OUTFITTERS Graphite Wading Staff
This is one of the accessories that you never really believe you need until you need it. Designed for assisting anglers while wading fast moving streams, the Temple Fork Wading Staff is lightweight graphite staff that will save a lot of falls. Only 15 inches when collapsed the 54 inch staff comes complete with a camera mount that makes it perfect for the fishing photographer.
The piece of mind it provides when needed makes this purchase well worth the expense.
HELINOX Swivel Meadow Green Chair
If there was ever a great design that at first caused a head scratch it is the Helinox Chair. My first impression was that it would not hold my weight. But after sitting in this chair, not only did it hold my weight, it is one comfortable chair. The added plus is that it weighs a miniscule 2.59 pounds. It is able to fold up and fit into a stuff sack of only 14x40x12 cm., making it easy to fit into your fishing vest of pack. When there is a shore lunch, or just a needed rest, the Helinox is one of the best options available.
Christmas gifts for the angler in your life can be overwhelming, by purchasing one or more of these gifts for them will certainly put a smile on their face this season.