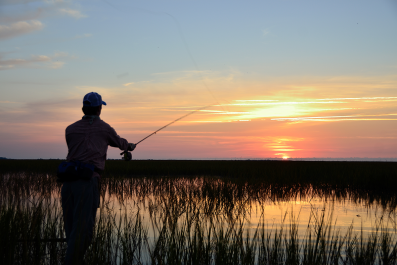 Continued from: How To Choose A Fly Reel.
Fly Rods
While fly reels are important to keep your line in check, fly rods come in various weights, lengths, and actions to meet the fly angler's needs. Rods can be chosen for a specific application or can be purchased for a more comprehensive approach.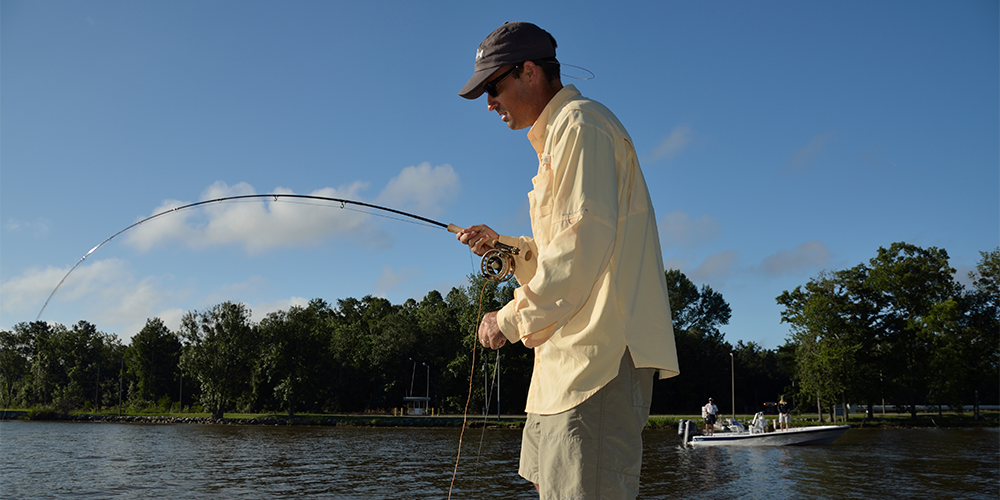 Length
To start off with, fly rod length is the first item to consider. Typically, the only time anglers need a short fly rod is when the stream's small size and overhanging limbs limits movement. But, beyond tight quarters, long fly rods give anglers a mechanical advantage to get the fly out there. Generally, the longer the fly rod the better! Fly rods over nine feet in length are preferred for most applications. Basically, anglers are throwing line and a longer rod will help anglers create the perfect loop and get the fly to the fish effectively without too much effort.
Weight
Next, anglers should choose the weight category they need. The "weight" class doesn't correlate with the actual weights of the fish targeted. The "weight" class ranges from size 000-weight for very small fish to size 16-weight for the largest of all game fish.

For most mountain trout stream situations where the fish are going to range between six inches and 15 inches, a three to four weight rod set up is sufficient. When anglers start targeting 20-inch trout or trophy trout in alpine lakes, a larger five to six weight set up would be more appropriate. A heavier-weight rod adds backbone for handling the larger fish, but also adds weight and reduces flexibility that can make it difficult to make graceful casts.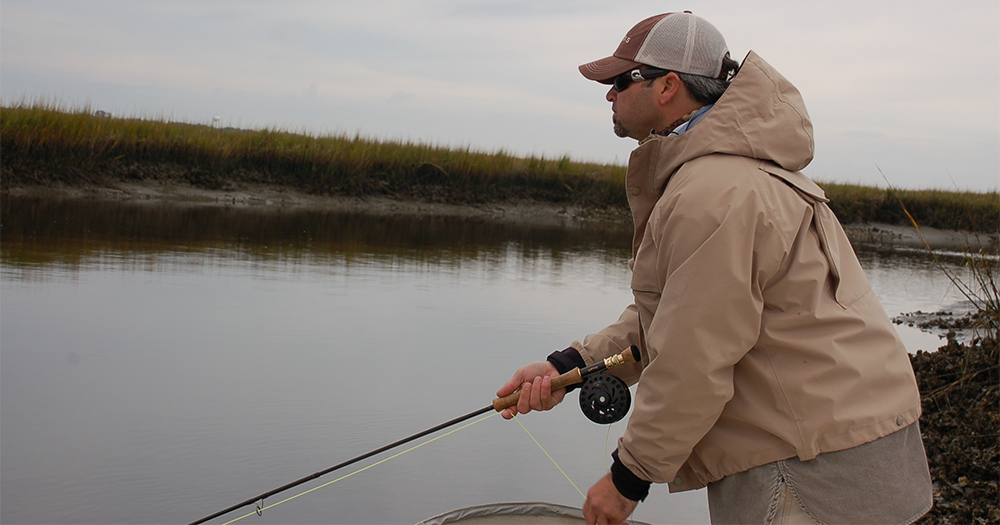 Flexibility Rating
Lastly, rods come in various stiffness or flexibility ratings. Different flexibilities should be chosen based on conditions and the skill of the fly caster. Rods range from very stiff to very flexible rods. And in the fly angling world, stiff rods are called fast action and very flexible rods are called slow action rods.
For anglers casting heavy streamers and in heavy wind, the rod needs to be flexible only at the tip and stiff for most of its length to be able to cast heavy streamers or punch casts into heavy wind. These stiffer rods are referred to as fast-action or low flex options such as Redington's Predator or Sage's Motive series. These rods require anglers to man-handle the line a little more to get their lures to their fish. Fast action rods also benefit anglers when trying to cast flies very long distances.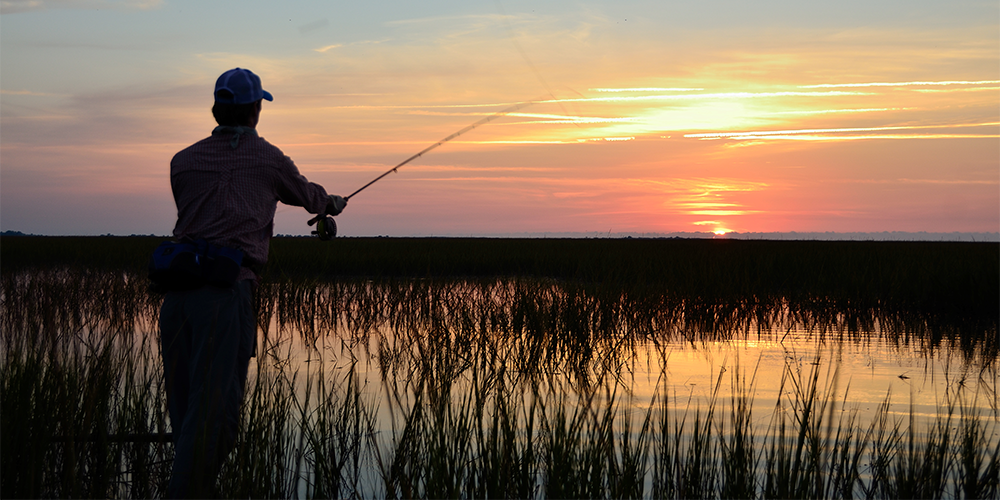 On the other end of the spectrum come the heavy flex rods or the slow action varieties. These rods flex from the tip all the way to just above the reel seat. Slow action rods should be fished using a more graceful approach like Norman Mclean made his casts on the Blackfoot River in Montana. The flexible rods load with ease and deliver the flies without any effort at all. Slow action rods are intended for smaller flies for excellent accuracy at short and medium range applications. Redington's Butterstick is a slow action rod that enables anglers to make casts with the least amount of energy needed.
Then, there are rods everywhere in between that are considered a little more versatile and the best choice for anglers looking to only buy one rod for a variety of fishing situations. Probably my favorite all around fly rod is Redington's Hydrogen series that is a medium-fast action rod, and I prefer the nine-foot varieties. The medium-fast version gives me the ability to make gentle casts at close range and then allows me to reach out and punch flies to fish on the other side of the river in the heavy winds.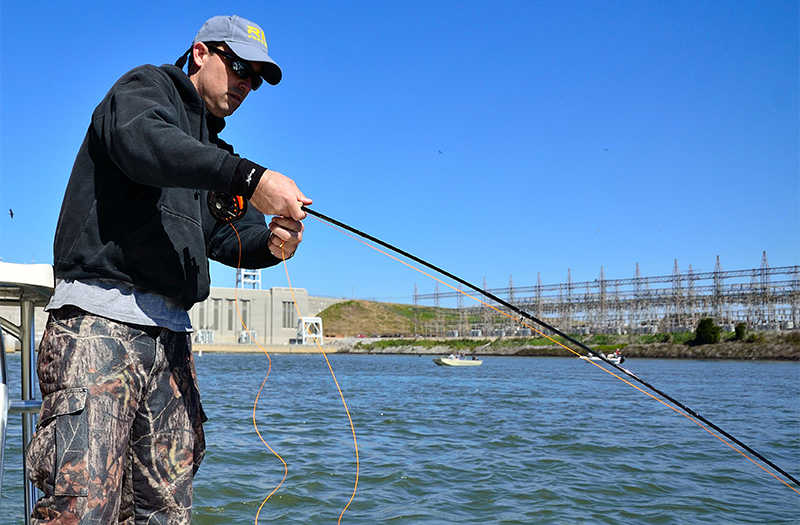 Summary
While anglers can buy dozens and dozens of rod and reel combinations to meet every need, most anglers can get by with two to three choices. They can use these fly rods for a wide variety of fishing opportunities in both freshwater and saltwater applications.
First of all, every fly angler needs a three to four weight outfit for fighting browns and rainbows in the mountains or big bluegill in a neighborhood pond. Secondly, a five to six weight outfit is needed to target bigger river or reservoir trout, speckled trout on the coast, or small mouth bass in the eddies. And finally, an eight-weight outfit is required for anglers to tackle red drum, largemouth bass, or chunky striped bass in their favorite waters. Anglers should always pick up several extra spools for each outfit category they have to allow for different types of line and methods. And medium-action, 9 to 9.5-foot fly rods are always going to be the best options to cover a wide array of situations.