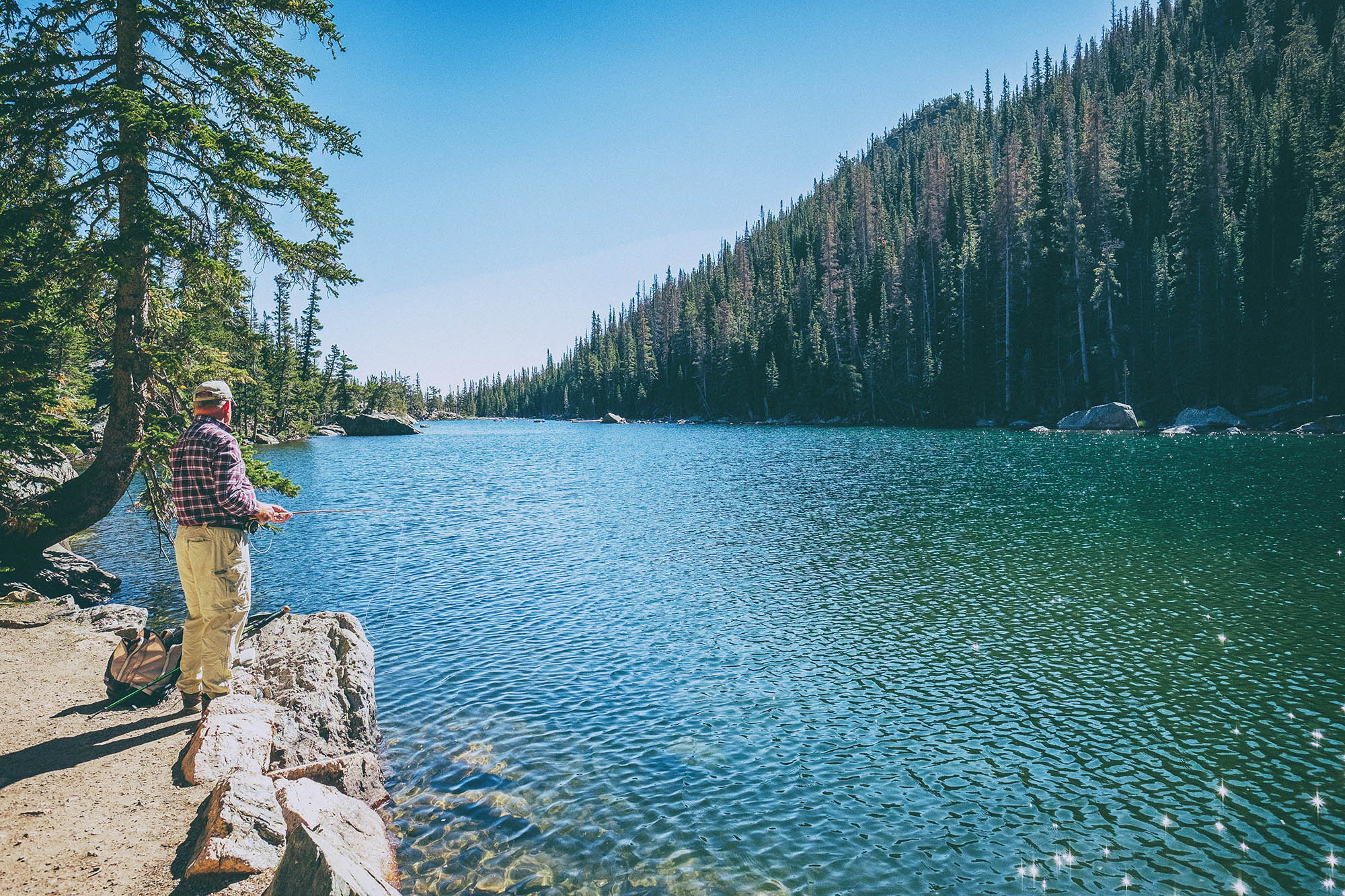 Last Updated on
All you need to know about fly rods in a 2-minute explanation: how to choose the right fly rod weight and length? What fly rod do you need for a particular type of fish? Plus, I have a special bonus for you. Take a look at the top 5 places for fly fishing in the USA and get inspired. Ready, steady, GO!
Fly fishing is an exciting experience. Plus, it's an active sport: you constantly move along the pond and cast your fishing rod. And when fly fishing, you can catch almost any fish that lives in US waters. Cool, right?
Fly fishing can be caught from the shore, or you can stand in the water, in the flow of rocky mountain rivers or in the lake's calm waters, or any other places you can imagine. And all the time fishing, you have to carry a rod, your most important fishing tool.
Therefore, the choice of a fly rod is essential. First of all, you will be carrying your rod all time. Plus, you can find enjoyment in fly fishing if you get a perfect match between your fly rod and the pond, weather conditions, fishing method, and type of fish. So let's dive into the guide to find the perfect rod and get you the best results.
Fly Rod Action
So, how to buy a fly fishing rod? First of all, the stiffness of the rod is essential. The stiffness and length determine how fast the rod's tip will move during casting and what energy it transmits to the cord. There are several types of rod action — slow – slow, fast – fast, and medium.
Slow action fly rods allow you to hone your casting technique. Also, they are great for calm water, where there are no gusts of wind. Fishing with slow rods is an enjoyable process. All movements are smooth, it is very pacifying.
Fast action fly rods suit for challenging conditions. You can perform long casting and make energy-intensive loops. Excellent cardio training, hmm?
When you master the fly casting technique, you will not care about the type of rod you have in your hands. The choice will depend on your desire to catch with this or that fishing rod.
Fly Rod Weight
The power of a rod is generally determined by an important parameter – the fly rod's weight. The more powerful the rod, the higher the weight. For example, a fly fishing rod of 12 weight is designed to catch large salmon, while a fly fishing rod of 2 weight is used to catch small fish in polders and streams. It often happens that there's no large fish in the pond. It is a common practice of advanced fly fishermen to use delicate fishing rods (2-4 weight). Trust me, they have a great time fishing, even a small fish.
Fly Rod Length
If you want to catch fish in open water where there is no littoral vegetation – you can take a long fly fishing rod, so you cast farther. If this is a small river with densely overgrown banks – choose a shorter rod. Otherwise, the trees and shrubs will stop you from casting. What can be recommended for beginners? The fishing rod of 5 weight and the 7-8 ft length. You can pay attention to the Temple Fork Outfitters BVK 5wt 8ft 6in 4pc Fly Rod. The weight and length are perfect for beginners. It is most suitable for casting streamers, heavy nymphs, and large dry flies. It's a pleasure to cast such rods in small and medium rivers.
One-handed rods of 8-10 weight are used for fishing pike, sea trout, small salmon. Length 9 – 11 ft.
Two-handed salmon rods – weight 10 – 12. Usually, such rods are rather long, for example, 14-15 ft.
Special rods of weight 13-17 are suitable for sea fishing in regions with warm water. The standard length of these rods is 9 ft.
There are light rods of 3 – 4 weight. Modern manufacturing techniques provide the correct stiffness precisely in those areas of the whip, where it is necessary, and give flexibility in those places where it is required for a specific type of fishing.
Bamboo Rods
There are also bamboo fly rods, but you should avoid them if you are just starting to learn the fly fishing method. It is better to buy a fly fishing rod made of modern materials with precisely calibrated stiffness.
The rod handle must be made of cork. This is the best material for this purpose. However, modern rods often combine cork and rubber to make handles. These handles are comfortable, do not slip in the hand when wet, have an ergonomic shape, and are a great option.
When choosing a fly rod, be careful about how the pieces linked up. They should connect firmly, without the slightest slops. When linking, a good connection creates a feeling of "suction," the halves are connected tightly and without any effort.
The rod is your primary tool, which you will carry during the whole fishing trip. You will have to walk with it for considerable distances in the pond, lake or river, so you should never save on it. It is better to spend a little less on other parts of your fishing equipment, but get a rod from a company specializing in making fly fishing equipment, for example, TFO (TEMPLE FORK OUTFITTERS), Sage, Orvis, Winston, Redington, and others.
Bonus! Top 5 Places For Fly Fishing in The World
We've got your fly rod, so where to go to get incredible memories and fantastic fishing experience? Ooh, let's get down to my favorite part! Top locations, beautiful nature, crystally clean lakes, and murmuring rivers! Attention, the opinion is absolutely subjective.
The Niagara River, USA
The Niagara River is a 36-mile long river that connects Lake Erie to Lake Ontario. It forms an international border between New York and Ontario, Canada. As a general rule, the international border between Canada and the US runs down the lower river center. Each section requires a fishing license if you're fishing within their respective water. US rules and restrictions are here.
Chinook Salmon and Coho Salmon enter the river to spawn from Lake Ontario in September. Salmon fishing continues through November. The steelhead trout comes to the river in November. Fishing for steelhead runs from November through May. Lake-run brown trout fishing is best from September through May.
Lake Diefenbaker, Canada
Lake Diefenbaker is known for record-breaking Rainbow Trout. The presence of Rainbows in these waters is purely coincidental, though. About 10 years ago, many of these monsters escaped from a local fish farm and found themselves in the lake. Many speculate about the ethics of catching these artificially stocked fish. One thing's for sure, though. Since these monster Trout cannot reproduce, time is running out for people who want to catch their trophy.
Luckily, there are some other species to enjoy on Lake Diefenbaker. The lake boasts hundreds of bays and coulees teeming with Walleye, Northern Pike, Yellow Perch, and Whitefish. You'll have some well-serviced marinas and boat launches to choose from.
The best time to visit is from September to October.
River Kaldakvisl, Iceland
River Kaldakvisl is truly a gem. The landscape is breathtaking. Here you can find waterfalls, magnificent canyons, fast water, slow water, rocks, sand, etc. The Kaldakvisl is supporting arctic char and brown trout, their size averaging at 48-64 oz. But fish weighing up to 112 oz., can be found there.
It's hard not to fall in love with the Kaldakvisl once you've had the chance to get to know it. On the Kaldakvisl river, you can fish entirely from the riverside or by wading.
Kairi River, Finland
Kairi River ('Kairijoki' in Finnish), located at Savukoski in Lapland, can be called a fly fisher's paradise; graylings, trout, and whitefish are all up for the taking. The gorgeous stream, surrounded by nature's majesty, is also suitable for less-experienced fishermen.
Hemsedal, Norway
River Hemsila is a spring creek-like river, three and a half hours by car north-west of Oslo. Great brown trout fishing in truly spectacular surroundings. Lots of fish in the 32-48 oz., range. Fishing can be technical at times, but great rewards await the patient's soul. The best time to visit is in July.
The river Hemsila gives the experienced fly fisher a challenge, but Hemsedal is also the right place for the beginner and intermediate fisherman, with the significant variation of lakes and rivers.
Hemsedal Fiskeforening (fishing association) has a general fishing permit valid for 4 rivers and 18 lakes. The fishing permit can be purchased at Hemsedal Tourist Office, the Welcome Centre, Shell petrol station, campgrounds, sports shops, and at Kiwi supermarket in Hemsedal.