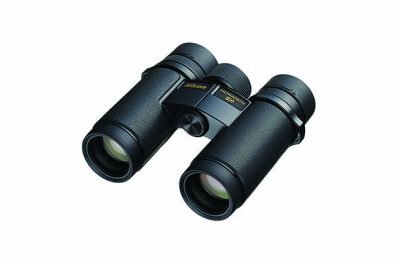 Nikon surprised us this week with a new variant of last year's award winning Monarch HG 8×42 and 10×42 Binoculars. If you haven't already, check out our review of the Nikon Monarch HG 10×42 Binoculars. This newest Nikon binocular was announced almost out of nowhere, as Nikon had previously refrained from unveiling any new binocular models at this year's SHOT Show in Las Vegas. However, the Monarch HG 10×30 is certainly a welcome addition to the Nikon Sport Optics line as it provides the exceptional clarity and performance of the 10×42 HG, but it cuts weight and presents an easier handling binocular great for field work. Let's take a closer look at what the Nikon Monarch HG 10×30 has to offer before it hits shelves and sites like gritroutdoors.com.
Nikon Monarch HG 10×30 Binocular
The most important spec that's back in the Monarch HG 10×30 is the Field Flattener Lens system. Pioneered by Nikon for use in their cameras, the Flattener System creates edge to edge clarity on the lenses while other, convex lenses tend to blur around the edges as you look through them. The result is not only unprecedented clarity in a model at this price point, but it also translates to lightning-fast response as you place the binoculars to your eye. It's a little hard to describe on paper, but when you try out a pair on Monarch HG Binoculars you'll find the optical image almost jumps out at you vs. how other inferior binocular models perform.
What's new in the Nikon Monarch HG 10×30 is a weight reduction of nearly 8 ounces. While that might not seem like much to the uneducated user, just try hiking mile after mile in the high country with an extra 8 ounces around your neck and you'll begin to see why it matters. The compact size and reduced weight is definitely a big selling point for this new model.
The HG series also sports an extra-wide field of view, which translates to 60% more viewable area than similar models. This is huge in models with 30mm objective lenses, because although compact, they tend to present a field of view a little on the small side. One can only assume that looking through the Nikon Monarch HG 10×30 Binoculars will offer a field of view only found in $2000+ higher end 10×30 models. Of course Nikon's legendary Fully Multi-Coated process is found in the HG 10×30 as well, and the Magnesium Alloy Body is stronger than what most comparable binocular models offer.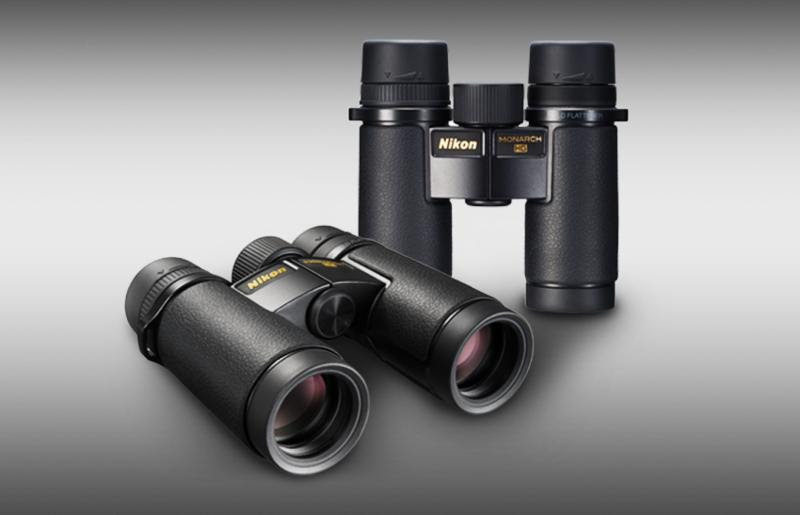 Nikon Specs
Here is the full rundown on what Nikon has released as far as specs for the Monarch HG 10×30 Binoculars:
Fully Multicoated Optics provide multiple layers of anti-reflective coating on all air-to-glass surfaces maximizing light transmission, brightness and contrast

ED (Extra-low dispersion) Glass reduces chromatic aberration to a remarkable degree, providing clear images with superior contrast

Wide Field of View Binoculars have fields of view of 60% or greater

Field Flattener Lens System delivers sharp images all the way to the edge of the field of view

Long eye relief provides 15mm or more of eye relief – perfect for eyeglass wearers

Armor Lens Coating provides scratch-resistance coatings for eyepiece and objective lenses

Locking diopter control maintains your personal setting

Turn & Slide eyecups are perfect for use with or without eyeglasses

Waterproof and O-ring sealed to prevent moisture from entering body

Fogproof – nitrogen purged for total reliability against thermal shock

Magnesium Alloy Body is lightweight and incredibly durable

Flip-Down Objective Covers are included along with replacement rubber objective trim rings
Price
Before we go, I'm sure you're curious about how this model compares to the Monarch HG 10×42 as far as price goes. Nikon has the Monarch HG 10×30 listed at $969.95, which is just a little less than the $999 MSRP for the Monarch HG 10×42. Nikon also has plans to release an 8×30 model in the Monarch HG line which comes in at $949.95.