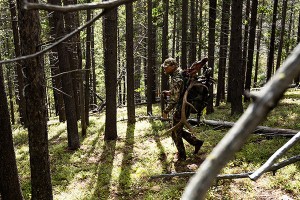 Last Updated on
By Pete Rogers
The Sitka Gear brand has been turning clothing into gear since 2005. The company's idea began from a miserable climb in the mountains. It was during this climb when a vision for better materials and better clothing emerged. After climbing through rough conditions and heavy cold clothing, Sitka has been working hard to develop and design clothing that is more than a cover for your body. It is actually turning clothing into gear. There are many elements that make Sitka Gear unique. The designers focus on small details that pay huge dividends in the field. Everything from zipper configurations to integrated knee pads, Sitka Gear apparel is unlike anything else. They even use body heat mapping that shows designers where to place insulation and where to remove it so the body can emit excessive heat while retaining it in other areas.
Sitka has been leading the way in premium clothing since its emergence onto the scene. In addition to their performance materials, their Optifade technology does not try to blend into the surroundings, as much as it tricks the eyes ability to focus on the object and "lose" the shape of the hunter. It prevents game from seeing the figure of a human by confusing the focal point, thereby fading into the background.
From their sophisticated camouflage patterns, to contoured knees to prevent binding while sitting in a tree stand, Sitka revolutionized the way manufacturers look at and design clothing. No longer is hunting clothing simply something that covers the body, it is far more.
This technology had been improved and is ever expanding. From the incredible Elevated II designed for the whitetail hunter who primarily hunts from treestands to the Open Country for western big game, and now there is even patterns designed for waterfowl hunters. Dark Timber and Marsh, both of which achieve the same results as the original Optifade. The patterns remove the ability for the game to focus on the human outline. But the waterfowl line also encompasses everything Sitka stands for. The Gore Tex lining and weather proof barriers make hunting in the most miserable conditions not just bearable, but enjoyable.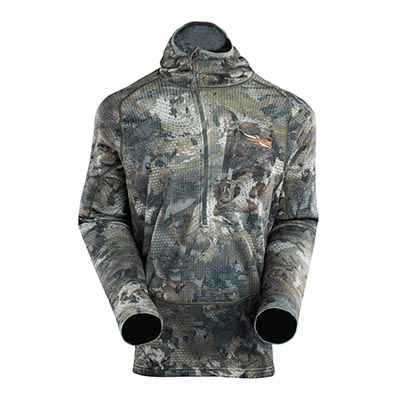 As if this wasn't enough, in January 2017, Sitka introduced yet another pattern and design. This time the focus was very specific. The all NEW Subalpine line is designed for close encounters of 50 yards and less. Its combination of darks, lights and greens helps hunters blend effortlessly into the surrounding of the dark timber. Archery Elk hunters will especially benefit from the Sub-alpine due to its lightweight materials and effective pattern. Much of the Sub-Alpine line is focused on the warmer season. August and September seasons can be oppressive with the heat and humidity. Finding clothing that will conceal and keep you cool is a greater challenge than finding clothing that can deal with extreme cold. Sub-Alpine is just such a clothing line.
The Ascent pant (MSRP: $189.00) has many excellent features for early season hunters. It is designed for pounding up mountains in the warm early season. This pant features mesh backed pockets, internal knee pad pockets, four way stretch and articulated patterning. In addition, the size 34 comes in at just 12 ounces, and with the complimentary Ascent Jacket at 10 ounces, these are the lightest in their class respectfully. The Ascent shirt (MSRP: $169.00) is designed for hot weather hunting also with form fitting sleeves, mesh backed pockets and plenty of ventilation. Early season hunters cannot go wrong with this jacket. Don't think these Ascent clothes are just for early elk either. With many southern states deer seasons opening still in the dog days of the summer, Subalpine is a great choice. One other note, when first released at this year's SHOT show, my initial thought was "this will be a great turkey pattern." Even though it will not be available until mid-May. This Subalpine is a great investment for this year and many years to come. If you are looking for warm season clothing for either the mountains for elk, forest for turkey or bear, the Sub-Alpine should be on your list. As with all things Sitka Gear, a purchase of anything Sitka, is a purchase that will last many for decades.
One of the newest items in the Sitka Necessities line is the Ascent Vest (MSRP: $139.00). This vest is designed for the final approach, or when it is time to get down to business and you drop your pack and move in close. The Sitka Ascent Vest will have everything you need and nothing extra. A thin, back does not inhibit the pack, and with four primary pockets on the front for all of your necessities. Range finder, calls, GPS, Bear Spray, even your bino-harness will not interfere with the action of this vest. It is a must have for archery elk hunters.
Outside of the new warm weather gear in Subalpine, Sitka continues to offer a full line of other clothing for the whitetail hunter, mountain hunter and waterfowl hunter. As mentioned previously, the Elevated II is available in early season, mid-season and late season weights. Their Fanatic series is especially impressive. The design of these clothes demonstrates that the designers at Sitka leave no stone unturned. A personal favorite is the Celsius Shacket (MSRP:$199.00). This "shacket" offers everything you need in a vest with short sleeves and everything you need in a jacket with short sleeves. The Celsius Shacket takes the concept of body-mapping to the extreme, giving you the insulation only where you need it. A first-of-its-kind construction incorporates a diagonal full-length zipper and built-in front hand muff with short sleeves. Quilted construction and quiet zipper pulls suppress noise. This is designed as either a quiet layer beneath your jacket, or as a stand-alone for those days when it is too chilly for just a shirt and too warm for a full jacket or coat. Couple the "shacket" with the Celsius Jacket or the Fanatic Lite jacket for those cold days.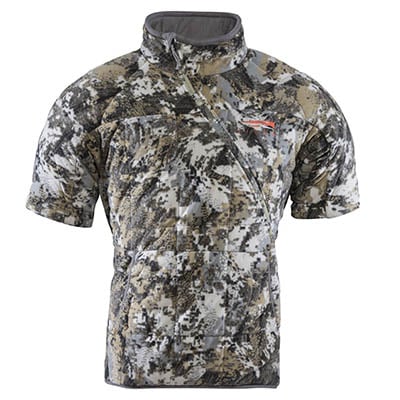 Regardless of which option you choose, you cannot go wrong with anything Sitka Gear.