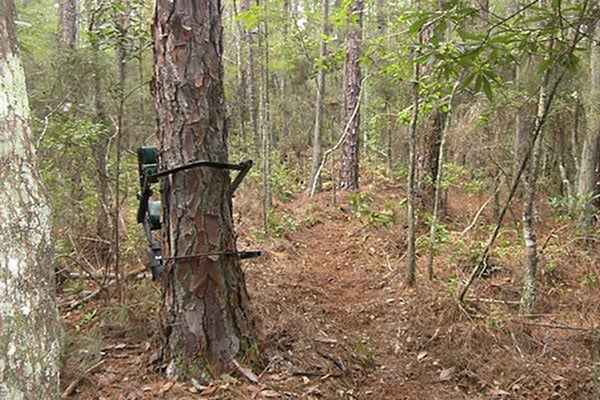 By David Link
Tree stands are a big part of whitetail deer hunting in America, but since hunting safely from a tree stand can be a big issue for beginner hunters, not everyone immediately uses a tree stand as part of their hunting regiment. Tree stands serve two primary purposes. First, they afford the hunter a better vantage point over the surrounding area so approaching game can be identified from father away. Secondly, a tree stand also removes the hunter from the primary field of vision of the animal that they are hunting. This is not to say that a hunter is completely hidden from game in the tree stand, but when used in conjunction with minimal movement when game is near, the hunter has a better chance of staying undetected and taking a shot than he or she would on the ground. Let's examine the basic types of tree stands and the proper uses and locations for them.
Climbing Stands
Climbing stands are by far the most portable tree stands. Climbing stands consist of three main parts. The first is a fixed seat and the top part of the stand. This portion of the stand is where the hunter sits, and it is usually padded and has arms that can be used as an extra handhold for the hunter. This top seat piece is connected to the lower base stand via a strong strap. The lower base section is where the hunter places his or her feet, and it is supportive enough to hold the hunter's entire weight just like the seat portion. The final part of a climbing stand is the harness, and it consists of a long strap positioned around the trunk of the tree that is also connected to the harness portion that the hunter wears. The harness keeps the hunter connected to the tree as he moves the seat piece and base piece up and down the tree.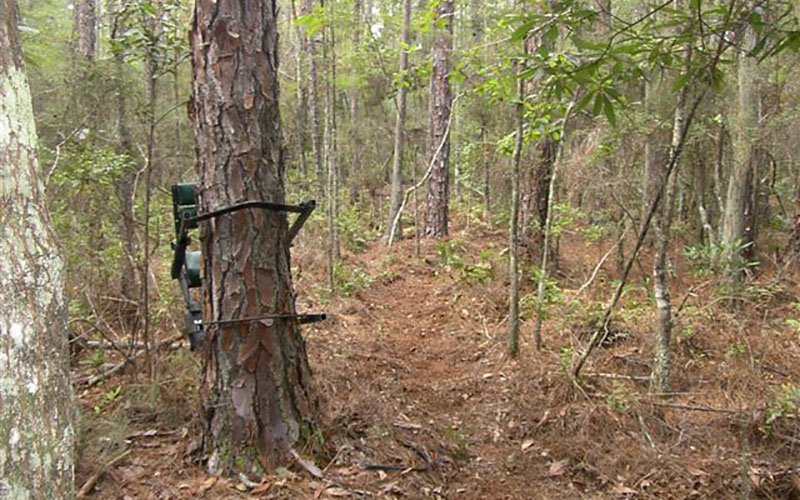 Essentially a climbing stand functions by moving all three pieces up or down a tree in succession. First, you would loosen the harness strap, move it up the tree, and then tighten it back down. From there, you would slide up the seat portion (that is designed not to slip once moved up), and then finally you would move up the base portion with your feet. This process eventually moves the hunter up to his or her desired height. Many hunters prefer climbing stands because they can change up their hunting spots day by day while other stands are more permanent choices. However climbing stands do have a drawback. They cannot be used on trees with any substantial limbs in the climbing path. Since many deciduous trees have limbs at fairly low heights, most hunters have to turn to other alternatives.
Hanging Stands
Many hunters are familiar with hanging stands as the primary type of tree stand. Hanging stands require a sizable tree that is fairly easy to climb, and they are placed at the desired height on a tree and fixed in that position. Hunters may have to fix handholds or screw in steps to provide a suitable route up to the hanging stand. Since a hanging stand is a permanent choice at least for the length of the season, hunters need to be careful to select a quality position that will allow them quality chances at the game they are hunting. Some hunters will set up a couple different positions to use a hanging stand at as well depending on wind conditions, morning or evening hunts, etc.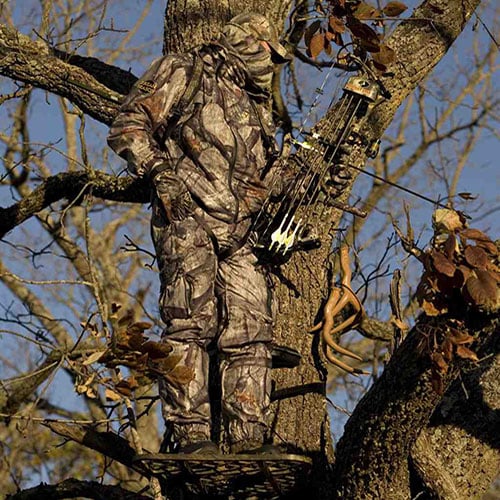 Ladder Stands
Ladder stands are more substantial tree stands when compared to hanging stands, and they should be viewed as slightly more permanent than a hanging stand. As the name describes, ladder stands involve fixing a ladder to the base of a tree and connecting it to the hunter's platform above. Ladder stands naturally involve toting a heavy load of gear into the field, and once set up they are pretty much stationary for the entire hunting season. Ladder stands do offer a safer climb for hunters than the screw in steps common in hanging stands.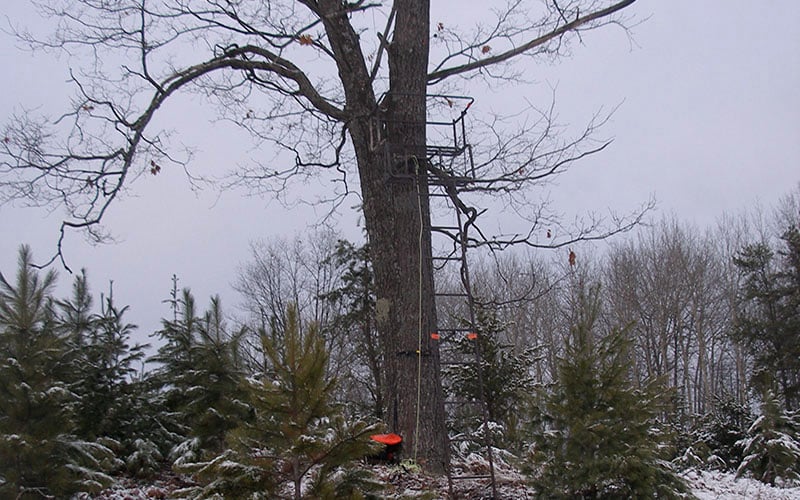 Box Stands
The final variety of a tree stand is a box stand. Box stands probably more resemble a tree house over a tree stand, but they offer distinct advantages that other tree stands can't offer. Box stands have roofs to protect hunters from wind, rain, and snow, and they are very easy to access via a fixed ladder or series of steps. They also offer the best level of concealment, and most types allow you to aim your weapon without fear of overly exposing yourself. Since box stands are permanent structures, they are usually built in places that overlook valleys, fields, or pastures. Box stands aren't for everyone, but if you're a landowner looking to hunt in substantial comfort, they will be your best option.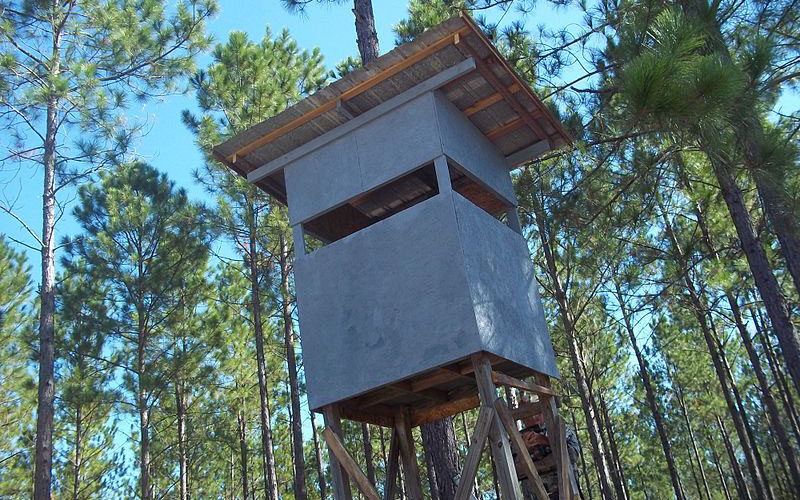 Summary
Selecting the right tree stand for you can depend on a lot of factors like whether or not you own the land, the type of landscape you're hunting in, and how mobile you need to be to hunt successfully. But there are several options to give you better perspective on your hunting environment, and one is sure to get the job done for you. Just remember that hunters should always wear a harness in any stand (box stands excluded), and they should always take gear up into the stand with a haul line verses trying to climb up to the stand one handed. Safety remains the most important aspect of setting up a tree stand, and above all else, make sure you take proper precautions so you can make it home safe after every hunt.
Image one and thumb, two, three and four courtesy of Wikimedia Commons.