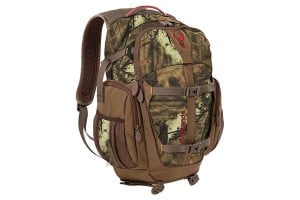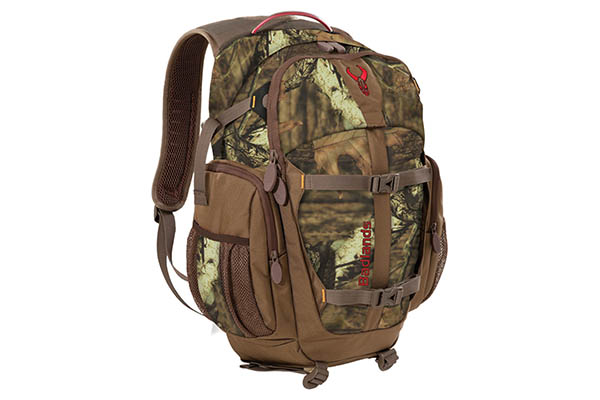 Another season of outdoor adventures is upon us, and chances are you're already busy planning trips and budgeting for the hunts, hikes, and fishing and camping trips you want to do most this year. Part of the budgeting process is accumulating the proper gear you need to execute those trips, and wise outdoor enthusiasts know that it is a process: you gather the quality gear you need over time.
Day packs are one of those items that are useful on almost every trip, and it's always wise to have a few around for every season, especially if you're not going alone. While a $300 pack will probably last you a lifetime – and you should consider upgrading to one when you can – there are times where you need to supplement your collection with an inexpensive pack as well. We've picked out five packs from reputable brands that are more than worth the price should you need an extra pack this year. Let's take a closer look at each model:
Badlands Pursuit APX Daypack
Badlands is primarily a hunting pack brand, and you'll find exceptional quality in all their products from small fanny packs to extra large backpacking packs. Badlands gear also sports camo patterns from some of the top companies in the business like Mossy Oak and Realtree, and they won't stick out like a sore thumb when you need to stay concealed. However, Badlands packs are just as suited for hikes and other outdoor activities, and if you're a hunter, you can get it all in one day pack when you choose a Badlands product. When it comes to a model under $100, we recommend the Badlands Pursuit APX Day Pack. It has five side pockets to store various gear, and it can accommodate either two water bottles or a hydration reservoir up to 3L. This particular model also allows you to carry a bow or a bed roll with the pack straps. At $99.99 right now on gritroutdoors.com, this is a great multi-purpose pack for anyone with hunting roots.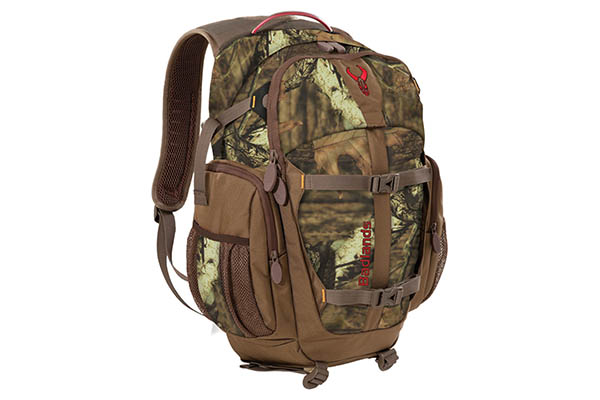 Basic Specs: Dimensions: 19.5″ x 15″ x 8″, Weight (empty): 1 lb. 15 oz., Total Storage Volume: 1500 cu. in., Hydration Pack Compatible: Yes (3L) – not included

Wins In: Dimensions 19.5″ x 15″ x 8″, Max Hydration Pack Size: 3L

Banded Bottomland Backpack
Banded specializes in waterfowl gear, and their Banded Arc Welded Bottomland Backpack is the ultimate carry along for any wet environment. The Bottomland pack utilizes 100% waterproof material, and this pack was built to sit in the bottom of wet boats or truck beds and keep all the gear inside dry. This pack features one water bottle side pocket and a gear pocket on the other side, and at the front of the pack there is a mesh pocket with adjustable straps to store gear that is already wet or not sensitive to the elements. At $79.99 right now on Gritroutdoors, this bag is a steal for anyone who spends time on or around water.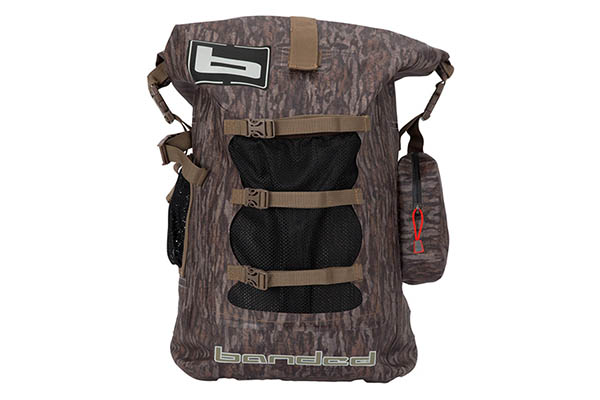 Basic Specs: Dimensions: (Not Disclosed By Manufacturer) , Weight (empty): (Not Disclosed By Manufacturer), Total Storage Volume: 1680 cu. in., Hydration Pack Compatible: No

Wins In: Total Storage Volume: 1680 cu. in.

Eberlestock Dagger Veil Backpack
Eberlestock was founded with a singular purpose in mind: to create high quality outdoor packs that also easily transport a weapon like a firearm or bow. The Eberlestock Dagger Veil Backpack is not actually designed to carry a weapon like most Eberlestock packs, but it does fit on top of weapon scabbards or any other Eberlestock packs, and even if you're not prepared to invest in a Eberlestock scabbard right now, the Dagger pack will be ready for one if you ever do. What the Dagger does accomplish is to provide an extremely lightweight hunting / hiking pack with an included hydration pack on board. The 2L hydration pack has Eberlestock's patented "like glass" lining, and the main compartment offers 335 cu. in. of storage space for those who like to pack light. Priced at $79 right now at gritroutdoors.com, this pack is perfect for anyone who likes to avoid bulk or plans to add more Eberlestock packs to their collection in the future.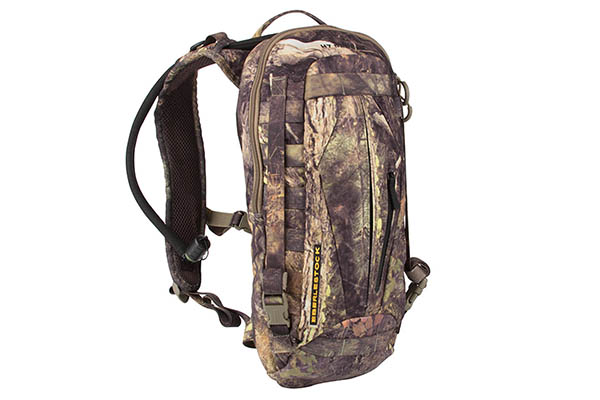 Basic Specs: Dimensions: 17″ x 6.5″ x 5″ , Weight (empty): 1 lb. 15 oz., Total Storage Volume: 335 cu. in., Hydration Pack Compatible: Yes (2L) – included

Wins In: Only model of the 5 with included hydration pack

Maxpedition Rollypoly Extreme Backpack
There are times where you like to have extra storage capacity on hand, but you don't necessarily want to lug around a back up day pack in case you need it. Maxpedition has solved this dilemma by creating the Maxpedition Rollypoly Extreme Backpack. Maxpedition is known for revolutionizing the backpack design and creating new and unique ways to carry and store gear, and the Rollypoly Extreme is no exception. When not in use, the Rollypoly packs up small and can be stowed just about anywhere, but when it is needed, the pack unrolls to offer three smaller cargo pockets and one larger storage area for gear. The Rollypoly is built to last with 1000-Denier ballistic nylon construction and high strength zippers and seams, and it is water resistant for those days when the weather doesn't cooperate. There is nothing quite like this pack on the market, and priced at $89.99 on Gritroutdoors.com right now, this is something that anyone who needs a second or back-up pack should check out.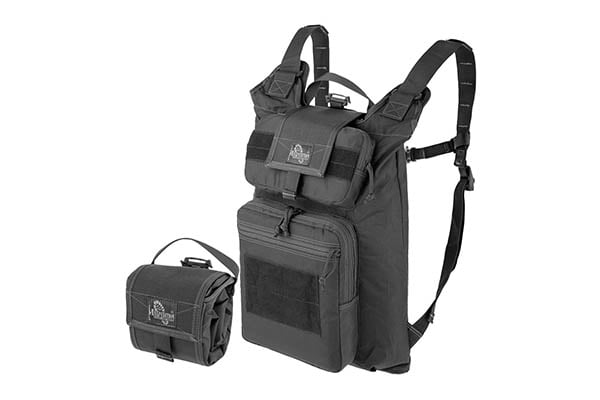 Basic Specs: Dimensions: 5.5″ x 4″ x 6″ (folded) 13″ x 1.5″ x 16.5″, Weight (empty): 8 oz., Total Storage Volume: 500 cu. in., Hydration Pack Compatible: No

Wins In: Weight: 8 oz.
Simms Headwaters Sling Pack
Simms is one of the top designers of high quality fishing gear today, and the Simms Headwaters Sling Pack is their answer for an ultra-light fishing pack. Composed of 420-Denier abrasion resistant fabric with DWR (durable water repellent), this pack is right at home on the water or carrying gear to and from the river. The headwaters pack has one larger compartment and a smaller fold-down compartment that is designed to be a base for fly tying or any other precision activity. Best of all, the sleek design of the Headwaters pack has been tested to be "catch-free," which means you won't snag it while casting. However, outdoorsmen and women will find this sleek design to their liking anytime their traveling through thick brush or tight areas. Although this pack is fishing specific, we can see it working just as well as a lightweight hiking pack. The smaller model of the Headwaters Sling Pack is available at $89.95 right now at gritroutdoors.com.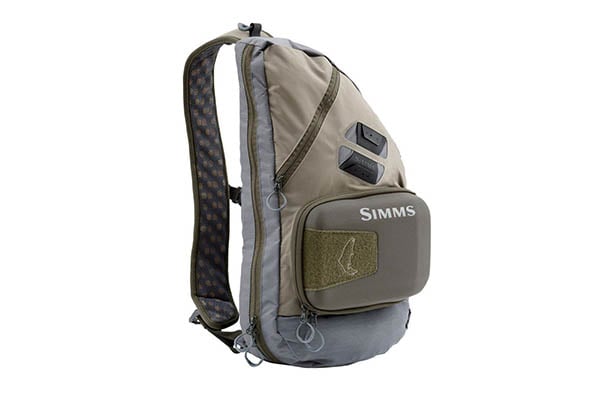 Basic Specs: Dimensions: 19″ x 12″ x 1.5″ , Weight (empty): 20 oz., Total Storage Volume: 305.12 cu. in., Hydration Pack Compatible: No

Wins In: Streamlined design

Note: Prices and availability on Gritroutdoors subject to change.