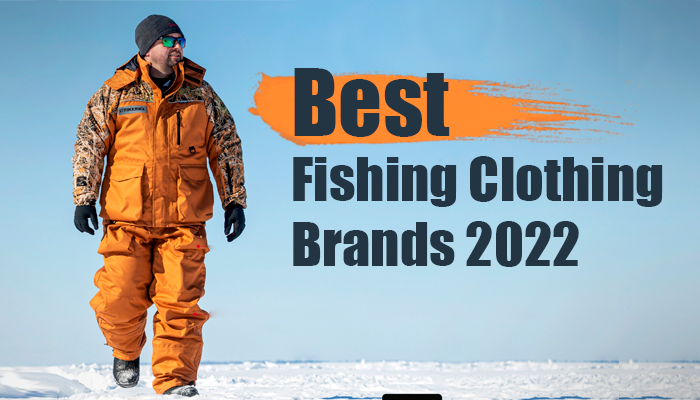 Fishing apparel is a necessary part of angling, especially in cold and wet weather. Keeping your body warm and dry is extremely important as no one wants to be chilled to the bone. Fishing clothes also provide freedom of movement. That's why every fisherman should always have a set of apparel, whether he is going fishing in a local pond or in a river.
There's clothing for different types of angling from ice to fly fishing. But what brand to choose?
In the article, you will learn what companies will be considered as the best fishing clothing brands in 2022.
What are the best fishing clothing brands?
Angling brands make a variety of fishing apparel from fleeces to waterproof items. A lot of good companies have recently appeared on the market. Let's figure it out.
Striker Ice (now Striker)
Striker Ice was founded in 2005 in Minnesota. The brand natively designed premium technical apparel for snowmobilers until 2010. In early 2011 Striker Ice changed its brand concept and announced the first float suit for ice fishing.

Nowadays the Striker brand produces light and heavy fishing apparel for outdoorsmen and women everywhere. They use premium fabrics with performance breathability, flotation technology, and the company isn't stopping there. Striker Ice creates all kinds of fishing clothing including ice fishing apparel, rainwear, UPF apparel, and casual wear lines.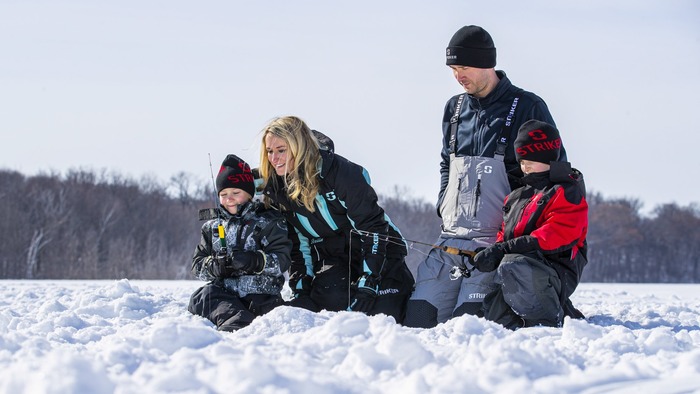 Nick Gill started sailing at the age of five and this inspired him to create the Gill brand you know today. Nick Gill designed and manufactured apparel by sailors for sailors in 1975. He was the first who used dartex. Dartex is a light, tough fabric that was unaffected by oil, petrol, and grease.
Now Gill is the world-leading sailing and fishing clothing brand. They created a new and exclusive fabric technology that is waterproof, breathable, and durable. Gill clothing provides protection and comfort in any weather conditions.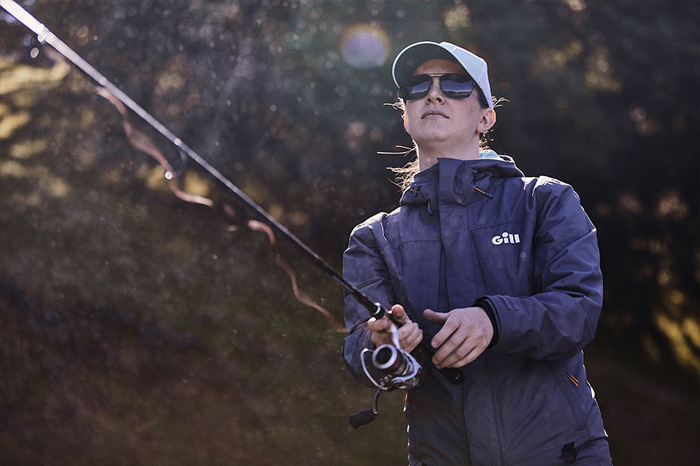 Gillz was born in 2008. Their aim was to build elite apparel for anglers. Since that time they continue to create innovations focused on comfort, breathability, and protection from the harmful sun's rays.
Gillz offers high-quality performance fishing apparel and gear. They use chemical-free fabric that soaks up the moisture away from the skin much faster, keeping you cool and comfortable.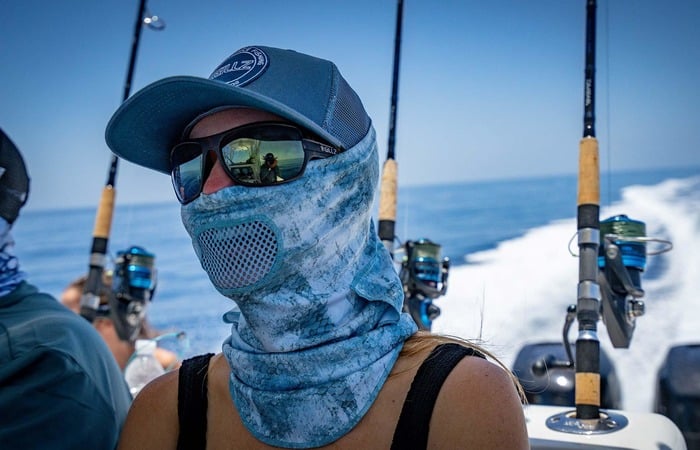 What clothing do you need for ice fishing?
There is no rule for what a fisherman should wear. However, layers in clothing are essential to keep a body dry, comfortable, and warm.
The layers system is the most effective way of regulating the body's temperature. The system consists of a base layer, mid-layer, outer layer, and fishing accessories.
The base layer is the foundation of the layering clothing system. Usually, it's next-to-skin apparel with a tight fit like shirts and bottoms. This kind of clothes traps air, soaks up sweat and keeps the temperature of a body steady even on chilly days.
Shirts can be both short and long-sleeved. Most of the apparel is made of polyester or wool. These materials are the most suitable for keeping a body warm and protected.
Wool base layers are perfect for cold seasons. Moreover, wool has an antibacterial effect, that's why it keeps you fresh much longer than usual layers.
Polyester's main features are quick-drying, lightness, durability, and ease to care. Polyester shirts and bottoms are suitable all year-round.
Mid-layers should be worn over the base. It provides breathability, moisture movement, and comfort. Mid-layers include hoodies, insulated waterproof jackets, and fishing pants.
The majority of hoodies and pants are made of fleece, which provides warmth. Sometimes it can be so warm that anglers do not wear outer layers and may feel comfortable in just a fleece pullover and pants.
Insulated fishing jackets are very lightweight. And the apparel has a water-repellent outer which means it will stay dry even in wet conditions.
Finally, let's talk about the outer layers. It's the final protection from wind, rain, and coldness. That's why the outer layer should be durable, breathable, and waterproof.
Outer layers include ice fishing jackets, waterproof pants, and bibs. The apparel is so tough and strong that it can challenge all weather conditions, keeping body temperature normal and saving freedom of movement.
The outer layers fabrics have water-repellency technology, mud and scent resistance.
To shop by layers from top brands like Striker Ice, Gill, and Gillz, head over to GRITR Outdoors.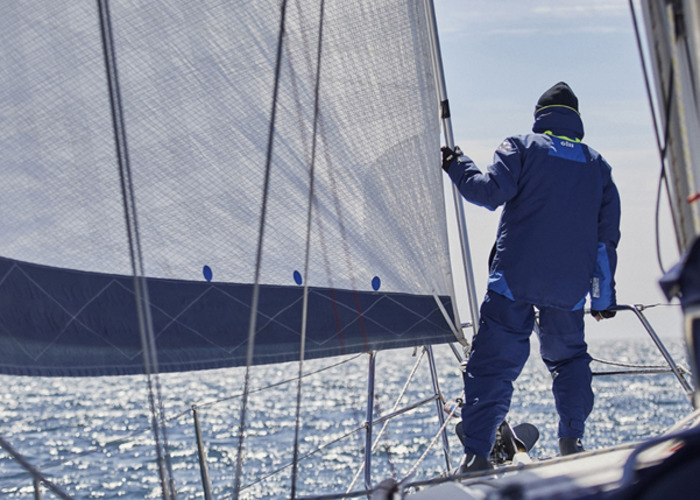 What are the best ice fishing suits?
Ice fishing suits are a must-have for specific cold weather conditions. Here you can find the best ice fishing suits.
Striker Ice predator jacket has the highest quality fabrics with heat insulation, floatation assistance, and comfort. The predator will keep your body warm and provide freedom of movement.
The Striker brand has specialized 300D polyester fabric that blocks wind and water really well. Paired with the 320D nylon, this jacket is highly effective while maintaining lightness so it doesn't get too cumbersome. This ice-fishing jacket has Sureflote Flotation Assist Technology that gives you protection when you accidentally fall through the ice.
Key features:
Crossflow venting system
2-point adjustable hood
Magnetic storm flap closure
Fleece-lined hand warmer pockets; Top-loading cargo pockets
Reflective elements for safety; Adjustable hem and sleeve cuff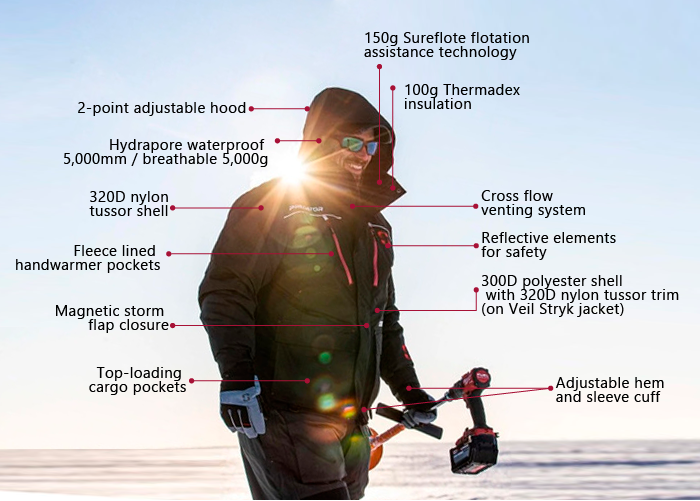 The jacket alone won't work, that's why you need a matching pair of high-quality bibs.
Striker Ice bib is made of almost the same fabrics as predator jackets, so, they perfectly fit together. The insulated bib features breathable and waterproof flotation assistance to keep you safe. With the same durable material, the bibs are sure to increase mobility in every condition. 
Key features:
Surefloat Flotation Assistance Technology
Infinite Adjustable Inseam
Fast Drain Hem
Black Color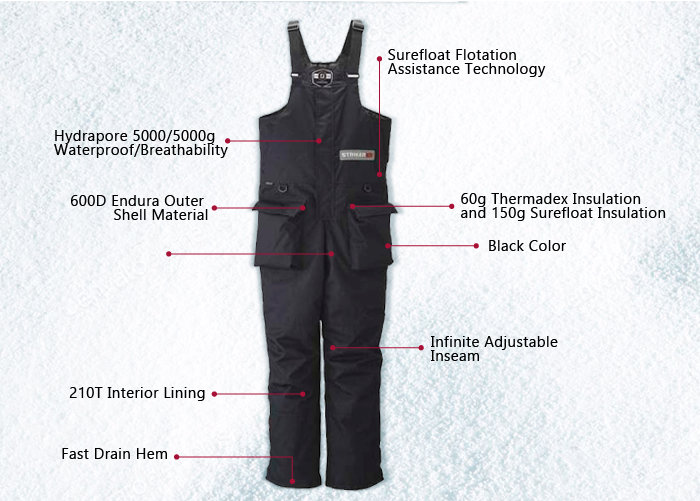 Fishing clothing makes a big difference to your comfort while angling, so don't depreciate its significance. So, provide your body with maximum comfort and protection. Keep in mind that there's no bad weather, just bad apparel. Make the fishing process pleasant and successful!