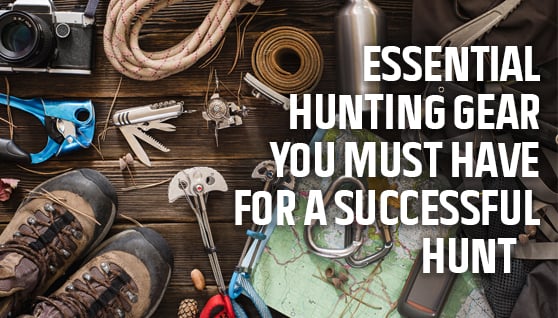 If you are looking for the list of essential hunting gear you must have on your hunt and be successful, then you have come to the right place. A good crossbow and quality knife are essential to a successful hunt, but the equipment and additional hunting gear are equally important. Apparel is just as important as your weapon of choice and other additional items such as a backpack or binoculars.
When you make a hunting gear list and test it out on some scouting trips you will quickly see what you can and can't live without. Ultimately, the gear you take is a personal preference and can easily be catered to a multitude of hunting situations. But when you are in the market for new hunting gear, you'll quickly find there are a lot of options out there.
In this article we are going to share the list of essential hunting gear you must have that will boost your hunting trip experience.
WEAPON
No need to stop here. A weapon of choice is the most important thing on any hunting trip. Without it – there would be no hunt.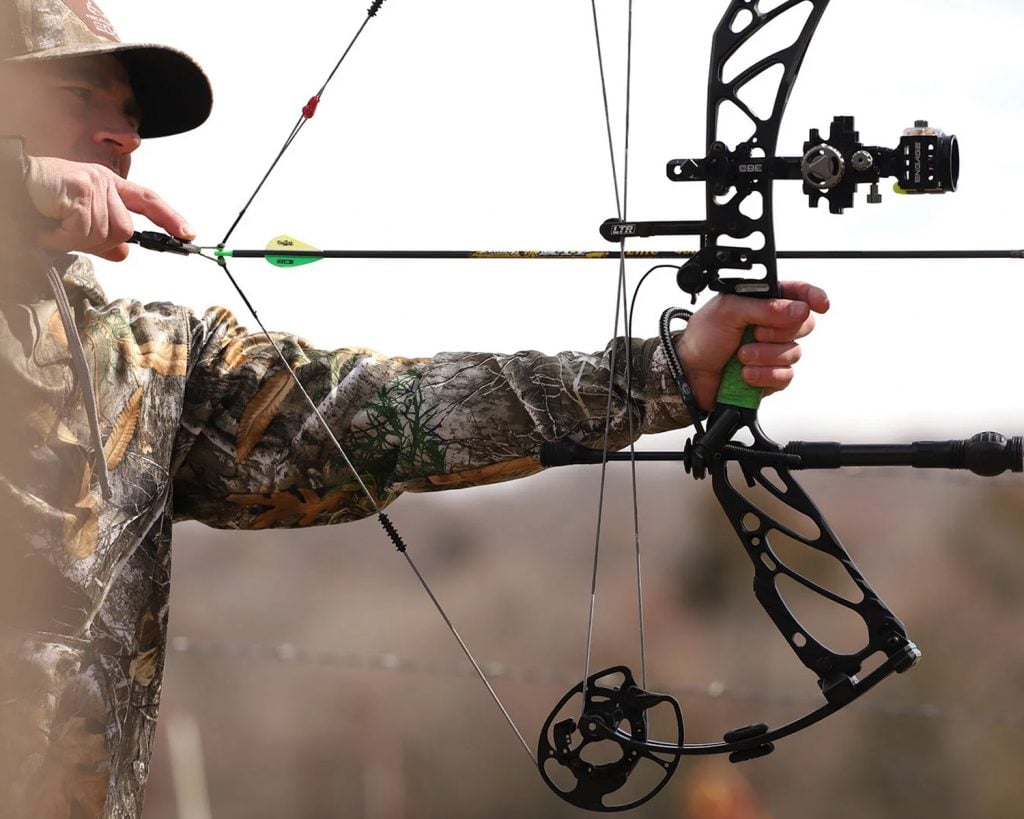 BINOCULARS
Decent optics are essential, as you won't be seeing much action without a good set of eyes. GritrOutdoors.com has so many brands at so many different price points, so you should have no problem finding a great product that serves you well when you are out hunting.
We give our personal preference to Vortex. We believe Vortex Optics Viper HD binoculars give you a better value for your money both in terms of performance and durability.
BINO HARNESS
A reliable harness will serve many different needs. But the main aspects are always the same: a good binocular harness must protect your optics from the elements and hold them close to your chest. Sitka Mountain Optics Harness for example, not only offers quick access and protection to your binoculars, but it also features extra pockets that can carry a rangefinder or any other gear you prefer to have at hand. To better understand what we are talking about – take a look at this Sitka Mountain Optics harness.
If you would like to see other options of harnesses as well, welcome to this PAGE.
RANGEFINDER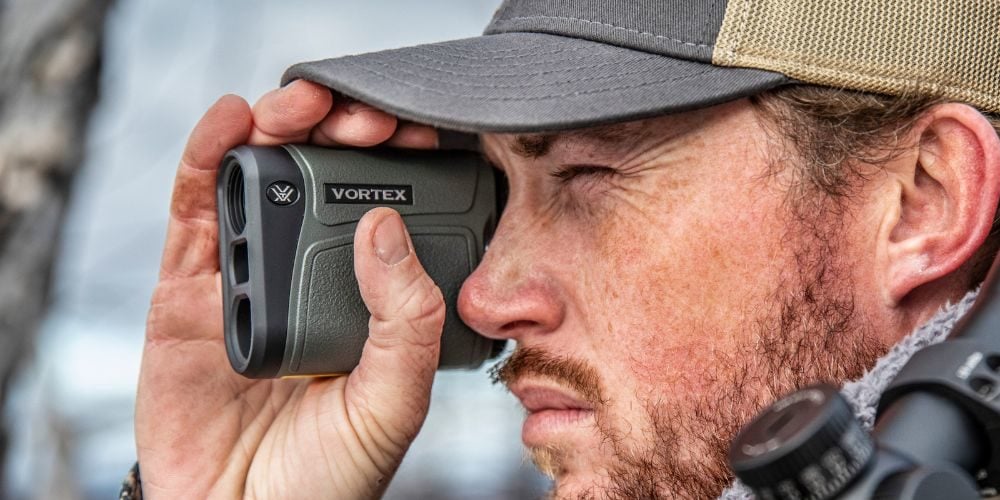 The rangefinder is an essential thing for all types of hunting. Even with practice, sometimes it is difficult to estimate how far your target is in varied terrain and conditions. So, having a rangefinder can be an extra layer of security that will help you be fully prepared to make a clean ethical kill.
With the large selection of hunting rangefinders on the market, you not only have to guess but shoot as precisely as your abilities allow.
HEADLAMP/FLASHLIGHT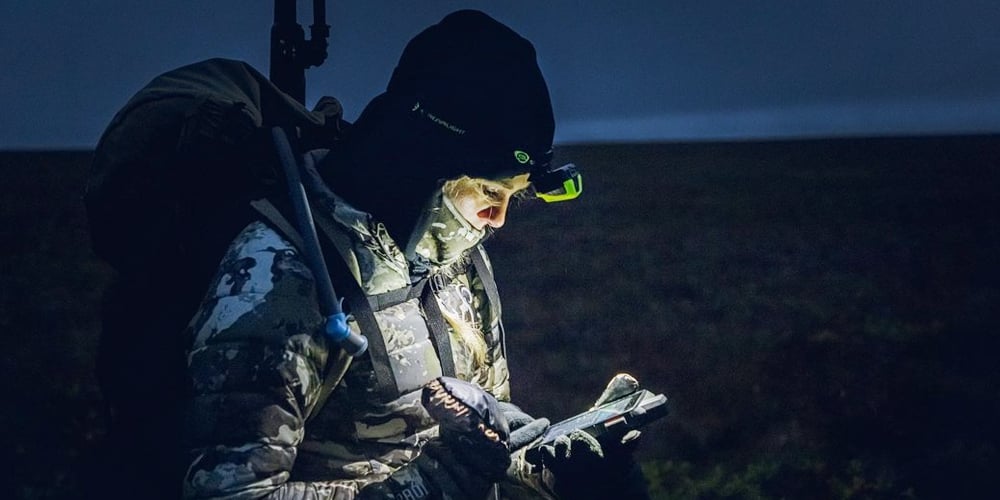 Every hunter needs to be prepared to see more clearly in dim lighting or darkness. A headlamp may seem optional for hunting, but you never know what you'll need when you spot the perfect prey. If you are still searching for the perfect headlamp, you can browse THIS PAGE.
HUNTING GEAR CHECKLIST
Before you go hunting, make sure you have the following hunting equipment on hand and are ready to go: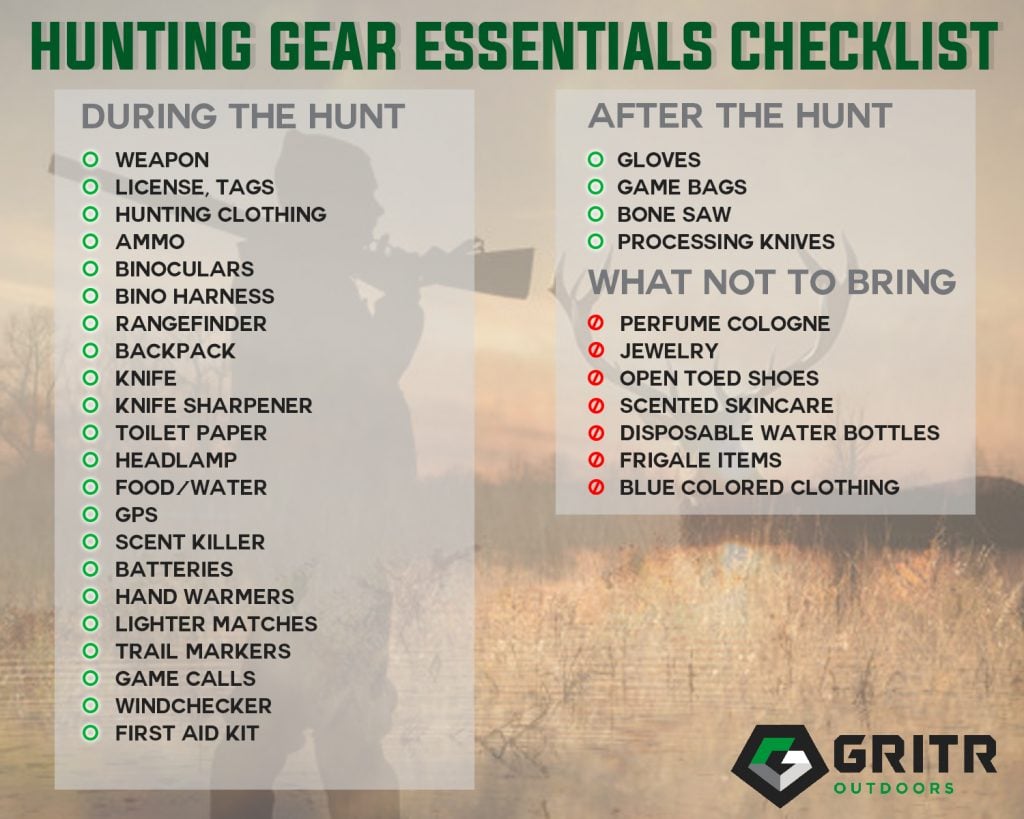 P.S. Some people may think that some pieces of gear are excessive to take into the woods and this is perfectly normal. You might not need every piece of equipment in order to be successful. Of course, this is all personal preference, and a system that works for one may not fit the others. We only provide you with ideas on how you can better modify and improve your system.
P.P.S. Also, it's a great idea to always put everything in the same exact place. Whether it is a pocket or a pouch. If everything goes in the same exact place every single time, that will help you not forget things. If there is an empty pocket, you'll know exactly what's missing from it, so you can go find it, pack your bag correctly and be off hunting.