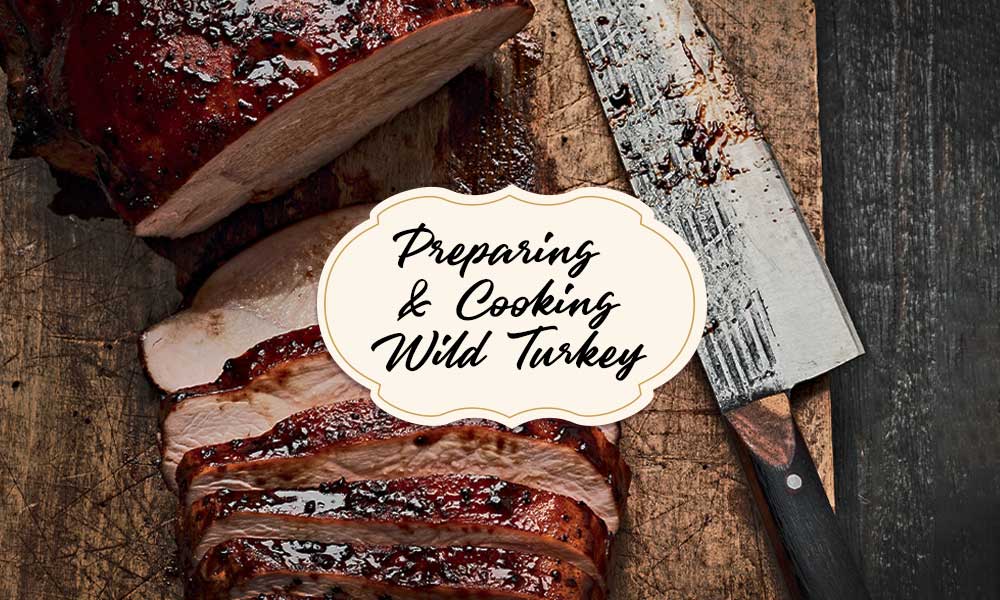 Last Updated on
Hunting wild turkeys is one of the most exciting experiences. Not only because harvesting these birds is quite a challenge but also because you get to bring delicious meat to the table.
Actually, wild meat is the number one reason many hunters engage in turkey hunting – domestic turkey tastes nothing like it because of the undiversified diet and unnatural lifestyle it has to lead. The diet of wild birds includes grains, bugs, acorns, and green shoots of plants, and they spend all day foraging for these things – all this adds real flavor to the meat.
So, we've decided to write this Wild Turkey Preparation & Cooking Guide for you to take culinary inspiration from. You'll learn how to handle and store birds to preserve maximum meat quality, why brining is essential, and what different cooking methods are. We'll also provide wild turkey cooking tips and recipe ideas. Enjoy reading! Also, explore our collection of outdoor cooking equipment.
Table of Contents
Preparing Wild Turkey After a Hunt
   Keeping the Meat Cool
   Field-Dressing. Plucking vs. Skinning
   Take As Much of it As Possible
   Freezer Storage & Thawing
Cooking Wild Turkey
   Wild Turkey Brine: Do You Need It?
   Roasting Wild Turkey for Thanksgiving
   Grilled Wild Turkey
   Smoked Wild Turkey
   Slow-Cooked Wild Turkey
Conclusion

Preparing Wild Turkey After a Hunt
Cooking a wild turkey isn't hard. Just stick to the recipe, and that's it. Actually, it's the preparation that frustrates most novice hunters. Let's briefly tackle what you need to do not to ruin the meat:
Keep it cool;

Field-dress immediately;

Don't take just the breast meat because the rest tastes good too;

Store in the freezer properly;

Thaw in the refrigerator.
Keeping the Meat Cool
You must start the cooling process ASAP to prevent bacteria growth and rotting. Though body temperature begins dropping immediately after death, it happens too slowly, especially on a warm day. So here's what you can do.
Don't put the bird into a game pouch to prevent it from baking in its feathers. Carry it on the strap.

Remove the parts that hold heat the longest and contain the most bacteria. These are guts and the crop.

Some hunters don't recommend rinsing a freshly filed-dressed turkey because bacteria grow faster in moist environments.

Field-Dressing. Plucking vs. Skinning
Before gutting the bird, decide whether to skin or pluck it. Both have advantages and disadvantages, so your choice depends on your preferences. Plucking is hard and takes time, but the skin protects the meat during hot, dry cooking methods, tastes good (for some people), gives a nice look, and prevents freezer burns. Skinning is much easier and faster if you do it correctly. Besides, when removing the skin, you remove a portion of fat, which is good for some people. Don't forget to pack a reliable hunting knife.
Take As Much of It As Possible
The breasts aren't the only edible and tasteful parts. Wild turkey legs are tough. However, they come delicious if cooked at relatively low temperatures and with moisture added. You can also save necks and backbones for soups and stews. And don't forget about hearts, livers, and gizzards.
Freezer Storage & Thawing
Freezer burns look and taste terrible. To prevent them, you need to seal meat in an air-free environment. You can wrap the meat in butcher paper and plastic or use a vacuum sealer or a zip bag. Don't forget to squeeze out air pockets.
To thaw the wild turkey meat properly, you need to put it on the refrigerator's coldest shelf and wait for several hours or a day.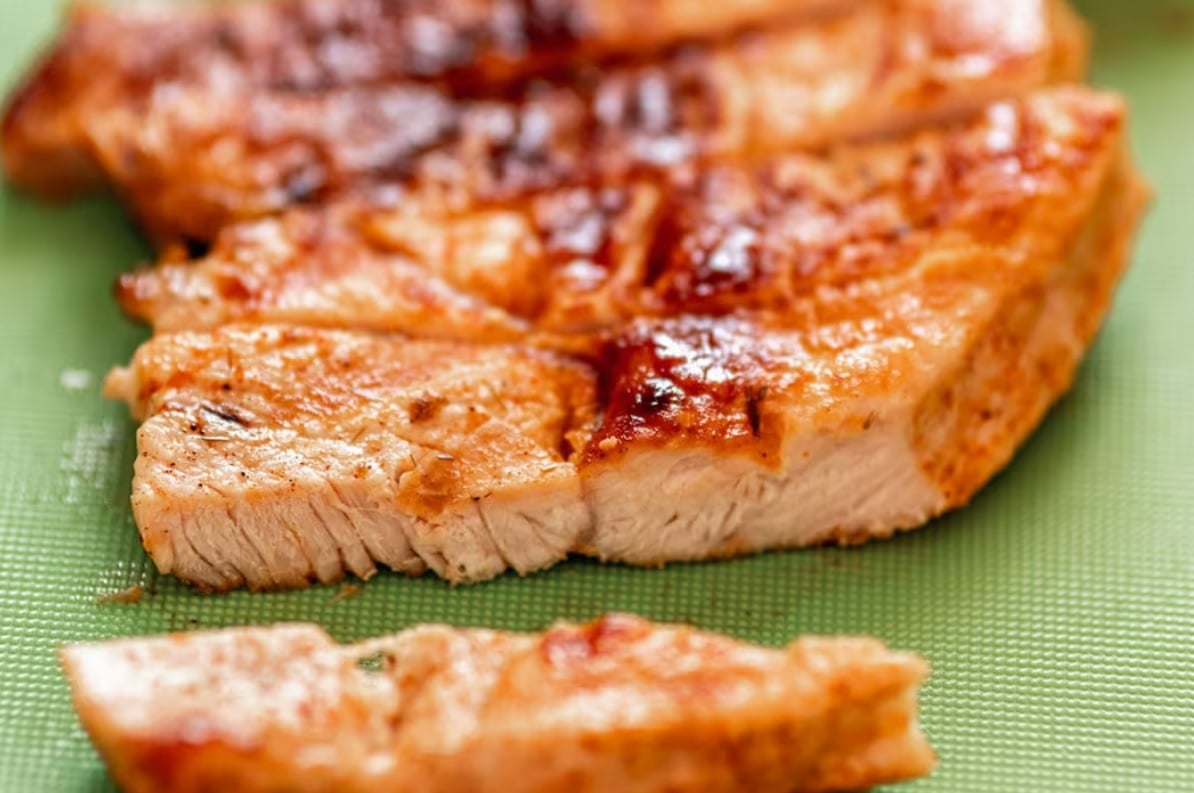 Cooking Wild Turkey
The internet is full of the best wild turkey recipes, but before going with one of them, you need to know the basics. And the first thing is brining.
Wild Turkey Brine: Do You Need It?
The short answer is yes – brining is a non-losing strategy. The meat of all white-fleshed game birds, wild turkeys included, tends to dry out quickly when subjected to high heat. It's related to the fact that they have a limited amount of fat, unlike their domestic cousins. So, soaking the meat in a saltwater solution results in a moister, more tender, juicy turkey. The salt in the brine increases the water content of the cells, breaks down connective tissues, and seasons the meat.
Unbrined turkey can be as delicious, though. You only need to fill the cavity with herbs and aromatics (parsley, rosemary, thyme, sage, quartered onion, carrots, and orange/lemon with poked holes). When roasting, frequently baste it with butter or olive oil. And do not overcook.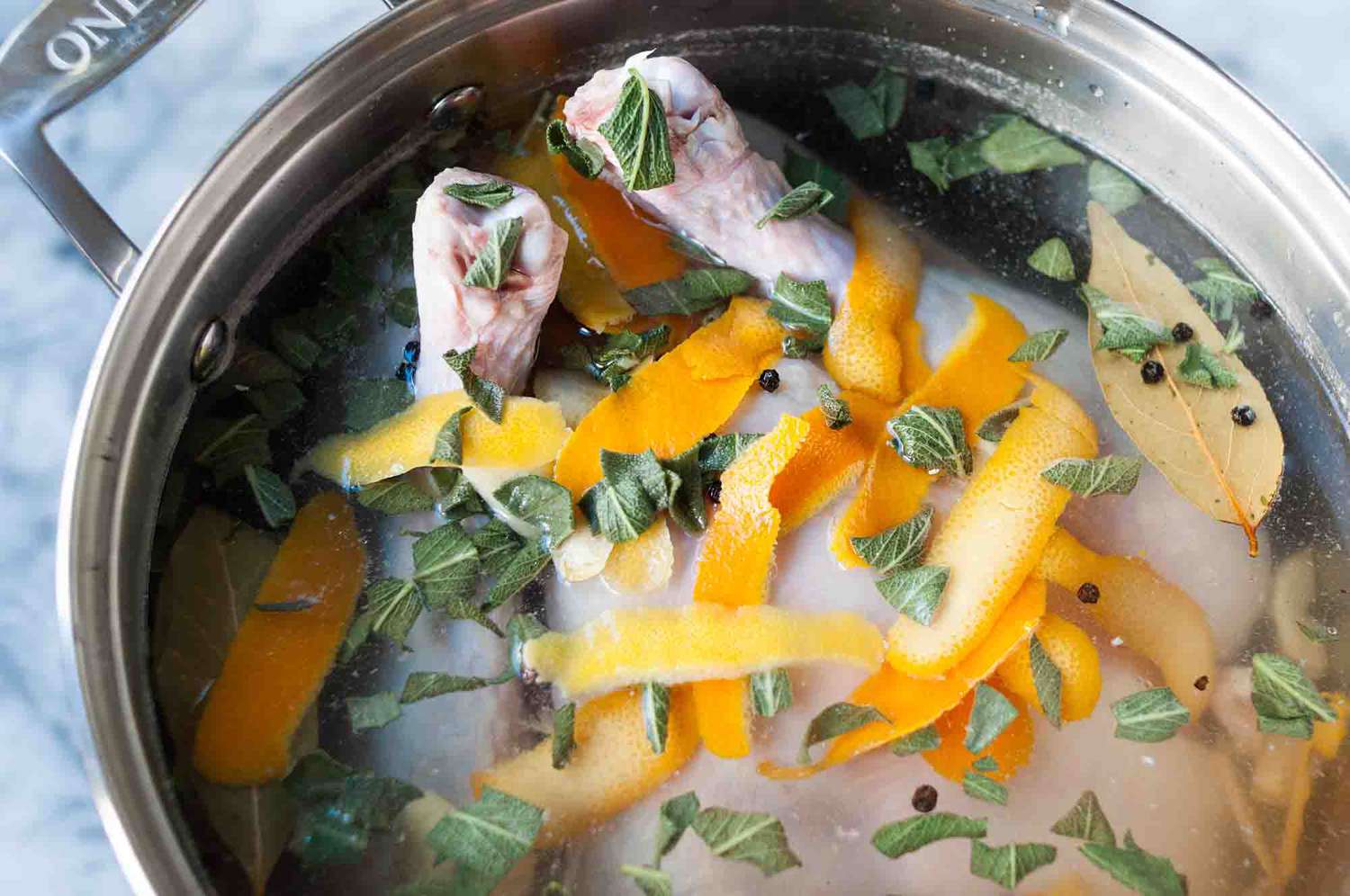 To prepare the basic turkey brine, you'll need:
Water, enough to keep the turkey completely submerged;

Salt and sugar – you need to heat the water until they dissolve;

Halved lemon and/or orange, pepper, and quartered onion;

Dried herbs to your taste.
Put your turkey into a chilled brine and refrigerate for a day or two.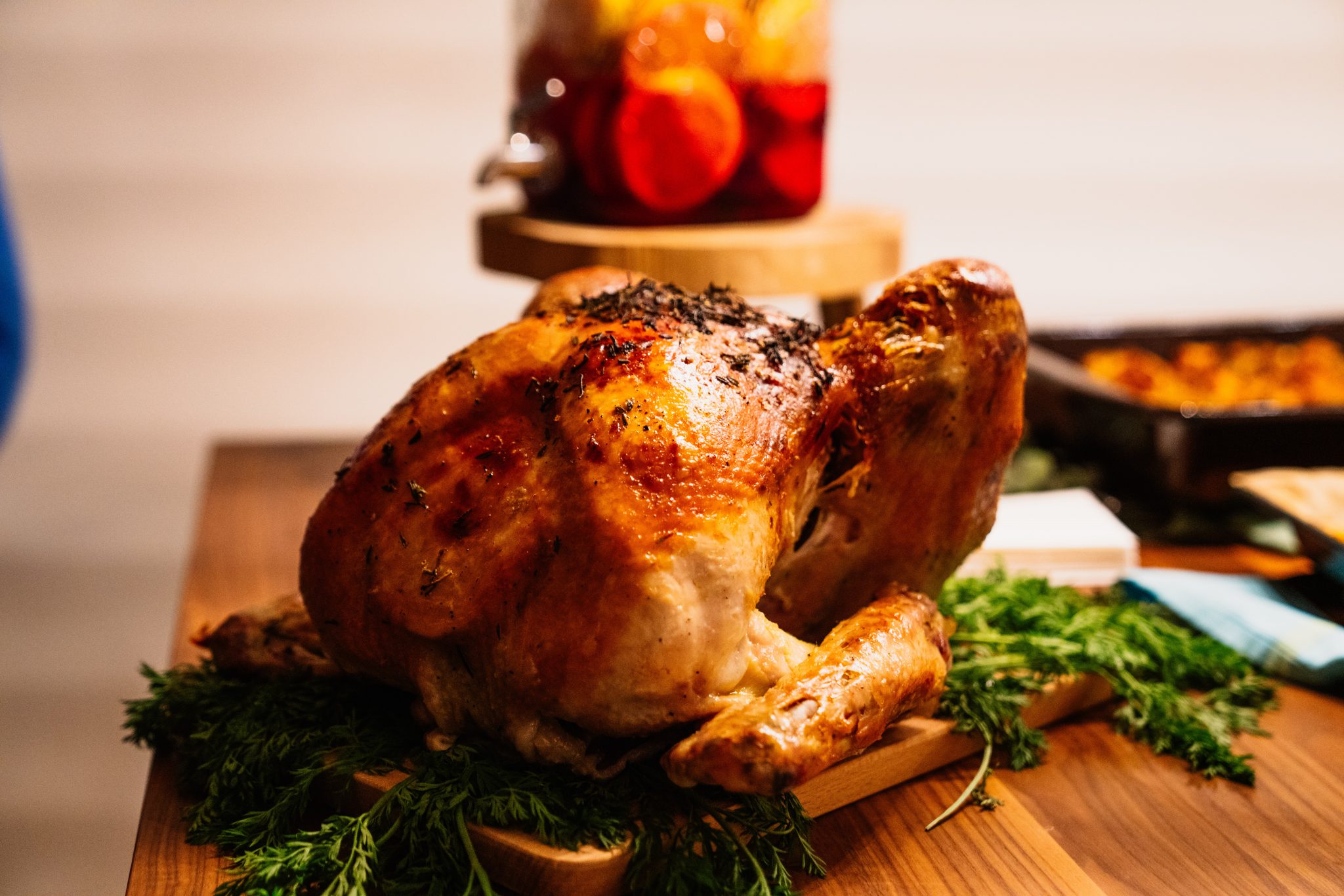 Roasting Wild Turkey for Thanksgiving
Roasting is a classic method of cooking wild turkey. After you've brined your turkey, you need to rinse the inside and outside of it with cold water and dry it with paper towels. Preheat the oven to 325 degrees. While the oven is heating, coat the skin and the cavity with oil/melted butter and lightly rub a small amount of salt and pepper. Then, place poked lemon or orange, carrot, chopped onion, and celery into the carcass, make a bed of vegetables, and put the turkey on it. Baste it with oil, butter, or pan juices once an hour. Tent the top with foil once the breast skin gets brown.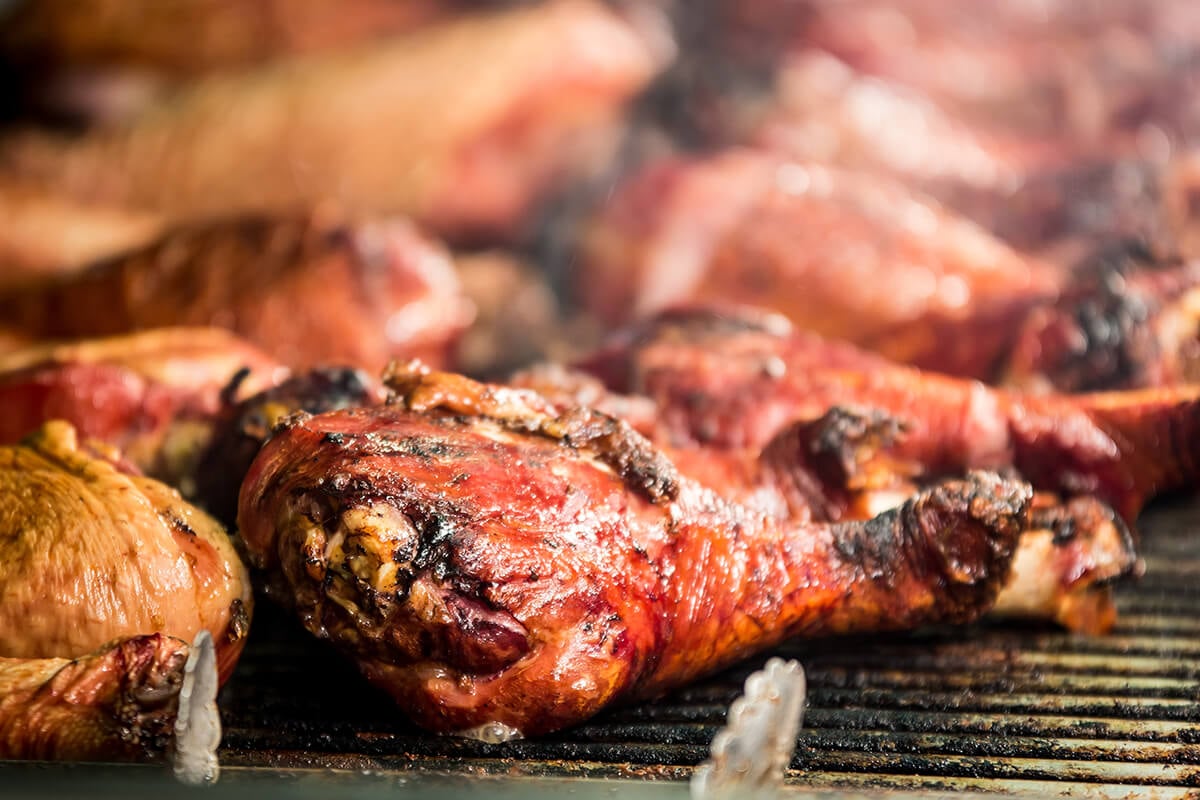 Grilled Wild Turkey
Grilling is a go-to cooking method for those who don't want to tinker around with the whole bird or want to celebrate a successful spring turkey hunt with the family by cooking in the backyard. Take breasts, wings, and legs and brine them. Or you can combine hunting and camping and cook your turkey on the grill mesh over a campfire.
Before grilling, prepare a marinade. Generally, marinades are for flavor, while brines are for moisture. Classic wild turkey marinade is prepared from olive oil, black pepper, salt, and crushed garlic. These are the basic wild turkey seasonings, but you can also add dried basil, parsley, or other herbs to your taste. Toss the marinade on the turkey and cover. Chill for 1-2 hours, then marinate at room temperature for 20 minutes.
Throw the parts on the grill and cook for about 3-4 minutes. Squeeze a fresh lemon over, and enjoy your wild turkey hunting meal.
Smoked Wild Turkey
If you want a deep smoky flavor, smoking is a method for you. Cut carrots, potatoes, onions, and garlic, place them into the foil pan, and lay the turkey over. Pour water into the bottom and sprinkle in fresh thyme, rosemary, sage leaves (5 roughly shredded leaves will be enough), anise seed, and orange zest. Place the turkey onto a middle rack of preheated smoker and smoke for 3 hours until the internal temperature of the turkey is 165 degrees. Glazing will enhance the flavor. So mix ½ cup of sugar with ¼ cup of water, coat the turkey and vegetables with the mixture, and place them into a 400-degree preheated oven for 10 minutes.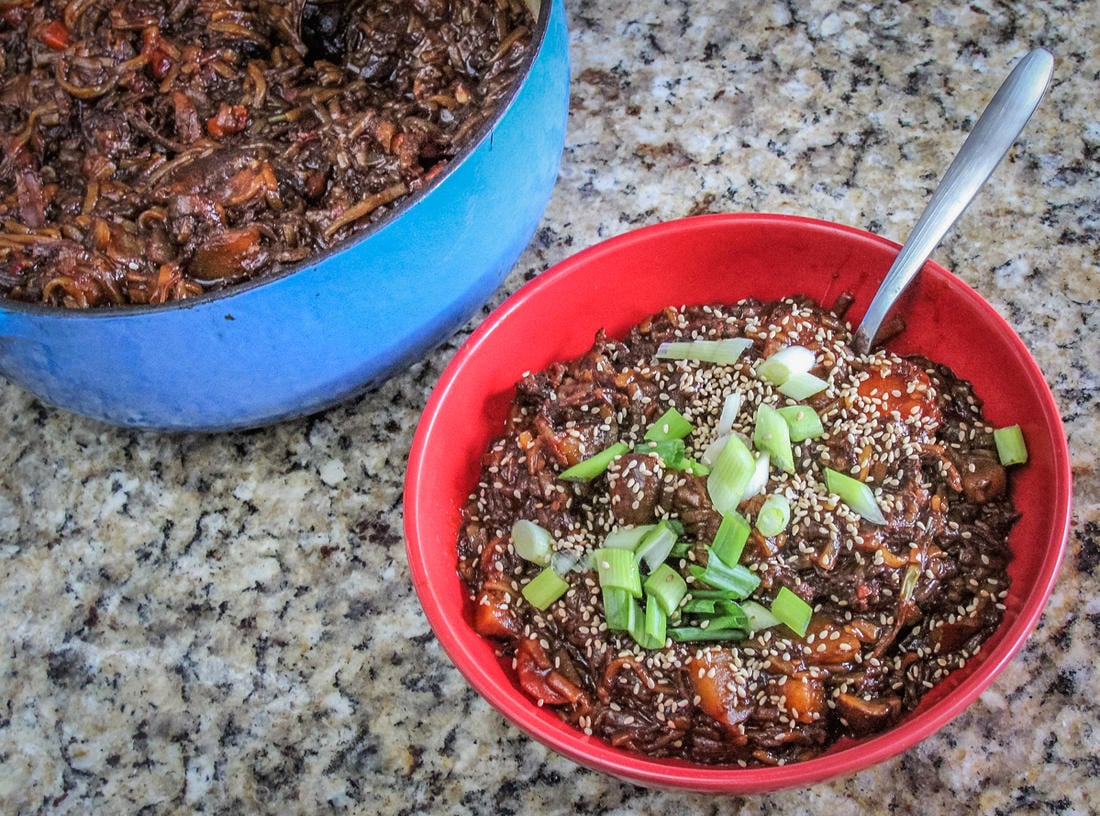 Slow-Cooked Wild Turkey
Slow-cooking turkey in the crock pot is a preferred method for cooking mature birds having tough meat, especially in the legs and thighs. It's also the easiest way of cooking. Set and forget, as they say. In 6-8 hours, you'll get tender, shreddable meat that you can use in enchiladas, tacos, casseroles, sandwiches, and burgers. Add peppers, chili powder, and cumin for Mexican-style dishes. For Asian recipes, use soy sauce, oyster sauce, and garlic powder. Try BBQ rub for pulled turkey burgers and sandwiches.
Conclusion
All the mentioned methods for wild turkey meat cooking are great. You only need to do everything right. If you want a traditional meal, go with roasting. And if you want to cook individual parts and spend quality time with your dearest in the backyard, choose to grill. Slow cooking will suit hunters who have to deal with mature gobblers. You can also cook rolled & stuffed turkey breast, make fried turkey nuggets, fry livers and hearts, use necks and carcasses to prepare wild game stock or soup, and so on. Just think of the core flavor, and pick your method.
Also, check out our post about cooking wild goose and duck.