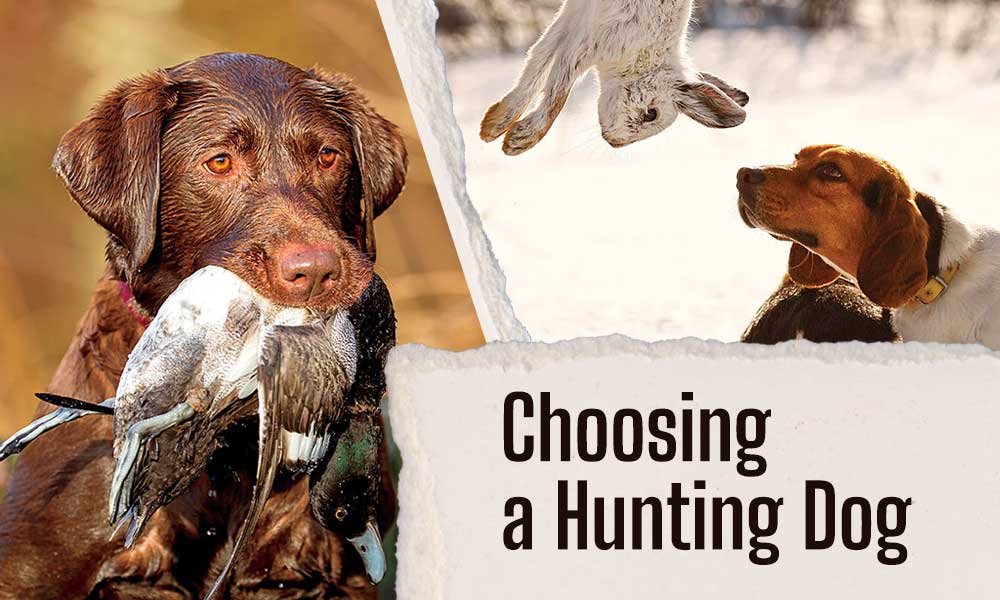 Last Updated on
Today, we no longer have to hunt for food to survive, but hunting with dogs still holds a special place due in no small measure to the intimacy of this kind of interaction. It's also quite efficient, of course.
So, if you're on the fence about which breed of hunting dogs suits your needs, read our guide. We've tried to gather all the necessary information regarding matching a dog to your hunting style and game, choosing a breeder, and training with dog gear for you to make an informed decision you'll never regret and get a hunting puppy you'll love forever. Enjoy!
Table of Contents
Hunting Dogs: Types & Breeds
Gun Dogs & Hounds
   Matching the Hunting Dog to the Hunting Style
– Waterfowl Hunting Dogs
– Upland Hunting Dogs
– Dual-Purpose Hunting Dogs
– Hounds: Small & Big Game Dogs
   Hunting Dog Breeds
– Labrador Retriever
– German Shorthaired Pointer (GSP)
– German Wirehaired Pointer (GWP)
– American Water Spaniel (AWS)
– English Springer Spaniel (ESS)
– Irish Setter
– Brittany
– Beagle
– Bluetick Coonhound
– Plott Hound
   More Things to Consider
Choosing a Pup
Hunting Dog Training
Hunting Dogs: Types & Breeds
Most of us are looking for dogs that will be our companions AND friends. That means you must match a hunting dog not only to your hunting style but also to your personality and lifestyle. Besides, you must take into account terrain and climatic conditions, the breed's health issues, nutrition and care, and many other factors. We'll discuss each one, but for now, let's talk about the two types of hunting dogs.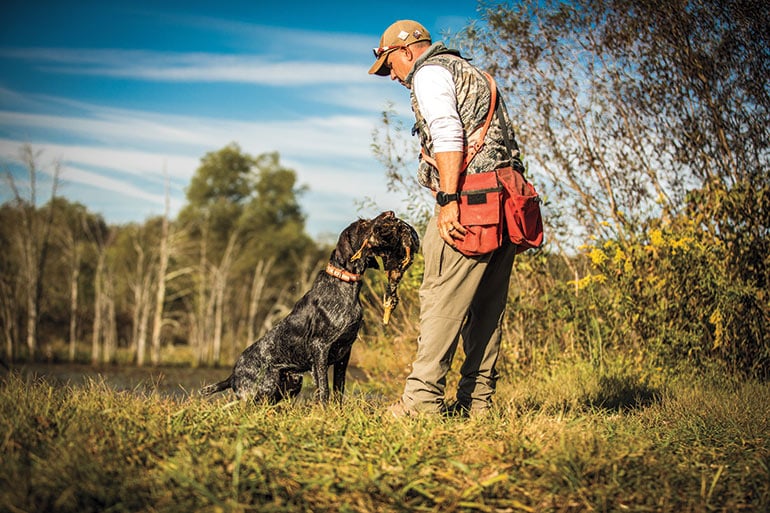 Gun Dogs & Hounds
All dogs for hunting are classified into gun dogs and hounds. Hounds proactively participate in hunting – they locate the prey, flush it out, and either maneuver it to the hunter or tree/bay it. It hints at the type of game these dogs are used for – deer, rabbit, boar, bear, and other mammals.
Gun dogs are bird-hunting dogs classified into pointing, flushing, and retrieving types. The names explicitly hint at the kind of job they are doing. A pointer points at the prey with its nose, letting the hunter know where to aim. A flushing dog riles birds up, so they fly into the sky and expose themselves to the gunshot. A retriever sits by its fellow hunter, waiting for them to bring the bird down so that they retrieve it undamaged.
It's noteworthy that most gun dog breeds have crossover hunting skills and can be taught to do several tasks and even adapt to different games. However, don't pick a hound to do a gun dog job and vice versa. It's like hammering a nail with a book – it can work, but what's the point? Besides, some breeds have innate qualities incompatible with particular hunting styles. Remember, breeds exist for a reason.
So, at this point, we have hounds designed for chasing running animals and bird-hunting dogs that point, flush, retrieve, or combine these tasks.
Matching the Hunting Dog to the Hunting Style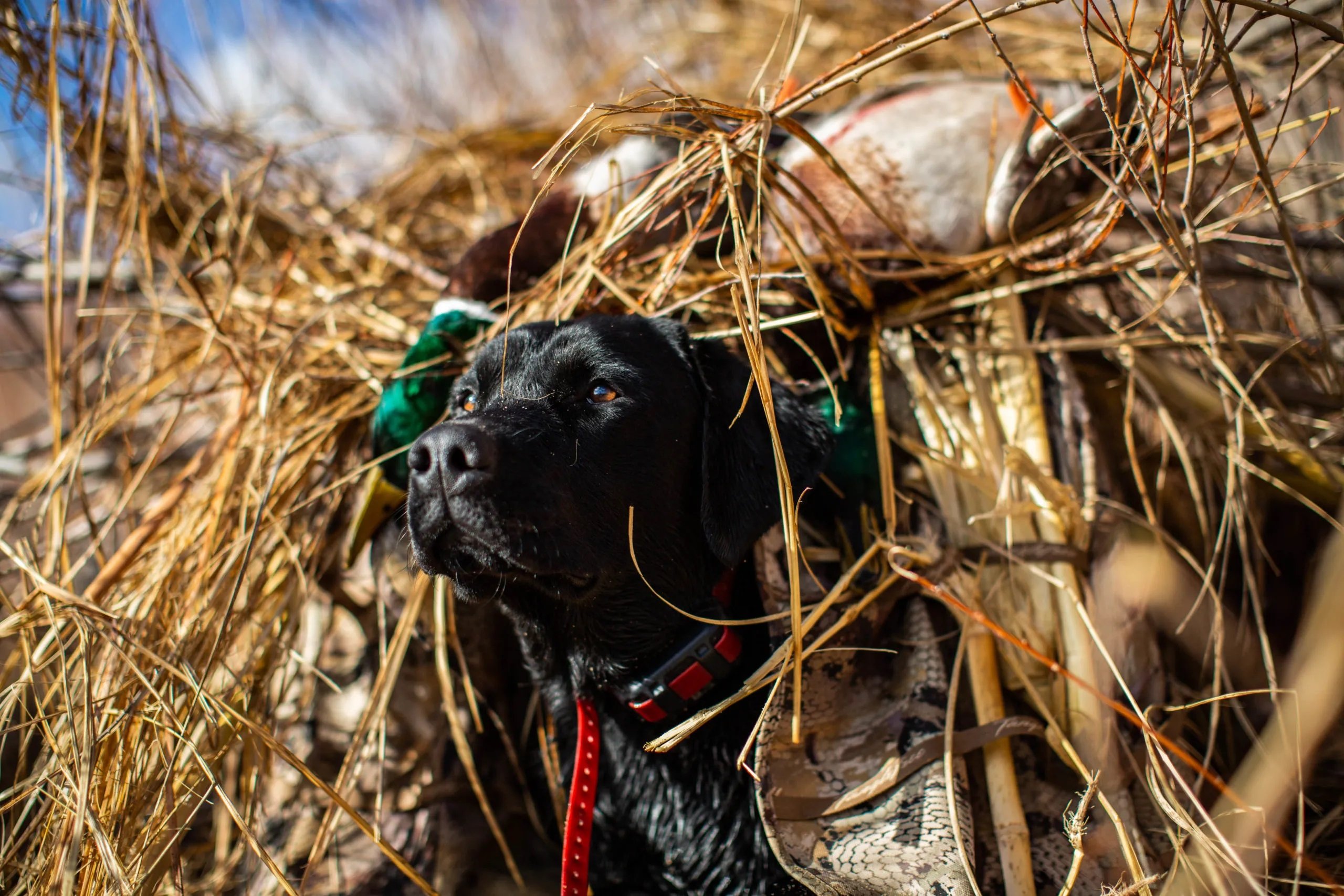 Waterfowl Hunting Dogs
The nature of hunting ducks and geese requires excellent retrieving skills. The waterfowl dog sits, watching the sky and waiting for that gunshot, and breaks when commanded. Unlike in upland hunting, where nose rules, retrievers mostly rely on their eyes when locating the birds in the air, watching them fall, and reading the hand signs of their hunters. Ideal retrievers are steady, ready to deal with cold water and mud, and aren't frustrated with abundant duck hunting gear (blinds, boats, decoys, etc.) Though some breeds have waterproof coats, hunters always outfit their canine companions with dog vests for superior floatation and protection.
Upland Hunting Dogs
Hunting quail, grouse, pheasant, or any other bird found on the ground in the uplands requires pointing OR flushing skills.
Again, pointers are designed to locate the bird and hold the point. The hunter does the flushing on their own. Pointers can go far beyond the gun range when sniffing for the bird. Flushers, on the other hand, hunt very close to the hunter, moving in a grid-like pattern to check as much of the ground as possible. Once the prey is located, there's no stopping and pointing – a flushing dog puts the bird in the air fast and hard.
So, choosing between a pointer or a flusher, you need to consider your preferred hunting pace. Do you like fast experiences? Can you stay focused and ready to make a shot for a long time? Or you're a slow kind of hunter? Can you keep pace with your dog, or would you rather wait for it to locate the bird and then carefully approach it?
Hunters craving thrill, having developed stamina and reaction time, usually shift towards flushers. Pointers are great dogs for steady hunters.
Now, let's talk about retrieving. Typically, flushing dog breeds have a natural knack for retrieving, which is a huge benefit when you hunt near water. Many flushing dog owners have stories about a pheasant smacking in the middle of the swamp and their canine friend heroically retrieving it. You can teach a pointer to retrieve, but it will likely need force-fetch training by a professional.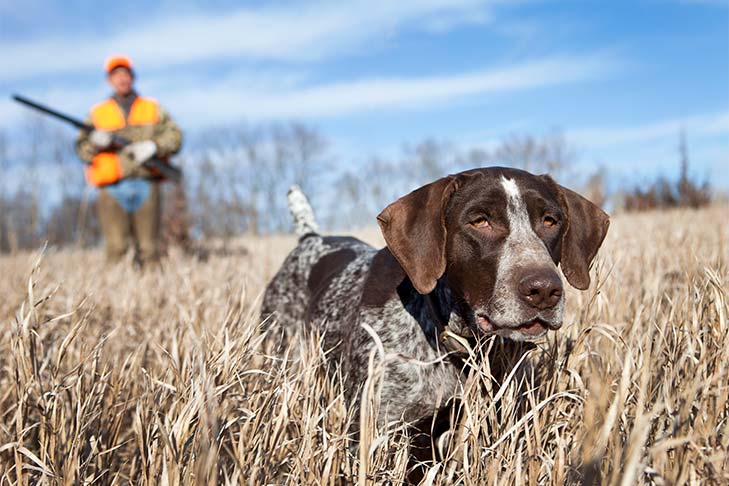 Dual-Purpose Hunting Dogs
Hunters often don't stick with one type of game and want to occasionally switch from upland birds to ducks and geese and back. Switching is easy for humans, but dogs may not adapt just as fast.
As you've learned, most flushers are natural retrievers, which means they can be trained for both waterfowl and upland hunting. However, the greatest challenge is to teach them to switch between the modes. Some flushers just can't be steady – it's in their bloodline. When duck hunting from the blind or boat, a dog breaking the moment the shotgun goes off is frustrating and potentially dangerous. If you want to bring your flusher to waterfowl hunts, you must introduce it to the waterfowl world as soon as possible. Your dog must be comfortable around duck hunting gear, be ready for a lot of mud and water work, and don't hesitate to pick ducks. If you want to switch between game birds, you and your canine partner must train a lot.
Hounds: Small & Big Game Dogs
Hounds are classified into sighthounds hunting by speed and sight and scenthounds hunting by tracking scents over distances and extended periods. The former are agile and have lean bodies, while the latter are shorter and have squat bodies. Generally, sighthounds are used for hunting deer, rabbits, and other agile game, and scenthounds are go-to dogs for hunting black bears, bobcats, cougars, feral pigs, raccoons, squirrels, opossums, and foxes. Also, scenthounds are known for loud voices that help hunters to locate them when they are out of sight. You can be faster in finding your hounds when equipped with a dog tracking device.
Though a long tradition, hunting with hounds is controversial. Some disadvantages include potential meat damage, trespassing, a high risk of wounding an animal, friendly fire, and a disruptive experience for other hunters. Yet, the sport remains popular in several states.
Hunting Dog Breeds
At this point, you know your personal best hunting dog type. Now, let's consider what breeds are perfect for what type of hunting and explore the ten best hunting dog breeds in detail.
Game
Dog Breeds

Upland Birds / Flushers

Spaniels

(English Springer Spaniel, Boykin Spaniel, English Cocker Spaniel, etc.)

Upland Birds / Pointers

Pointers

(English Pointer, German Shorthaired Pointer, German Wirehaired Pointer, etc.)


Setters (English Setter, Irish Setter, Gordon Setter, etc.)
Brittany
Spinone Italiano
Weimaraner
Wirehaired Pointing Griffon

Waterfowl

Retrievers (American Labrador Retriever, Golden Retriever, Chesapeake Bay Retriever, etc.)
American Water Spaniel

Mammal / Scenthounds

Bluetick Coonhound (cougar)
Beagle (rabbit)
American Foxhound (deer)
Plott Hound (bear)
Bloodhound
Basset Hound
Dachshund

Mammal / Sighthounds

Azawakh
Vizsla
Sloughi
Afghan Hound
Saluki
Wolfhound
Whippet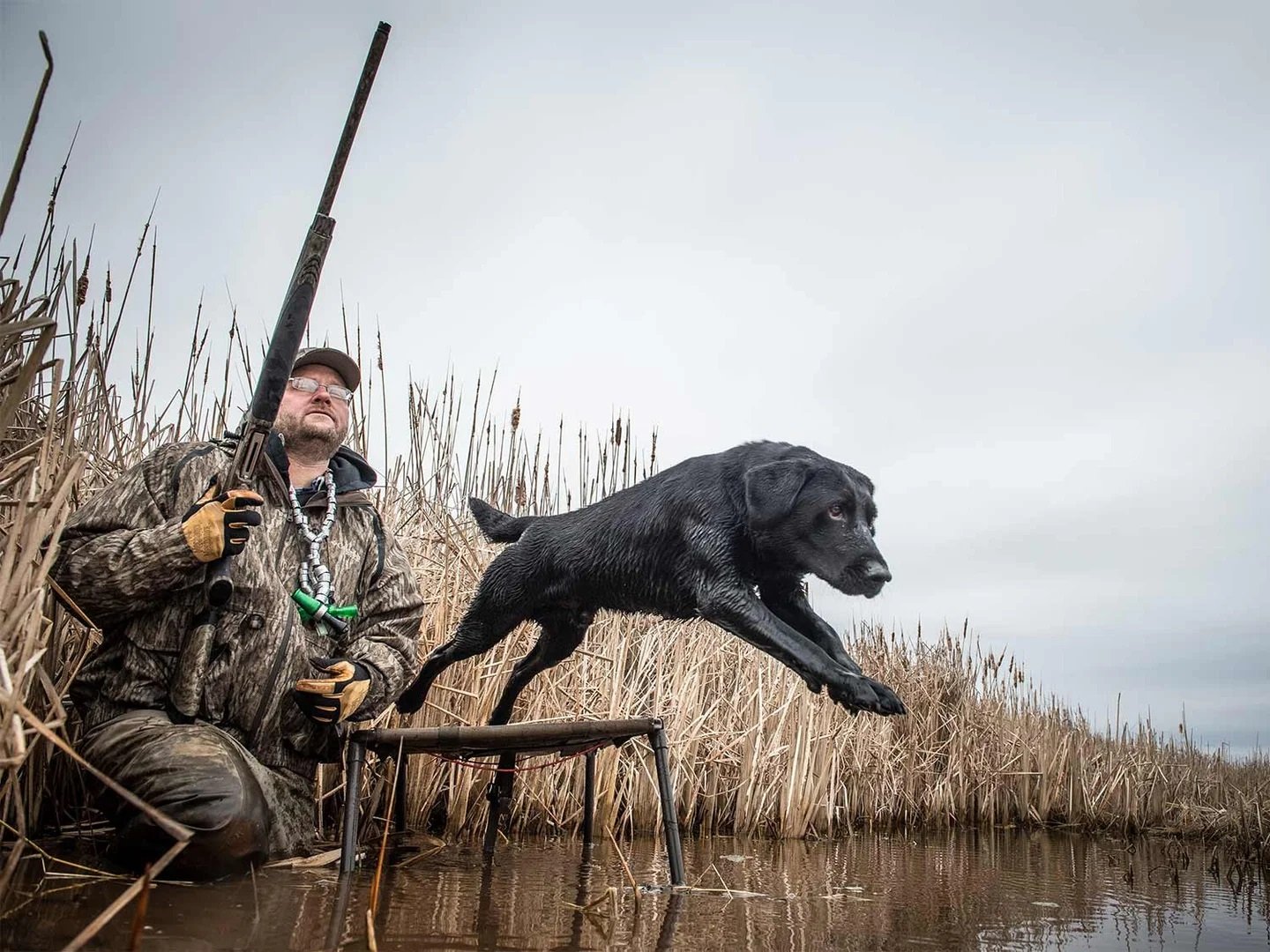 Labrador Retriever
Height: 20-25 in
Weight: male 65-80 lb, female 55-70 lb
Life Expectancy: 10-12 years
Activity Level: High
Personality: friendly, calm, outgoing, highly social
Labs top best hunting dog breeds lists for a reason. These dogs are enthusiastic workers, versatile hunters, quick learners, and lovable family members. Having stamina in abundance, a thirst for retrieving, and dense waterproof coats, their specialty is obviously waterfowling. They can crush through cattail swamps all day long, even in the winter. However, they are also natural flushers and can be trained for upland hunting. A bored lab can become a hyperactive nuisance and quickly gain extra pounds.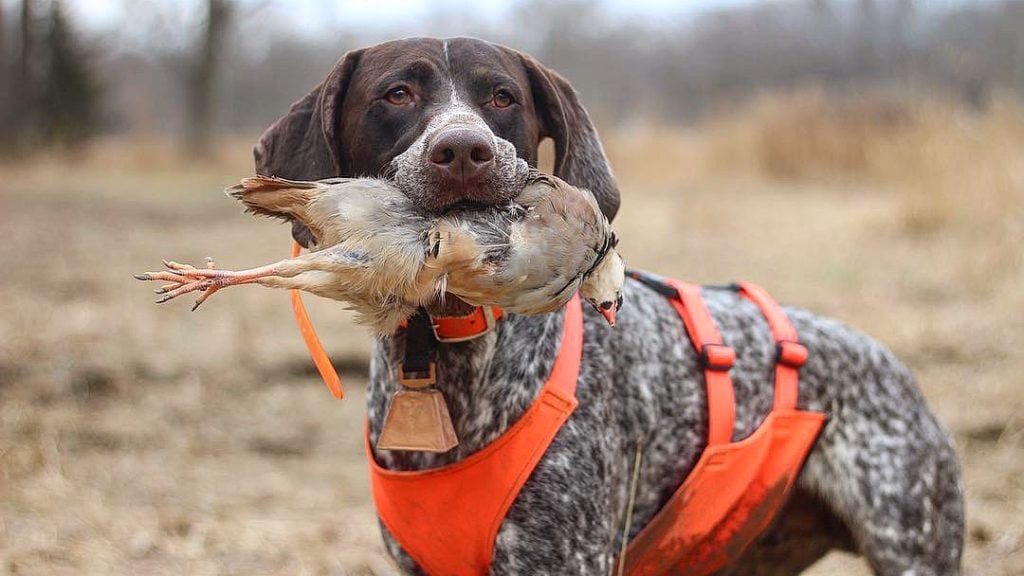 German Shorthaired Pointer (GSP)
Height: 21-25 in
Weight: male 55-70 lb, female 45-60 lb
Life Expectancy: 12-14 years
Activity Level: High
Personality: friendly, intelligent, bold, willing to please, enthusiastic
Agile, powerful, enduring, and fast, GSP is a perfect choice for a hunter who wants to hunt it all. As the name suggests, these are pointing dogs for upland hunting, but you can train them to retrieve ducks and geese. You shouldn't be worried about your GSP getting cold quickly because the dog has a dense coat with stiff guard hairs. Also, you can train them to track rabbits and even deer. In the family, they are sweet and friendly.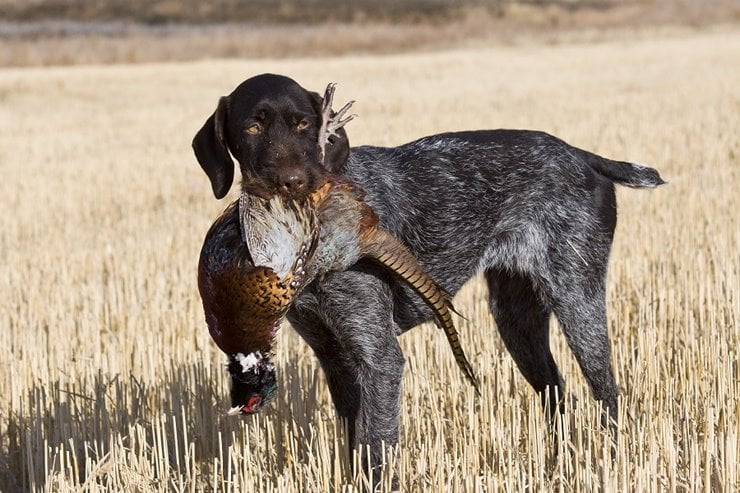 German Wirehaired Pointer (GWP)
Height: 22-27 in
Weight: male 60-71 lb, female 50-60 lb
Life Expectancy: 14-16 years
Activity Level: High
Personality: friendly, affectionate, eager, enthusiastic
GWP is not only larger than its shorthair cousin but also is distinct for its wiry double coat. Originally bred for hunting in the woods and harsh fields, they have coats that protect them from brushes and thorns. It's also weather- and water-resistant, which makes GWP a better hunting dog breed for a colder climate than GSP. It's excellent for hunting upland birds around water and can be trained to retrieve ducks.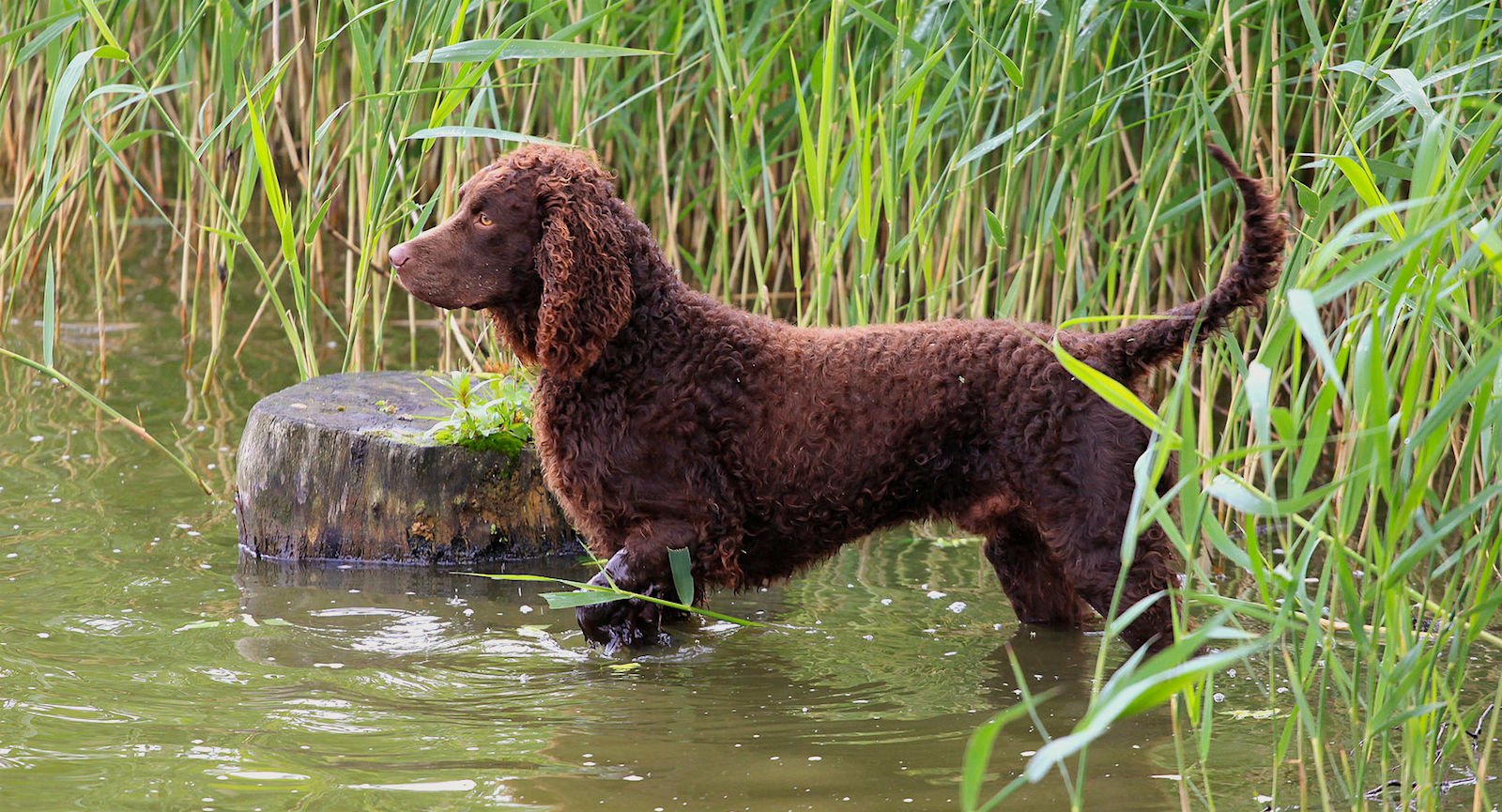 American Water Spaniel (AWS)
Height: 15-18 in
Weight: male 30-45 lb, female 25-40 lb
Life Expectancy: 10-14 years
Activity Level: High
Personality: happy, eager, charming
AWS was bred in Wisconsin to hunt around the Great Lakes and has a warm waterproof coat and web toe, which hints at their waterfowling specialty. Indeed, these dogs have a strong instinct for retrieving. However, also known as close-working flushers, they will be great upland hunters. American Water Spaniel is a mid-size, lighter-weight breed, which makes for easier entrance and exit from boats and blinds.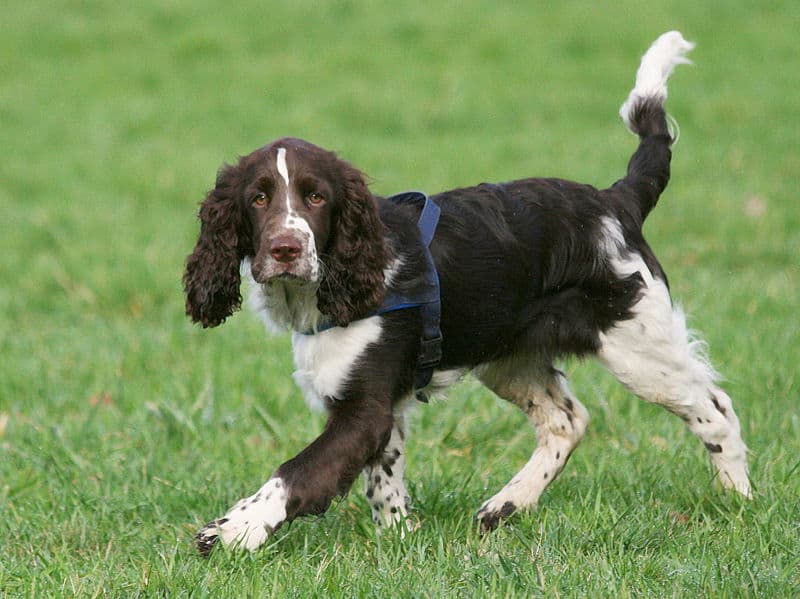 English Springer Spaniel (ESS)
Height: 18-22 in
Weight: male 45-55 lb, female 40-50 lb
Life Expectancy: 12-14 years
Activity Level: High
Personality: playful, friendly, obedient, eager to please
If you're looking for a perfect flusher, you need an English Springer Spaniel. The breed is generally known for being extremely hyper, but while maintaining a major work drive, they remain receptive to being called off. "Springing" grouse in the woods and pheasants in the field is their thing, but they can also be trained to retrieve ducks from small water.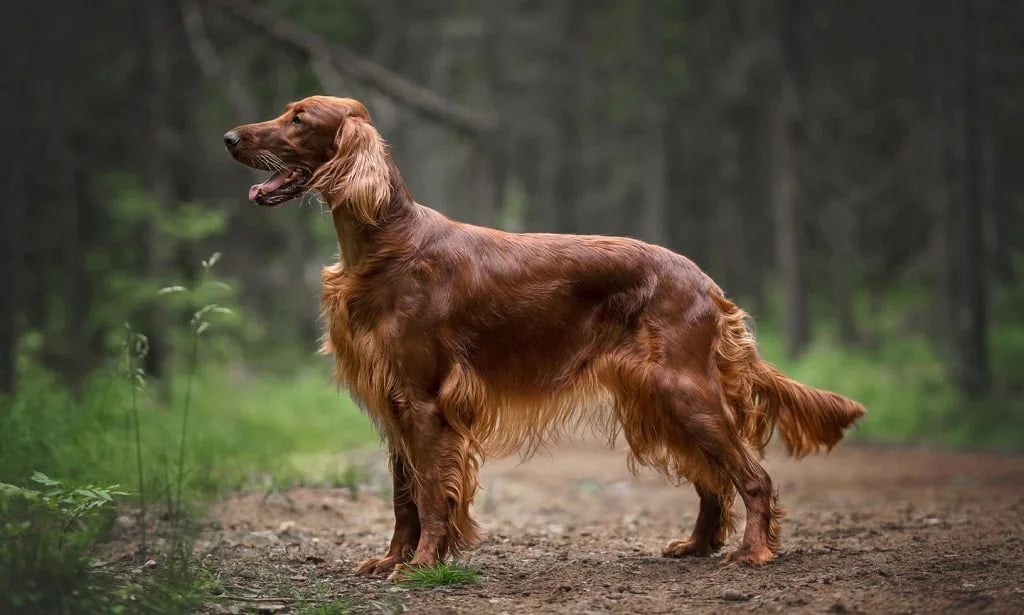 Irish Setter
Height: 22-26 in
Weight: male 60-71 lb, female 53-64 lb
Life Expectancy: 12-15 years
Activity Level: High
Personality: outgoing, stable, sweet-natured, active
These beautiful dogs are pure upland pointers known for their work ethic, stamina, and high intelligence. If you're an upland hunter to the backbone looking for a hunting dog to accompany you in a variety of upland destinations, nothing beats Irish Setter.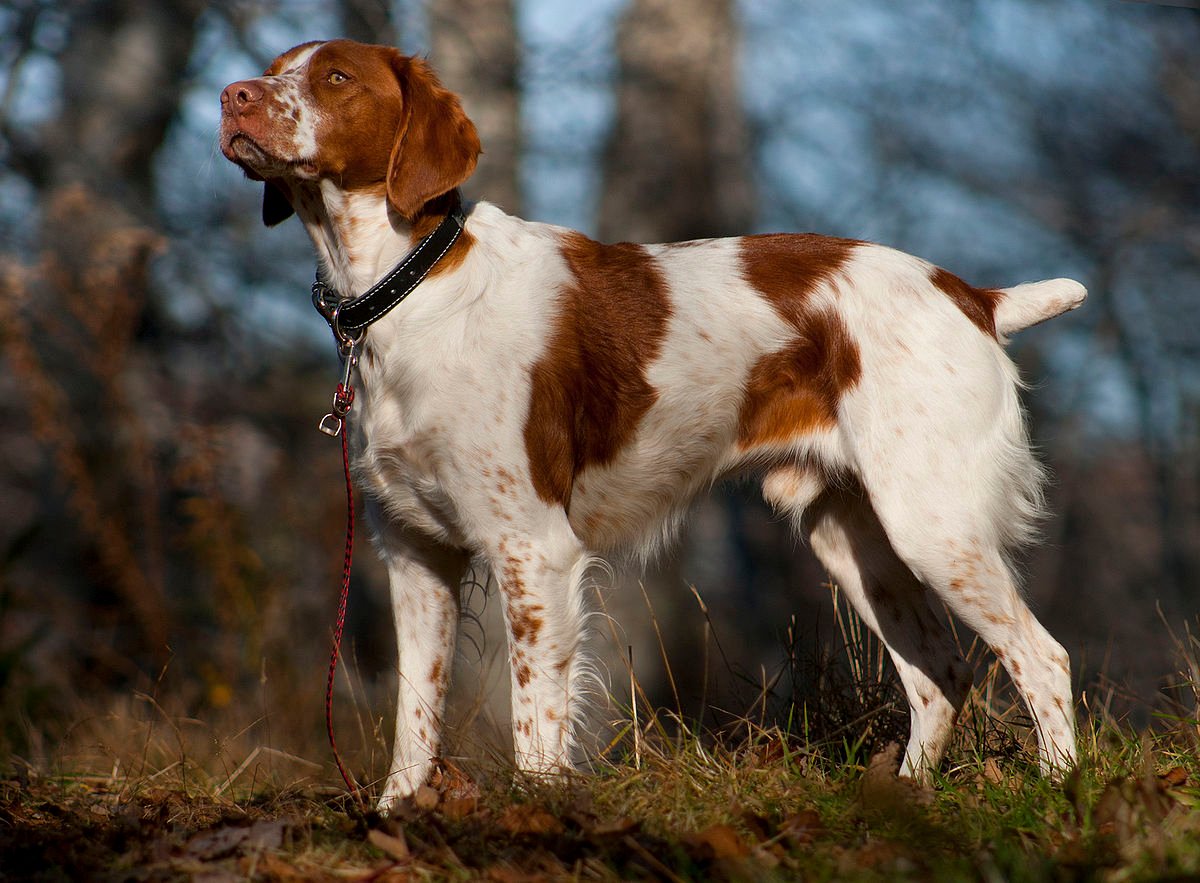 Brittany
Height: 17.5-20.5 in
Weight: male 30-40 lb, female 30-40 lb
Life Expectancy: 12-15 years
Activity Level: Super High
Personality: intelligent, agile, quick, adaptable, upbeat, fun-loving
If you want a mid-size pointer with natural retrieving ability, American Brittany is the dog that you need. It's noteworthy, though, that they are close-working pointers, unlike GSP and GWP. Athletic, determined, and energized, they can work all day long.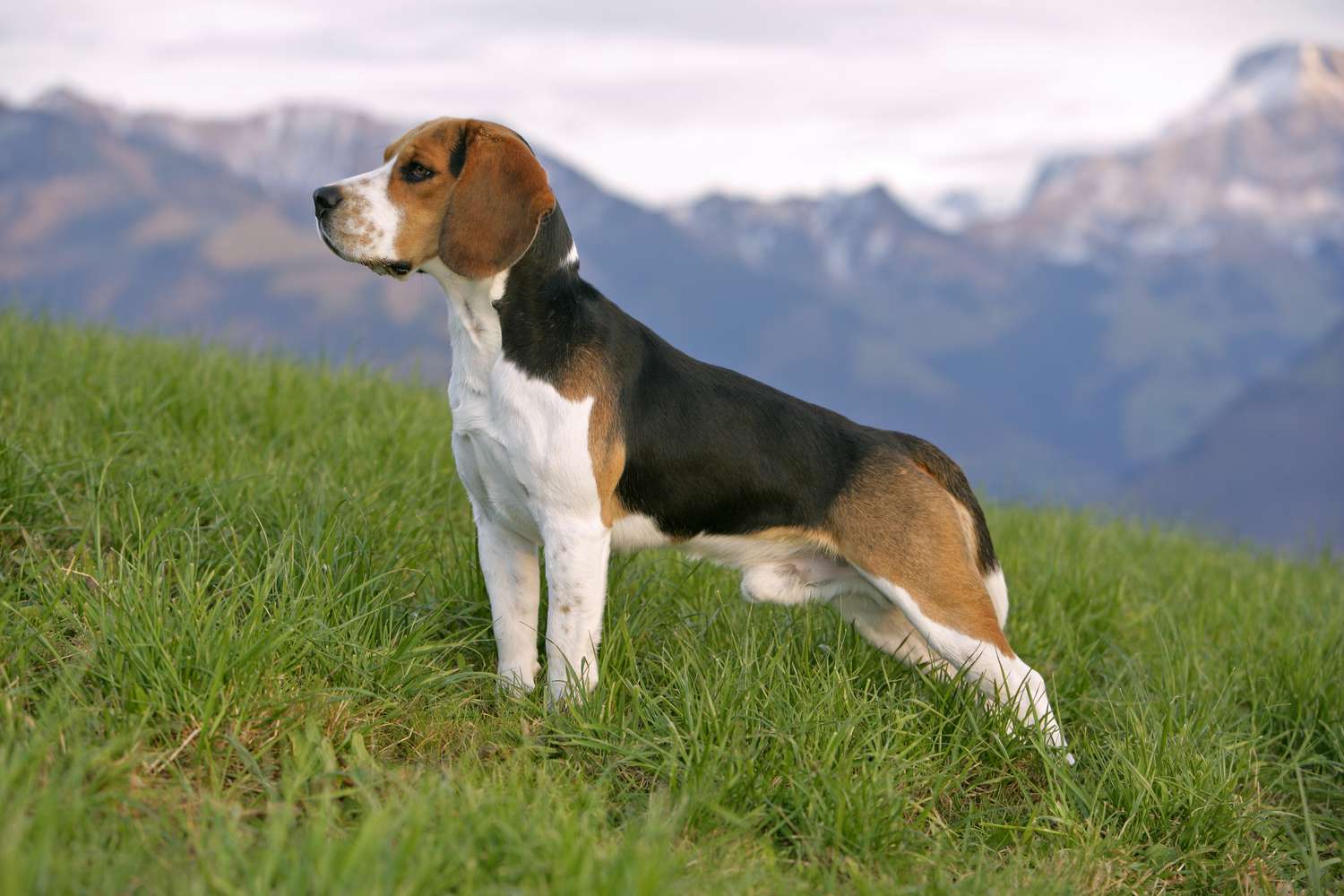 Beagle
Height: 13-16 in
Weight: male 20-22 lb, female 22-24 lb
Life Expectancy: 12-15 years
Activity Level: High
Personality: amiable, determined, excitable, intelligent, merry, curious
Beagle is probably the most popular hound breed. These small, mighty dogs have a developed sense of smell, which they masterfully use to track rabbits or other small animals like coons, and signature bellowing howl. Beagles can also be trained to detect and track deer.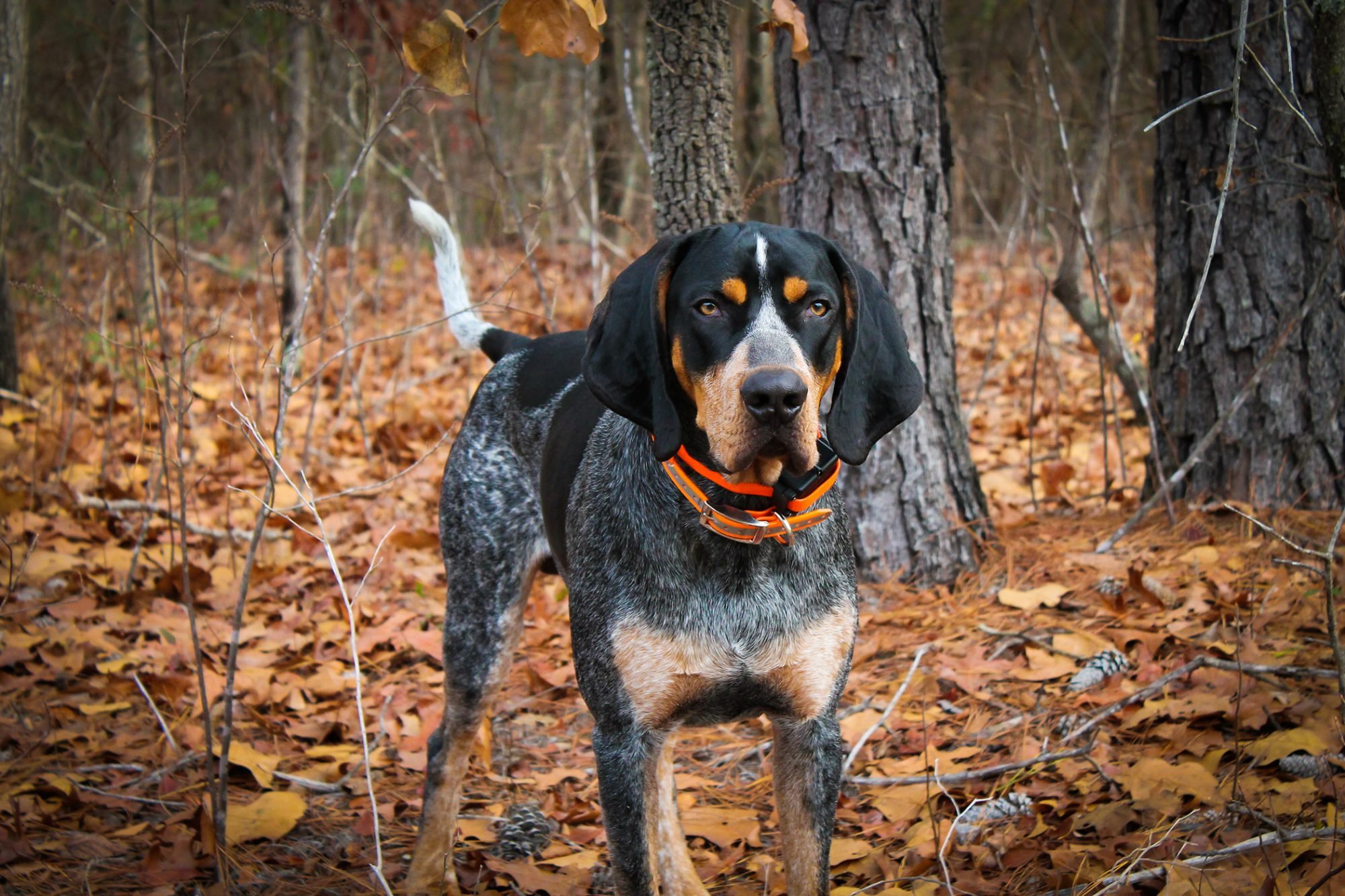 Bluetick Coonhound
Height: 21-27 in
Weight: male 22-80 lb, female 45-65 lb
Life Expectancy: 11-12 years
Activity Level: High
Personality: tenacious, devoted, smart
One of the best dogs for hunting, Bluetick Coonhound, despite the name, is designed to hunt such dangerous animals as mountain lions. They are powerful, enduring, tenacious dogs with great noses and abundant stamina, which means they can be trained as scenthounds or sighthounds.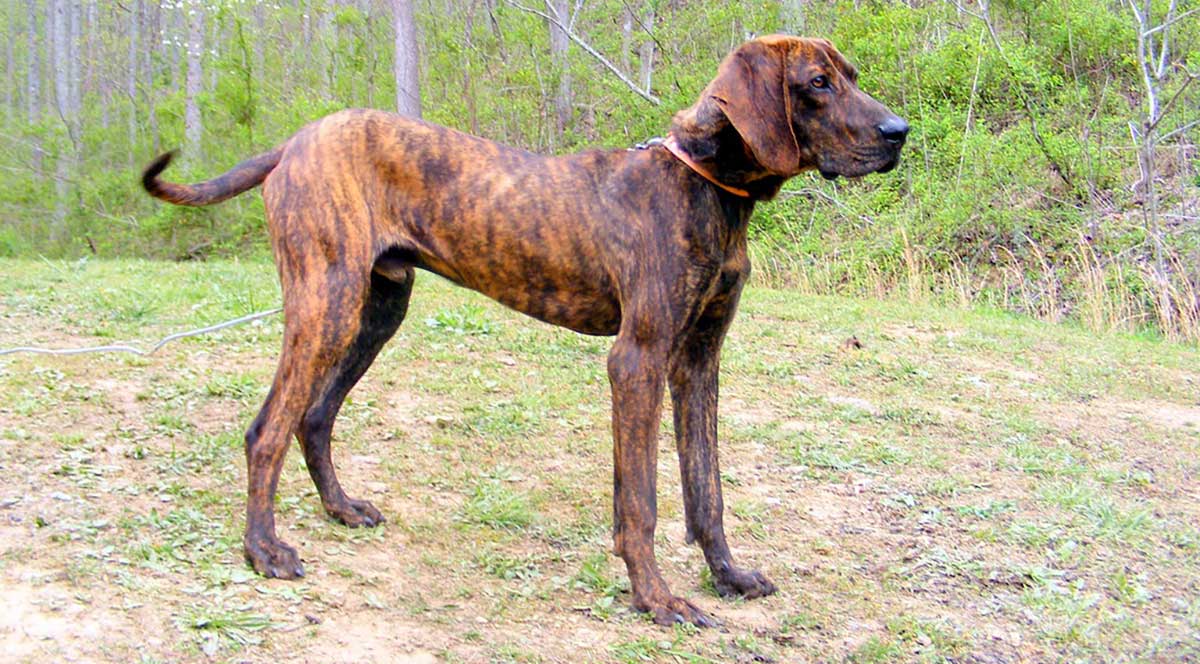 Plott Hound
Height: 20-28 in
Weight: male 51-60 lb, female 40-55 lb
Life Expectancy: 12-14 years
Activity Level: Moderate
Personality: loyal, intelligent, alert, bold
Plott Hound is a staple for a bear-hunting dog. This brave canine knows how to track its prey, approach it, stand its ground, and threaten. Plotts have muscular bodies and infinite stamina, which means they are perfectly built for a long black bear, cougar, or wild boar hunt.
More Things to Consider
Your hunting style and game of choice should be your primary consideration when choosing a hunting dog. However, you must also take into account other things:
Terrain and Climate. Think of whether the breed in questing has a proper appearance. For example, cold climates require a canine with a thick warm coat; the best dog for hunting in sun-drenched uplands is one with a light-color coat; waterfowlers must pick a dog with a water-resistant coat.

Hunting Experience Level. Pick a highly trainable, biddable breed if a beginner dog handler or a novice hunter in general.

Consider a breed's behavior and temperament. Remember that he or she will be around for quite a while, and you want you and your dog to be friends or, at least, good companions.

Consider a hunting dog's nutrition and care needs and take an unbiased look at your capability to satisfy them.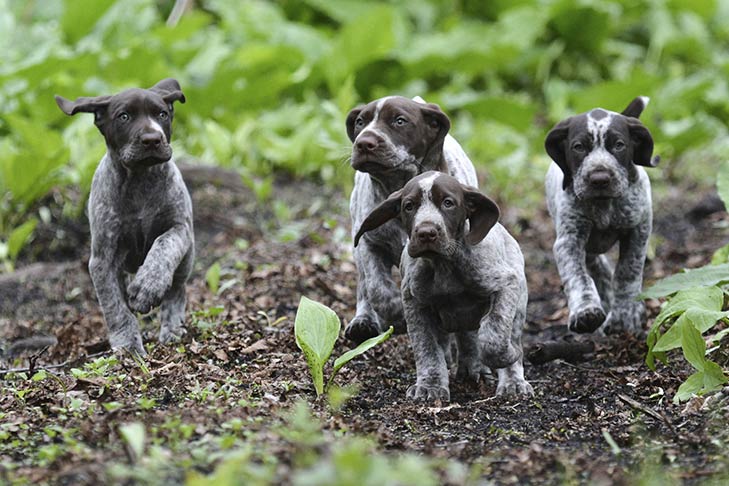 Choosing a Pup
Picking the breed isn't the hardest part. Searching for a reputable dog breeder with a proven bloodline is. There are several ways to find one:
Ask fellow hunting dog owners about the breeders they've picked their dogs from.

Go to the website of the association for the breed you're interested in and explore. Look for field-bred dogs.

Investigate forums and online communities.

Look for a great litter, not a great puppy.
Once you find a notable breeder, visit them.
Ask about the parents and grandparents and check if their test is certified through

OFA

. Ask to see the parents hunting if possible.

Also, ask about the puppy's health records. You'll also need a genetic health guarantee.

Ask the breeder personal questions and find out how long they are in the business.

When you get to the litter, you want to see a puppy with a clean coat, ears, eyes, and nose. Puppies have different energy levels, but they still should be lively, not lethargic. Avoid shy and reserved puppies. Also, check if your puppy has a solid stool.
If the breeder shows no concern for you, hesitates to answer any of the above questions, uses doubtful advertisement channels, offers puppies for sale year-round, and sells puppies younger than 8 weeks old, and you can't meet the parents or visit the breeder at home, avoid dealing with them.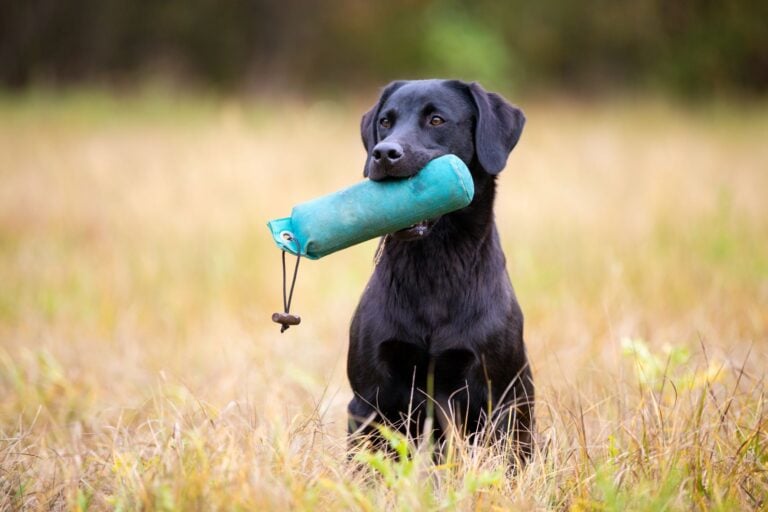 Hunting Dog Training
Training starts with basic obedience and fundamental commands (sit, stay, come), but don't forget that puppyhood is when the bond between a hunter and their hunting dogs starts to forge. So spend enough time training and chilling with your little canine friend for them to learn to trust you. Also, expose your pup to the real world of wildlife as soon as possible.
Once the bond has forged, and the puppy has achieved the necessary level of obedience, progress to specific hunting training. The training program and dog gear depend on the hunting dog type. For example, you'll need dog bumpers and training dummies to teach your retriever to retrieve and do it correctly. Great for land and water, plastic bumpers come in different colors to create various visuals and modulate different situations. Dead-fowl training dummies are next-level gear intended to correct chewing, shaking, and improper picking up.
For training flushers and pointers, you'll need a training scent of the game you want to hunt in the future.
Be consistent and correct the dog's behavior timely. If your pointer points for nanoseconds and then busts birds (behaves like a flusher), it's a big problem that must be corrected. If you plan to hunt ducks AND geese, you must introduce your retriever to geese as well. The same with dual-purpose dogs – expose your canine friend to upland birds and waterfowl. An upland dog that has never trained with ducks is unlikely to pick one. One more vital training step is introducing your dog to gunshots early.
Generally speaking, decide on the dog skill set required for your way of hunting and follow the dog training program. Don't be shy to seek help from a professional (especially in the case of multi-purpose dogs). Meet them in person. Or watch dog training movies and videos created by famous hunters.