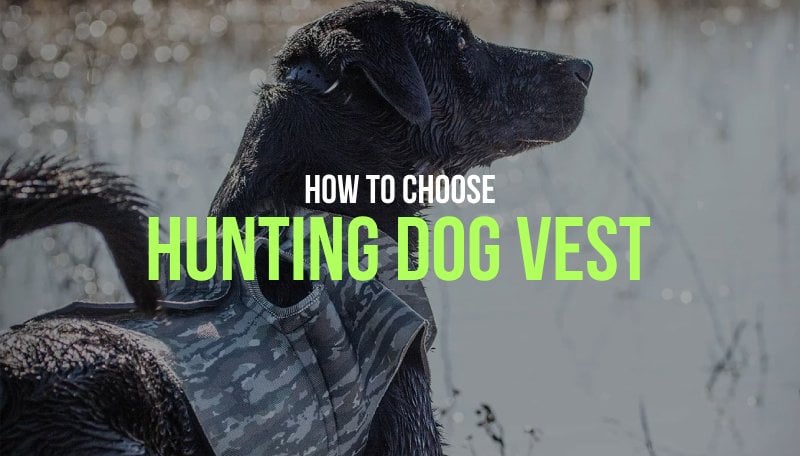 Last Updated on
Now more than ever, our canine companions have access to gear specifically designed for their comfort and safety during different weather conditions and hunting scenarios. On the other hand, this wide variety of dog vests can make picking the right equipment quite daunting. So, how do you choose the perfect hunting dog vest? Let's dive in and explore.
Table of Contents
Types of Hunting Dog Vests
Things to Look for in a Hunting Dog Vest
Best Hunting Dog Vests – Review
Types of Hunting Dog Vests
The variety of dog gear is as diverse as our four-legged friends themselves. From dog parkas and fleece vests to tactical harnesses, the selection seems endless. Each type of dog clothing serves a unique purpose, catering to different needs based on the activity at hand. However, this guide aims to narrow down your choices and focus specifically on hunting vests for dogs, emphasizing upland and waterfowl vests.
Upland Dog Vest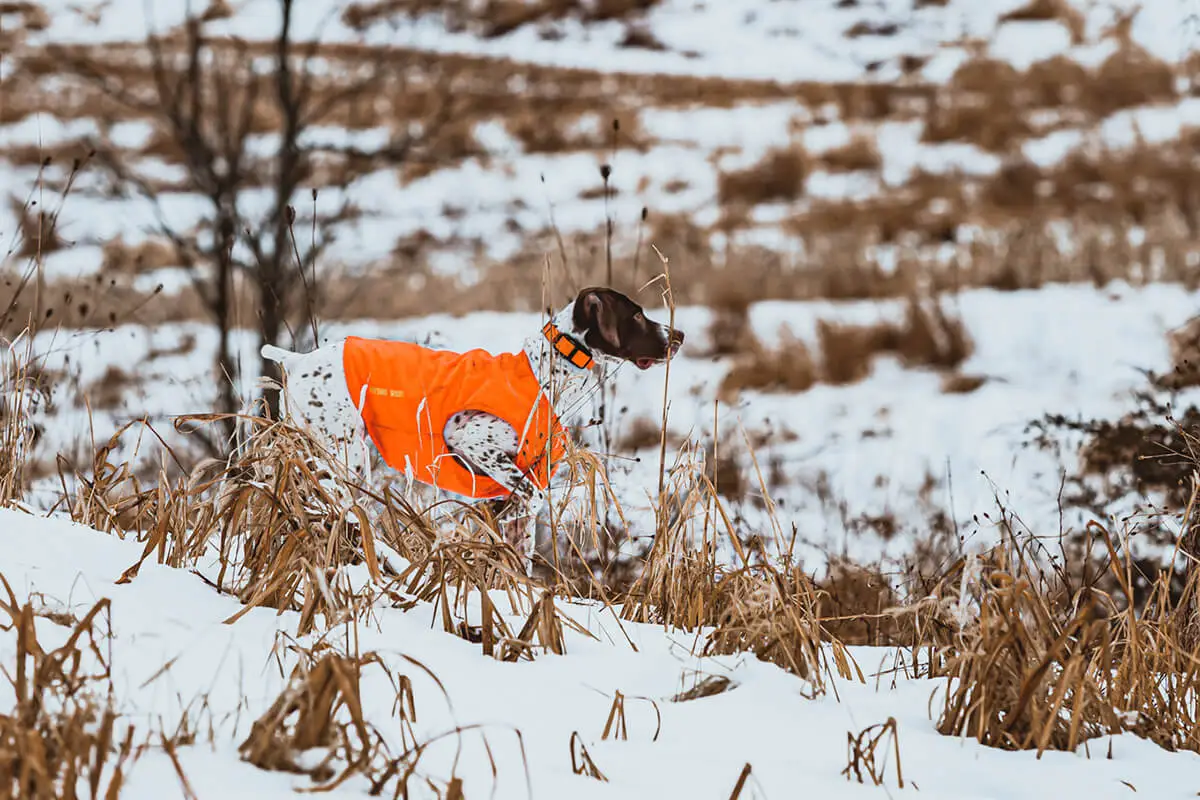 Imagine you're upland hunting with your pointer. Pointers can go far beyond the gun range to locate birds; if the grass is thick, it can be hard to locate and identify them quickly. You must always be aware of your dog's location – you don't want to hit the dog because you didn't notice them. Moreover, you don't want your dog to be mistaken for a deer or other game by other hunters!
That's where upland dog-hunting vests come in. These vests typically come in blaze orange or day-glow green to increase your dog's visibility. Often, they are built with ripstop nylon material that protects from thorns and other sharp objects and cover the neck and chest areas – the most vulnerable parts of an upland dog. Despite being lighter than the neoprene used for water dog vests, the nylon material offers substantial protection without causing overheating, making it ideal for rigorous hunts.
Hounds (dogs who hunt deer, hogs, bears, and other mammals) can also wear this type of dog vest. The bright hues make your dog easily noticeable, helping you keep track of their location at all times, especially when you stand with your rifle shouldered, waiting for the right moment to take a shot. Note, however, that your hound needs far more protection than abrasion resistance. It's not uncommon to see dogs hunting dangerous animals like bears and cougars wearing Kevlar dog vests designed to protect the dog from teeth and claws.
Hunting Dog Vest for Ducks & Geese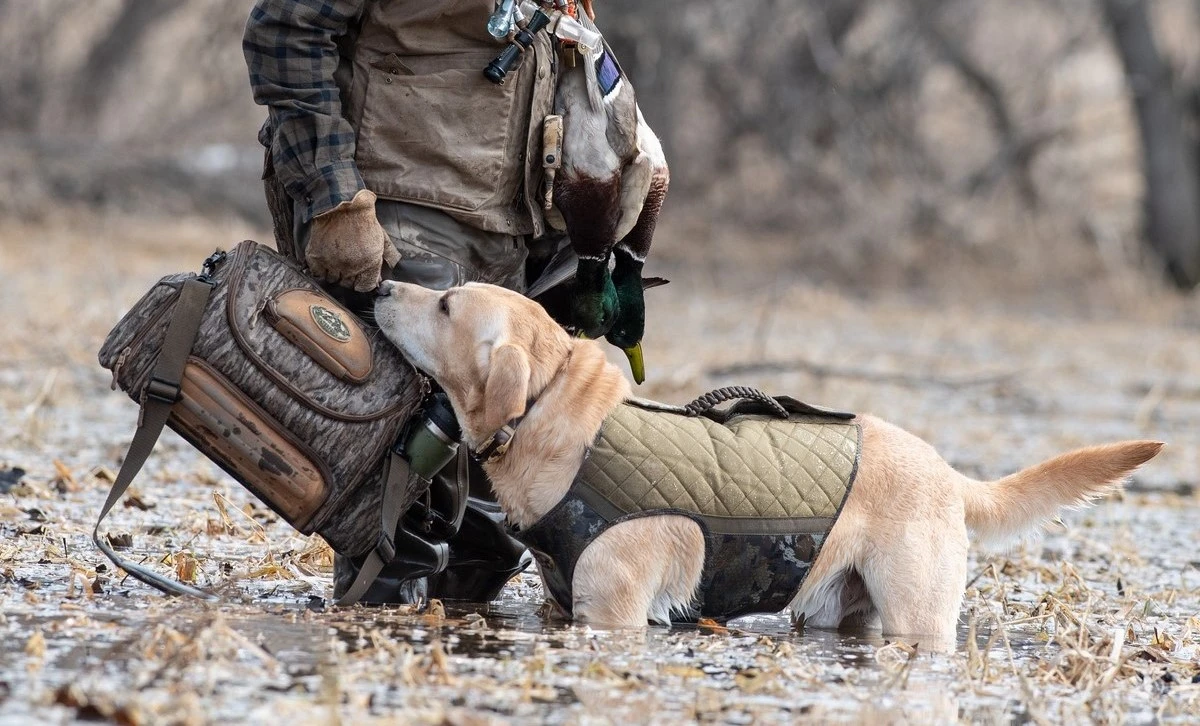 In a sense, duck-hunting vests cater to a similar set of needs but extend it to include features that help dogs in a duck-hunting setting. When waterfowl hunting, your retriever jumps in the frigid water multiple times a day, and while many waterfowl dog breeds have thick coats, they may still need a bit extra help staying warm.
When exposed to cold water for a long time, dogs lose energy to keep them warm. Moreover, the combination of cold northern winds and a wet dog could lead to hypothermia. You can avoid all that by having a neoprene dog vest. Neoprene protects from the wind, blocks the cooling effect of evaporation, and retains heat even when wet, allowing your dog to regulate their core temperature and save energy for the hunt. Plus, neoprene is stretchy, providing an excellent fit. If you're going to be hunting on the ground or in dry weather, a dog vest made from synthetics or wool will be just fine.
Like an upland hunting vest, a waterfowl vest also protects your dog against punctures, cuts, and abrasion. Additionally, the best dog vests for hunting waterfowl include a floatation aid to help them stay afloat and come in camouflage patterns and colors to avoid being detected by approaching ducks or geese.
Things to Look for in a Hunting Dog Vest
Quality Materials
The most common high-quality materials for waterfowl dog vests include neoprene, canvas, and thick nylon. Stay away from thin and flimsy materials that may rip easily, compromising the effectiveness and longevity of the vest. Opting for sturdy, well-constructed materials will provide better protection and a longer lifespan for the vest.
Pay attention to the neoprene thickness when choosing a waterfowl retriever vest. A 5mm neoprene vest can help keep your dog comfortable even in chilly conditions. On the other hand, a 3mm neoprene vest may be better suited for warmer weather to prevent overheating.
Fit is Crucial
A well-fitted vest should hug your dog's body snugly, providing a secure fit that doesn't shift during movement. It's crucial to find a balance between a snug fit and your dog's comfort, allowing your dog to move freely without rubbing armpits.
A snug fit is required for two reasons. When your dog is moving quickly through dense foliage or rough terrain, there's a risk that parts of their vest could snag on something, potentially causing injury or slowing them down. Reason number two is that when the vest is loose, there's more air between a neoprene layer and the dog, and more air means poor warmth retention.
Pick a vest with adjustable straps in the neck and around the dog's body for a more tailored fit.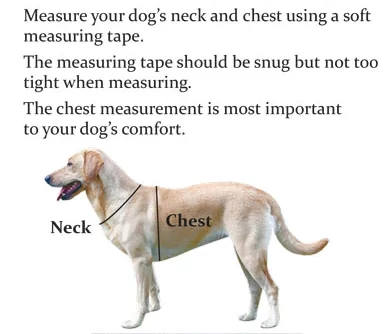 Built-In Handle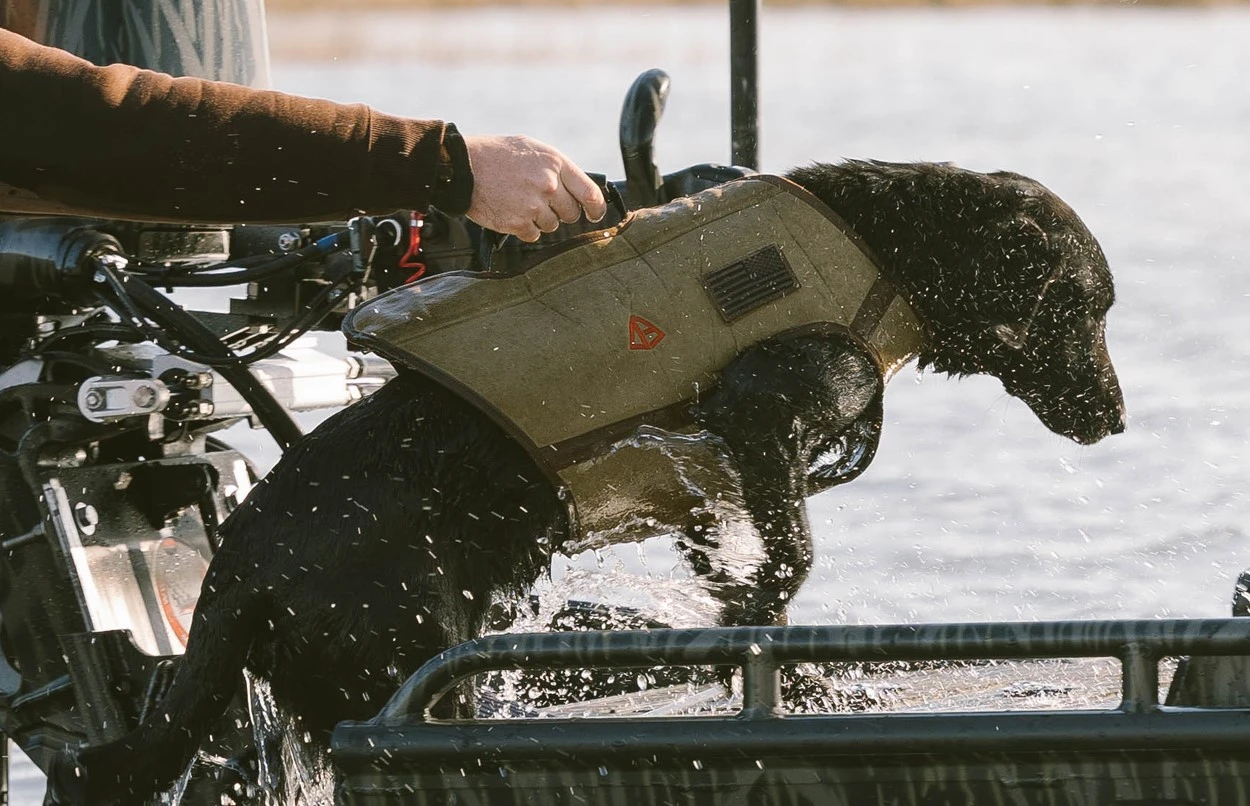 A built-in handle on a dog vest is an essential feature in a waterfowl hunting scenario. This handle allows you to easily assist your dog when they need to get into a boat or onto a stand.
Ideally, the handle should be designed with minimal space to prevent sticks, logs, or other potential obstructions from getting caught in it.
Built-in Access to Collar or Leash
This allows you to easily attach a leash or lead to the vest without compromising functionality or comfort. With that, you can quickly secure your dog or maintain control over them when needed, without the need for additional accessories or adjustments. This feature can be especially useful during training exercises or when navigating challenging terrain.
Best Hunting Dog Vests – Review
We've rounded up some of the top picks that offer excellent protection and comfort for your dog. Each of these vests boasts unique features and benefits. Let's dive in!
Rig 'Em Right – Bloodline Elite Dog Vest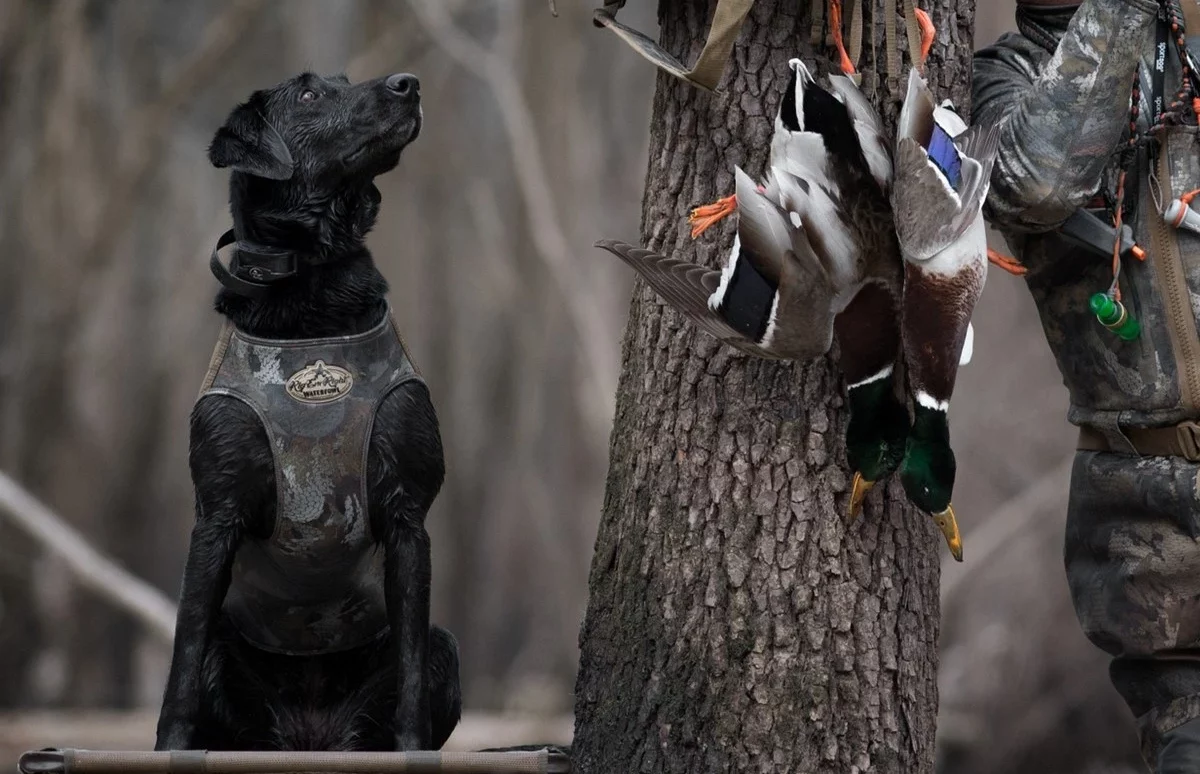 Material: Neoprene, Canvas

Material thickness: 3mm back, 5mm chest

Size range: Small (neck 20" chest 24") to XX-Large (neck 28" chest 33") 

Purpose: Waterfowl hunting
The Rig 'Em Right Bloodline Elite Dog Vest is a versatile piece designed to keep your dog comfortable and protected, whether you're hunting in a swamp or amidst the snow. Its construction features a dual-layered neoprene body: a 3mm back layer for warmth and a thicker 5mm chest plate for added protection and buoyancy. These layers are encased in a tough canvas shell that defends against potential scratches from debris.
This vest comes in several different camouflage patterns, blending seamlessly into various hunting environments. It also features a sturdy, braided paracord handle, allowing you to swiftly pull your canine companion out of water.
The design of this dog vest from Rig 'Em Right puts mobility at the forefront. The athletic cut allows for full freedom of motion, ensuring that your dog can move as naturally as possible. This vest is available in five sizes, catering to various breeds from small Boykin spaniels to large Labs.
Securing the vest onto your dog is a breeze thanks to the Velcro closures, eliminating any struggles with zippers. The Bloodline Elite Dog Vest works best in cold weather due to its excellent insulation properties. However, it might not be the best choice for dry-weather hunting due to its heavy-duty design. Also, its size range may not cater to smaller breeds.
AVERY Boater's Dog Parka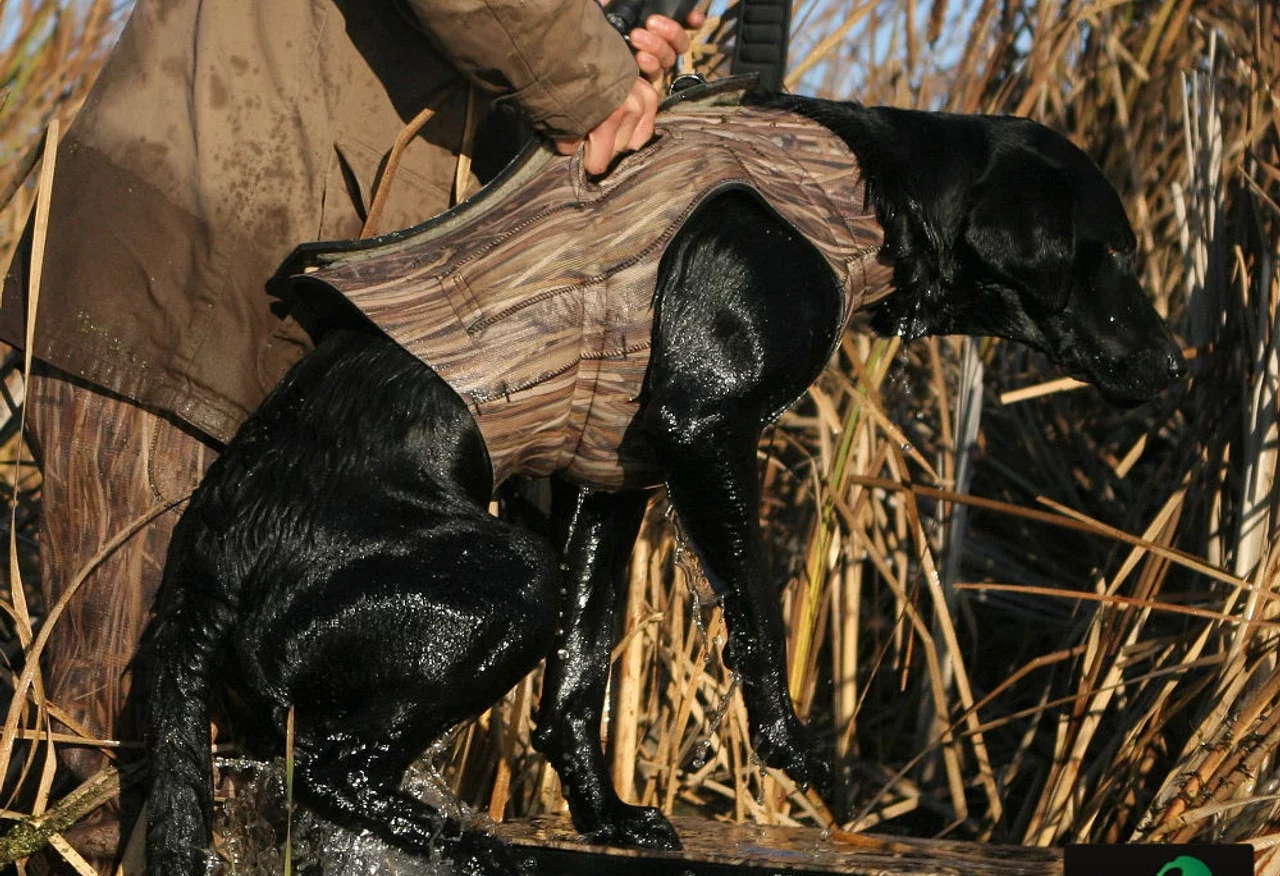 Material: Neoprene

Material thickness: 5mm

Size range: XS (15" neck, 22 chest) to 5X-Large (23" neck, 38" chest)

Purpose: Waterfowl hunting
The AVERY Boater's Dog Parka is great for those frigid late-season hunts. This tapered-cut dog parka is crafted with a 5mm neoprene material, which provides exceptional insulation. For better fit, the vest features an internal webbing harness. This adds to the vest's strength and stability, ensuring it stays securely on your dog. It also evenly distributes the weight of the vest.
Instead of the velcro closures, the vest features a cold-weather zipper pull protected with a full-length zipper cover. The cover not only enhances the overall durability of the vest but also prevents any discomfort or chafing.
Unlike the Rig 'Em Right dog vest, the Avery model features carry handles integral to the vest, making a truly snag-free design.
What's also great is that the AVERY Boater's Dog Parka is available in a wide range of sizes, from extra small to 5XL, accommodating a variety of breeds.
AVERY Standard Dog Parka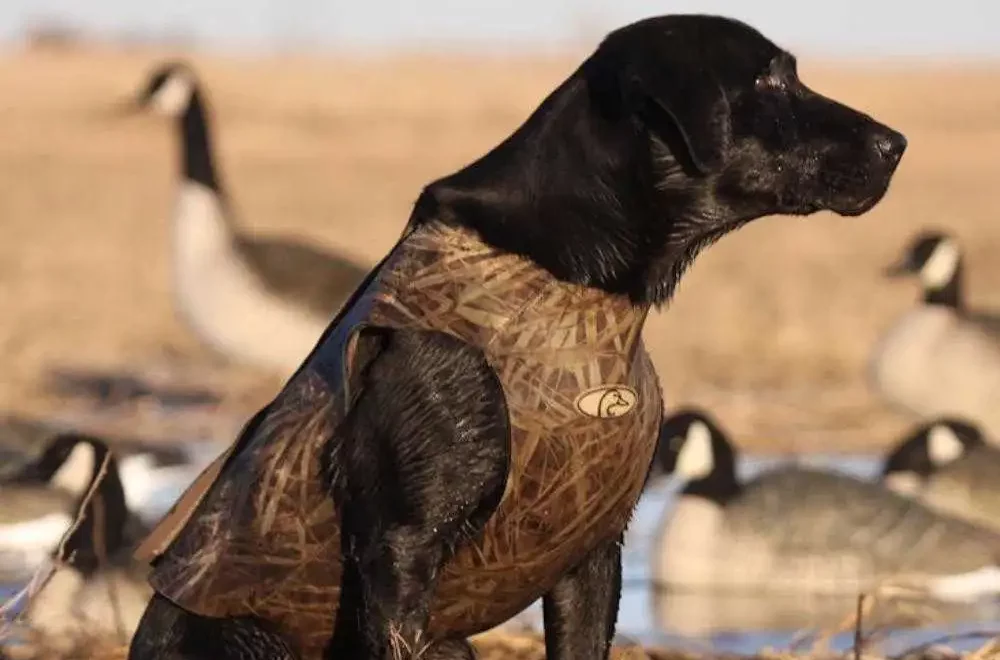 Material: Neoprene

Material thickness: 3mm

Size range: XS (15" neck, 22 chest) to 5X-Large (23" neck, 38" chest)

Purpose: Waterfowl hunting
This vest is constructed from a soft yet sturdy 3mm neoprene material, which makes it lighter and more suitable for milder weather hunts compared to the AVERY Boater's Dog Parka.
Like the Boater's Dog Parka, the Standard Dog Parka features a tapered cut, ensuring a snug fit that doesn't restrict your dog's movements. Both vests also feature a cold-weather zipper pull and full-length zipper cover, offering ease of use and added protection against the elements.
The most notable difference is the absence of integral handles on the Standard Dog Parka. Also, it uses a lighter 3mm neoprene material, making it a better choice for milder weather hunts where heavy insulation isn't as necessary.
RIVERS WEST Pointer Vest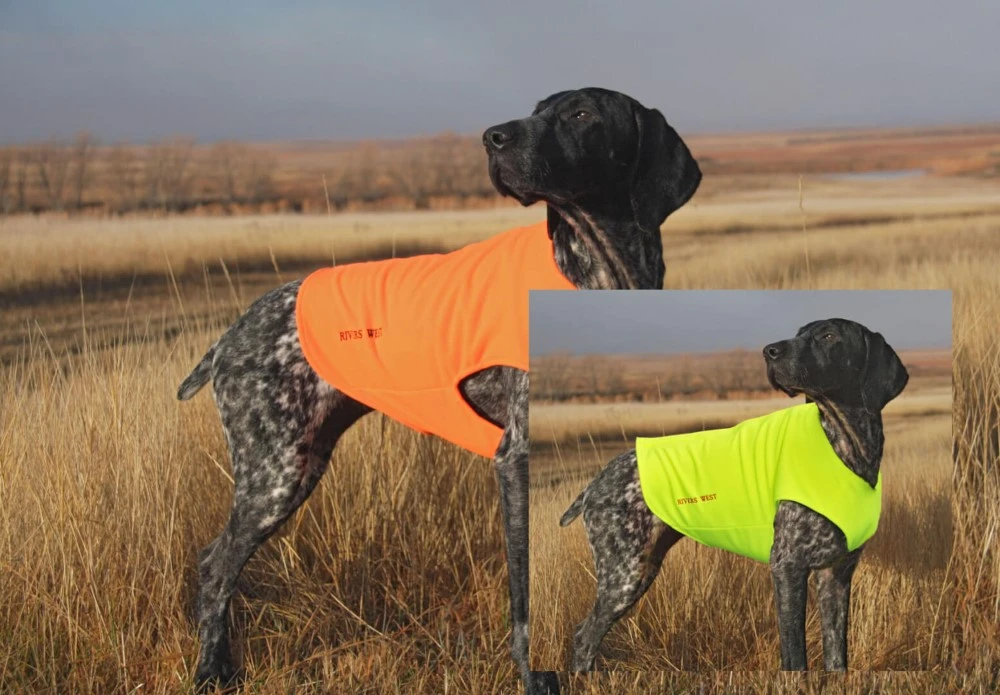 Material: Fleece

Size range: Small (15" neck, 23" chest) to 3X-Large (21" neck, 35" chest)

Purpose: Upland hunting
Crafted from high-visibility fleece, this upland hunting dog vest ensures your pointer can be easily seen without producing any noise that might alert the game. The fabric features an embedded micro-cell membrane sandwiched between layers of micro-fleece on the top and bottom. This design allows short-haired dogs to hunt hard all day, regardless of the weather conditions.
The vest cut ensures anti-chafing, further enhanced with a covered zipper on the center back. To ensure an easy fit, the vest also incorporates a Velcro-backed external storm fly.
This vest doesn't compromise on protection. It offers excellent coverage for your dog's chest and underbelly, shielding from thorns, brush, and briars they may encounter during a hunt.
RIVERS WEST Retriever Vest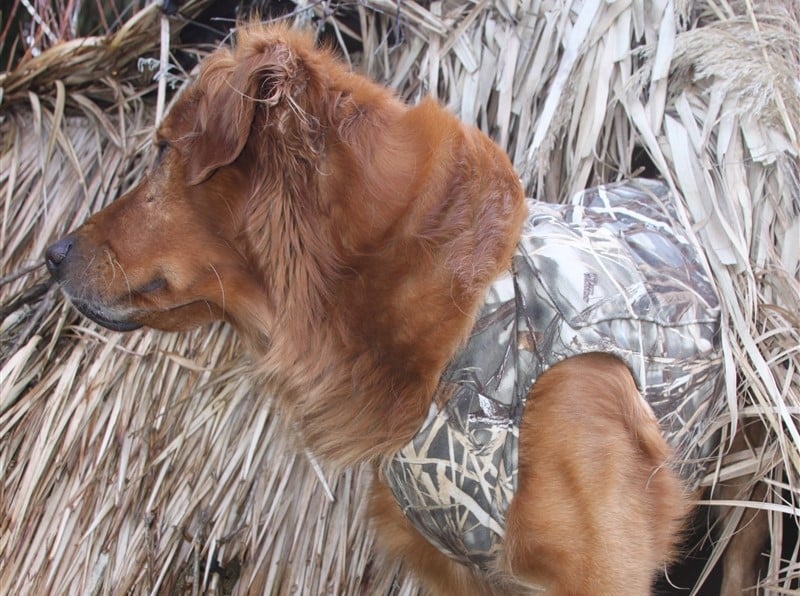 Material: Midweight fleece

Purpose: Dry-weather waterfowl hunting

Size range: Small (16" neck, 27-28" chest) to 3X Large (21" neck, 33-34" chest)
Unlike many other vests on the market made of neoprene, this hunting dog vest is crafted from midweight fleece fabric. This material choice makes the vest significantly lighter and more suitable for milder climates. Although the fleece material provides some level of insulation, it isn't designed for extreme cold conditions. Also, the manufacturer doesn't recommend wearing this vest in temperatures over 40F to avoid overheating.
The dog vest also features flotation inserts for neutral buoyancy and a covered zipper for a snug-free performance.
FAQs
What material is best for a dog hunting vest?
Ripstop nylon and neoprene are commonly used materials due to their durability and warmth retention qualities.
Are hunting vests necessary for all types of hunting dogs?
While not necessary for all, hunting vests provide added protection and visibility, which can be beneficial in many hunting scenarios.
How should a dog hunting vest fit?
A hunting vest should fit snugly without restricting the dog's movement.
Why do some dog hunting vests have handles?
Handles are useful for assisting dogs into a boat or stand.
What's the difference between upland and waterfowl dog vests?
Upland vests are designed for visibility and protection in rough terrain, while waterfowl vests focus on warmth retention and protection in water environments.