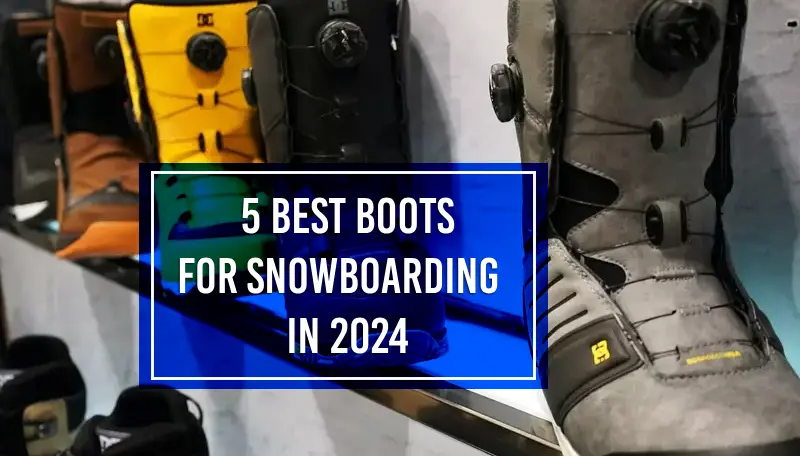 Last Updated on
Winter will take away the reins from fall pretty soon, which means the time of winter sports won't be long in coming. As such, it might be useful to make a gear check in advance, lest you find yourself lacking vital equipment in the middle of the season, when prices seem to grow as high as people's spirits. If snowboard boots are that missing piece, we've got just the thing for you. Here are the 5 best snowboard shoes for winter 2024 that you can get right here, on Gritr Outdoors. 
Table of Contents
DC Judge Step On
DC Phase 
Nidecker Ranger
Head Scout LYT
Head Classic LYT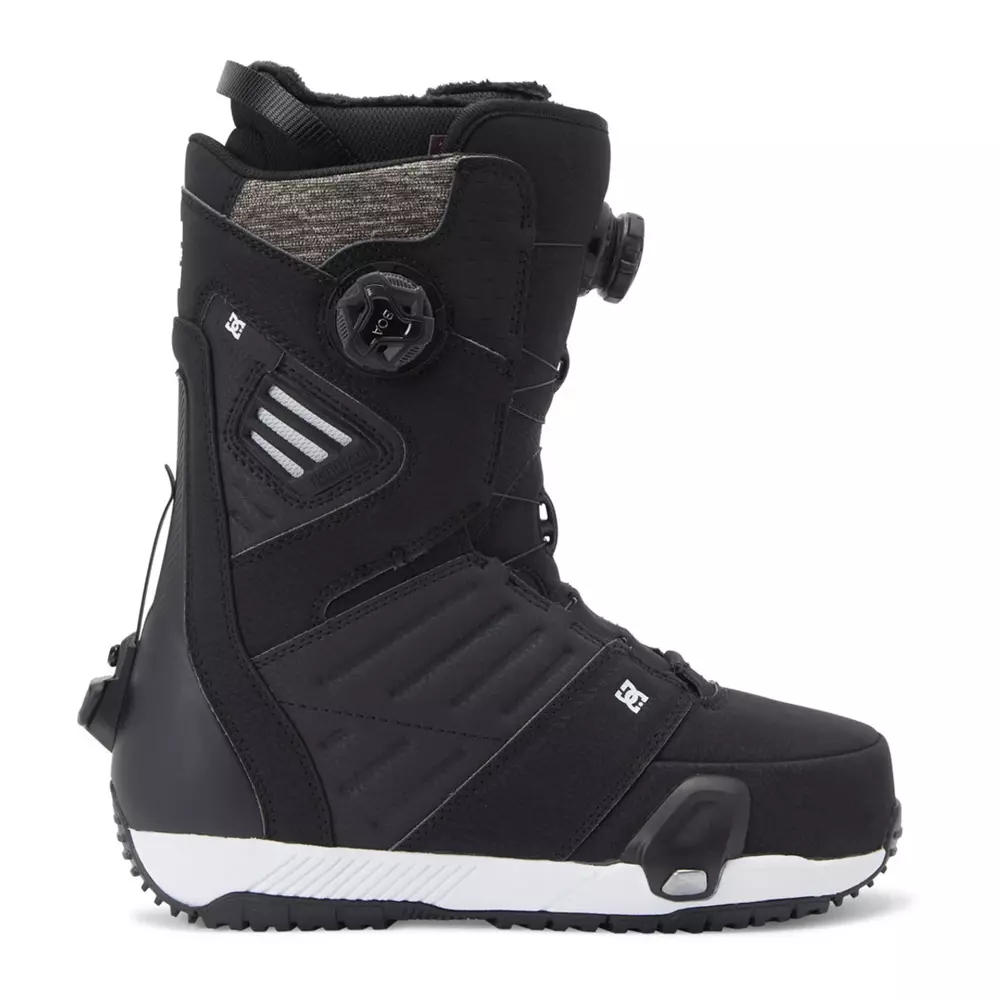 DC Men's Judge Step On BOA Snowboard Boots
If you have already changed many a pair of snowboard boots and learned to appreciate true quality, then DC Men's Judge Step On BOA is just what you need. Ranking among top-tier brands for winter apparel and footwear, DC once again proved they know how to build premium-quality skateboard boots.
The DC Judge excels in many areas, sizing being one of many. Many brands fail to stick to sizing standards, but that pair is a pleasant exception. If you buy a 9.5, a 9.5 is what you get. Sounds like something that should be taken for granted, but the Internet taught us to appreciate even simple things like that. 
Comfort is another area where these boots shine. Their soft, fleece-lined insert and Vibram soles make them particularly comfortable, while the 3M Thinsulate liners keep your feet warm all day, even on those chilly mountain tops.
Another standout feature is the internal ankle harness. It brings responsiveness to a new level and ensures even better hold, enhancing control over your board. This, coupled with a flex rating of 8 out of 10, makes these boots one of the most responsive options on the market.
The Vibram soles not only provide comfort but also absorb shocks well, a true asset on uneven terrains. The boots' grip is also quite commendable: a firm connection from the baseplate to the deck of the board is guaranteed.
The boots are also surprisingly lightweight, thanks to their articulated construction, Aerotech ventilation system, and Sole re-purpose insoles. This makes them less tiring to wear during long days on the slopes. Some might think DC had to skimp on durability to make these boots lightweight, but that's absolutely not the case. The DC Men's Judge Step On boots are as durable as snowboard boots can get.
As for versatility, these boots are suitable for almost any riding style or terrain, including groomed trails, ice, deep powder and park laps.
To talk about the fly in the ointment, DC Men's Judge Step Boots aren't particularly easy to don on and off. It won't take too much of your time, but you won't sleep in and out of them effortlessly. 
In conclusion, the DC Men's Judge Step On BOA Snowboard Boots are a well-rounded choice that offers stability, comfort, support, and response. Compared to other options in the same price range, the DC Judge boots offer great value for the money. They aren't affordable, but they are also not meant for novice snowboarders. But if you know for sure snowboarding floats your boat and want to get the best boots in the price range, then go no further, the DC Judge is just what you need.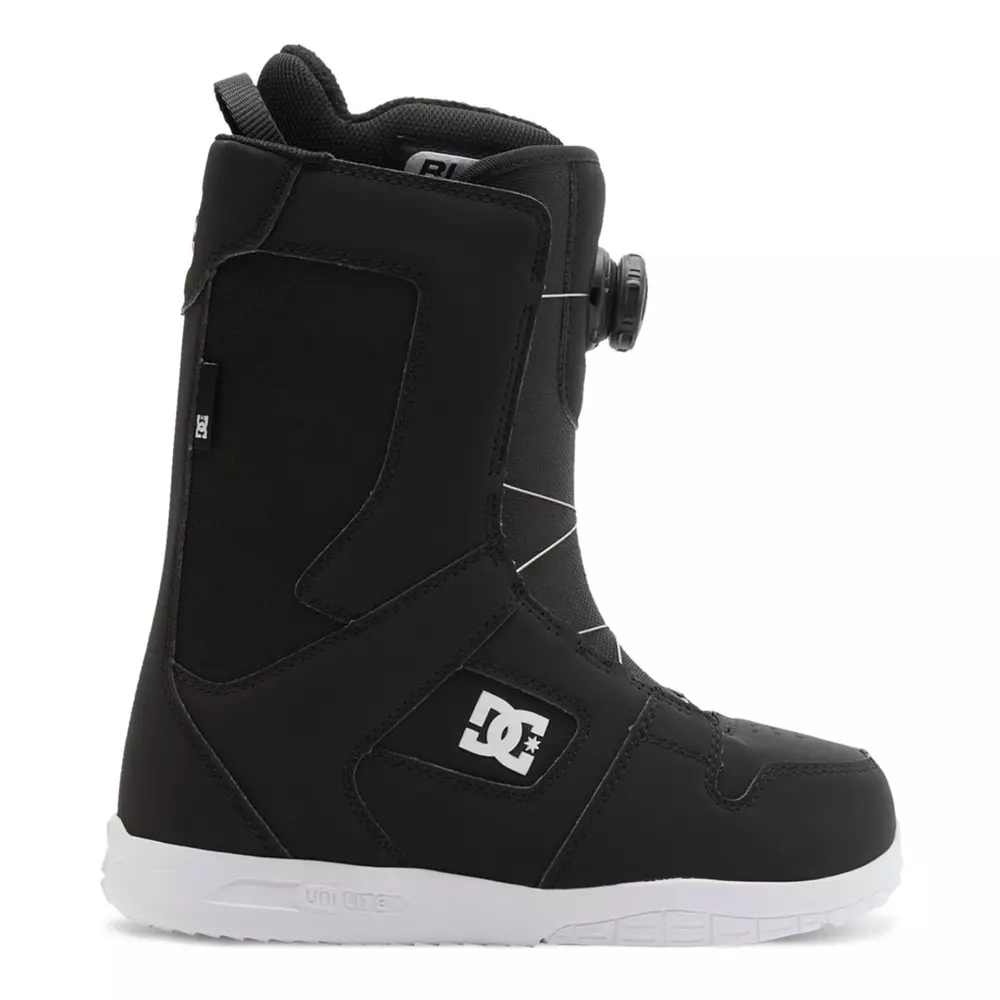 DC Women's Phase BOA Snowboard Boots
Another of DC's creations, Phase BOA Snowboard Boots come at a lower price than their Judge relative, but still incorporate the majority of the features one might need from snowboard boots. Recommended for intermediate-to-advanced users, these boots are designed to perform even in less than forgiving weather conditions.
Of course, the DC Phase Boa Snowboard Boots couldn't achieve this had they not been extremely durable. Built to withstand the rigors of the slopes while maintaining their structural integrity, these boots promise to carry you season after season, proving to be an excellent investment.
The boots boast a Flex Rating of 4 which is considered to be medium stiffness. This level of flex offers enough flexibility for freestyle maneuvers yet sufficient rigidity for high-speed carving. If you want your boots to be versatile, this is a decent choice.
Inside the boot, you can find the Response Liner I together with multi-layer EVA memory foam and thermal-regulating fleece lining. This assembly ensures your feet stay warm and comfortable all day long. The liner molds to your foot over time, creating a personalized fit that we all deserve.
The BOA® Fit System with H4 Coiler is another standout feature. This user-friendly lacing system is a frequent guest in snowboard boots and for a good reason. It makes getting in and out of the boots a cakewalk and allows for easy on-the-go adjustments. The BOA® Black SS Laces deliver a stylish touch to the boots, adding to their aesthetic appeal.
The Foundation UniLite Outsole, DC's most lightweight outsole, offers durability, shock absorption, and cushioning any snowboarder can appreciate.
These boots may not boast flashy looks often intrinsic to snowboarding gear, but if you are looking for boots that will perform, don't look any further.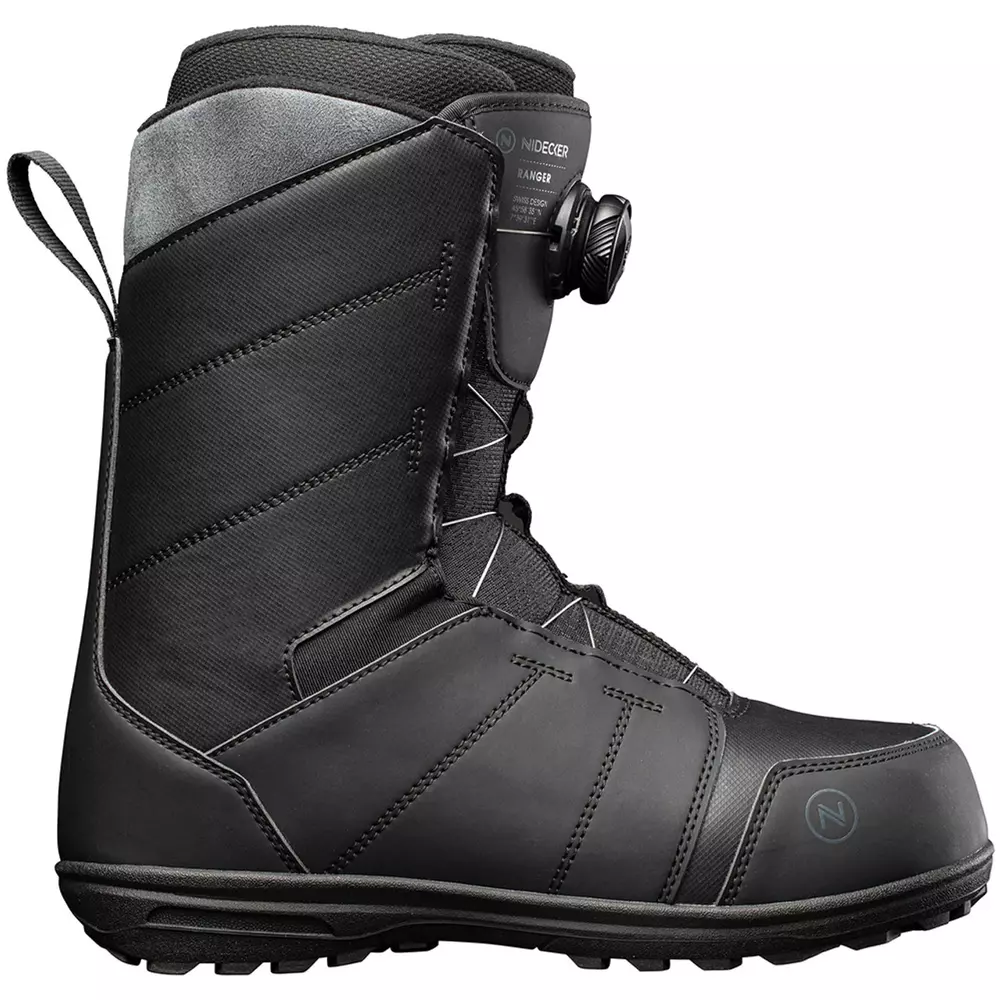 Nidecker Men's Ranger Snowboard Boots
The Nidecker Men's Ranger Snowboard Boots is a great option for someone who found themselves at the very beginning of their snowboarding path. If you are already confident in your love for this exciting sport but don't want to spend a small fortune on boots, the Nidecker Ranger is a great option.
One of the most notable features of the Ranger Snowboard Boots is their lightweight design. This feature contributes significantly to the overall comfort of the boots, especially when you have to wear them the whole day while on the slopes. The boots are also equipped with a 3D-molded Liner with multi-layered J-Bars, ensuring a snug fit and further enhancing the comfort they provide.
The boots incorporate a single Boa H4 dial. This system simplifies the process of adjusting the fit and makes getting the boots on and off a breeze. This is a significant advantage, particularly for beginners who might find traditional lacing systems cumbersome.
With a flex rating of 5, these boots offer moderate rigidity great for learning. It strikes a balance between softness for comfort and stiffness for performance. The asymmetrical collar design further improves the boot fit.
The B.F.T. Gravity all-rubber outsole offers excellent traction, which is crucial for stability on the snow. The 3D-molded Single-Density EVA footbed with silicone top-print boosts traction even more, ensuring your feet stay firmly planted on your board.
The boots also come with Silvadur Intelligent Freshness, a feature that helps keep your boots fresh even after extended use, which is an often overlooked but essential aspect of an enjoyable snowboarding experience.
The Nidecker Men's Ranger Snowboard Boots are a great pick for beginning and intermediate snowboarders. They don't have much to offer to people who prefer aggressive riding and need their boots to boast ultimate responsiveness, but for all the rest, they can serve as reliable companions.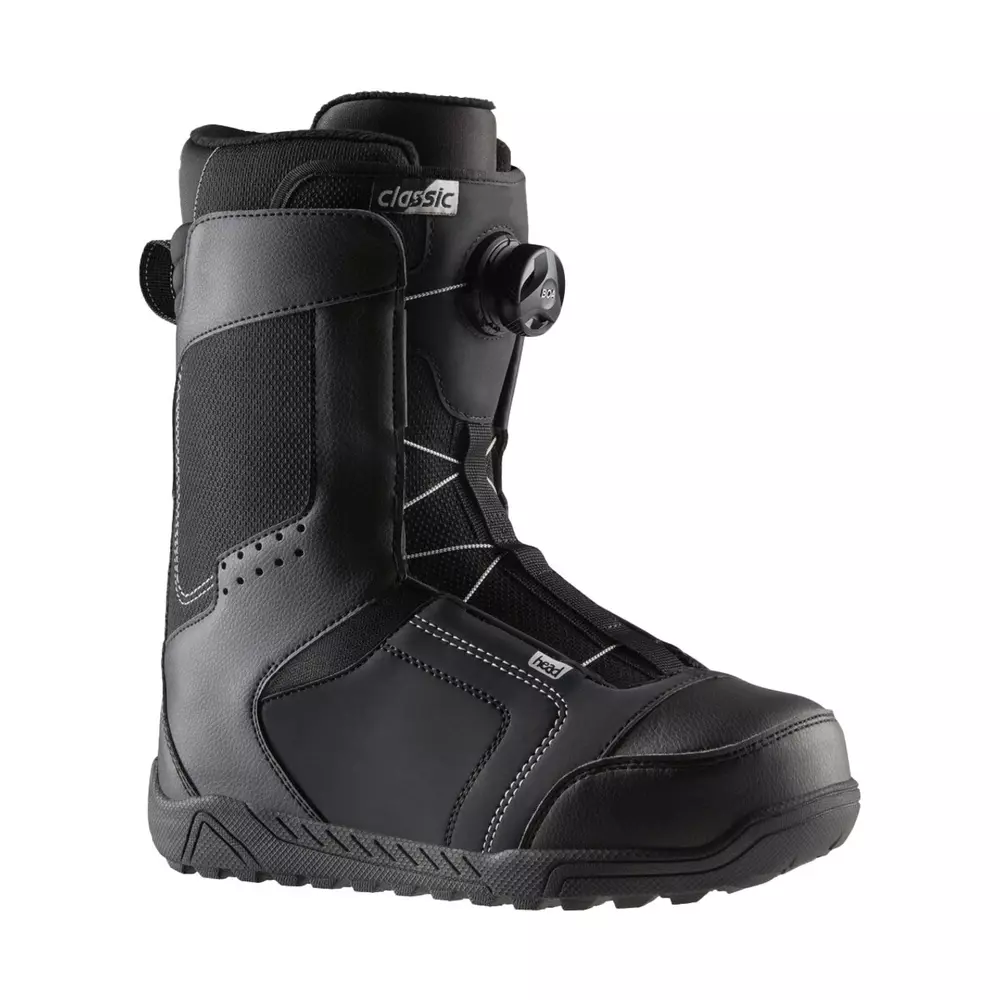 HEAD Unisex SCOUT LYT BOA Coiler Snowboard Boots
The Head brand is known for its profound specialization in winter sports gear. The Scout LYT BOA Coiler Snowboard Boots are just one example of their extensive expertise. An impressive blend of technology, comfort and affordability, these boots will take anyone, be it a beginner or intermediate rider, and carry them to the top.
The snug yet comfortable fit these boots provide is achieved through several features. There is the Comfort Cuff, which adds a bit more flex on the medial side of the boot; there is also the Perfect Fit Liner with its floating webbings that are responsible for keeping the fit close. The boots are also equipped with an internal butterfly construction for added comfort. The BOA® Coiler and TX Lace system further enhance the boot's fit, allowing for easy adjustments on the go.
What sets the Scout LYT BOA Coiler Snowboard Boots apart is their LYT Tech construction. This technology makes the boots incredibly lightweight without compromising durability, allowing for effortless movement on the slopes.
The Treadlyt Outsole provides sufficient traction, ensuring reliable stability and grip on various snow surfaces. The boots have a flex index of 6 and a forward lean of 7°, which makes them more rigid rather than flexible, but not uncomfortably so.
These boots come with the innovative S.Café Lining Mesh and FPG insole. These work together to boost comfort, improve foot climate, and reduce odor, making the boots an asset for anyone who takes foot hygiene seriously.
Long story short, the HEAD Unisex Scout LYT BOA Coiler Snowboard Boots are a fantastic choice for those seeking a lightweight, comfortable, and feature-packed snowboard boot at an affordable price point. The fit might not be the tightest with the BOA lacing system, but that's the price we pay for convenience and adjustability.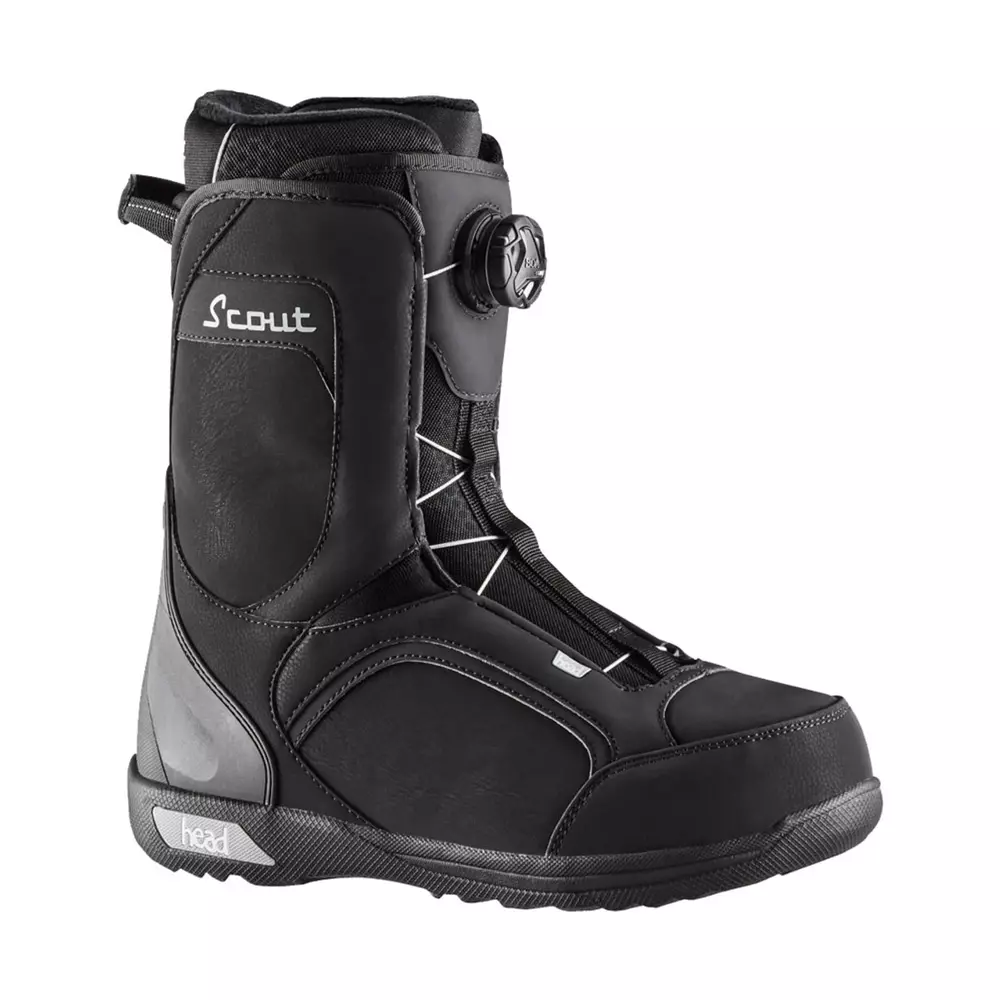 HEAD Classic LYT BOA Snowboard Boots
The HEAD Classic model shares many similarities with the Scout, but also sports some differences. It is a fantastic option for those seeking an entry-level boot that doesn't compromise on quality or performance. With a sleek design and a bunch of innovative features, these boots are designed to deliver an exceptional snowboarding experience.
The Classic LYT BOA Snowboard Boots feature an EVA liner that wraps around the foot like a second skin, eliminating all pressure points. The BOA Fit System and TX Lace further contribute to the comfort, enabling fast, effortless and customizable adjustments.
With a Flex Index of 5, these boots occupy the golden mean between rigidity and flexibility. A forward lean of 7° caters to those preferring easy rides, ensuring an enjoyable descent without compromising on control or stability.
These boots come packed with innovative features like the Comfort Cuff, Flex Cuff, Thermofit Liner, FPG Insole, and Internal Butterfly. It may be quite a mouthful, but the only thing you need to know about those features is that they have one purpose. All of them work together to enhance comfort, improve foot climate and provide excellent support. Each of them has its own area of effect, but together, they deliver an unprecedented level of performance for the boot's price range.
The HEAD Classic LYT BOA Snowboard Boots are an excellent choice for those entering the snowboarding world. They offer a great balance of comfort, performance, and style at an affordable price point.
Check out our other articles on winter sport gear:
FAQs
What is the Flex Index, and how does it differ between the two models?
The Flex Index indicates the boot's stiffness and responsiveness. A lower number means a softer, more forgiving boot, while a higher number indicates a stiffer, more responsive boot. The HEAD Classic LYT BOA Snowboard Boots have a Flex Index of 5, making them more forgiving, while the HEAD Unisex SCOUT LYT BOA Coiler Snowboard Boots have a Flex Index of 6, offering slightly more support and control.
What are the advantages of the BOA® Fit System featured in both models?
The BOA Fit System enables users to make fast, effortless and customizable adjustments to the fit of the boots. This system is designed to boost convenience and make the boots easier to use by people of all mastery levels.
What are the key differences between the HEAD Classic and SCOUT models?
The main differences between the two models, apart from the color and design, are the target audience and optimal usage scenarios, as well as liner type, flex index and sole design. The Classic LYT BOA is grey and designed for easy riding, has an EVA liner, a flex index of 5, and no specific mention of a unique sole. The SCOUT LYT BOA Coiler is black, designed for beginners to intermediate riders, features a heat-moldable liner, a flex index of 6 and a grippy, dampening sole.