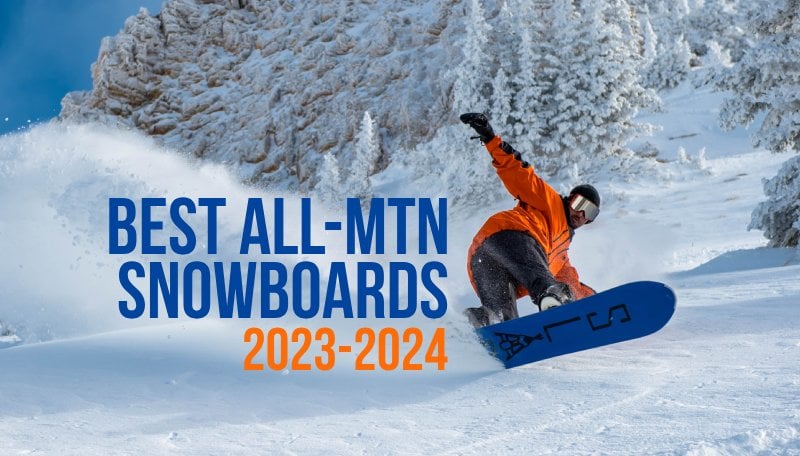 Last Updated on
Choosing the perfect snowboard can sometimes feel like navigating through a blizzard. There are so many factors to consider that it can be overwhelming. But fear not, in this article, we'll guide you through the landscape of all-mountain snowboards. Before we reveal the best snowboards for the 2023-2024 season, let us introduce you to different types of all-mountain snowboards. If you already know everything about camber profile, taper, sidecut, and the rest, skip this part to get to the best snowboards 2023-2024 right away.

Table of Contents
Types of All-Mountain Snowboards:
– Camber Profile
– Shape
– Taper, Waste Width, Sidecut
– Flex
Best All-Mountain Snowboards 2023-2024
– LIB TECH Apex Golden Orca
– CAPiTA Aeronaut
– HEAD Lifeline
– JONES Stratos (men's & women's snowboards)
– K2 Passport Unisex
Types of All-Mountain Snowboards
All-Mountain Snowboard Camber Profiles: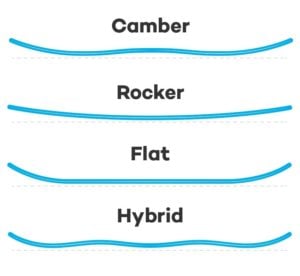 Camber

is the traditional curvature where the board arches upward when laid flat. This gives you more control, stability, responsiveness, and lots of pops on hard-packed and groomed runs. Camber boards are not for powder.

Flat

, or no camber, means the board lies almost completely flat from tip to tail. It delivers a maximum feel and increased float while also allowing for quick turns. However, a flat board is rather slow to ride.

Rocker

is a reverse camber, curving upward at the tip and tail. It offers excellent maneuverability and floats in powder but pops less. Generally, it's the best beginner snowboard profile.

Camber/Rocker

is a hybrid design with camber underfoot for control and better float in powder and rocker at the tips for pop and playfulness.

Flat/Rocker

combines a flat profile in the middle with a rocker at the tips, giving a playful yet stable ride.
All-Mountain Snowboard Shapes:
Directional

boards are designed to be ridden primarily in one direction and are great for speed and precision.

True Twin

boards are perfectly symmetrical, making them ideal for riders who want to ride switch (either direction).

Directional Twin

is a blend of the two, with a symmetrical shape but different flex patterns, providing versatility.
All-Mountain Snowboard Taper, Waste Width, Sidecut:
Taper describes the difference in width between the broadest points of the board's nose and tail. This feature enhances your snowboard's ability to float in powder, allowing you to enjoy the fresh snow without constantly leaning back. However, tapering may hinder your switch-riding ability. While true all-mountain boards are rarely tapered, some variations offer a slight taper.
The waist width of a snowboard is the measurement of the board's narrowest point. A wider waist width means a larger surface area, which can provide more stability and better float in powder. It's also beneficial for riders with larger feet (typically size 11 and up) to prevent toe and heel drag. However, a board with a wider waist width can be slower edge-to-edge, meaning it may take longer to transition from one turn to another, which can impact maneuverability on groomed runs or in tight tree lines.
The sidecut of a snowboard refers to the curved edges that run along the length of the board. It's often described as the radius of a circle that the sidecut would form if extended out. The sidecut radius can have a significant effect on how a board turns. A short sidecut will result in tighter turns at slower speeds, while a long sidecut excels at big and fast turns.
All-Mountain Snowboard Flex Profile:
Softer flex

is common with some park boards, providing flexibility for tricks and jumps.

Stiffer flex

is suited for hard-charging off-piste riders and those who love big airs.
All-mountain snowboards typically fall in the middle, offering a medium flex. This balance makes them ideal for carving and surfing through features. A medium or medium-soft flex is the best for beginners, though some experienced riders prefer this too.
Best All-Mountain Snowboards 2023-2024
LIB TECH Apex Golden Orca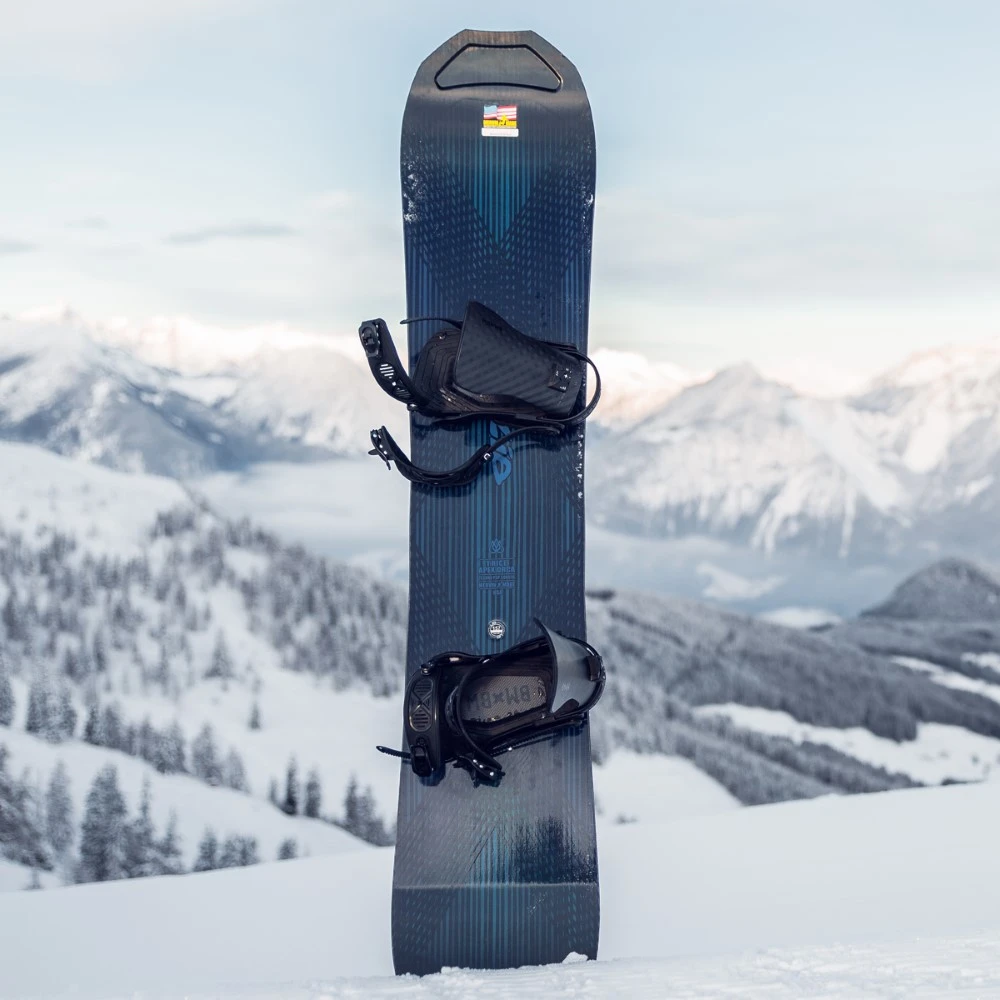 Profile: C2X Directional Rocker/Camber Hybrid: mild camber in the rear foot – shortened rocker between the bindings – aggressive camber in the nose.
Shape: Directional
Flex: 7/10 (medium-to-stiff)
Taper: 9 mm
Rider Type: All-Mountain/Backcountry Freestyle

The Apex Golden Orca is the latest and greatest in the Orca series. This snowboard takes the established shape of the standard Golden Orca and enhances it for even better performance. The wide, cutaway nose cuts through the snow like a dream, and when paired with the camber-rocker-camber profile, mid-wide waist, and serrated sidecut, you get a board that's perfectly balanced for pop, grip, and float.
This snowboard's rocker profile and nearly centered stance make it ideal for any resort conditions. And when the powder starts to fall? The Golden Orca is right at home. It offers stability, power, and pop, so whether you're carving groomers or floating in powder, this board has you covered.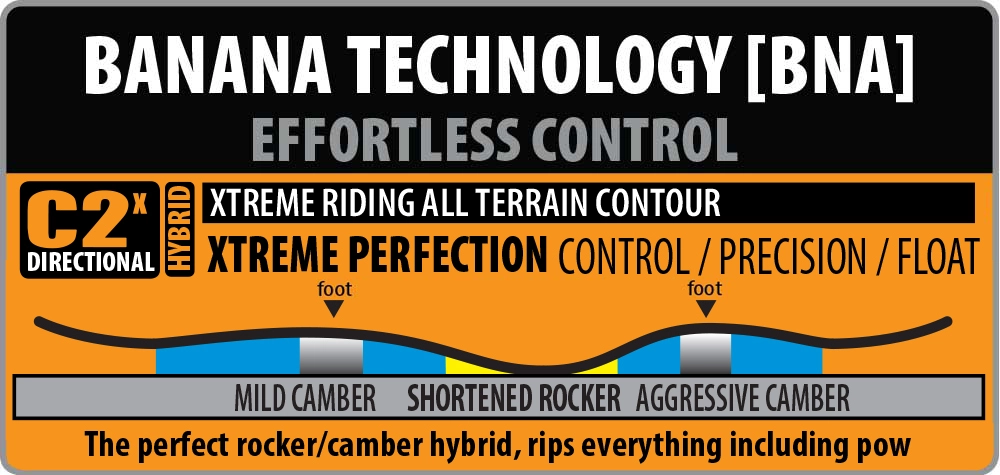 LIB TECH Apex Golden Orca – Profile
Like the standard Golden Orca but unlike the Traditional Orca, the Apex version features the Power Kink Tail technology. With a longer, more relaxed angled rise, the Apex Golden Orca is a superior choice for switch riding.
What makes the board powder-ready? Well, the taper is 9mm, with the nose wider than the tail, which allows it to float effortlessly in powder and make carving a breeze.
Enhancements of the Apex Golden Orca include a lightweight yet snappy core crafted from aspen, paulownia, balsa, and recycled PET bottles. The laminate is a spread-toe carbon, carbon mesh, and magnesium techno fiber bands, delivering spring-loaded power and surprisingly quick edge-to-edge action.
The combo of Magne-traction (Lib's signature serrated edges) and a mid-stiff flex pattern provides excellent grip on icy steeps. However, some may find Magne-traction too catchy on hardpack.
So, the Apex Golden Orca may not be beginner-friendly, but it's definitely the best snowboard for 2023-2024 for those who demand a versatile, light, and fast board as it performs best when ridden aggressively.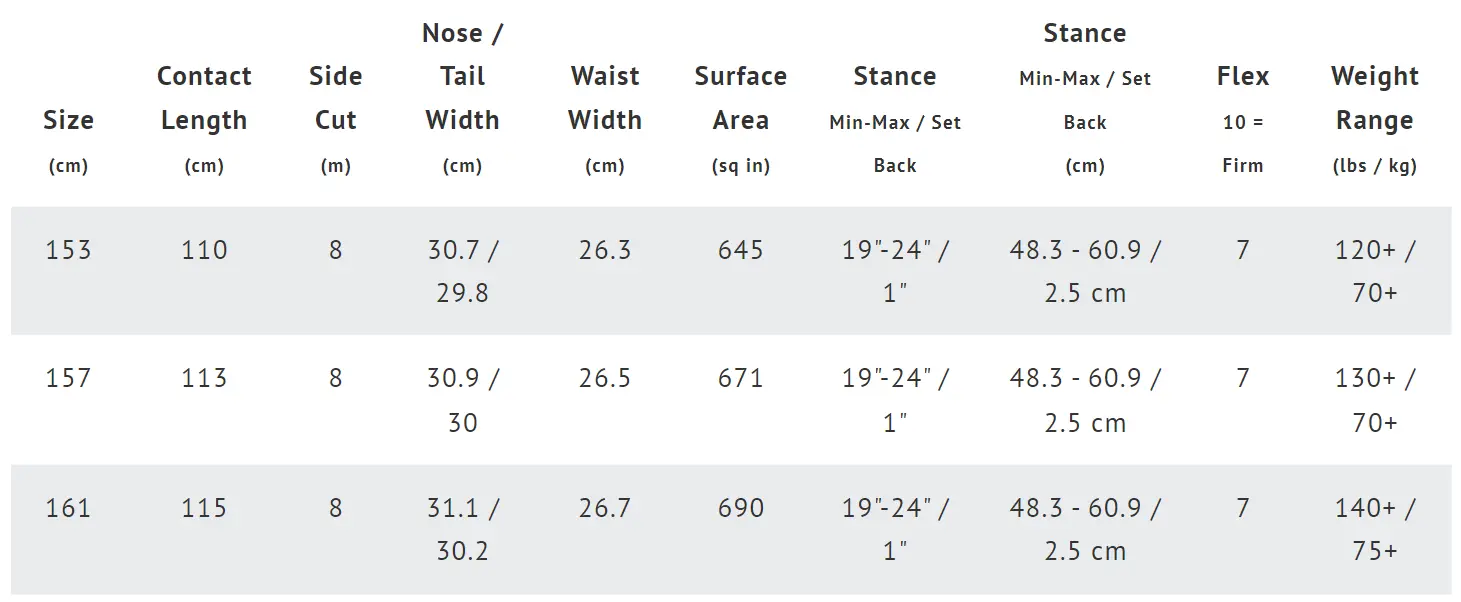 LIB TECH Apex Golden Orca – Specs
CAPiTA Aeronaut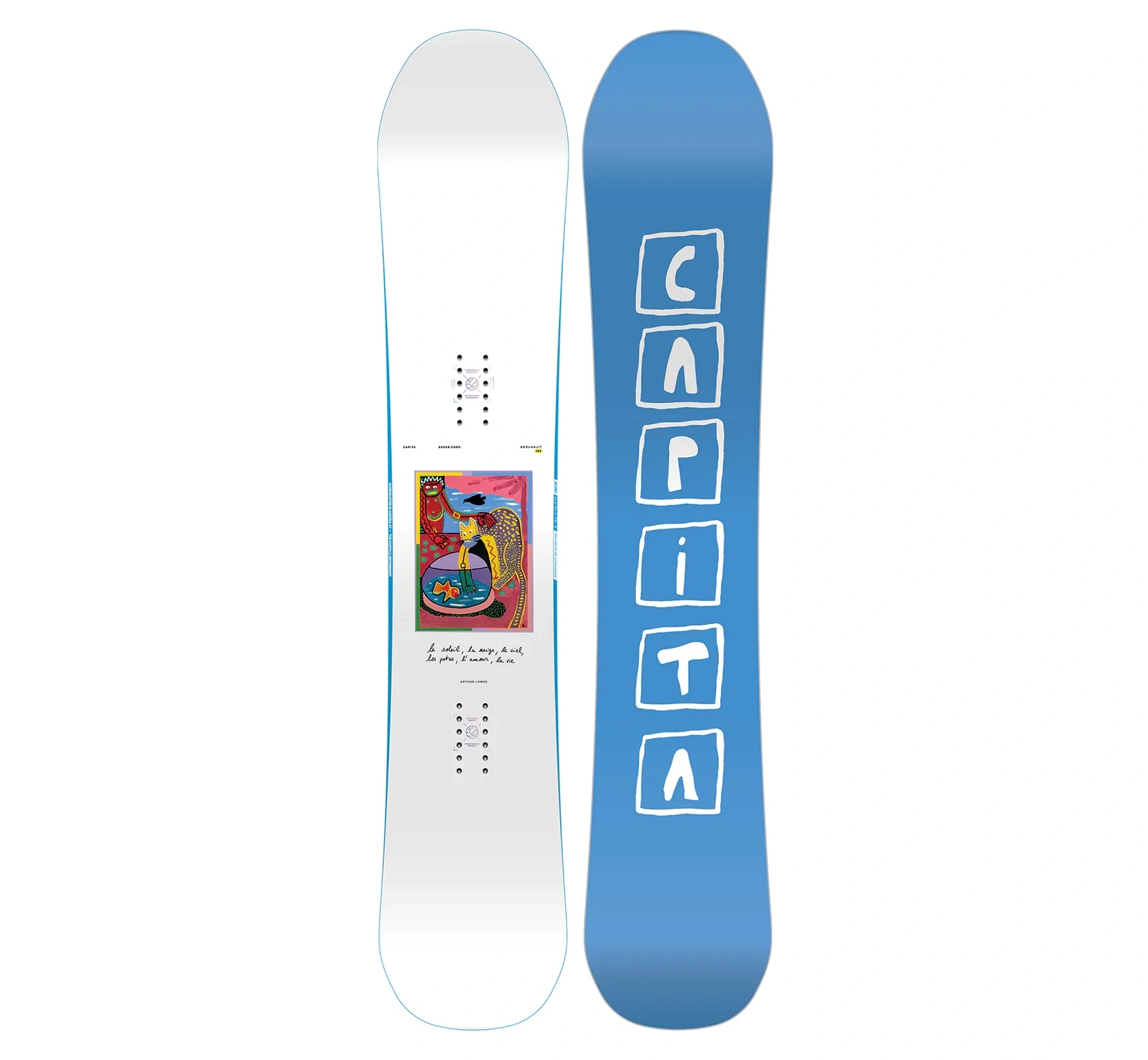 Profile: Alpine V3: a deep traditional camber that zeros out before the end of the sidecut
Shape: Directional
Flex: 6/10 (medium-to-stiff)
Taper: 5 mm
Rider Type: All-Mountain/Resort
The Capita X Arthur Longo Aeronaut. This board, a collaborative effort with Capita team rider and renowned side-hit master Arthur Longo, is an all-mountain wonder that boasts a directional design, progressive sidecut, and medium to stiff flex.
The Aeronaut is a versatile performer that can handle all kinds of terrain. Rated at a 6 out of 10, this mid-flexing board hits a sweet spot between flexibility and stability. It's pressable enough for park laps yet stable enough to charge down your favorite slope when the need for speed kicks in.
As for shape, this snowboard is a directional twin with a camber profile. However, the camber profile isn't quite what you are used to. The Aeronaut sports the unique Alpine V3 profile that combines a traditional camber section between your feet with zero-camber sections in the nose and tail.

CAPiTA Aeronaut – Profile
The main benefits of this camber-to-zero-camber profile are enhanced control and response. But despite its stability, the board remains easy to ride thanks to the camber part that retains power. For even more explosive, springy pop, the board features carbon sections.
Speaking of the materials. One of the key features of the Aeronaut is its impressive lightweight construction. The lightweight Panda Hover Core and the Bamboo Power Rods create a blend that strikes a perfect balance between strength, durability, and reduced weight.
If you love carving, this snowboard is exactly what you need. The Aeronaut features a progressive sidecut that ensures easy turn initiation, stability mid-turn, and a power boost as you exit the turn. The result? Fun riding!
But what about powder days? Fear not, the Aeronaut features a tapered directional shape with a setback stance of 0.8″. This design keeps the board afloat by shifting your weight towards the back, keeping the wider nose above the surface while the narrower tail sinks into the snow.
To sum up, the Capita Aeronaut is meant to excel on all terrains at your local resort, ready to power through groomers and give you that extra pop-off whenever you venture off the beaten path and hit a side trail.


CAPiTA Aeronaut – Specs
HEAD Lifeline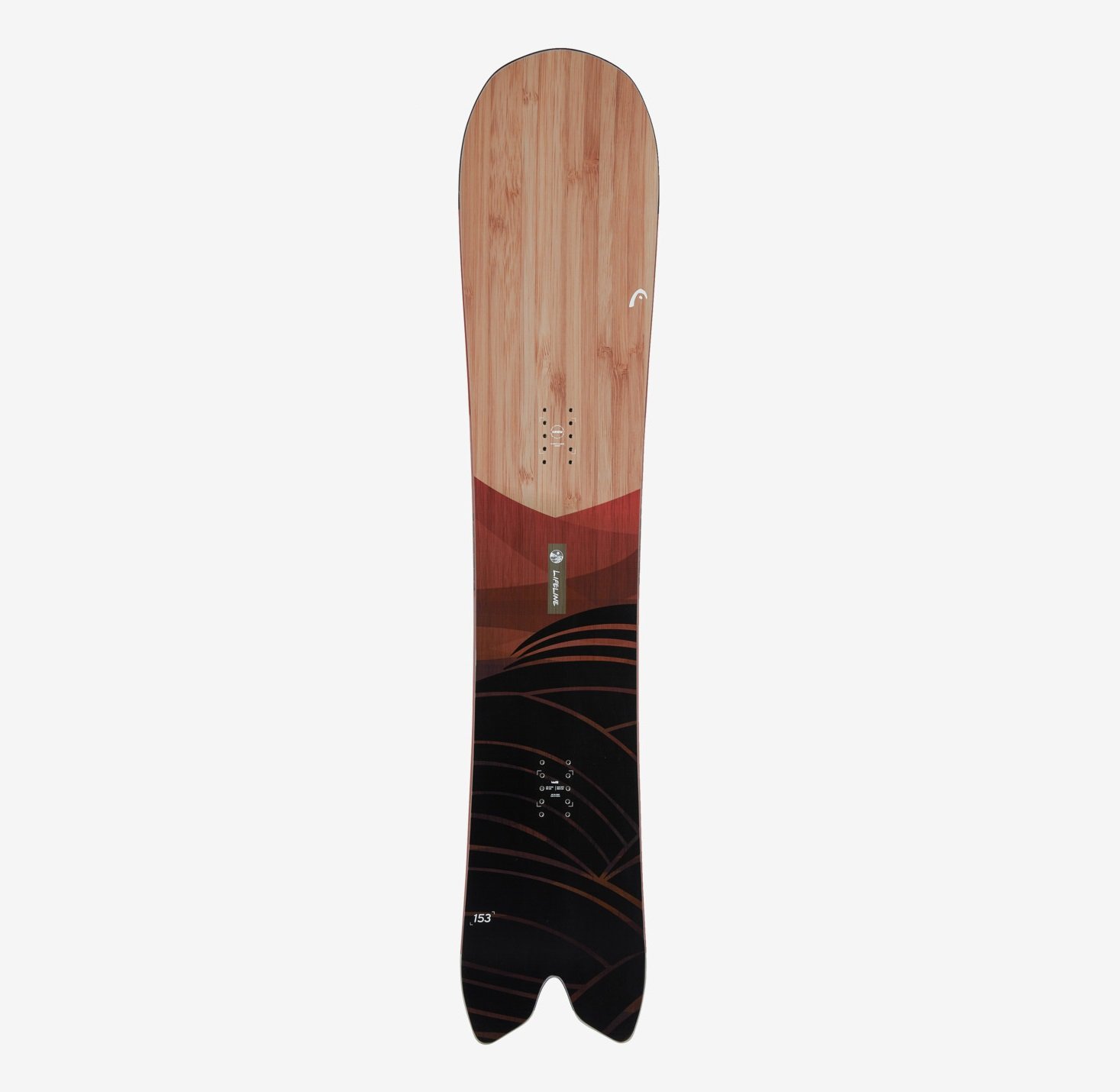 Profile: Hybrid Camber POP: a shorter pintail, a long, wider nose, and extra volume for float
Shape: Directional
Flex: 6/10 (medium)
Rider Type: All-Mountain
If you're new to the thrilling world of snowboarding and on the lookout for top-performing snowboarding gear, you might want to consider the HEAD Lifeline, a well-rated, affordable all-mountain snowboard.
The HEAD Lifeline is notably user-friendly and ideal for beginners. Its design guarantees easy maneuverability and control – essential factors when you're just getting started. As a result, you'll spend less time worrying about mastering the board and more time savoring the thrill of the ride. However, it's worth noting that while it's excellent for starters, seasoned snowboarders might find it lacking in advanced features.


HEAD Lifeline – Profile
One standout feature of this board is its Swallow Tail. This design aspect significantly supports you when plowing through steep and deep slopes, enhancing control and stability and allowing you to confidently navigate challenging terrains.
The Swallow Tail is efficiently paired with the Hybrid Camber POP profile, offering versatility, and enabling it to ride just as well on groomed slopes. The board has a shorter pintail, a long, wider nose and extra volume for float. This feature ensures a balanced, responsive, and poppy ride, whether you're carving down groomed runs or exploring off-piste terrains.
The HEAD Lifeline's lightweight wood core ensures the board is not only durable but also light enough for easy maneuverability. This balance between weight and strength is crucial for beginners who are still mastering control and balance. A lightweight core allows for easy turns and stops, reducing the fatigue that often comes with handling heavier boards.


HEAD Lifeline – Specs
JONES Stratos (men's & women's snowboards)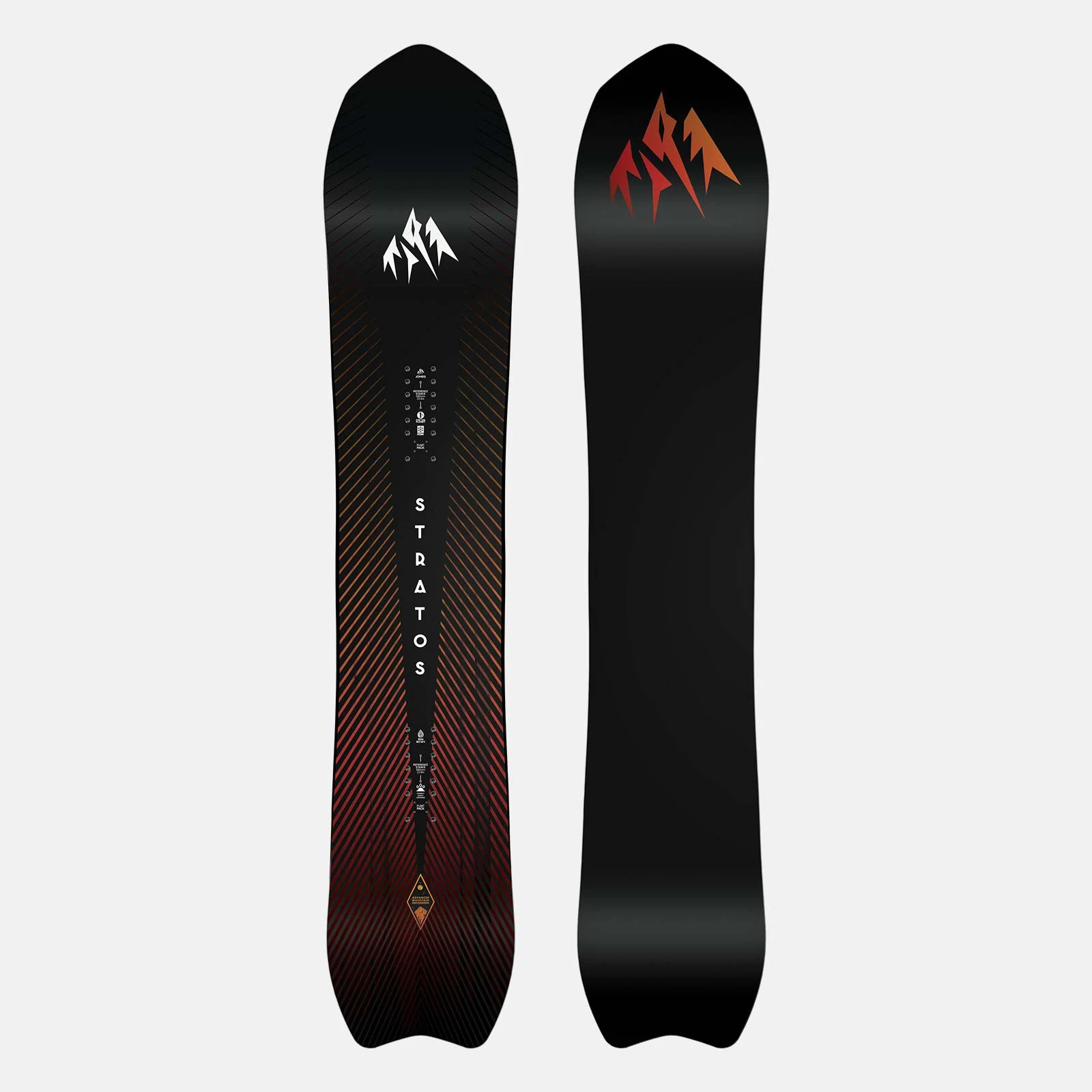 Profile: Hybrid rocker/camber: more tip rocker than tail rocker and camber between the bindings
Shape: Directional
Flex: 7/10 (medium-to-stiff)
Taper: 10 mm
Rider Type: All-Mountain/Freeride/Freestyle
The Jones Stratos is a snowboard that truly stands out, combining the shape of freeride and the versatility of freestyle. It greets you with a wide nose and a nice-looking tail, beckoning you to hop on for an exhilarating ride. While it may seem like your typical freeride board at first glance, there's more than meets the eye. Hidden within this board is a freestyle spirit that promises a thrilling adventure.
As soon as you start carving with the Jones Stratos, you'll realize it's a born performer. It's smooth and agile, especially when transitioning from edge to edge, and boasts a fantastic locked-in feel, which allows you to make tighter sections through trees and ravines. The directional shape, combined with tapering, makes initiating turns incredibly easy, and the board feels robust throughout. If you decide to push hard through a turn, it pops you out nicely. Generally, the board is inviting and playful.



JONES Stratos (men) – Profile
Edge hold is another strong point of this board. It features a contour shape and Jones' Traction Tech, which facilitate smooth edge transitions and enable comfortable set-ups for carves or jump lines. The board offers a solid feel in icy conditions.
As for freestyle, the Stratos doesn't disappoint. This board is an excellent option for jumps, half-pipe riding, and dabbling in the park while still being highly capable all over the rest of the mountain. Even switch riding—though perhaps not the board's forte—is manageable with the Stratos.
Freeriding is where the Stratos truly shines. The large rocker section on the nose allows the board to perform superbly in powder or spring conditions. It holds up well even at high speeds and in stickier conditions. Despite its flex rating of 7 out of 10, the board manages to feel stiffer when needed, providing the right support at the right time.
Overall, the Jones Stratos is an ideal pick for anyone seeking a board that perfectly balances carving performance and powder floating.


JONES Stratos (men) – Specs


JONES Stratos (women) – Specs
K2 Passport Unisex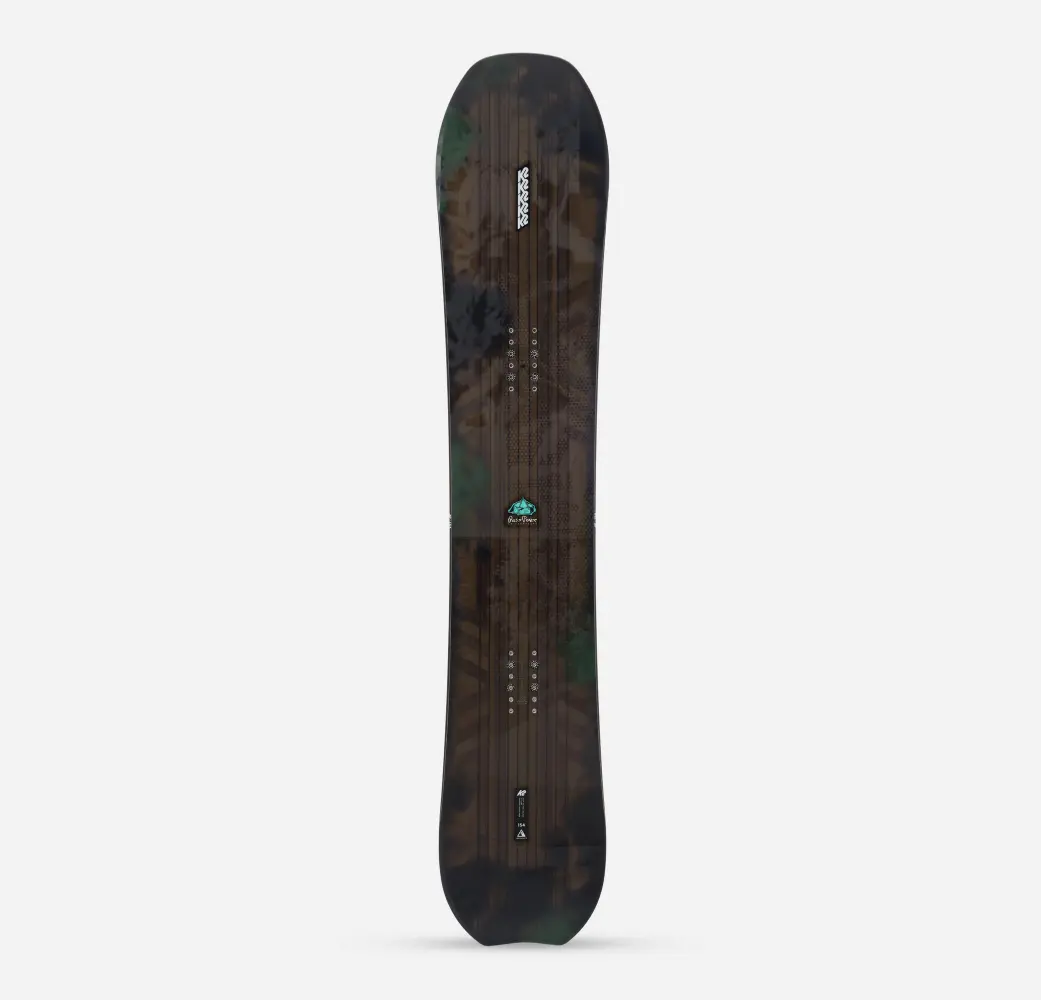 Profile: Hybrid rocker/camber: more tip rocker than tail rocker and camber between the bindings
Shape: Directional
Flex: 7/10 (medium-to-stiff)
Taper: 0 mm
Rider Type: All-Mountain/Freeride/Powder
What sets the K2 Passport apart is its unisex design, catering to both men and women and skill levels from intermediate to expert. The board boasts a directional shape that doesn't compromise on its switch. So, whether you're riding regularly or pulling off switch maneuvers, this board has got your back.
The K2 Passport also features a slightly wider-than-average waist width coupled with an 8mm taper. This unique design ensures easy turning and superior float in deep snow. Complementing this is an elongated rocker profile from the front insert pack throughout the tip and a tighter sidecut radius in the tip and tail, providing smooth and predictable progression.
The K2 Passport incorporates a new blend of ICG 10 Triax fiberglass, adding tip-to-tail snap with precise edge performance. This glass layup wraps around a lightweight A1 core, which comprises three species of sustainably harvested timber. All these sit atop a fast and durable Sintered 4000 base.


K2 Passport (unisex) – Profile
As for materials, the K2 Passport incorporates a new blend of ICG 10 Triax fiberglass, adding tip-to-tail snap with precise edge performance. The all-new A1 Core is lightweight, snappy, and durable. Made from three renewable species of timber – bamboo, aspen, and paulownia, the core is aspen-dominant to highlight the snap and response of this wood. It's combined with bamboo at 30° underfoot to increase strength and supercharge the edge-to-edge response. Lightweight paulownia in the tip and tail help to reduce swing weight, making your rides smoother and more effortless.
The K2 Passport also integrates Carbon Fiber stringers that run the length of the board into its fiberglass. This innovative feature increases the snap of the snowboard without adding unnecessary rigidity, giving you that extra 'oomph' when you need it.
Finally, the K2 Passport is elevated by the inclusion of a 4000 Sintered Base, renowned for being the fastest natural base material available. This feature delivers an impressive glide across various terrains.
Overall, with its superior design and construction, the K2 Passpor promises a ride that's smooth, responsive, and ultimately enjoyable. Whether you're carving through a resort or exploring the backcountry, this board is sure to impress.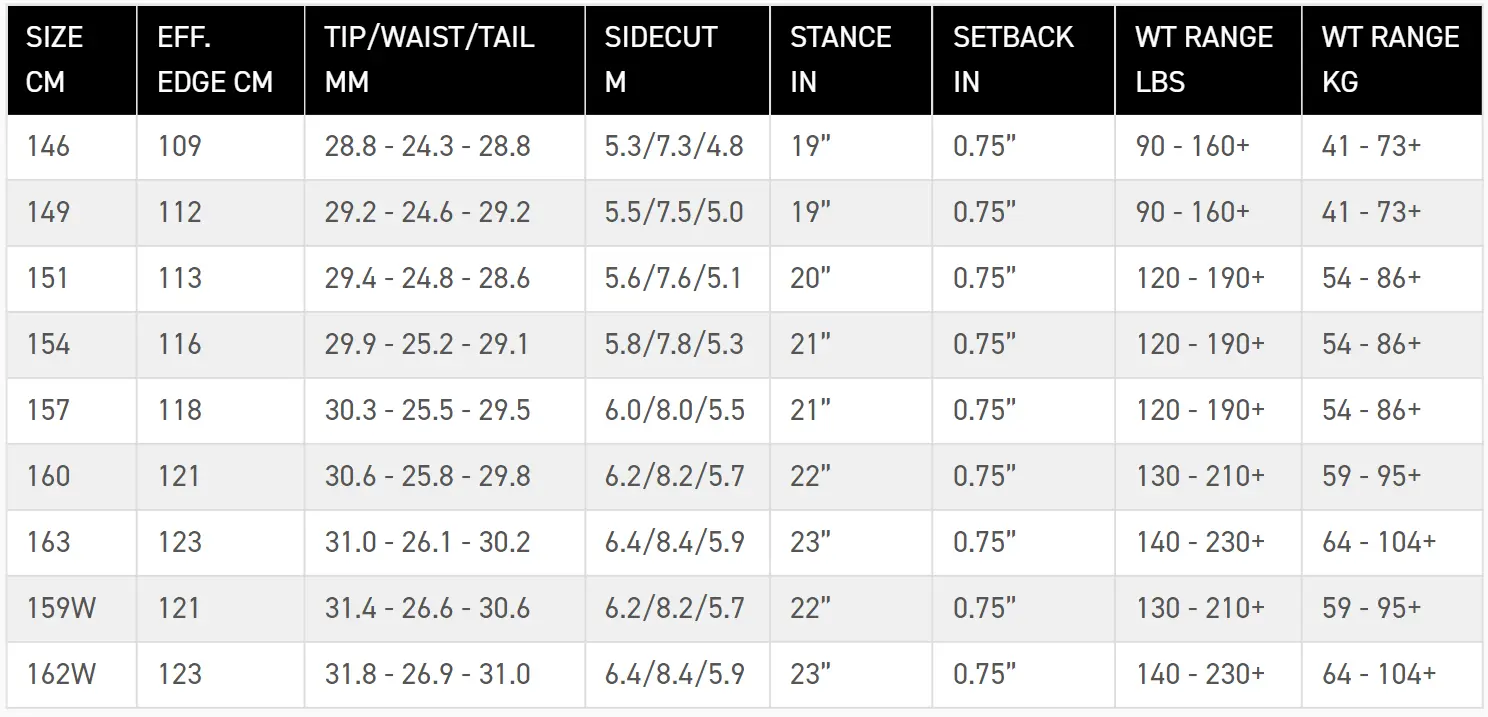 K2 Passport (unisex) – Specs
Also, read:
Best Snowboard Helmets of 2023-2024: A Detailed Review
Top 5 Snowboard Boots of 2024: A Detailed Review
How to Choose the Perfect Ski Goggles for Your Next Mountain Adventure
FAQ
What is the best all-mountain snowboard for a beginner?
The best snowboard for a beginner is one that's forgiving and easy to control. Look for a board with a softer flex, a flat or rocker profile, and a true twin shape.
What size snowboard should I get?
The right size of a snowboard depends on your weight, riding style, and personal preference. Generally, when standing up straight, the tip of the board should reach somewhere between your chin and nose.
What's the difference between a freestyle, freeride, and all-mountain snowboard?
Freestyle snowboards are light, short, and flexible, designed for tricks and jumps in the park. Freeride snowboards are long, stiff, and often directional (not symmetrical), designed for off-piste and deep snow. All-mountain snowboards are versatile, designed to perform well in all types of conditions and terrains.
What is camber and rocker?
Camber and rocker refer to the curve of the board from tip to tail. Camber has a slight upward curve in the middle, with the contact points close to the ends. It provides more edge hold and stability at high speeds. Rocker, or reverse-camber, is the opposite, with a downward curve and the contact points closer to the middle of the board. It's great for float in powder and easy turn initiation.