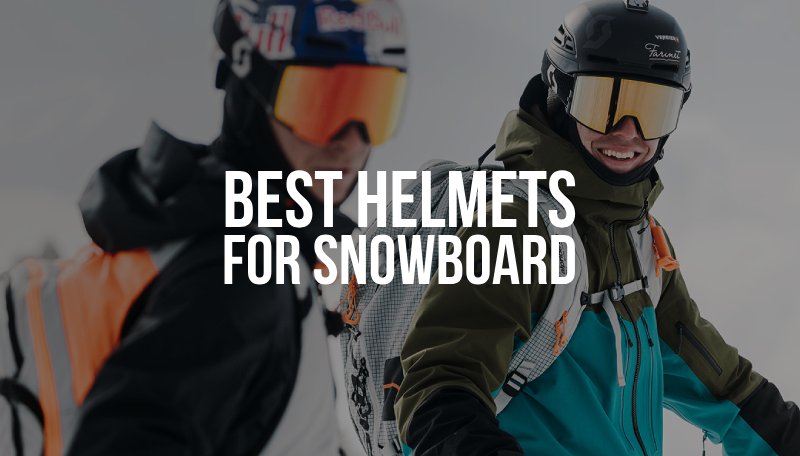 Last Updated on
Hey there, snowboard enthusiasts! Whether you're a park prowler, resort shredder, or backcountry adventurer, a top-notch helmet should be a non-negotiable part of your snowboarding gear. We've got the best snowboard helmets for the 2023-2024 season here. Explore and have fun!
Quick List of the Best Snowboard Helmets:
Best Budget MIPS: SPY+ Galactic
Best Venting: SCOTT Symbol 2 Plus D
Best Protection (no MIPS): BOLLE Ryft Pure
Best Visor Helmet (no MIPS): BOLLE V-Ryft Pure
Best Feature-Packed MIPS Visor Helmet: HEAD Radar 5K
SPY+ Galactic MIPS Snowboard Helmet
Shell Material: ABS
Weight: 1 lb. 14.8 oz.
Ventilation: Passive
Fit Adjustment: Snug Life
Certifications: EN 1077, EN 1078, EN 12492, REACH
Lightweight MIPS helmet at a reasonable price.
Let's kick off our best snowboard helmets review with a budget MIPS snowboard helmet from Spy+. This helmet is great for those looking to balance cost, comfort, and safety on the slopes.
Construction
The SPY+ Galactic MIPS Helmet boasts a classic skate-inspired style that will appeal to the old-school riders out there. It's equipped with a durable Acrylonitrile Butadiene Styrene (ABS) shell that can take a beating, whether you're mastering new tricks or tumbling on the trail.
Comfort and Fit System
The Snug Life fit system keeps the helmet secure on your head, reducing the risk of it shifting or coming off during a fall. You'll also appreciate the audio-compatible super-comfortable earpads. Plus, they are easy to remove, which is especially nice on a warm day. The lining is also removable and washable. Above all, this helmet is nice, warm, and lightweight, providing that snug feel without sacrificing breathability.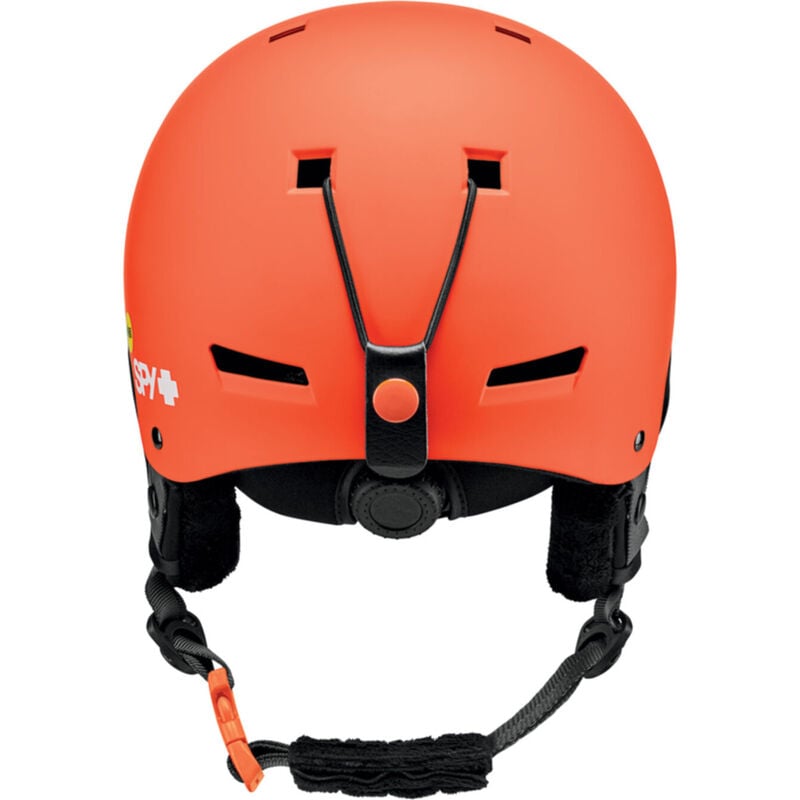 Venting
The venting system consists of passive vents. However, the vents are strategically placed to allow for constant airflow around your dome that pushes out heat and prevents cold air from entering.
Safety
The shell of the helmet is backed up with MIPS. The inclusion of MIPS makes the SPY+ Galactic one of the best budget-friendly snowboard helmets out there in terms of safety. The helmet is EN 1077, EN 1078, and EN 12492 certified and is REACH compliant.
Wrapping Up
The SPY+ Galactic MIPS Helmet is a solid choice for anyone looking to enhance their snowboarding experience without breaking the bank.
SCOTT Symbol 2 Plus D Snowboard Helmet
Shell Material: In-Mold PC
Weight: 1 lb. 4 oz (small)
Ventilation: Dual Active Venting System
Fit Adjustment: WRAS 2
Certifications:  EN1077:2007/Class B, EN12492:2012
MIPS helmet with an advanced venting system.
Now, let's discuss the SCOTT Symbol 2 Plus D, an ISPO Award Gold Winner loaded with features that make it a top choice for snowboarders seeking the highest protection and ultimate comfort. FIY, the ISPO Award is a significant recognition in the sports industry that highlights and rewards innovation and excellence in sports products. This means the Scott helmet must be really good.
Construction
The SCOTT Symbol 2 Plus D features an in-mold construction. For those new to the term, in-mold helmets are made by attaching the shell and shock-absorbing foam in a single molding process, making them much lighter than injection-molded helmets. This means you get a helmet that is solid yet light.
The Symbol 2 Plus D is constructed from an impact-resistant polycarbonate (PC) shell with an expanded polystyrene (EPS) liner and a PC bottom wrap. EPS is a lightweight, rigid, and closed-cell insulation resistant to moisture and heat.
Comfort and Fit
Comfort is a key factor when choosing a snowboard helmet, and the SCOTT Symbol 2 Plus D does not disappoint with its unique Scott WRAS 2 Fit System, a system that adjusts the tightness of the helmet and the height at the rear to ensure a snug fit. The dial is large and molded into the helmet itself, so even if you're wearing gloves, you can easily reach this dial and make adjustments. The helmet's chin strap is flat, soft, and wide, which is very nice.
For enhanced hearing, warm earpads are equipped with Scott's 360-degree Pure Sound technology.
Generally, the helmet has a more narrow fit, but despite running a bit small, it feels completely secure with no pressure points. The well-fitting earpads also contribute to the overall comfort, with no noticeable hot spots.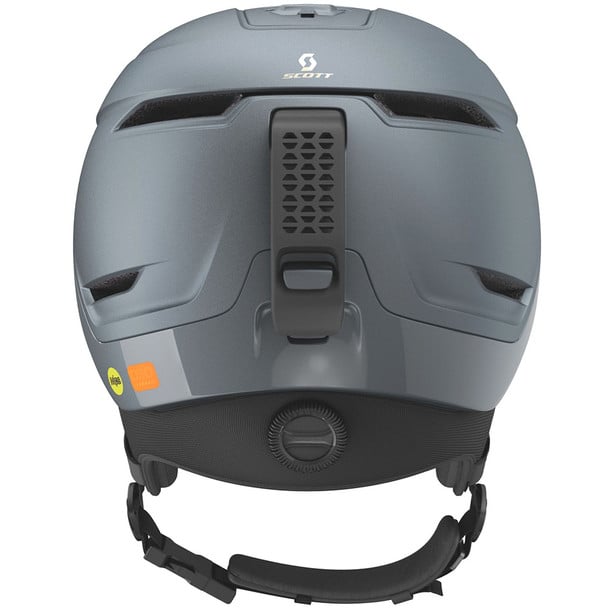 Venting
The SCOTT Symbol 2 Plus D snowboard helmet features a Dual Active Venting System that delivers excellent airflow control. The helmet has 6 vents that are always open. These are located on the sides and back of the helmet. Their job is to let air flow in and out, preventing your head from getting too hot.
Then, there's a sliding adjuster at the front of the helmet. It controls two more vents, allowing you to slide it to open or close the vents. If your goggles start to fog up, you can open these vents to let in more air and clear the fog.
Another adjuster is on the back. This one controls some smaller vents on top of the helmet. You can use it to change how much air gets in and out, depending on what's comfortable for you.
Most other helmets don't let you control the vents like this. That's what makes the SCOTT Symbol 2 Plus D the best snowboard helmet. It gives you lots of options to make sure your head stays cool and your vision stays clear.
Safety
First of all, the SCOTT Symbol 2 Plus D helmet is EN 1077:2007 Class B certified. This certification means the helmet has undergone rigorous testing and met stringent safety standards set for alpine skiing and snowboarding helmets.
While Class B helmets don't provide as much protection as Class A helmets against objects that might penetrate them, they have their own benefits, such as more vents, a design that makes it easier to hear the surroundings, and a lightweight build.
The helmet is equipped with MIPS. When a fall occurs, the MIPS system allows the helmet to slide relative to the head, adding an extra layer of protection against rotational violence that can cause brain injuries.
Additionally, the helmet incorporates D30 Progressive Energy Absorption Protection for superior shock absorption. Essentially, it acts like a protective barrier that absorbs the energy from any impact, thereby significantly reducing the force that would otherwise be transmitted directly to your head. This feature is particularly crucial during high-speed rides, where the risk of sudden impacts is high. Moreover, the D30 also adds to the comfort, as it's designed to be lightweight and flexible.
Wrapping Up
The SCOTT Symbol 2 Plus D is an excellent all-mountain helmet, boasting plenty of safety features, superior ventilation, and earpads that allow sounds for greater awareness. While it's more geared towards resort and freeride skiing, it can definitely do the job for backcountry skiing. Plus, its compatibility with different goggles from other brands adds to its versatility and appeal.
BOLLE Ryft Pure Helmet Snowboard Helmet
Shell Material: PC ABS
Weight: 1 lb.
Ventilation: Flow-Tech Venting System
Fit Adjustment: Click-To-Fit
Certifications: CE 1077B, ASTM F 2040
A hybrid snowboarding helmet with an advanced impact-management system.
Now, let's cast our focus on a leading snowboard helmet from Bolle, a French company that has long been specializing in eyewear but then entered the helmet market in 2007.
Construction
The BOLLE Ryft Pure helmet comes with an AVID Progressive EPS design. In simple words, this is a hybrid helmet. Bolle hybrid helmets combine the characteristics of single-piece in-mold helmets and injection-molded helmets made from Acrylonitrile Butadiene Styrene (ABS). So, the outer shell of the Ryft Pure is made of ABS and underneath it, there's a protective EPS foam. A lower part is in In-Mold. This blend provides both protection and resistance in case of a significant fall while ensuring the helmet remains light.
Also, the technology is called "progressive" because the helmet features two foam densities. High-density EPS in the main structure absorbs high-energy impacts and doesn't compress in small impacts, while low-density EPS inner insert adsorbs low-energy impacts and bottoms out in bit impacts. This provides more protection in a wider range of impact scenarios. By the way, the EPS liner is removable, which allows for easy maintenance and cleaning.
Comfort and Fit System
The Click-To-Fit system on the BOLLE Ryft Pure snowboard helmet allows you to fine-tune the fit of your helmet easily and quickly. It features a rubberized adjustment wheel that lets you tighten or loosen the helmet effortlessly, even with your gloves on. The helmet also boasts a Fidlock Magnetic buckle for secure fastening.
Like the Scott helmet, the BOLLE Ryft Pure features hearing-enhancing 3D Earpads that can be removed and washed.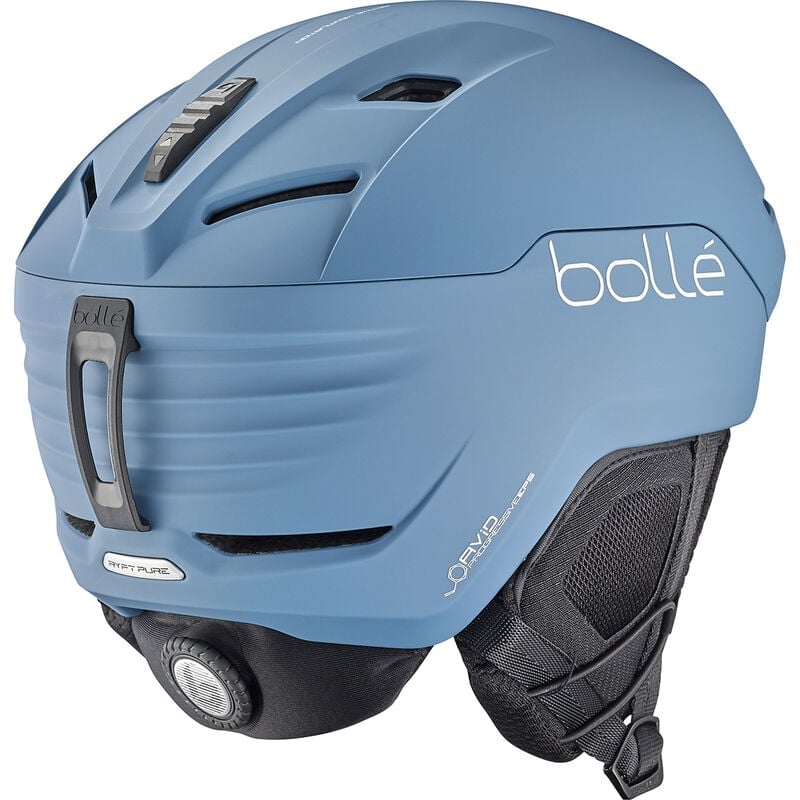 Venting
One unique feature of the BOLLE Ryft Pure helmet is its Flow-Tech Venting System. This system offers best-in-class airflow, setting it apart from other helmets in the market. It almost resembles a bike helmet due to the large vents, but rest assured, safety is not compromised.
The 6-vent adjustable ventilation system is easy to use and allows you to control the amount of air coming into your helmet. By opening channels below the shell, it can be fine-tuned to provide the exact amount of ventilation needed for maximized comfort.
The helmet includes a protective covering over the vents that prevents sticks, rocks, and other hazards from piercing through it. Additionally, the helmet features goggle vents designed to prevent fogging, ensuring clear vision at all times.
Safety
While the BOLLE Ryft Pure Helmet does not feature MIPS, Bolle offers an MIPS version in the same design for those who prefer this added safety feature.
Wrapping Up
The BOLLE Ryft Pure helmet boasts a hybrid construction that ensures lightness and robust protection, while the unique venting system offers superior airflow.
BOLLE V-Ryft Pure Snowboard Helmet
Shell Material: PC ABS
Weight: 1 lb. 3 oz.
Ventilation: Flow-Tech Venting System
Fit Adjustment: Click-To-Fit
Certifications: CE 1077B, ASTM F 2040
A hybrid snowboarding visor helmet with an advanced impact-management system and a photochromic lens.
Now, let's take a closer look at one of Bolle's most innovative offerings – the V-Ryft Pure. This isn't just a snowboarding helmet; it's a helmet with an integral lens, a visor helmet that takes safety and convenience to a whole new level.
Pros and Cons of Visor Helmets
Before we delve into the specifics of the V-Ryft Pure, let's briefly discuss some general pros and cons of visor helmets. On the upside, a visor helmet combines the protection of a helmet and the visibility of goggles in one piece of equipment. This means one less item to pack, keep track of, or potentially lose. Visors on helmets often provide a wider field of vision compared to traditional snowboard goggles. Finally, for those who wear glasses, fitting them under goggles can be a challenge. A visor helmet eliminates this problem as it provides enough space for most eyeglasses underneath the visor. On the downside, visor helmets might not offer the same snug fit as traditional goggles, plus replacing the visor can be more expensive.
V-Ryft Pure Helmet Features
At its core, the V-Ryft Pure helmet shares many features with the Ryft Pure. It's a hybrid helmet, employing progressive EPS density technology for absorbing both low and high-density impacts. This means whether you're dealing with a minor tumble or a major crash, this helmet has got your back (or rather, your head).
The helmet also features an adjustable venting system with 6 vents, including goggle vents, ensuring optimal airflow and preventing fogging. The removable and washable lining and 3D earpads add to the comfort factor, while the Click-to-Fit adjustment system ensures a perfect fit every time. But the real cherry on top of this snowboarding helmet is the built-in visor. So, what's the deal with that lens?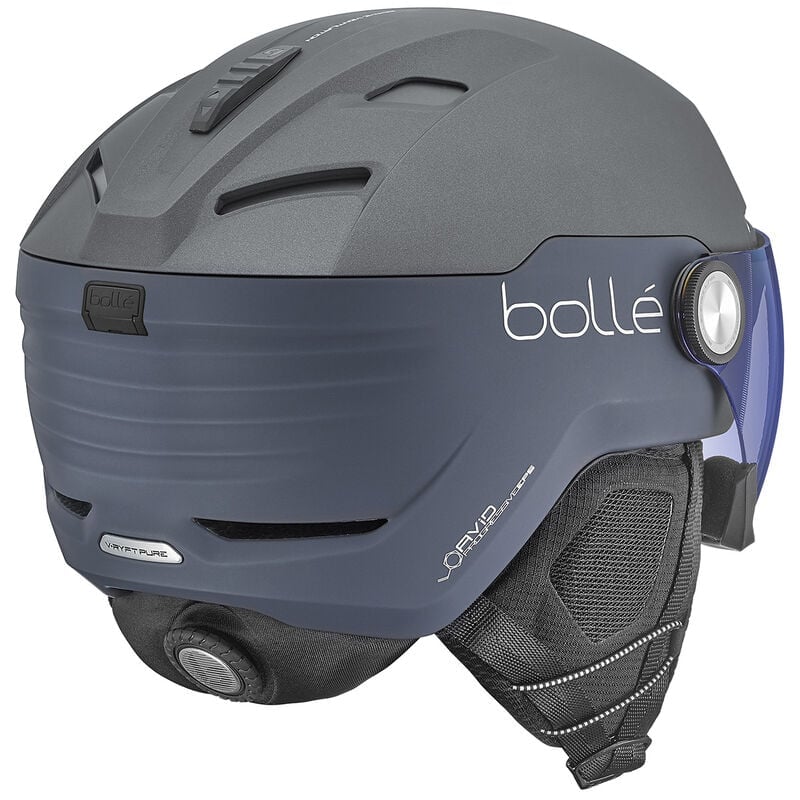 Built-In Visor
The V-Ryft Pure helmet comes equipped with two interchangeable visors or a photochromic lens. This isn't just any lens; it's a Bolle Photochromic Blue lens with a rose-tinted base and a blue mirror. It's like wearing rose-colored glasses but with a practical purpose – these pink lenses maximize color definition and depth perception, making them excellent for a variety of conditions.
The lens is also rated as a cat. 1-3. What does this mean? It means the lens tint changes with the light from cat.1 to cat.3 in less than 30 seconds, providing enhanced vision regardless of the conditions.
And let's not forget about the quality of the lens itself. Made from polycarbonate, it is anti-scratch and anti-fog, offering excellent visibility and protection. With this helmet, you can say goodbye to foggy goggles and scratched lenses!
Wrapping Up
Sure, the BOLLE V Ryft Pure Helmet might have some minor drawbacks like any visor helmet, but its innovative features and top-notch performance more than makeup for them. If you're looking for a helmet that offers superior protection, comfort, and convenience, the BOLLE V Ryft Pure Helmet might just be your perfect match!
HEAD Radar 5K Mips Visor Helmet
Shell Material: In-Mold PC
Weight: n/a
Ventilation: adjustable
Fit Adjustment: BOA
Certifications: EN 1077:2007 CLASS B
A top-tier snowboarding visor helmet with MIPS and advanced features.
So, we've touched on visor helmets. Now, let's end our best snowboard helmets review with a top-tier product – the HEAD Radar 5K Mips Visor Helmet.
Construction
The HEAD Radar 5K helmet employs in-mold technology, where the shock-absorbing inner EPS layer is injected into the hard outer polycarbonate layer. This creates a single, comprehensive unit that provides perfect protection at a significantly reduced weight. Additionally, the helmet features a 360-degree microshell. This polycarbonate layer wraps around the lower helmet lip three-dimensionally, preventing scratches and dents in the helmet's foam.
Comfort and Fit System
Moving on to comfort and fit, the Sphere Fit system stands out. This patented system wraps around the head like a beanie, creating a snug and comfortable fit without applying any pressure. The Beanie Liner, made of soft microfleece material, adapts perfectly to the head, avoiding any bruises or the unpleasant entry of cold air. Molded-in mesh zones allow heat and moisture to escape, working in tandem with the helmet's ventilation system to ensure a comfortable head climate.
As for fit, the helmet features the famous BOA Fit System that allows you to adapt the helmet perfectly to your head. The Fidlock Buckle closes automatically and can be easily opened with just one hand.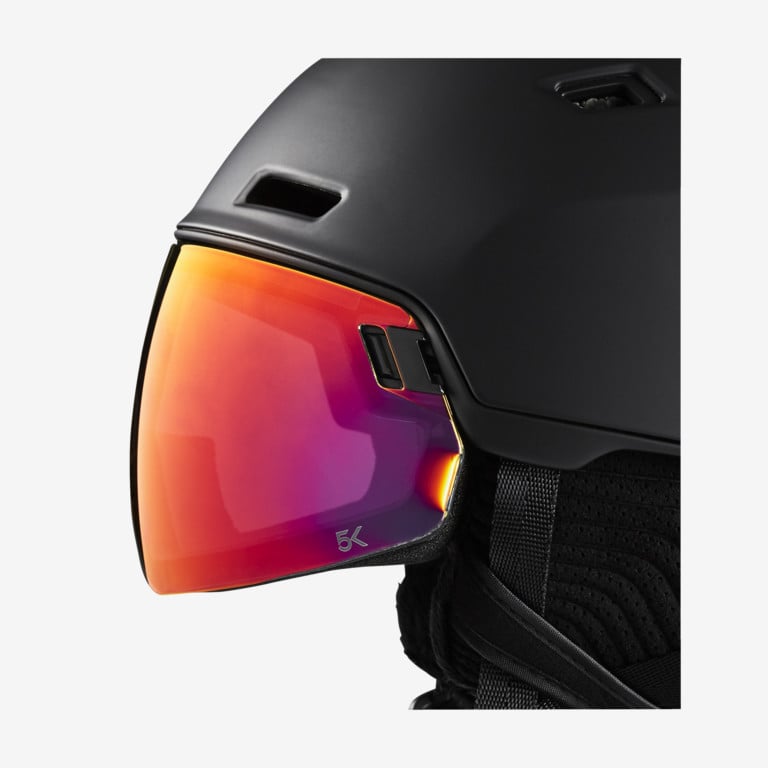 Venting
The helmet offers adjustable ventilation, allowing you to control the opening of the ventilation ducts on top of the helmet continuously using a slide control.
Safety
The HEAD Radar 5K Mips Visor Helmet complies with the EN 1077:2007 CLASS B safety standard. Also, the helmet features MIPS, a helmet-integrated, low-friction layer designed to reduce rotational motion transferred to the brain from angled impacts to the head.
Built-In Visor
The built-in visor is where this helmet truly shines, first of all, because the integral visor construction allows riders to wear prescription glasses. The visor can be pulled down or pushed up like in a motorcycle helmet. The visor also boasts an unrestricted field of vision thanks to the fully integrated anti-fog double lens, which automatically adapts to the wearer's face and seals off wind and water. It's also curved in a way that avoids optical distortion.
The HEAD Visor is 5K red: cat S2, VLT 28%, using a more neutral lens color that works perfectly in any cloudy to sunny weather condition. The 5K lens technology filters incoming visible light and optimizes the perception of color and contrast.
The HEAD Visor is ventilated and provides 100% UV400 protection. Plus, it's ten times more impact-resistant than conventional plastic, making it a perfect backcountry snowboarding helmet. 
One of the most innovative features is the Rapid Lens Exchange System, which allows you to swap lenses on the go with just a click. This means you can adapt to changing weather conditions in no time!
Wrapping Up
In conclusion, the HEAD Radar 5K Mips Visor Helmet is a standout choice for anyone seeking a visor helmet. With its innovative construction, comprehensive comfort and fit system, adjustable ventilation, and top-notch safety features, it ticks all the boxes for a high-quality snowboarding helmet.
Also, read:
How to Choose the Perfect Ski Goggles for Your Next Mountain Adventure
The Rise of All-Mountain Snowboards: Top Picks for 2023-2024
Top 5 Snowboard Boots of 2024: A Detailed Review
FAQ
How should a snowboarding helmet fit?
A snowboarding helmet should fit snugly but comfortably. It should not move around on your head, but it should not be so tight that it causes discomfort or headaches. The chin strap should be snug enough to hold the helmet in place, but not so tight that it chokes you.
Can I wear a bike helmet for snowboarding?
While bike helmets and snowboarding helmets are designed to protect your head, they are not interchangeable due to differences in temperature regulation, padding, and coverage. It's always best to use equipment specifically designed for the sport you're participating in.
What features should I look for in a snowboarding helmet?
Key features to consider include fit, comfort, ventilation, weight, and additional features like audio compatibility or a built-in visor. Safety certifications are also crucial to ensure the helmet meets standard safety requirements.
Are there snowboarding helmets for people who wear glasses?
Yes, some snowboarding helmets are designed to be compatible with glasses. Look for helmets with "OTG" (Over The Glasses) compatibility. You can also try visor helmets.