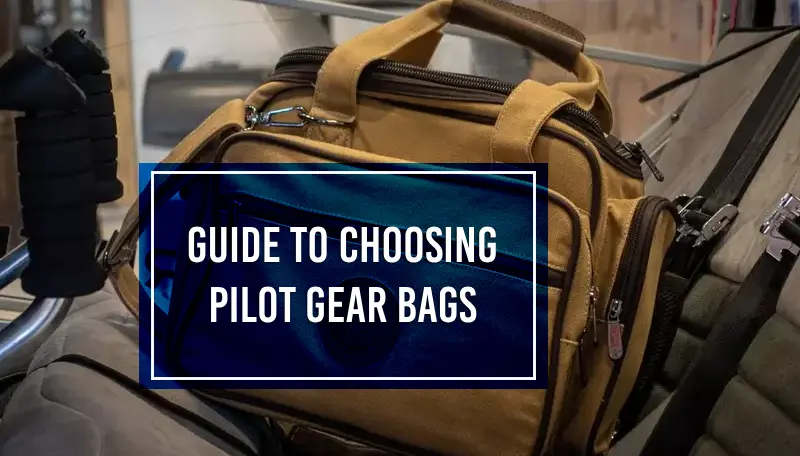 Last Updated on
A pilot flight bag doesn't really rank among the most frequently recalled attributes of pilots, at least in public opinion. Only pilots themselves know how crucial this simple piece of gear is. Your gear bag is your portable command center, holding everything you need for your flights. Whether you are only at the beginning of your piloting career, or have years of experience behind your back, you may find this article helpful. Today, we will guide you in selecting the perfect flight gear bag, ensuring that you're equipped for any flight at any time.
Table of Contents
Why Do You Need a Pilot's Gear Bag
Factors to Consider 
Top 5 Pilot Gear Bags
      Bush Pilot Rucksack 
      Bush Pilot Flight Bag
      Lift XL Pro Flight Bag 
      Waypoint Backpack 
      Bush Pilot Folio Bag
FAQs

Why Do You Need a Pilot's Gear Bag
This section is meant for everyone thinking they can get by with some regular backpack they use for hikes. It's no secret that packing a bag isn't the most difficult part of being a pilot. That doesn't mean it's not important, though. Being a pilot is about quite a number of things, and being diligently prepared is one of them. Having the right tools at your disposal when you need them can be, without exaggeration, a lifesaver. Among these tools, your gear bag plays a pivotal role. Mostly because it stores the rest of your equipment, which is quite plentiful. 
All pilots are well aware of the things that should be present in their bags, but this is an informative article, so informing we shall do. Besides, understanding how many important things a pilot bag should contain only supports the idea of it having to be well-organized. 
Pilot Certificate: You aren't legally allowed to fly without one, even if you have been a pilot for years. It doesn't occupy too much space, and you don't need to have immediate access to it, but you can't fly without one. The same goes for your medical. 
Headsets: It's hard to underestimate the importance of communication in piloting. The headset policy varies from one airline to another, but it's very common for pilots to carry their own headsets for a variety of reasons. And if you are allowed and decide to carry your own, you should do your best not to leave it at home. Since the headsets are, for one thing, expensive and, for another, quite brittle, they need to be stored in a padded compartment. Dedicated pilot bags have those, which cannot be said about all the regular backpacks or duffel bags. 
iPad: All your sectional charts and approach plates will be stored on it. Besides, there are a bunch of virtually irreplaceable apps like ForeFlight that will boost your situational awareness.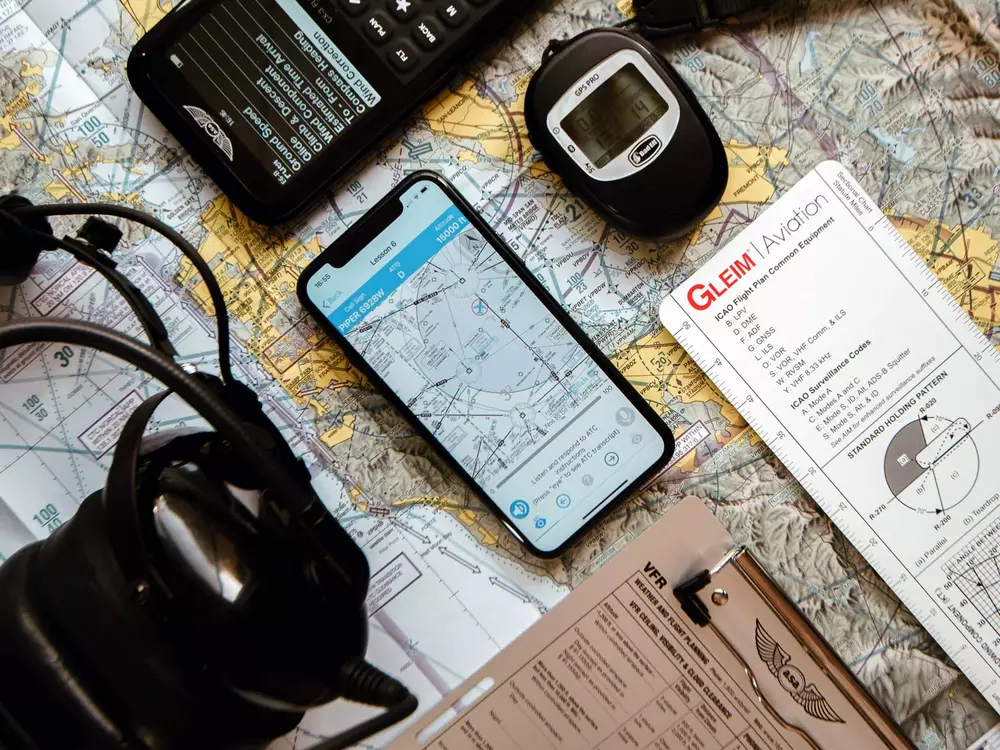 Kneeboards with Pen & Paper: The first one is pretty apparent: kneeboards are crucial for keeping information you need close at hand during a flight. There isn't too much unoccupied space in a cockpit, so the knees are basically the place for it. The second one might seem less intuitive, but is important nonetheless. Pen and paper are needed to make notes: writing down instructions and frequencies, that kind of stuff. A kneeboard can hold both your iPad and a notepad with a pen, so it's a real asset. 
Flashlights: Whether for pre-flight inspections in dim lighting or finding something in the cockpit during a night flight, a reliable flashlight is an indispensable tool for pilots.
Water Bottles: Staying hydrated has been something of a motto for the last decade or so, and it's a good one. Dehydration is not a pleasant state and it's definitely not something you'd want to experience thousands of feet up in the air. In addition to a water bottle, you can also grab a few energy bars: they are non-perishable and occupy little space.
Sunglasses: Clouds are the only obstacle in the way of sun rays assaulting your eyes, and when you are flying above the cloud level, there is no escaping them whatsoever. You can't afford to have your vision hindered, and sunglasses are your only way out.
Now, try accommodating all of that in a single-compartment backpack together with a spare battery and your personal belongings. While keeping things organized, of course, otherwise you won't be able to use them effectively. A good pilot's gear bag will have dedicated spaces for most of these essential items, ensuring that they are easy to locate when needed. Having a specific place for each item also means that you're less likely to forget something important, as you'll notice right away if a compartment is empty.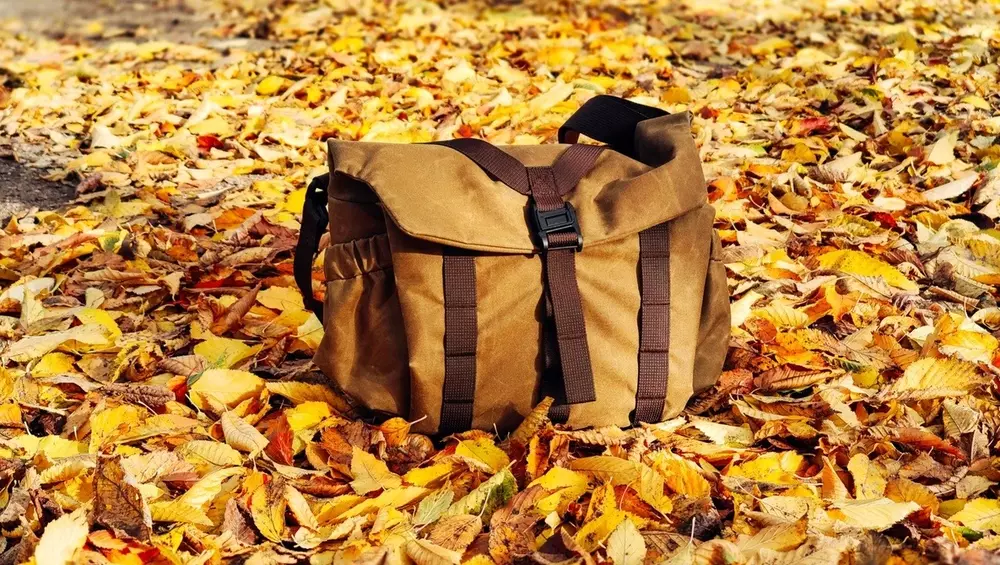 Factors to Consider When Choosing Your Pilot Gear Bag
Now that the question of necessity is out of the way, let's talk about choosing principles. There are several things that should be considered when choosing a pilot gear bag.
The Number of Pockets
A good pilot​ gear bag should ​have a sufficient ​number of pockets, both interior ​and exterior. Interior pockets ​are great for organizing ​smaller items you won't ​need to access ​immediately, like flashlights​ or your pilot's ​license. Exterior ​pockets, on the other ​hand, provide quick ​access to frequently used​ items. The exact ​number of pockets you need​ will depend on the amount ​and type of gear ​you carry. Having too many ​pockets will bring more ​confusion than use, so ​choose a bag that​ is not over-encumbered ​with them.
Material (Fabric vs Leather)
The material of your gear bag is a significant factor to consider. Fabric bags, often made from ballistic nylon or canvas, are known for their easy maintenance and affordability. They're also typically lighter than their leather counterparts and, while being less durable, are easier to repair. Leather bags, on the other hand, offer a classic and professional look. They're also more durable and, with proper care, can last for years. However, they tend to be heavier and more costly, both in terms of acquisition and repair.
Organization (Compartments and Padding)
The design of the bag's interior is just as important as its exterior. After all, you get a pilot gear bag to store items and not to flaunt it in front of your co-pilot. Look for a bag with well-thought-out compartments that can comfortably accommodate all the gear you plan to take. Many pilot bags feature padded compartments for delicate items like iPods and headsets.
Reinforced Bottom
Given the weight of the gear pilots carry, a reinforced bottom becomes more of a necessity than a matter of preference. This reinforcement provides much-needed durability and helps the bag maintain its shape, even when loaded with heavy items. It also offers extra protection for your gear against bumps and drops. It will also increase the longevity of your bag.
Shoulder Straps
As a pilot, you must often find yourself traversing airports or walking significant distances with your gear bag. Therefore, comfort is a crucial factor to consider. Look for bags with adjustable and padded shoulder straps, be they backpack-style or duffel-style bags. The adjustability allows you to set the length that's most comfortable for you, while padding helps distribute the weight of the bag more evenly. There are strapless options out there, and they can also be viable, but they lack the comfort and versatility of strapped bags.
Top 5 Pilot Gear Bags on the Market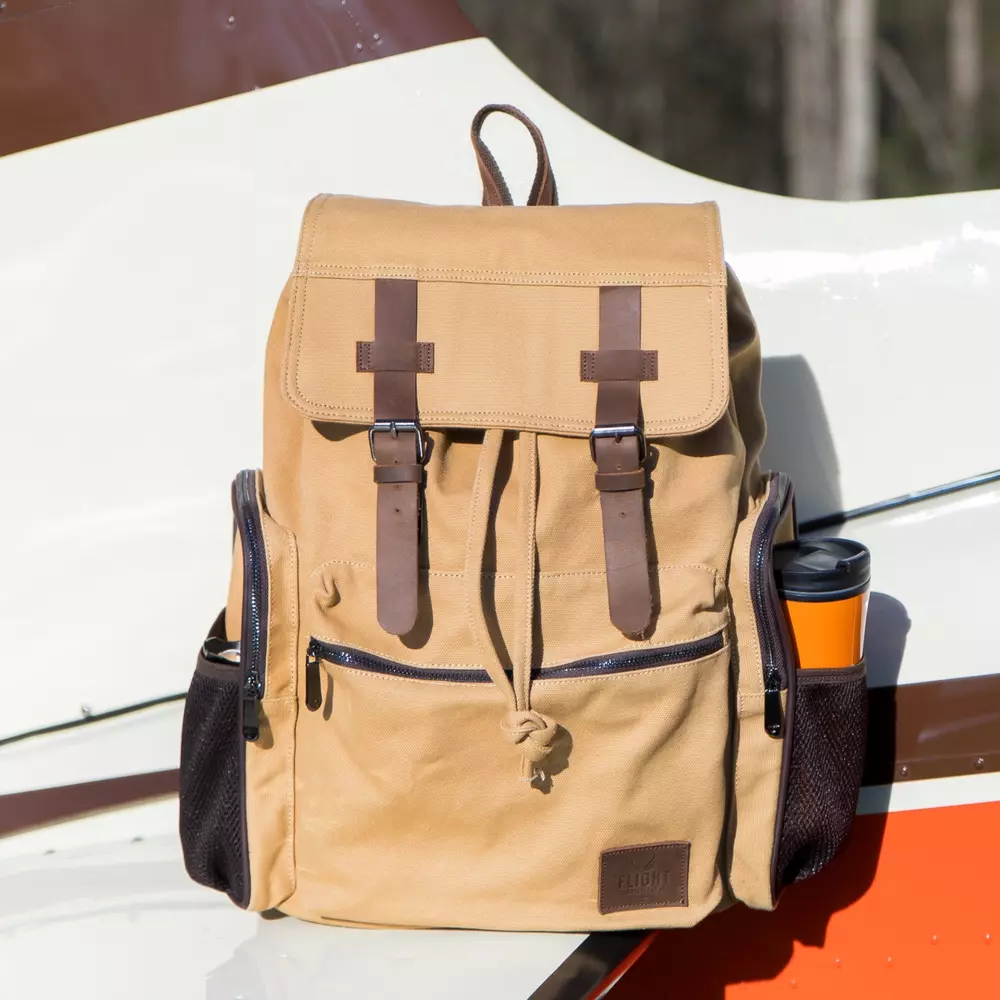 Flight Outfitters Bush Pilot Rucksack
If you are looking for a stylish bag that would look in place wherever you take it, then the Flight Outfitters Bush Pilot rucksack is just what you need. With its rugged look and practical features, it promises to become a reliable companion for any pilot.
Design and Material
The Bush Pilot Rucksack boasts a vintage, rugged design that is aesthetically pleasing while remaining functional. It's made of durable canvas and sports leather accents that give it a classic, timeless appeal. The combination of these materials not only ensures longevity but also adds an air of sophistication. Canvas, while not as strong as leather, is still pretty rugged and can be easily repaired.
Organization and Storage
The bag offers ample storage space with multiple compartments designed to accommodate a range of pilot essentials. It includes a dedicated space for headsets, a padded laptop sleeve, and several interior pockets for smaller items. The external mesh pockets are well-placed for easy access to frequently used items. The bag's organization is actually one of its fortes, so keeping things in order will be a cakewalk.
Comfort
The shoulder straps follow our recommendation to the letter, being adjustable and padded thus making carrying the rucksack more comfortable. Even for extended periods or over long distances. Additionally, the bag's design evenly distributes weight across your back, reducing strain on your shoulders.
Drawbacks
Despite its many strengths, the Bush Pilot Rucksack has a couple of drawbacks. Firstly, while the canvas and leather materials add to the bag's aesthetic appeal, they also make it heavier than other bags made from lighter materials like nylon. This could be a concern if you're often walking long distances with your gear bag.
Secondly, although the bag offers ample storage space, it doesn't have a reinforced bottom. This lack of reinforcement won't have any immediate effect on the bag's durability, but it will accumulate over time, especially if you're carrying heavier items like multiple textbooks or larger electronics.

Flight Outfitters Bush Pilot Flight Bag
The Flight Outfitters Bush Pilot Flight Bag is another style of bag that blends functionality and style, catering to the needs of pilots who prefer bags in a duffel style. Not lagging behind when compared to the Bush Pilot Rucksack, it offers a different take on the same functionality.
Design and Material
Being another vintage-inspired design, this bag exudes a classic charm that's sure to appeal to everyone appreciative of nostalgia. The combination of canvas and leather gives it a rugged yet refined look, making it both durable and stylish. Nothing particularly new here, the material and design are pretty much reminiscent of the Bush Pilot Rucksack.
Organization and Storage
The Bush Pilot Flight Bag is as well-organized as pilot bags get. You'll have one large center compartment with two movable dividers so you can organize the space however you see fit. There are also plenty of exterior pockets of different sizes, from ones big enough for an iPad to smaller side pockets fit for ADS-B receivers as well as a phone pocket and front organizer pocket. With that being said, the bag is more suitable for shorter trips as it is not particularly spacious.
Comfort
The bag comes with a removable shoulder strap, adjustable and padded, as it should be. This feature is a bonus for those long walks across the airport. The metal rivets at the bottom of the bag ensure there is some space between the ground and the bag, which is quite handy in a lot of scenarios.
Drawbacks
Despite its many positive features, the Bush Pilot Flight Bag falls short in a couple of areas. The lack of reinforcement at the bottom of the bag can lead to sagging when the bag is heavily loaded. Over time, this could potentially affect the bag's ability to retain its form.
Additionally, while the bag's classic design is undoubtedly appealing, the canvas and leather materials make it heavier than many other flight bags on the market. If you are after extremely lightweight designs, you might want to take a look at another Flight Outfitters bag.

Flight Outfitters Lift XL Pro Flight Bag 
The Flight Outfitters Lift XL Pro Flight Bag is designed for professional pilots who are in the market for a simple yet functional pilot bag. Its understated, all-black exterior pleases the eye while its well-thought-out interior features make it a great storage solution.
Design 
The Lift XL Pro Flight Bag sports a sleek, all-black look that will appeal to pilots looking for a professional and unpretentious bag. The brand's signature bright orange interior not only adds a pop of color but also helps smaller items stand out in the dark. Although the bag's aesthetics are impressive, the manufacturer didn't specify the material choice so that leaves us at a bit of a loss. The reviews, however, sing praises for its reliability, so you can just rely on the experience of other people.
Organization and Storage
This bag shines when it comes to organization and storage. The brand took into account the mistakes made in the Lift Pro Flight bag and made this model more spacious. Its roomy front compartment can comfortably accommodate two headsets, thanks to its generous padding and removable divider. The large center pocket includes a quick-access area for tablets, and there's even a separate section for larger laptops. The back pocket features multiple mesh pockets to keep cords organized and even an interior zip pocket for sensitive documents. Compartments are plentiful, to say the least. If you think there is no such thing as too many compartments, this bag is just for you. 
Comfort
The padded shoulder strap is a welcome feature that makes the Lift XL easy to carry. The strap is also removable in case you prefer your bags strapless. The bag also can slide over rolling luggage handles, making it a convenient option for travel.
Drawbacks
Despite its many positives, there are a couple of areas where the Lift XL Pro Flight Bag falls short. Firstly, the lack of information on the materials used for the bag doesn't allow us to predict how long the bag is going to stay in working condition. Secondly, while the multitude of pockets and compartments provide excellent organization, they could also complicate the bag's usability for pilots who prefer a simpler design.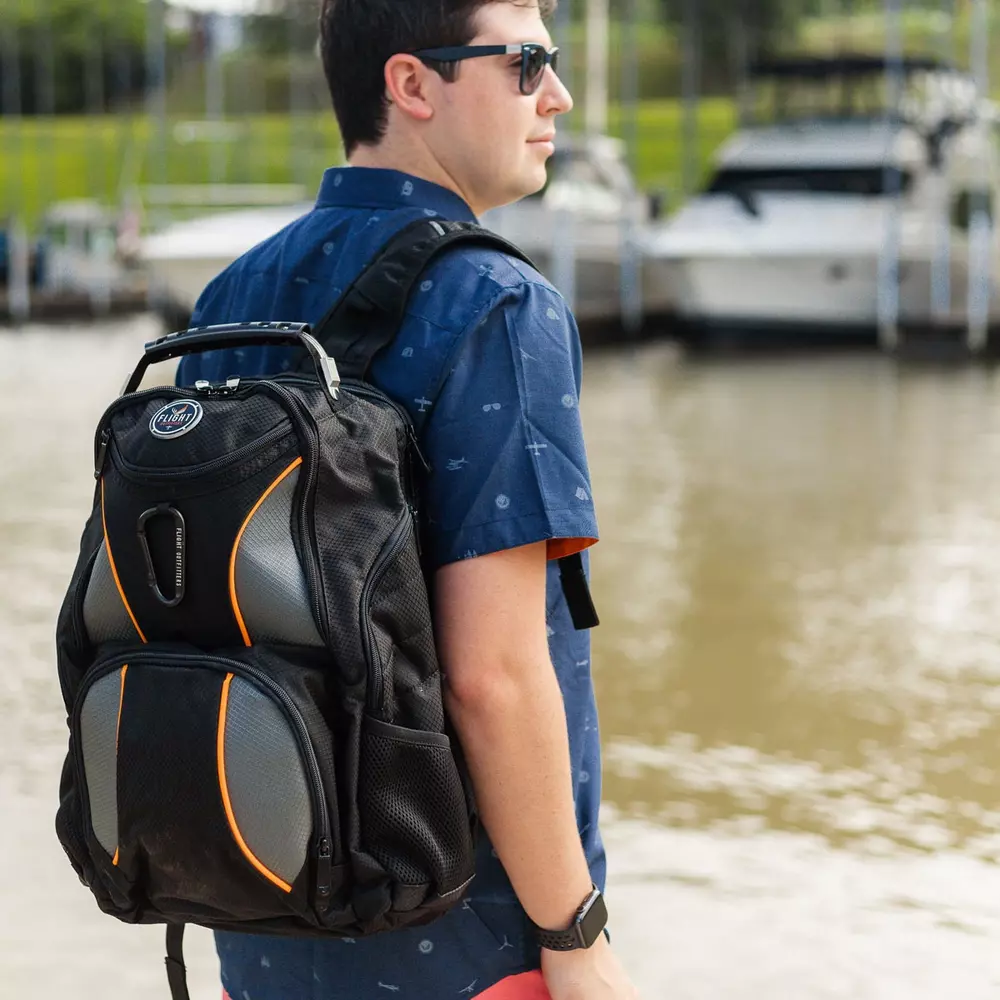 Flight Outfitters Waypoint Backpack 
If you like the simple design of the Lift XL Pro flight bag but prefer backpacks to duffel bags, then the Waypoint Backpack will be to your liking. It's a multi-purpose gear bag designed to keep your most important equipment organized and within reach. Equally suited for a day at the airport, a camping trip or a day at the office, it's a versatile bag that won't leave you needing anything else. In terms of gear storage, that is.
Design
The Waypoint Backpack features a sleek, professional design that will appeal to pilots who appreciate a streamlined look. The upper handle is reinforced with steel so you can rest assured it won't break under any other normal conditions. The front part features a carabiner you can use to hang larger gear. 
Organization and Storage
This backpack's storage and organization capabilities are commendable. It features a large center compartment that can hold a headset and kneeboard, with enough space left over for personal items like clothes. Two external mesh side pockets are perfect for smaller items like an ADS-B receiver or GoPro, and a large zippered pocket keeps charging cords and battery packs neatly organized. The organizer pocket lives up to its name with slots for literally anything you might need on a flight. Dedicated compartments for a laptop and tablet offer extra protection for your electronics.
Comfort
The Waypoint Backpack doesn't invent anything new: it keeps you comfortable with familiar features. Its padded shoulder straps and back make the backpack much more suitable for all-day carry. The steel-reinforced handle offers an alternative carrying option, and the ability to slide the backpack over the handles of rolling luggage is a convenient feature for travelers.
Drawbacks
The Waypoint backpack shares drawbacks with other representatives of the Lift line. The materials aren't specified so we only have the manufacturer's reputation to rely on. With that being said, Flight Outfitters haven't been spotted in any fishy stories, so there is no reason not to trust them.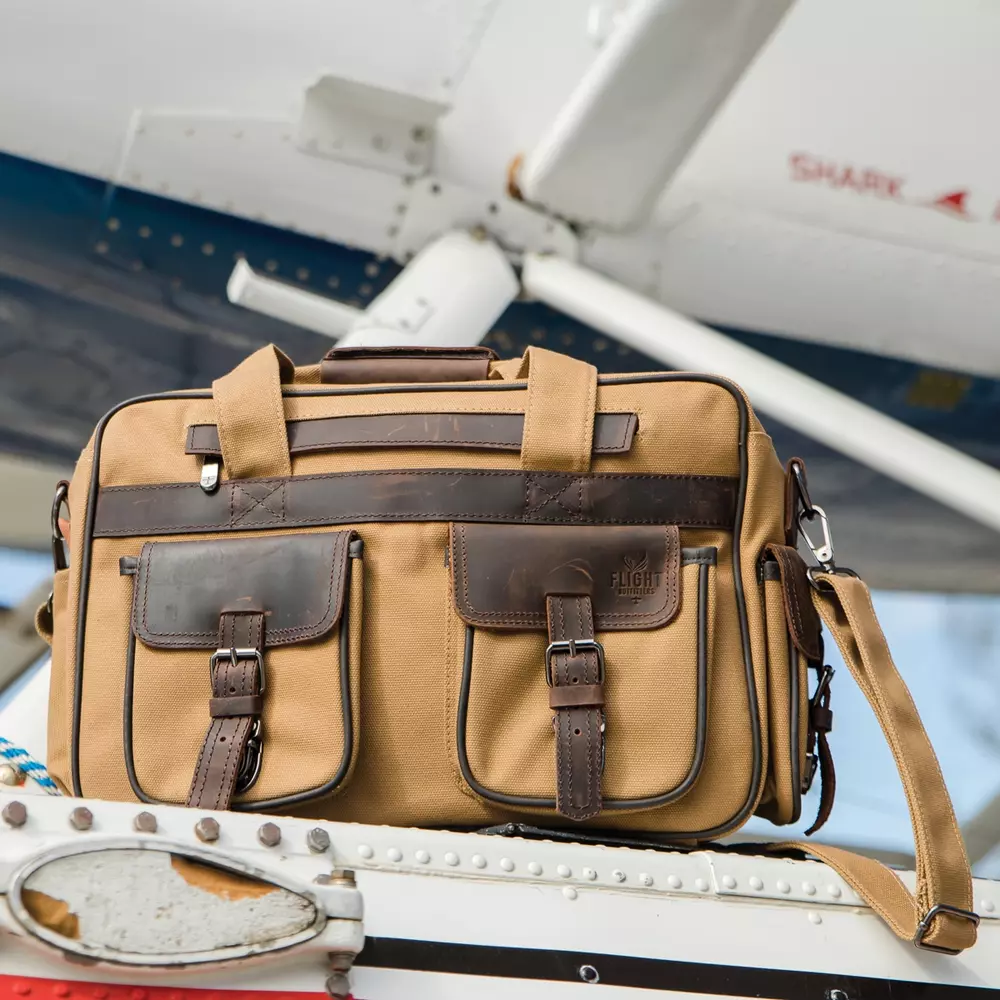 Flight Outfitters Bush Pilot Folio Bag
We finish our guide with yet another classic-looking pilot flight bag. The Flight Outfitters Bush Pilot Folio Bag is a stylish yet practical gear bag that evokes the golden age of aviation, designed to meet the needs of pilots of all stripes.
Design and Material
The Bush Pilot Folio Bag's design exudes a classic, vintage vibe, as though it has just left the flight deck of a DC-3. Its leather accents are quite similar to those of the Bush Pilot Flight Bag, but metal hardware pieces make this bag stand out. The main material is the same as in the whole Bush Pilot series. The only significant difference is the layout of the external pockets. 
Organization and Storage
In terms of storage and organization, the Bush Pilot Folio Bag offers everything a pilot might need. It has dedicated pockets for a tablet and laptop, a large center compartment with smaller pockets for less space-hungry pieces of equipment and plenty of exterior pockets. The bag also features a fuel tester/side pocket and a radio pocket, adding to its utility for pilots.
Comfort
The bag ensures comfort with its padded shoulder strap and the fact that it doesn't look bulky or weigh you down despite its capacity. For further convenience, the Folio Bag also features a rear strap to securely attach it to a roll-aboard, making it an ideal travel companion.
Drawbacks
We don't have anything new to add. To be honest, all the bags share more or less the same drawbacks, at least those from the same product line. We've deliberately chosen the bags that are spacious enough so that there is plenty of space for all the necessities. The bottom could use some reinforcement, but overall, the bag's performance is quite satisfactory. 
Conclusion
As you can see, to choose a suitable flight back, you need to learn some theory first. By considering factors such as size, material, design and comfort, you can find a bag that will serve you well in your flights. Just keep in mind: as long as it works for you, any bag is good. 
FAQs
What are the key factors to consider when choosing a pilot gear bag?
When selecting​ a gear bag for ​pilots, there are ​several key​ factors to consider. These​ include the bag's size and​ capacity, its organization​ features (like compartments and pockets), ​the materials ​used in its construction (for durability), its​ comfort for carrying (especially ​for long periods or ​distances), and of course, ​its style.
What materials are best for pilot gear bags?
Durable materials ​such as leather are typically ​recommended for pilot gear​ bags. It can withstand the​ rigors of frequent​ travel and use. However, such ​materials can also ​make the bag heavier, and​ they are more ​expensive. Fabrics such ​as ballistic nylon ​and canvas are ​another option, more ​affordable and cheaper to ​repair, even if not as durable.
Can I use a regular backpack as a pilot gear bag?
You can certainly try. But it won't offer the same level of organization or protection for your equipment as a bag designed specifically for pilots. Pilot gear bags often have dedicated compartments for specific items, which can help keep your gear safe, organized and easy to access.