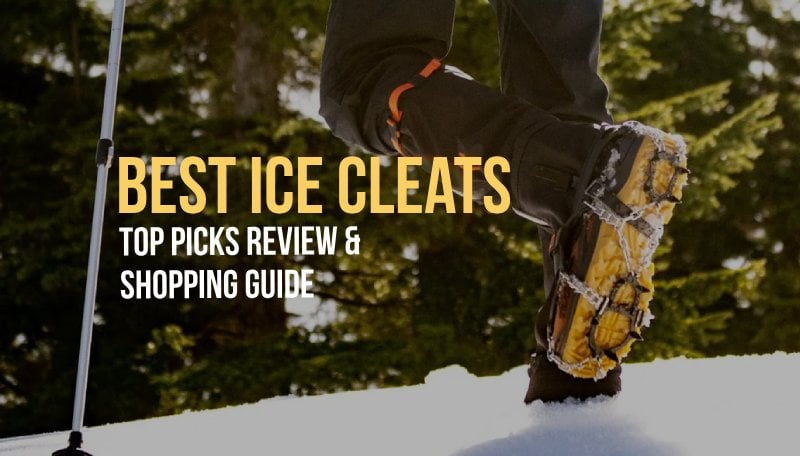 Last Updated on
If you've ever tried to walk on a frozen sidewalk or climb a snow-covered mountain, you know how easy it is to slip and slide. But with the right pair of snow grips (you might also hear various designs referred to as ice cleats, microspikes, ice grips, ice spikes, boot spikes, crampons, or snow traction devices), you can confidently stride through the iciest conditions.
This guide includes two parts. In the first part, we'll break down everything you need to know to choose the best ice cleats for your winter adventures. And in the second one, we'll share our top picks to help you step up your winter game right away.
Table of Contents
How to Choose Ice Cleats – GUIDE
– Types of Ice Cleats
– Traction: Spikes, Coils, Studs
– Spike Number & Length
– Harness Design
– Weight & Packability
Best Ice Cleats – REVIEW
How to Choose Ice Cleats – Guide
Types of Ice Cleats
When it comes to snow grips – and pretty much any other piece of outdoor gear, for that matter – there's no one-size-fits-all solution. First of all, you need to choose a pair that matches your specific activity.
Everyday Use & Low-Intensity Activity
Daily-use ice cleats are designed for fairly casual and low-intensity activities. We're talking about walking your beloved Fido around the neighborhood or commuting to work on those frosty mornings. These types of ice grips typically have the least aggressive traction. You'll often find them equipped with coils or shallow spikes.
Hiking
If you're the kind of person who sees a snow-capped mountain and thinks 'challenge accepted,' hiking ice cleats are for you. Hiking ice cleats often boast plenty of deep and fairly aggressive spikes to give you that extra grip when you're navigating rugged ice trails and steep slopes. On top of that, hiking ice grips are built to last, so expect to see robust chains and elastomer harnesses.
Running
Running ice grips are often characterized by a flatter underfoot to maximize ground contact. Instead of spikes or coils, these cleats use studs because they don't interfere with your running stride.
Traction: Spikes, Coils, Studs
Traction type is basically what determines the intended purpose of snow grips. From heavy-duty crampon-style grips to subtle studded cleats, you have a lot of options. Let's consider the three most popular types.
Spikes
Spikes are a common feature in many ice cleats designed for rigorous outdoor use – that's why many people simply call them hiking spikes. Basically, these are vertically oriented teeth that protrude from the sole. This design concentrates the user's body weight onto a small number of points, increasing the friction between the spikes and the ground. Spikes, typically made from durable steel, are best suited for technical terrains, such as off-camber slopes, mixed ice and snow, and challenging obstacles like slippery rocks and roots. However, the aggressive nature of spikes means they may not be suitable for more casual use.
Coils
Coil ice cleats might not be the best at any one thing, but they're pretty darn good at everything. The secret lies in their unique design. A length of sharp metal material winds its way under your foot, chipping into slippery surfaces and providing reliable traction. While they might not give you the same aggressive grip as spikes, they're far more comfortable to walk in and are perfect for everyday use around town. Just keep in mind that their less aggressive tread may not perform as well on mixed terrain.
Studs
Lightweight, low-profile, built for speed, stud cleats feature a handful of small metal studs. While they might not offer the same level of traction as coil cleats and spikes, they're incredibly the easiest to walk and run in and are perfect for thinly covered firm surfaces.
Spike Number & Length
It's pretty straightforward – more points of contact translate into a better grip. But the length of these points is even more important. A longer spike will dig deeper into ice and snow, providing a more aggressive grip. However, at the same time, a high number of long spikes makes for an uncomfortable walk. Therefore, as with most things in life, finding the right ice cleats often involves striking the right balance between spike number and length.
Harness Design
One of the best materials for the harness of boot spikes is the elastomer – a thermoplastic material that combines the flexibility of rubber with the durability and lightweight of plastic. Thermoplastics stay in place and are easy to put on and take off. Some of the more budget-friendly options use standard rubber, which offers similar stretchiness but may not be as durable.
Some models may feature additional elements, like a Velcro strap across the forefoot for stability. Others might use unique adjustment systems like Boa closures for a custom fit.
Weight & Packability
Shoe spikes range from lightweight, minimalist designs favored by runners to robust, backcountry models. Generally, less weight often means less durability. Lighter, compact models are easy to pack, carry, and whip out whenever the terrain gets tricky. On the other hand, heavier, more substantial models offer the promise of longevity and resilience.
Best Ice Cleats – Review
Korkers Ice Walker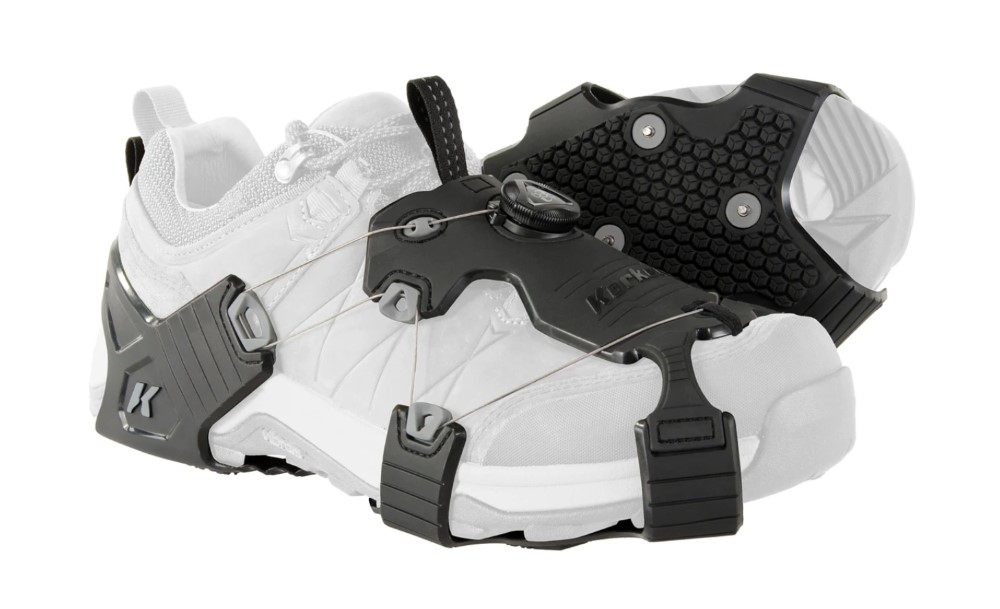 Category: Walking, Running
Number of Points: 22 carbide studs
Harness: BOA L6
Weight (per pair): 11 oz

The Korkers Ice Walker ice cleats are made specifically for winter walkers and runners, building upon Korkers' legacy of crafting top-quality outdoor gear, notably their fishing boots with interchangeable soles.
These shoe ice grips feature 22 push-through carbide studs that offer reliable traction. However, it's worth noting that while the carbide studs provide excellent grip on icy surfaces, they may not be ideal for soft ground. The studs are replaceable, which is a definite plus, considering they can wear down when running on rock and pavement.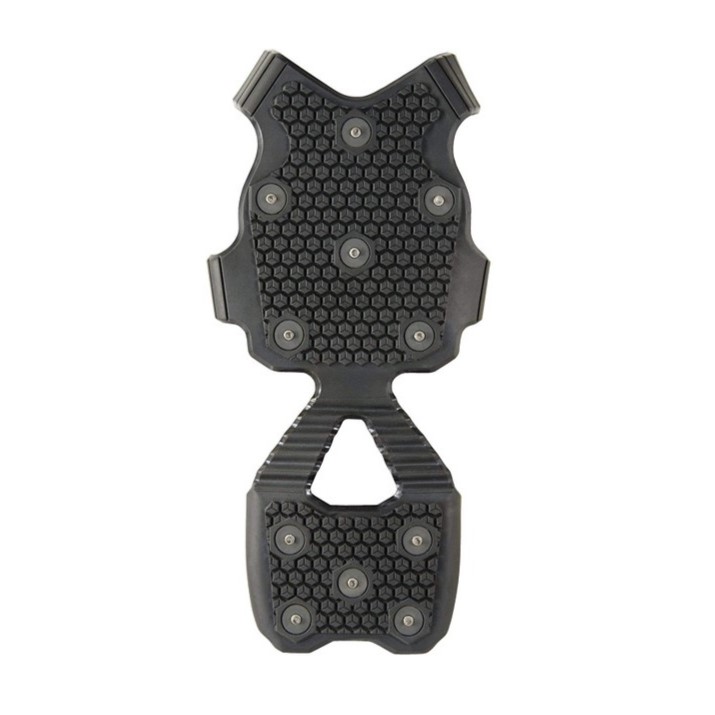 What sets the Ice Walker apart from many other ice cleats is the BOA-FIT system that allows you to achieve a perfect fit and make necessary adjustments very quickly. Unlike other models that use a Velcro strap or nothing at all across the top of the shoe, the Ice Walker's BOA system wraps from all angles, covering the bottom and three-quarters of the top of the shoe. It cinches up tight, pulling the heel in and the top down, making the snow cleat feel like an integral part of your shoe. This secure fit significantly reduces the chance of accidentally throwing off a cleat while running. Adding to durability and security, the top and bottom of the cleats are connected with steel cables.
Despite their robust design, these are the best ice cleats if you want a lightweight and minimal design, ideal for long and challenging winter runs. Plus, these shoe cleats are very packable.
Korkers Ultra Runner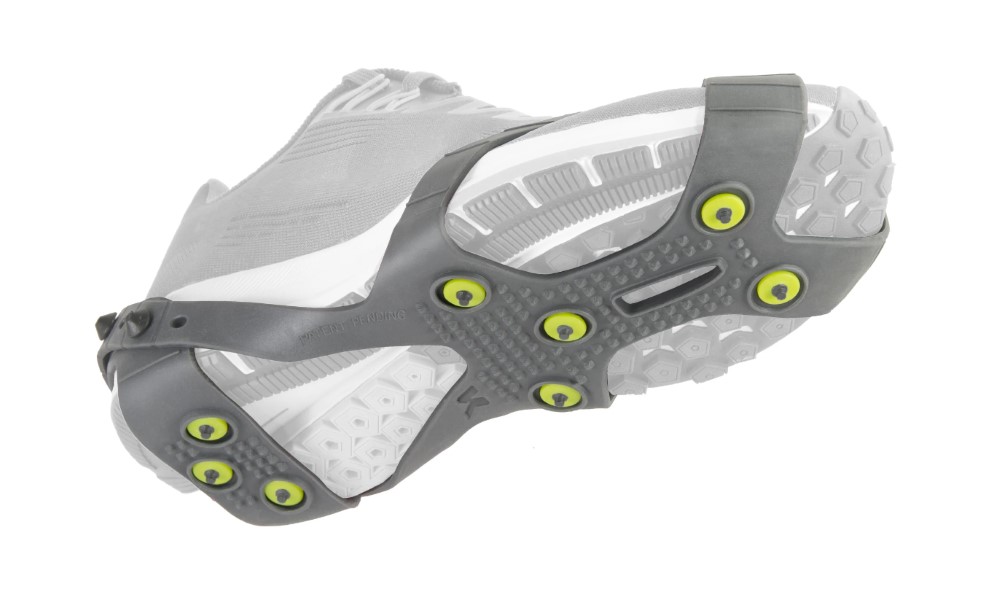 Category: Running
Number of Points: 16 carbide studs
Harness: Stretch rubber
Weight (per pair): 4.5 oz
If the Korkers Ice Walker ice grips are quite an investment for you, you might want to consider the Korkers Ultra Runner. These running shoe cleats are incredibly lightweight, possibly the lightest on the market, weighing in at just 4.5 oz per pair. It makes them ideal for those seeking to maintain speed and agility during their winter runs.
These cleats feature 16 replaceable, ultra-durable carbide studs strategically positioned to provide excellent grip, whether you're running on a slick road or a snowy trail. Instead of the BOA system, the Ultra Runner features a proprietary, adjustable strap that ensures a secure, custom fit even on outdoor boots.
Hillsound FlexStep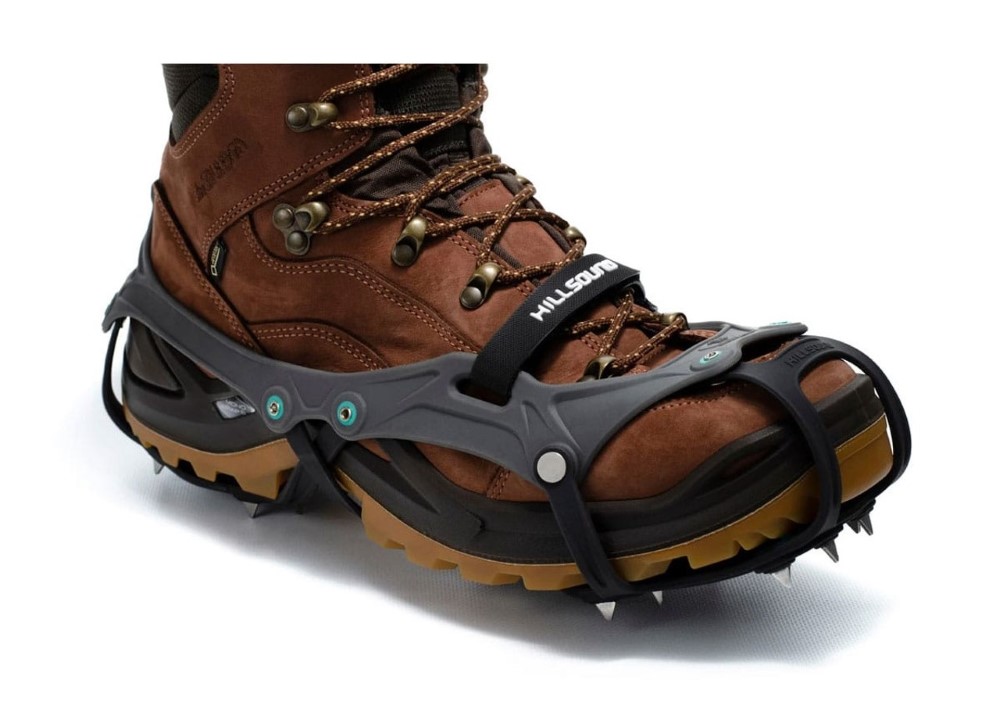 Category: Walking, Daily use, Running
Number of Points: 18 SS spikes
Spike Length: 0.25 in
Harness: Elastomer
Weight (per pair): 12.3 oz (size M)
Next on our list are cleats from Hillsound. The FlexStep is a perfectly versatile option for those after ice cleats that can handle both everyday wear and light hiking. Several things contribute to the versatility here. First off, low-profile spikes that are aggressive at only 0.25 inches. 18 stainless steel spikes are positioned on flexible spike plates that offer a good grip but also provide freedom of movement.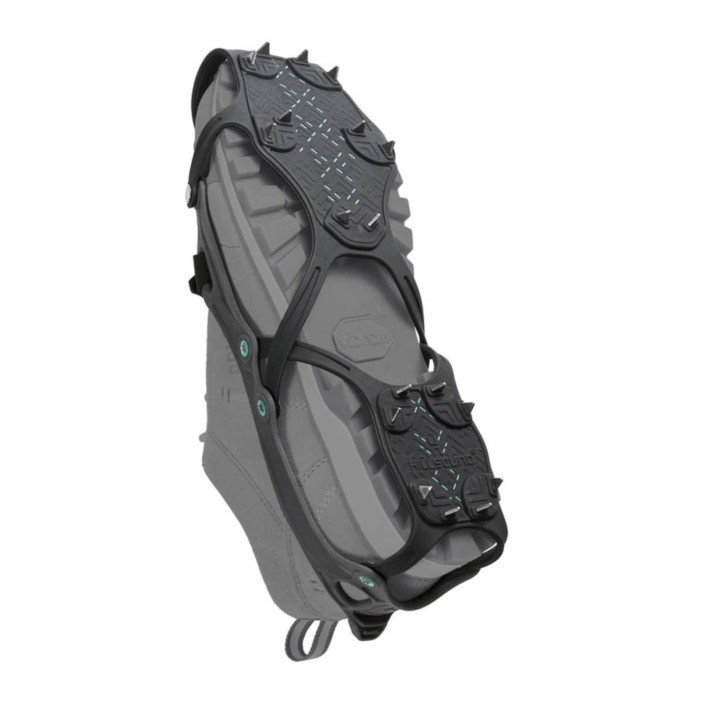 There are no chains or a metal toe section. While these things usually make cleats harder to fit, they still have one advantage. The thing is that the lack of openness at the bottom of the FlexStep, combined with the relatively shallow spikes, can lead to the snow grips caking up in wet and heavy snow. That's why the FlexStep is great for packed snow but not so great for wet and heavy snow. The FlexStep shoe spikes also include a Velcro strap for additional security.
The FlexStep's sleek design is compatible with many types of footwear, including casual shoes, trail runners, hiking shoes, and even insulated boots.
Snowline Chainsen Light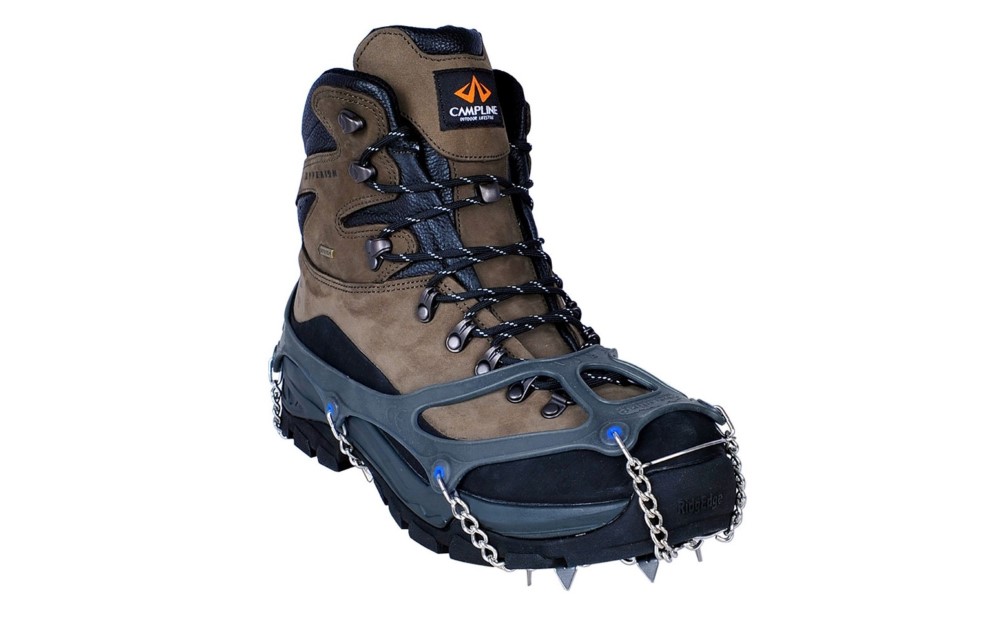 Category: Daily use, Hiking
Number of Points: 12 hardened 400-series SS spikes
Spike Length: 0.48-0.59 in
Harness: Elastomer
Weight (per pair): 8.5 oz
The Snowline Chainsen Light snow spikes are a lightweight and durable option for those seeking reliable traction on difficult snow fields and muddy trails. With a design that's 28% lighter than the famous MICROspikes, these cleats weigh just 8.6 oz per pair, making them an excellent option for those who prioritize minimal weight in their gear.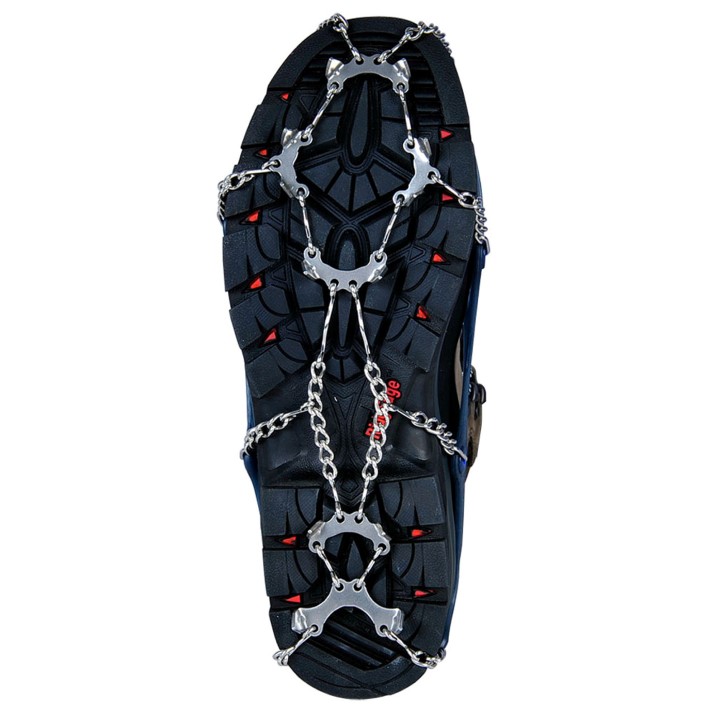 These cleats feature 12 spikes per foot, with 8 in the forefoot and 4 in the heel. The spikes measure between 0.48-0.59 inches and are made of hardened 400-series stainless steel renowned for high durability and corrosion resistance. An independent spike group system is connected by a chain, which prevents snow from collecting under your foot. The chains themselves are hardened stainless steel and welded for high strength. The Chainsen Light is best suited for hiking and daily winter walking but not for technical terrains.
Hillsound Trail Crampon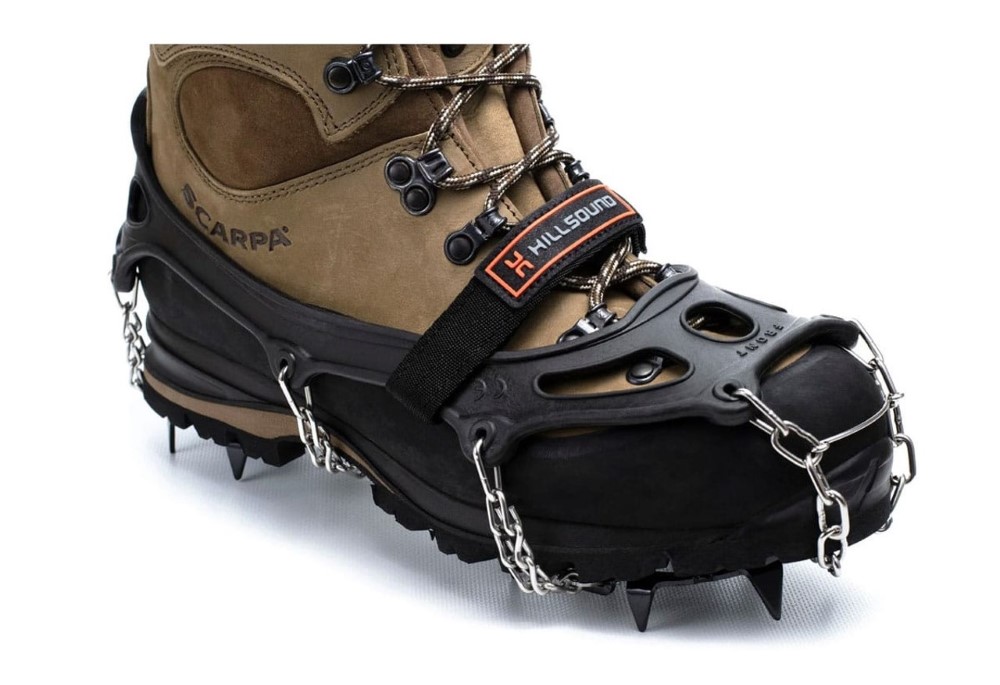 Category: Hiking
Number of Points: 11 carbon steel spikes
Spike Length: 0.65 in
Harness: Elastomer
Weight (per pair): 16.3 oz
The Hillsound Trail Crampon is a versatile and reliable choice for those hiking or backpacking in snowy, icy, or muddy terrains. The model features 11 carbon steel 0.65-inch spikes and an ergonomic plate system that distributes weight more evenly. This traction design proved great not only for icy ground like frozen lakes but also for snow-packed or muddy trails. The harness design is confidence-inspiring – the textured elastomer on the inside provides extra grip to the shoe, while a Velcro strap across the foot ensures the crampon stays firmly in place.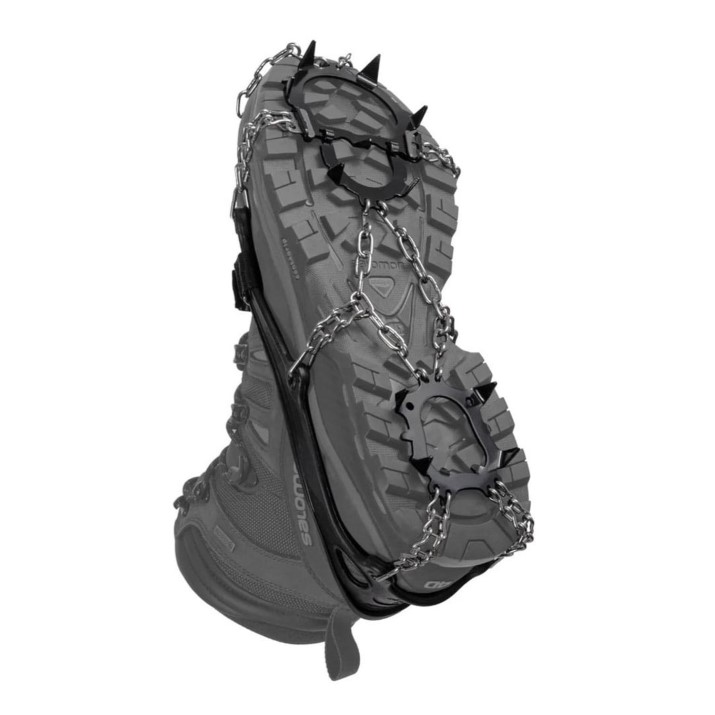 Designed to be compatible with hiking shoes and boots with rigid soles, as well as insulated winter boots, these ice grips can be worn for technical hikes, including descending a steep trail on an early spring backpacking trip and hiking up and down in late-season snow.
Hillsound Trail Crampon Pro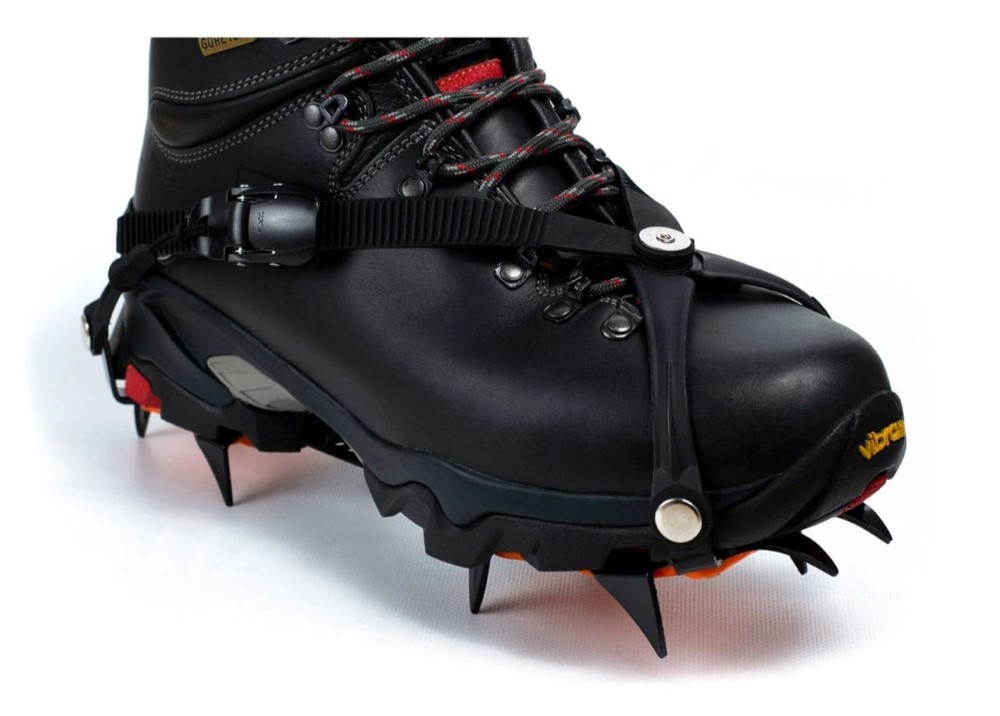 Category: Hiking, Backpacking
Number of Points: 10 carbon steel spikes
Spike Length: 0.75-1 in
Harness: Elastomer
Weight (per pair): 23.5 oz (R) / 24.8 (XL)
Finally, the Hillsound Trail Crampon Pro are robust snow cleats for those engaging in aggressive winter backcountry pursuits like high-alpine trekking. These crampons sit at the top of their lineup and are essentially a hybrid between traditional crampons and standard microspikes. They feature easy-to-adjust ratchet buckle bindings that fit over most boots and 10 ultra-deep (0.75-1 in) carbon steel spikes effective for digging into thick ice and packed snow. Also, this Hillsound boasts anti-balling pads to prevent snow from building up.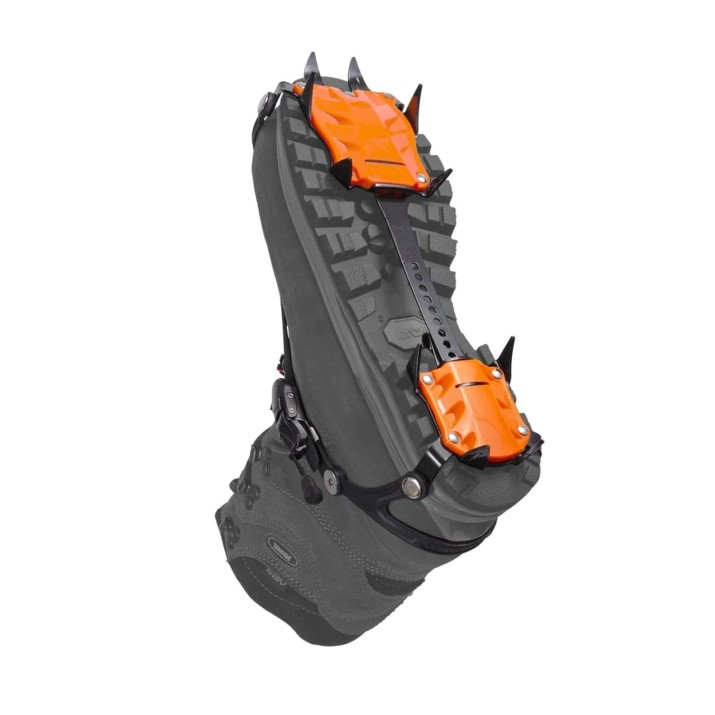 If your winter hiking objectives involve crossing ice sheets or slippery boulder fields, the Trail Crampon Pro will suit you just right. However, it's not created for more demanding and vertical alpine pursuits and doesn't accommodate mountaineering boots.
Also, read our crampon and ice spikes care guide.
FAQ
Do ice cleats really work?
Yes, ice cleats work effectively in providing additional traction on icy or snowy surfaces. They can significantly reduce the risk of slips and falls by gripping into the ice, making walking or hiking safer during winter conditions.
What is the difference between ice cleats and crampons?
Ice cleats and crampons are both designed to provide extra traction on icy surfaces, but they are used for different purposes. Ice cleats are typically lighter and less aggressive, designed for everyday use like walking around town or light hiking. Crampons, on the other hand, are more heavy-duty, featuring larger spikes and a more robust design for challenging terrains such as ice climbing or high-alpine trekking.
What should I look for when buying ice cleats?
When buying ice cleats, consider the following factors. Traction: Look at the number, placement, and length of spikes. More spikes usually mean better traction. Longer spikes mean the same; Fit: The ice cleats should fit snugly on your footwear without moving around; Ease of use: They should be easy to put on and take off; Durability: High-quality materials will ensure that your ice cleats last longer.