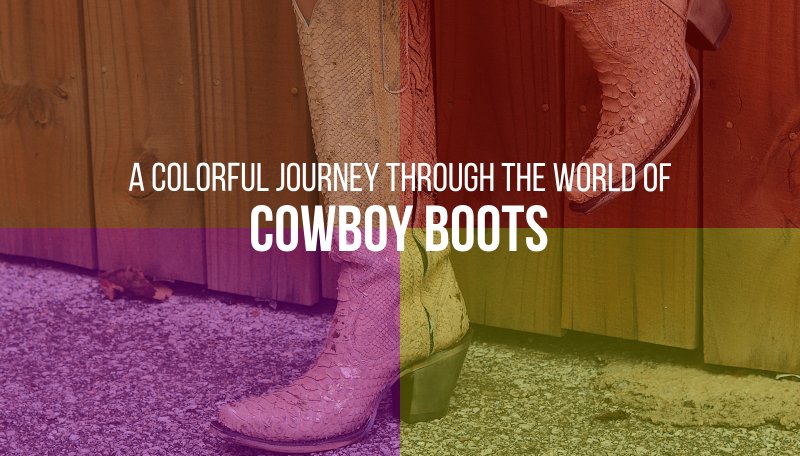 Last Updated on
There's an undeniable allure that draws us towards the rugged charm of cowboy boots. In this post, we're not just talking about the traditional brown leather boots that John Wayne might have worn. We're exploring the best cowboy boots in other popular colors – black, white, red, and pink. So, let's ride!
Best Cowboy Boots to Buy:
White Cowboy Boots
Black Cowboy Boots
– Men's Black Boots
– Women's Black Boots
Red & Pink Cowboy Boots
Brown Cowboy Boots
– Men's Brown Boots
– Women's Brown Boots
Best White Cowboy Boots
White cowgirl boots are a popular choice among women for their versatile elegance and the touch of purity they bring to any outfit. With white cowboy boots, you can confidently stride from a casual day out to a glitzy evening event, turning heads wherever you go.
Corral White Glitter Inlay/Crystals Boots
With their elaborate glitter inlay and crystal embellishments, these boots exude a luxurious charm that effortlessly complements your evening attire. While these boots might seem too glamorous for daily wear, their comfortable cushioned insoles ensure you can strut around in them all day long. Pair them with a flowy dress or skinny jeans to make a chic fashion statement.
Corral White Glitter Inlay/Crystals Ankle Boot
These boots are very similar to what we offer above but come with an added dash of flirtatious, chic flair due to an elegant snip-toe silhouette and over-the-ankle design. The distressed white leather gives the boots a vintage vibe, while the elaborate embroidery adds a feminine touch. These boots are perfect for those who love to blend tradition with trend. You can wear them with a denim skirt for a casual lunch date or with a maxi dress for a more formal occasion.
Corral Tall Top Boots
These boots are tall and fashionable and exude an elegant charm that makes them the perfect accessory to any outfit. With a unique blend of distinctive style and flirtatious charm, these natural embroidered boots are designed to make you stand out and steal the spotlight. The 20-inch extra-tall shaft is adorned with beautiful cowhide embroidery, turning this boot into a stunning statement piece that's sure to draw admiring glances in any setting. Topping it off is the flirty 3-inch stacked heel, adding just the right amount of height without compromising on comfort.
Corral White Booties
Bold, playful, and dependable – this is a beautiful white cowboy bootie for spicing up a casual Friday or adding an extra touch of style to your special night out. The dazzling white leather is complemented by a 7-inch low shaft, a pointed toe, and stylish cutouts, giving it a distinguished look.
Best Black Cowboy Boots
Black cowboy boots pair nicely with almost any outfit, offering a rugged yet sophisticated edge. Whether you're aiming for a casual look or gearing up for a formal event, black cowboy boots will perfectly complement your attire.
Men's Black Cowboy Boot Collection
Abilene Black Cowhide Western Boots
These boots feature a polished black cowhide further enhanced with toe rands and studded bracelets. The snip-toe design offers a sleek silhouette, while the composite outsole ensures durability and traction. The boots' design is kept simple, allowing their quality craftsmanship to shine through.
Ferrini Bronco Square Toe Boots
These boots bring a unique style statement with their pronounced square toe, intricate stitching, and distinctive pirarucu print. Pair them with dark denim and a crisp white shirt for a stylish contrast.
Ferrini Croc Print Square Toe Boots
These exotic cowboy boots feature a caiman print leather foot under an embroidered 13″ leather shaft, adding a touch of luxury and uniqueness. The visual appeal is further enhanced with caiman print leather overlays accenting the pull straps. Despite their bold appearance, these boots don't compromise on comfort, thanks to their cushioned insole.
Smoky Mountain Denver Black Leather Western Boots
Crafted from supple black leather, these boots offer a classic Western look – traditional design elements, including their cowboy heel and narrow round toe, make them a versatile addition to your wardrobe. Pair them with your favorite pair of jeans for a day out or a suit for a formal event.
Old West Black Riding Boots
These sophisticated boots boast an all-over leather design and a hand-corded medallion. Pair them with riding pants or casual jeans for a stylish look.
Women's Black Cowgirl Boot Collection
Abilene Rawhide Victorian Lace-Up Boots
These boots offer a unique blend of Western style and Victorian elegance. The lace-up design, elegant snip toe, and intricate detailing make these boots stand out from the crowd. Pair them with a flowy dress for a feminine, boho-chic look.
Corral Glitter Inlay & Studs Snip-Toe Boots
If you're a fan of glitz and glamour, these boots are made for you. The boots feature a glitter inlay that sparkles beautifully against the black leather. They're perfect for night outs or special occasions. Pair them with a little black dress for a dazzling look.
Corral Black Snip-Toe Boots
These black cowgirl boots are all about refined elegance. The boots feature delicate floral stitching on a black background, offering a subtle yet sophisticated style statement. You can wear these boots with a simple dress to let them shine or pair them with a patterned outfit for a more eclectic look.
Best Red & Pink Cowboy Boots
There is something undeniably alluring about a pair of sexy cowgirl boots, especially when they come in vibrant shades of red or pink. These colors not only exude femininity but also a certain boldness and confidence intrinsic to the cowboy culture.
Corral Red Studs Ankle Boots
A masterpiece of design, these Corral boots feature a V-shaped shaft and block heels alongside a pointed toe, offering a classic, sleek silhouette. But what truly sets these boots apart is the all-over metal rivet embellishments, adding a touch of edgy retro glamour to their design.
Corral Red Rioja Boots
Fabulous, flirty, and undeniably gorgeous, these tall red cowboy boots are a vibrant addition to any wardrobe. Crafted from red cowhide, they feature intricate embroidery that adds a layer of sophistication to their robust look. The faded red hue of the 15-inch shaft is eye-catching and unique, ensuring you stand out in any crowd. The 3-inch stacked heel adds an extra dose of femininity to the mix, making these boots flirty. These boots aren't just about style, though – they are designed with comfort in mind. Sturdy pull-on straps make for easy wear, while the elegant snip toe adds a touch of elegance. Inside, a smooth leather lining and cushioned leather insole provide all-day comfort.
Abilene Red Western Boots
These boots are a classic choice for any cowgirl. The deep red color gives them a sophisticated look, while the simple design makes them versatile enough to wear with any outfit. They are perfect for women who want a pair of boots that are both stylish and functional.
Corral Rose Tall Top Boots
Hue of these tall pink cowboy boots is soft and feminine, making them a great choice for women who want to add a touch of sweetness to their western wear. The boots' intricate embroidery adds to their aesthetic appeal, making them a must-have in any cowgirl's wardrobe.
Best Brown Cowboy Boots
Brown cowboy boots are a beloved choice for many, and it's easy to understand why. Not only do they offer unrivaled versatility, complementing a wide range of outfits and occasions but also stand the test of time, never going out of style.
Men's Brown Cowboy Boot Collection
Smoky Mountain Knoxville Western Boots
These boots capture the essence of the Old West with their vintage tan leather and intricate stitching. Perfect for a day at the ranch or a night out, they add a touch of rustic charm to any ensemble.
Smoky Mountain Bandera Western Boots
With their distressed brown leather and wax finish, these boots offer a worn-in look that's both stylish and comfortable. They're an ideal choice for those seeking a boot that seamlessly merges form and function.
Abilene Antiqued Brown Cowhide Boots
These boots are all about making a bold statement. The antiqued brown cowhide lends a unique appeal, while the 16-inch shaft provides an imposing silhouette. Perfect to wear with a pair of jeans for a casual look or with a suit for a more formal occasion.
Smoky Mountain Danville Western Boots
The Danville boots offer a unique blend of colors and textures. The cognac and brown crackle leather create a visually striking contrast, making these boots a standout choice for any fashion-forward man.
Old West Brown Distressed Harness Boots
These boots are designed for the modern cowboy. The distressed brown leather and harness detail give them a rugged appeal, while the cushioned insole ensures comfort throughout the day.
Women's Brown Cowgirl Boot Collection
Abilene Brown Cowhide Western Boots
These snip-tor boots are a classic choice for any cowgirl. The rich brown cowhide offers a timeless look, while the 11-inch shaft adds refined sophistication. Pair them with a denim skirt or jeans for a stylish western look.
Corral Brown/Turquoise Side Embroidery Boots
The intricate turquoise embroidery adds a pop of color to the brown leather, creating a boot that's both elegant and eye-catching. The interior features a supple leather lining that gives a nice in-shoe feel, and a lightly cushioned leather footbed that offers additional comfort
Twisted X Oiled Saddle & Tan Booties
These booties are a must-have for the contemporary cowgirl. Handcrafted from full-grain leather and adorned with an embroidered western side panel, these fashion booties offer a versatile appeal that can easily transition from casual to elegant settings. A convenient side zipper ensures effortless wearability, while the integration of Twisted X's proprietary CellSole comfort technology in the footbed guarantees cushioning and support throughout the day. With these stylish booties, you'll enjoy unrivaled comfort without compromising on your Western aesthetic.
Corral Chocolate Lamb Floral Embroidery Boots
These boots perfectly embody a fusion of rugged charm and delicate allure. The chocolate lamb leather is beautifully accented with floral embroidery, creating a boot that's both feminine and bold.
Corral Distressed Dragonfly Embroidery Boots
The traditional cowboy style is elevated by the striking dragonfly embroidery. Crafted from premium full-grain leather, and featuring thoughtful details such as a leather lining, cushioned insole, and single-stitched welt, these snip-toe boots not only look good but are built to endure.
Corral Goat Overlay Studs & Fringes Boots
These fringed cowboy boots are all about texture and detail. The goat overlay, studs, and fringes add depth and dimension, making these boots a standout choice for any occasion.
Corral Flowered Embroidery & Studs Boots
These Western-inspired square-toe boots showcase the exquisite craftsmanship that Corral is known for. The captivating black sequin inlay, set against the rich leather, is a sight to behold. Accentuated with dazzling crystals and silver studs, the intricate scrollwork embroidery adds an extra layer of sophistication to these boots.
FAQ
Where can I buy the best cowboy boots?
Cowboy and cowgirl boots are available at GRITR Outdoors, both online and in-store. We have a wide selection of styles and sizes.
How do I care for my cowboy boots?
To keep your boots looking their best, clean them regularly with a damp cloth and use a conditioner designed for leather. If they get wet, let them dry naturally. Store them in a cool, dry place.
Can cowgirl boots be worn casually?
Absolutely! While they were originally designed for work on the ranch, cowboy and cowgirl boots have become a fashion staple and can be paired with everything from jeans to dresses.