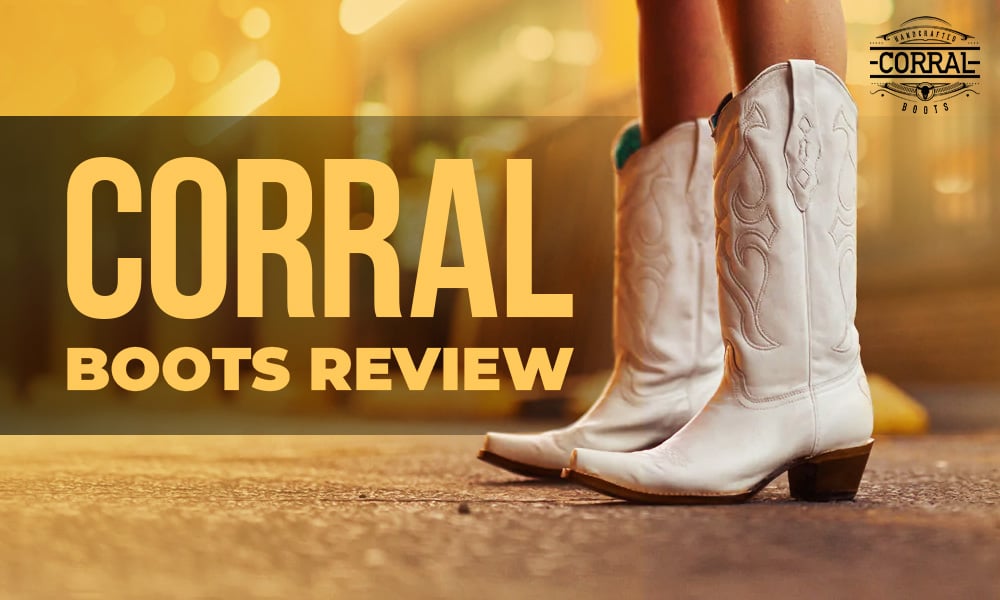 Best Cowboy Boots For Sale
Visit Our Store
It's been a long time since cowboy boots became something bigger than just performance footwear for rural workers. With growing interest in Old West aesthetics, western wear became a mainstream fashion in the first half of the 20th century, and though there were times when western got off-trend, it always found its way back into the wardrobe. In 2022, it's back for another spin in the spotlight.
Like a cowboy hat, western boots are essential for a western-inspired outfit. But what boots to choose? We believe the Corral Boot Company shines among the best brands for cowboy boots. And here's why.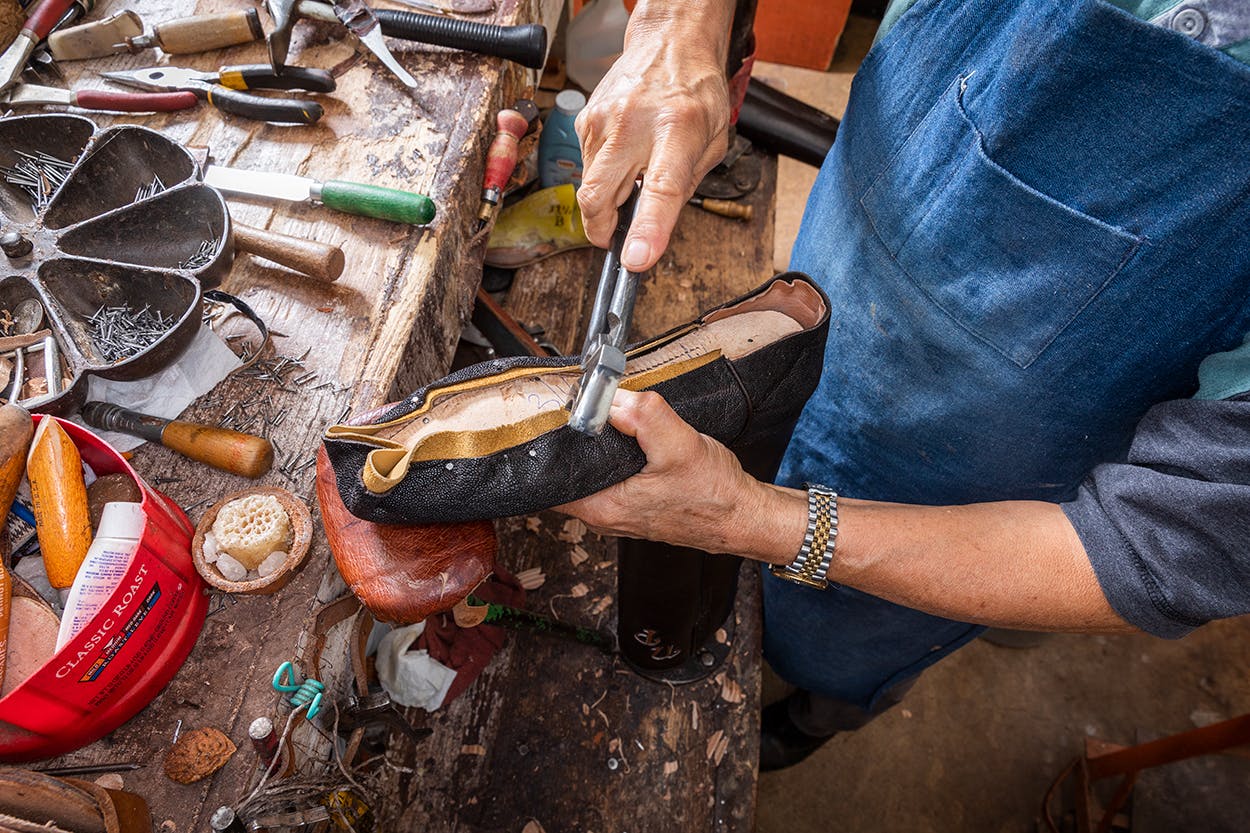 Why Are Corral Boots Good Quality?
For those wondering where Corral cowboy boots are made, it's not in the U.S. It's in the capital of North American footwear manufacturing, in the country from where cowboy boots originate – Leon, Mexico. Like any other capital of whatever, it amassed thousands of professionals who have been transmitting their high-caliber techniques, experience, and traditions to the younger generation for ages, raising the quality bar higher and higher.
So, every Corral boot is handcrafted from beginning to end by highly skilled artisans who ensure the level of attention to detail no machine can provide.
Since all Mexican Corral boots are made with genuine leather, the first stage is to find a matching set of skins, which can sometimes take several days. Once skins with perfectly aligned and matched grains are found, the bootmaker cuts leather using a machine that applies pressure on a cutting die. After that, leathers are hand-painted for individual and lasting results and stitched by the Corral artisan, masterfully guiding the needle through the material by hand.
Top Corral Boot Designs
Corral Floral Embroidery Boots
Material: Cowhide
Shaft: 13″
Heel: 2″
Toe: Snip
Features: floral glow embroidery, distressed leather
If you love vintage vibes, these Corral western boots are made for you. However, unlike many other simplistic designs made with distressed leather, these Corrals weaken their serious, well-worn look with sophisticated ivory floral embroidery that glows in the dark. So be sure this playful style will draw the eye on the daytime park stroll and steal the spotlight on the dancefloor.
If you're afraid of not being able to wear the boots for the entire day, don't be because, regardless of an elegant snip toe that implies dress footwear for social outings, these have lots of features innate to casual style. The 2-inch heel is stacked for shock absorption and thick for more surface area, while the insole is cushioned leather for added comfort.
Corral Fringe Boots
Material: Goat
Shaft: 13″
Heel: 2″
Toe: Snip
Features: fringing, leopard pattern, leather overlays, copper-color studs
Fringing is a signature decor element in much western-inspired wear: shirts, jackets, chaps, and boots. However, these fierce, wild, sexy cowgirl boots have many other things that catch the eye. First off, there's a tasteful leopard pattern on goatskin leather. The contrast between the spots and the background isn't stark but vivid enough to be noticed from a distance. Second, the boot's upper features rugged dark-brown leather overlays with copper-color studs for accents.
Material: Goat/Snake
Shaft: 11 1/2″
Heel: 1 1/5″
Toe: Square
Features: snake inlays, distressed leather
These Corrals are made for those who want the functionality of a walking boot mixed with a style of an exotic cowboy boot. The design is straightforward: a straight, thick, short heel (perfect for walking), a mid-length shaft, a square toe, and a well-worn vintage finish. However, this simplicity is counterbalanced by artistic stitching and snakeskin inlays. Thanks to this, you can wear these boots on any occasion. Just don't forget to take proper care.
Material: Cowhide
Shaft: –
Heel: 2″
Toe: Snip
Features: red cowgirl booties, zip closure,
Brown, black, and white are western classics, but classic doesn't necessarily mean better or cooler. Sometimes, the soul yearns for crazy, bright color compositions. Gladly, today, you can get everything you can wish for, including these gorgeous Corral booties in red.
The boot strays far from the traditional style. The only classic parts are a cowboy heel (a tall heel with an angled profile) and a snip toe. Nonetheless, they organically blend with the rest elements, creating a vividly cowboy-style boot. The leather upper features a distressed finish for a vintage look, floral-shaped prints, and decorative perforations.
Material: Cowhide
Shaft: 13″
Heel: 2″
Toe: Snip
Features: green glitter inlays, wedding cowboy boots
It's not uncommon for women to buy special shoes specifically for a wedding or other similar occasions. However, you'll also be able to wear these stunning Corral wedding boots on weekend outings, thanks to their balanced design.
The model is made with premium cowhide featuring a slightly distressed finish, and the upper is decorated with intricately embroidered green glitter inlays. Together, a well-worn look and glittering elements create universal footwear that won't be gathering dust in your closet after your special occasion.
Material: Lamb
Shaft: –
Heel: 2″
Toe: Round
Features: minimalist design, suede-like lamb leather, round toe
Minimalist design is rare among western-style boots, but you can get everything you want today. This Corral boot doesn't feature elaborate embroidery, fringing, tooling, glittering inlays, or floral prints. This boot is simplified and will suit those who look for cowboy build rather than the western-style decor. Made with chocolate-color suede-like distressed genuine lamb leather, it will ensure an effortlessly fashionable look and perfectly match various outfits.
Do Corral Boots Run True to Size?
Yes, they do, but all people are different and asymmetrical. To get the right size, you need to measure both the length and width of each foot as well as measure your heel on the lower part, with socks on. Wearing socks is vital because they can add a 1/2 size. If you're between sizes, you want to size 1/2 inch up, and if you have one foot larger than the other, you should go with the size of the larger foot.