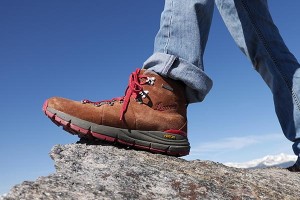 By David Link
Danner's classic styled hiking boots look great on the trail or on the street. They're the perfect remedy for a market full of boots that look more like athletic shoes and less like mountain boots.

Danner has been crafting quality work boots since 1932, and their strict quality standards have earned them a reputation as one of the best footwear brands in America. In the 1960s, they were one of the first brands to offer American-made outdoor and hiking boots. Instead of mimicking the heavy hiking boots common for the day, Danner introduced a lighter hiking boot and revolutionized the design, a trend that continues even today. Today we look at Danner's newest hiking boot, the Danner Mountain 600 Boot. This classic styled hiking boot continues Danner's tradition of rugged yet lightweight boot design.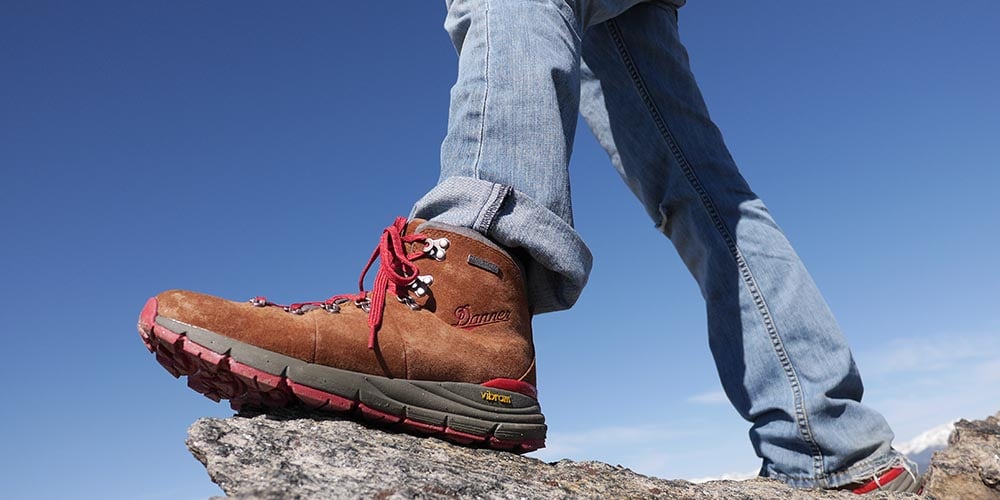 Basics
Danner's newest hiking boot design is singularly unique. They call it Performance Heritage. The Danner Mountain 600 series combines classic styling with lightweight innovation to create a boot that doesn't shirk its roots but keeps up with progress. Danner utilizes new Vibram technology to shed weight and create an ultra-comfortable hiking boot, and this a great place to start when examining this hiking boot. Danner has centered this boot around the new Vibram SPE Midsole (Specialized Performance Elastomer), and this compound blends synthetic natural rubber and EVA to improve cushioning while cutting weight. You feel this right away when you wear this boot. It is extremely light and comfortable, but it doesn't feel cheap or like it's going to fall apart in any way. Add to this the Vibram Fuga outsole with MegaGrip Compound, and you've got a comfortable boot that's ready to tackle every variety of rocky terrain.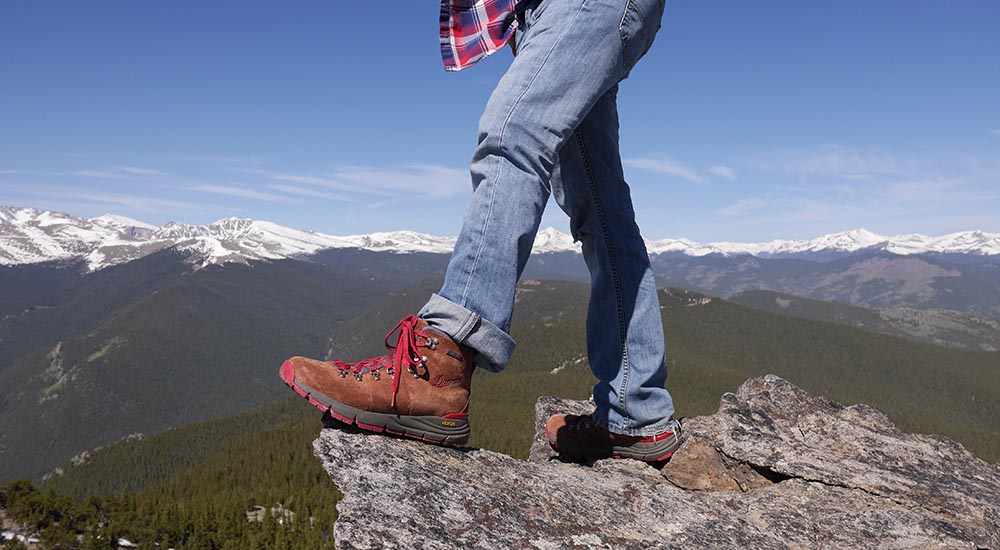 Let's break down the rest of the boot specs below.
Specs
Height: 4.5″ (available in 3″ models as well)
Weight (per shoe): 18.5 oz.
Liner: Danner Dry (waterproof)
Outsole: Vibram Fuga with MegaGrip compound
Midsole: Vibram SPE (Specialized Performance Elastomer)
Footbed: OrthoLite (open-cell polyurethane)
First Impressions
When I last went boot shopping, I encountered a particular problem. As I looked through different footwear brands, I was searching for a boot with a classic look and rugged styling. You see deep down I wanted a boot that looked like it was crafted in the 1940s, but of course one that was made with modern materials. The thing is, many manufacturers have stopped making boots that look classic. Some companies never made these styles to begin with, or for some brands, the consumer has stopping buying those classic designs. Whatever it is, most outdoor boots have flashy mesh panels, gawdy logo styling, or some other horrendous design choice that makes the boot look like some athletic shoe Frankenstein.
This isn't necessarily a poor reflection on the company. Hey – sometimes the consumer needs athletic-focused boot. However for my money, a good lifestyle and mountain boot should retain that classic look. It might cost more in materials, but its worth it to me. This is the sort of boot that looks good on a trail or simply hanging out on a bar stool. It works well with jeans or hiking shorts. When I opened the Danner Mountain 600 box and saw the brown suede material, quality metal bootlace eyelets, and rugged red-colored outsole, I knew I had found the boot I was looking for all this time.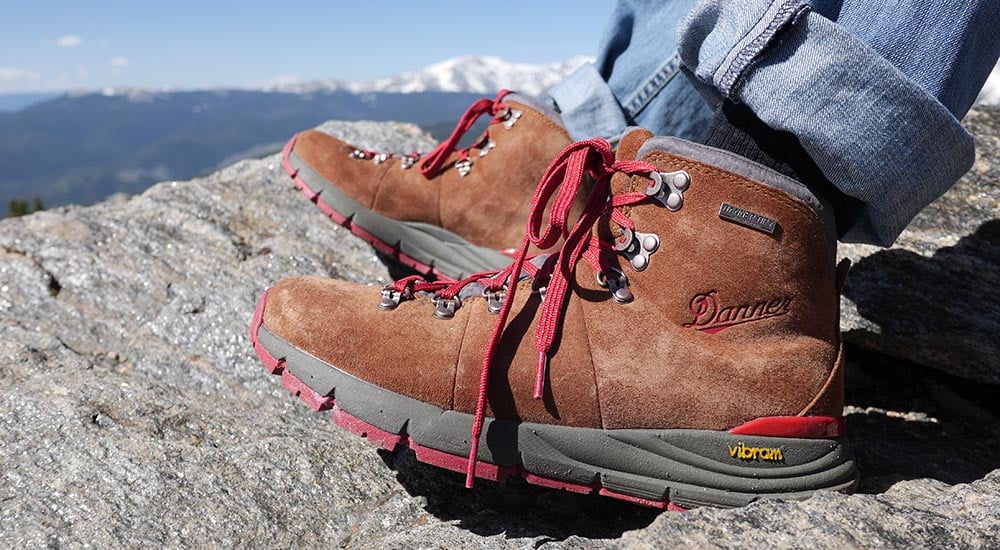 In The Field
As soon as I got the Banner Mountain 600 Boots, I began wearing them around town. They were so stylish they became my go-to boot when I was meeting friends and running errands. Let me tell you people noticed when I was wearing them. The red styling of the Mountain 600 is a perfect compliment to a pair of jeans, and I felt pretty cool strapping them on before I left my house. So the initial testing period wasn't on rugged trails but rather urban streets. I first tested the waterproof capabilities of the boot on a wet night at Coors Field. I may have done a good bit of shivering at the baseball game that evening, but my feet stayed dry and warm throughout the game.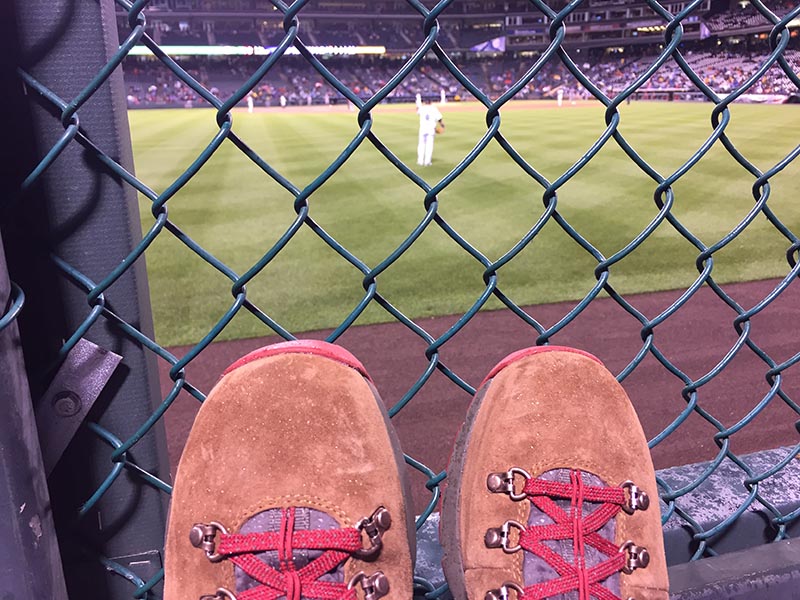 Days before I could even get into the mountains to test this boot on a hiking trail, I kept strapping them on wherever I went. Why? Because these boots are extremely comfortable. I have several great pairs of boots to choose from in my home, but each day I was picking up the Mountain 600 without fail. I was almost afraid I'd put too much wear on them before I got to photograph them on a trail! Yet after a few days, I realized these boots are going to last, and even today they look pretty much like new. You'll get some discoloration on the red sole as you tread on dirt and pavement, but this actually contributes to the boot's rugged look.
On The Trail
It was only a matter of time until I hit a local trail with the Danner Mountain 600 boots, and honestly by that time I was already sold on its performance. So it really came as no surprise how well these boots functioned on the trail. While for some this may have came as a disappointment for some, like I spoiled the surprise of hiking in them right away, but I was already so infatuated with the design that I thought: "Of course these boots are great on the trail!" I've covered several rocky miles in these boots, and my feet never felt fatigued or battered by the terrain. The Vibram midsole and outsole really do the job excellently.
The self-adaptive lugs on the outsole are substantial, and gripping the trail is a snap in these boots. There are also six Flex Lines on the bottom of the boot that add grip, especially in wet terrain. This spring I tackled trails that were still covered with snowpack, and while a lesser boot would've surely lost grip in that icy, melting mess, I hardly ever lost my footing in the Mountain 600s. In such a dicey environment, a poor grip from your boot can spell a twisted or broken ankle, and I was pleased with how well the Danner boots performed.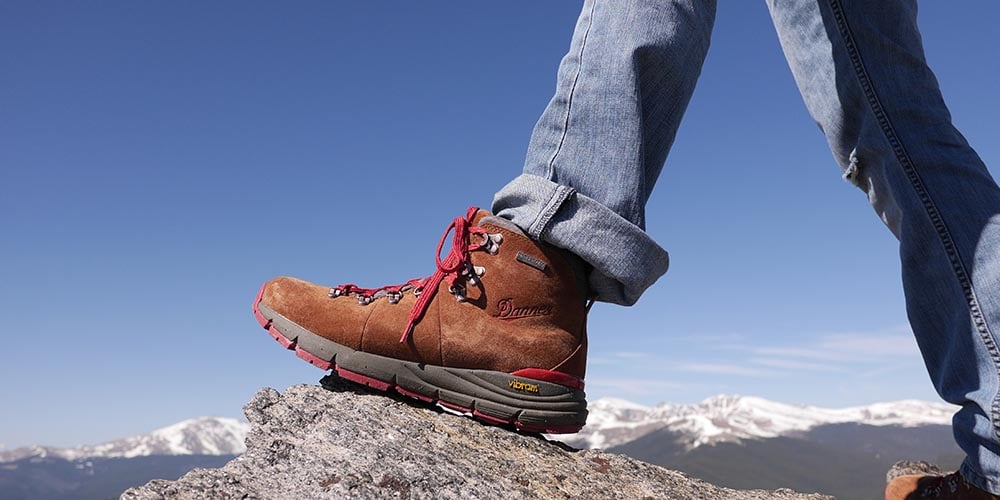 Fit and Function
The sizing for the Danner Mountain 600 Boots are pretty true to any athletic shoe. While some boot brands run large, these Danner boots match my normal shoe size accurately. This is always nice to know before you shop. The interior lining is a nice slick nylon material, and it makes sliding these boots on and off easy and frankly quite pleasurable. The boot's lacing system is extremely easy to use, and the bottom portion laces up tight with minimal effort. The top two lace hooks do take some patience to get right as you're lacing up the boot, but this is no big deal. All in all the boot fits great around your ankle and it doesn't feel awkward or out of place one bit.
Waterproof
Danner has gone out of their way to minimize seams on the Mountain 600, and they've added their signature Danner Dry Liner to build a waterproof boot that's ready for any creek or riverbed. The suede material is especially great at beading and shedding water, and most of the time the water runs off the boot shortly after they get wet. I've tested the boots with water exposure and they've performed admirably. Even with substantial water exposure over the laces, the boots stay dry. The suede material even dries quickly so you aren't hiking with a soppy boot for several hours afterward.

Final Thoughts
Honestly I can't really find any drawback to the Danner Mountain 600 Boots. When I first started wearing them, I was worried the suede would show signs of wear quickly, but months later my worries have been put to rest. Yes I think eventually encounters with rocks will wear the material some, but several hard hikes haven't produced any substantial battle scars yet. However, my one caution would be around the suede material. If you're planning on getting real dirty or hiking through muddy areas a lot, you may want to consider a different material for that use.
Now I haven't submerged these boots in ankle deep mud yet…I like them too much to do that on a whim, but I wouldn't be surprised if the mud rinsed off right away and they came out looking like new. Danner does make Mountain 600 boots with full-grain leather if you're concerned about the durability of the suede (although note, they are heavier). As I said, I've been pleasantly surprised how tough the suede is. One other note, these boots aren't recraftable like some other classic styled boots are, but I'd say the reasonable price makes up for that.

For all the style and function you get in the Danner Mountain 600 Boots, they come in at an extremely reasonable price for a quality outdoor boot – $180 MSRP and $128.02 at Gritroutdoors.com right now (prices subject to change). If you don't see your size immediately in stock, contact them and they'll be able to order you a pair in a matter of days. They're also available in Women's sizes. If you're in the market for a new pair, don't miss out on this great hiking boot with the quality Danner name.