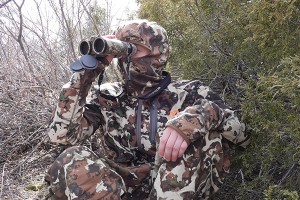 By David Link
One of the big announcements from hunting brand First Lite at SHOT 2017 was the Sawtooth Hybrid Jacket. I had a chance to test this unique new hunting jacket in Colorado early this year, and I was extremely pleased with how the Sawtooth performed. The jacket is based on what First Lite does best, Merino hunting clothing. It is extremely breathable and silent, which makes it perfect for the Western hunting scenarios I'm familiar with, or early season tree stand engagements. Before I go any further, let me explain what exactly the hybrid concept involves.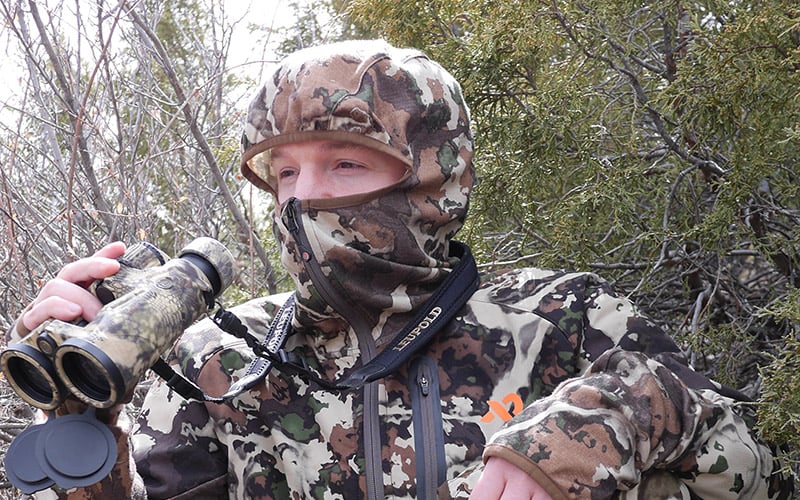 Sawtooth Hybrid Concept
So what exactly is a hybrid jacket? It is the combination of First Lite's primary material, Merino wool and another popular hunting material, Taslan 4-way stretch nylon. The latter material is rugged and well suited to block wind and shed precipitation. Merino is a breathable insulator that works when wet or dry, and it keeps the wearer fresh even when worn multiple days in a row. Merino also dries extremely fast, so if it does get wet, it doesn't stay that way for long.
The core of the Sawtooth jacket is built from Taslan 4-way stretch nylon, and it is only used in the front of the jacket. This material keeps your core warm even when the winds pick up, and sheds any rain that hits the front of the jacket. Two large chest cargo pockets are placed in the Taslan nylon, and a YKK zipper with taped seams intersects the front. The nylon material extends almost to the bottom of the jacket where it is replaced with a Merino border.
The rest of the jacket utilizes Merino including the sleeves, hood and the back of the jacket. Of particular note is the Merino back, something you don't see in outdoor jackets. Why have front-facing nylon and a Merino back? It creates maximum breathability in the jacket, especially when the user is wearing a pack. How often have you hiked with a jacket while wearing a backpack? The answer is more often than not. You're probably familiar with that "sweaty back" feeling that comes after a few hard miles. The Sawtooth Hybrid Jacket is the first to address this flaw by replacing heavy material with breathable Merino on the back.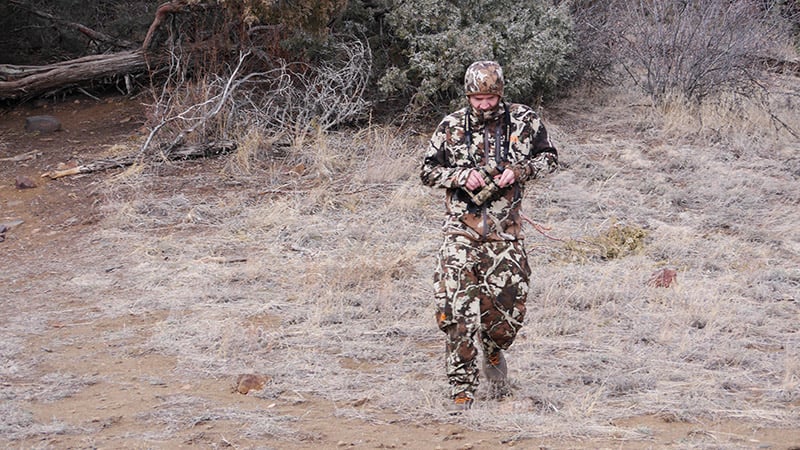 Specs
Sawtooth Hybrid Jacket
19.5 micro, 320g Merino and 60g of synthetic insulation by 37.5.

Front section is Taslan 4-way stretch nylon.

Uses YKK Zippers and taped seams.

Sleeves have thumb loops.

Low profile hood zips up to the nose for added concealment.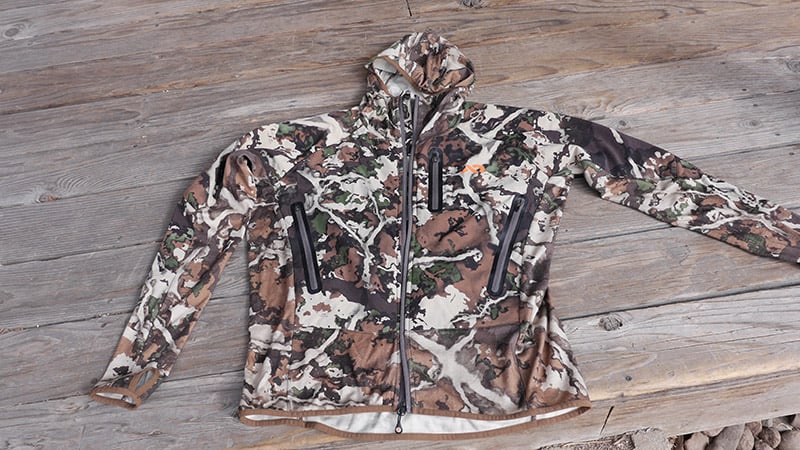 Llano 170g Merino Crew
170g pure 17.5 micron Merino wool.

Flat lock seams for next-to-skin comfort.


Sleeves have thumb loops to keep base layer in place.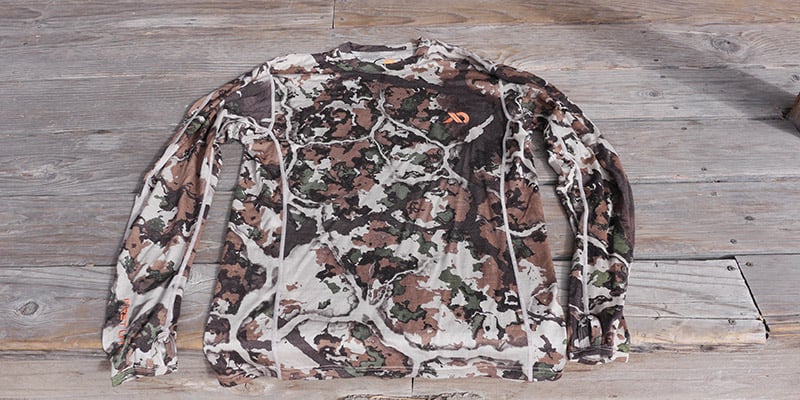 Corrugate Guide Pant
Rugged stretch nylon fabric.

Durable Water Repellent (DWR) finish to keep pants dry in rain or snow.

3D double cargo pockets.

Pants have both belt and suspender loops.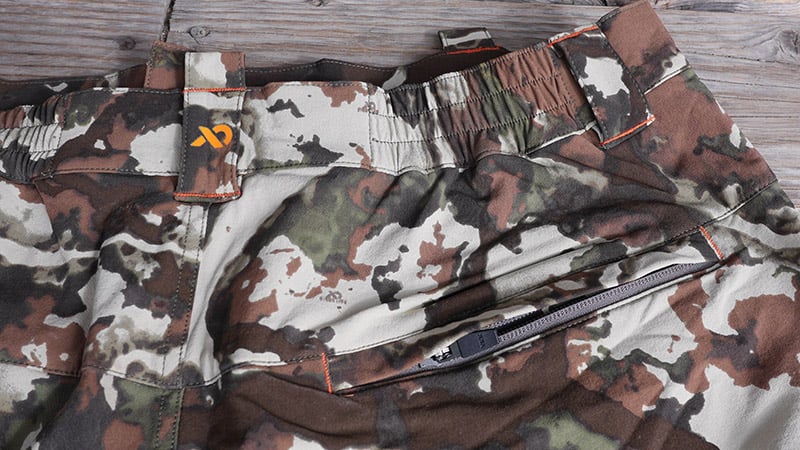 Uses
First Lite hunting gear is primarily designed for active hunting. As I said before, Merino is the perfect material for this purpose because it is a breathable insulator that won't overheat the hunter after a period of intense activity (like a hike at 10,000 ft.). This is certainly not a weatherproof jacket, nor is it designed to be. Merino dries fast and the 4-way stretch nylon can shed a decent amount of moisture, but eventually the jacket will get wet. So you'll want to pair it with some rain gear, like the SEAK or Boundary Stormtight Jackets and the Boundary Stormtight Pants. First Lite also makes an ultralight rain jacket in the Vapor Stormlight Jacket.
For colder mornings, the Sawtooth Jacket operates best as a mid-layer that can then transition to your top layer as the temperatures warm up.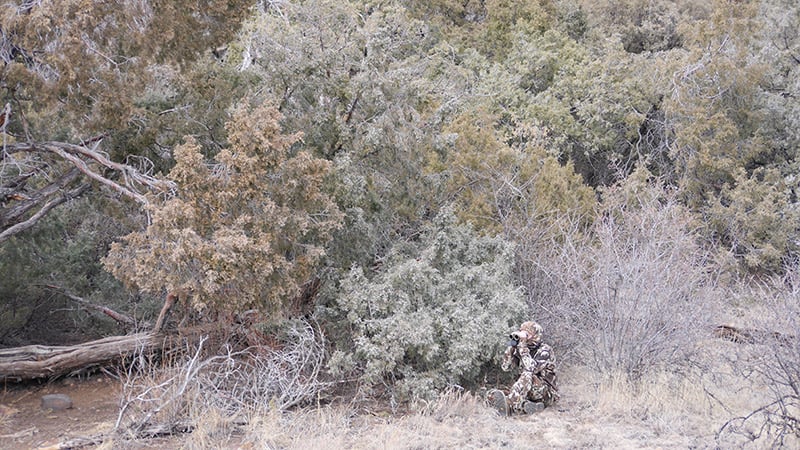 As far as stand and whitetail hunting go, the Sawtooth would still make a great mid-layer for these purposes, but you'd want to bring a hardy top layer for when the temperatures drop. I would say hunters who need an all-around outdoor jacket for purposes other than just whitetail hunting, but also need extra insulation for deer season, should consider adding the Sawtooth to their arsenal. It's so flexible that any hunter or outdoorsman will find several uses for it.
Testing
I tested the Sawtooth Hybrid Jacket along with the Llano Merino Crew and Corrugate Guide Pants in the Rocky Mountains in late winter / early spring. All three items were in the First Lite Fusion camo pattern. The temperatures were not unlike the conditions of an elk hunt in the fall. It was a fairly warm, partly cloudy day, but chilly wind gusts demanded the use of a base layer and an active jacket. I started with the Llano Crew, which has since become my favorite base layer. This crew is as breathable as advertised, and after a hard day of hiking it was as fresh as when I put it on.
Next I layered the Sawtooth jacket on top, which fit me like a glove. The Llano Crew is meant to fit tight like any base layer, and the Sawtooth corresponds to it well. Both the Llano and the Sawtooth have thumb holes at the end of the jacket to keep the sleeves secure, and gloves could be worn over them no problem. I'm impressed as to how light the Sawtooth and Llano combo felt as I traveled in it. Everything felt sleek, nothing got in my way, and I could've worn another layer on top of the two no problem. There would be no qualms from hunters about the jacket snagging or getting in the way of a bow draw or rifle shouldering. This jacket is slick and silent, and I noticed it from the first moment I put it on.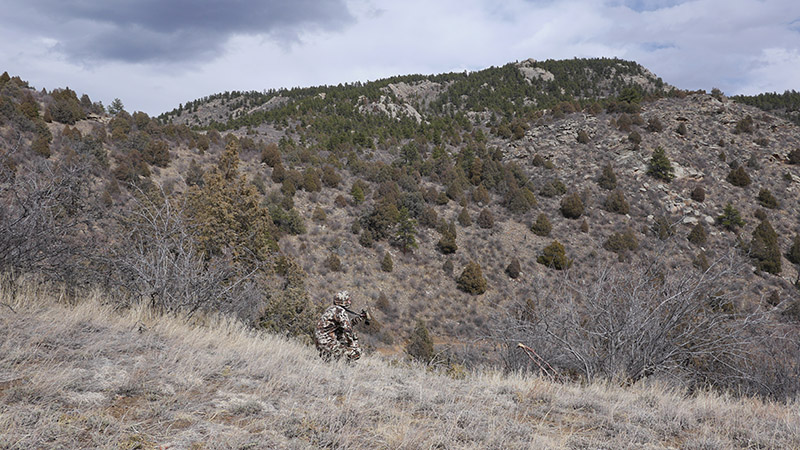 As for bottoms I wore the First Lite Corrugate Guide Pants. The day was warm enough and I was going to be active so I didn't need a base layer under them, however you could always add something like the First Lite Allegheny bottoms when needed.
The first part of the hike is not unlike the beginning of any typical mountain hike. Switchbacks and a good 1,000 ft. ascent greet the hiker right out of the gate. I wasn't hunting, but I still had plenty of camera gear and optics to haul up the mountain. This was a perfect chance to test one of the Sawtooth's biggest features – a breathable Merino back. A few hard miles up and I was impressed. The Sawtooth remained dry between the pack, and I didn't feel overheated at all. Naturally it was colder when a icy wind gust would hit, but the Llano and Sawtooth did an excellent job of keeping my body at the right operating temperature, even as I was working hard hiking at altitude.
After a good period of exertion, I stopped to take a break. I was a little warm in the gear, but not sweating, and I did not feel any chill as I stopped. The winds picked up and still the Sawtooth and Llano provided adequate insulation. Even back at the car after a hard day of hiking, I wasn't dying to take the top layer off. I was comfortable and extremely pleased with how the jacket operated in the field.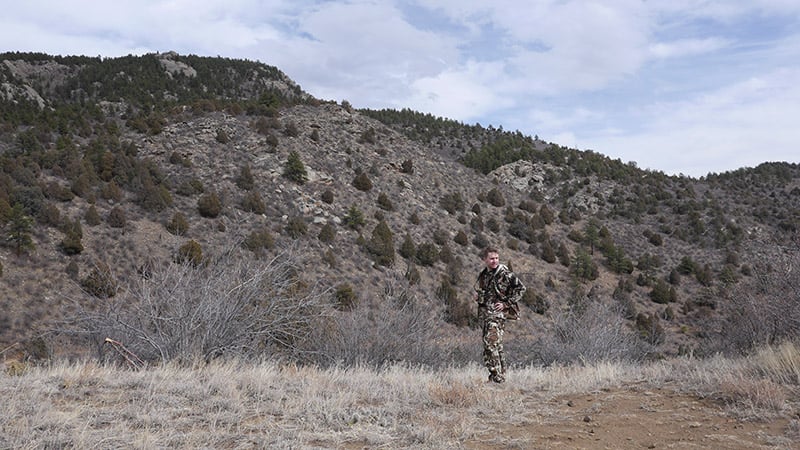 Hood And Zippers
Another feature I want to highlight is the Sawtooth's high-zip hood. The front zipper goes all the way up to the nose (at least it did for me), and this provides a little extra protection from the wind and concealment for the hunter. Both the hood and material that zips up to the nose are Merino. I can't necessarily say that First Lite intended the hood of the jacket to double as a proper face mask, and for me it was a bit loose and kept falling down below my nose a bit, but it could certainly work as one in a pinch. I could also see wearing a face mask and then zipping up the hood over it for extra warmth on chilly days. The hood leaves adequate room for line of sight, and you could even catch animals out of the corners no problem.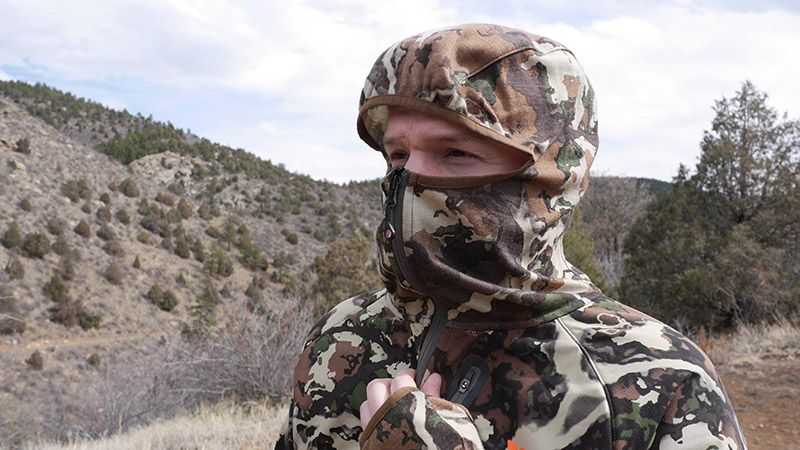 The Sawtooth utilizes top quality YKK zippers, and they function silently so there's no concern of a loud zip accidentally spooking game. Sometimes overlooked in hunting clothing, this is another feature present in the Sawtooth that is well worth having.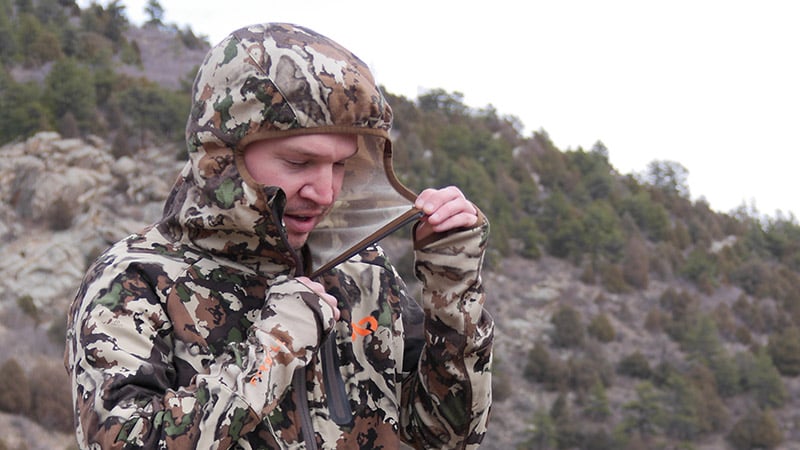 Final Determination
The First Lite Sawtooth is called a hybrid jacket because it combines two primary hunting clothing materials and deploys them in the best way possible. However, it could just as well be called hybrid because of how flexible it is. I could see myself using this jacket for a variety of purposes from a top layer for early elk seasons to a mid-layer when the temperatures drop. However, it simply makes a great hiking jacket as well. In fact, the Sawtooth comes in solid colors, and I could see myself tackling a day hike with the Sawtooth as my primary jacket no problem. Western hunters should check out the new First Lite Cipher pattern available in the Sawtooth Jacket this year as well.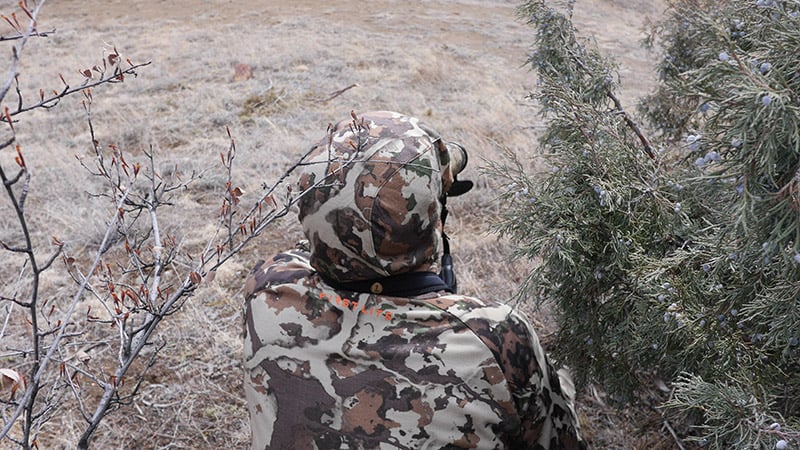 The Sawtooth Hybrid Jacket is certainly unlike anything I've worn before, and if you're in the market for an active hunting jacket, you should give it a closer look.