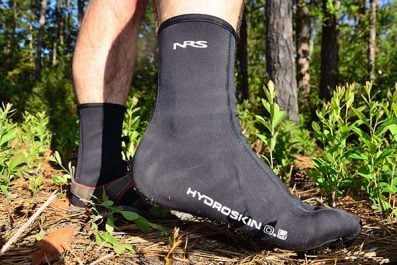 Wet Socks Are Must-Have Equipment for Backcountry Fishing.
By Jeff Burleson
For years, wading gear has always been considered primary equipment for fishing for cold water trout in the mountainous parts of the nation. Whether made of neoprene, PVC, or some other type of engineered fabric, anglers would rarely leave home without some sort of protective barrier to shield anglers from the chilly and wet conditions. Where the depth of the water usually determines if anglers use the chest-high or waist-high varieties, waders are rarely left at home for a trip to the mountains for a mixed bag of mountain trout.
Yet, the wader requirement may not always be must-have gear. Anglers are starting to leave the waders at home and elect a more immersive experience, but with another type of primary equipment—neoprene wading socks. Sure, neoprene socks are far from a new technology. In fact, most cold weather waders are made of neoprene.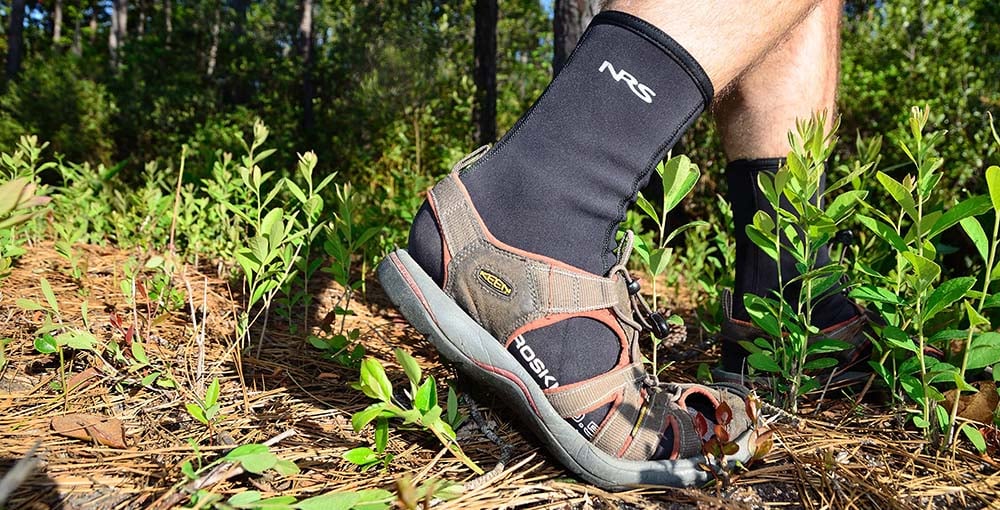 Neoprene For Fishing
Neoprene has been around for nearly a century. A DuPont research team and scientists from the University of Notre Dame co-invented the first neoprene-like substance in 1931 and in 1937 true neoprene was developed and ready for commercial production. And for the better part of a century, neoprene technology has been around in all sorts of products from wetsuits and automobile seat covers to hammer tips inside pianos.
Over the last 30 years, I have used a wide range of neoprene products, including some generic neoprene socks I bought over 20 years ago from a big box outdoor store. But, I quickly lost interest in these socks shortly after taking them out of the package. They were so bulky and ill-fitting; none of my shoes including my wading boots would allow me to utilize these types of neoprene socks. While I should have taken them back to the retailer, they just got tossed into my equipment graveyard in the back of my closet.
I really didn't have or I didn't think I had a use for neoprene socks until one of my annual trips out west. It wasn't until this western backpacking trip came about to where I realized I needed something to take the place of my traditional waist waders.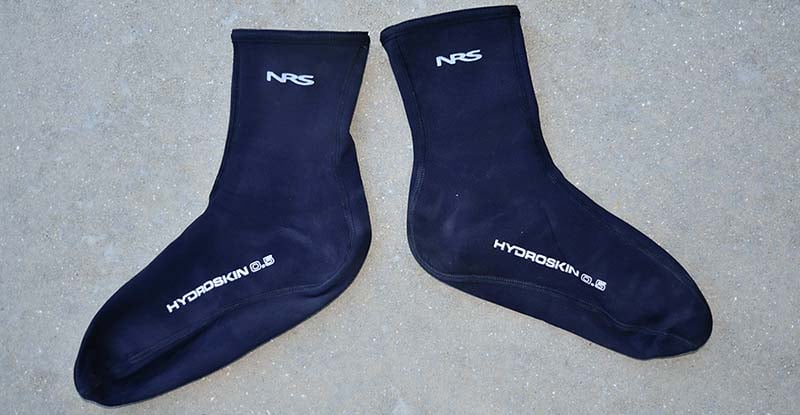 Every summer, I join a small caravan of anglers heading to the high country seeking sensual pleasures from atop majestic vistas and from the crystal clear mountain streams down below. While we soak up the sun's rays each morning and gawk at the incredible views throughout the day, it's the finned creatures living in the 45-degree water that really brings us all to the party. With my 9-ft. buggy whip in hand in hand and a box full of my personal hand-tied bugs in my shirt pocket, it's almost unfair for the Salmonids living in the chilly water below.
On a recent trip, we decided to venture well off the beaten trail into the true wilderness far away from day hikers. We brought backpacks, camping gear, and a week's worth of food to find stretches of water with little pressure from man. But, we needed to cut back on weight to limit our packs to reasonable levels. And one of the biggest ways to cut weight was to eliminate the wader and wading boot system. A replacement was in order. After doing adequate research, I decided a wet wading solution with a pair of neoprene socks and river sandals would be my new wading system. I already had a new pair of Keen Rialto sandals; I just needed a good pair of neoprene wading socks that would be warm and comfortable for both the in-stream wades and the long hikes to and from the creek.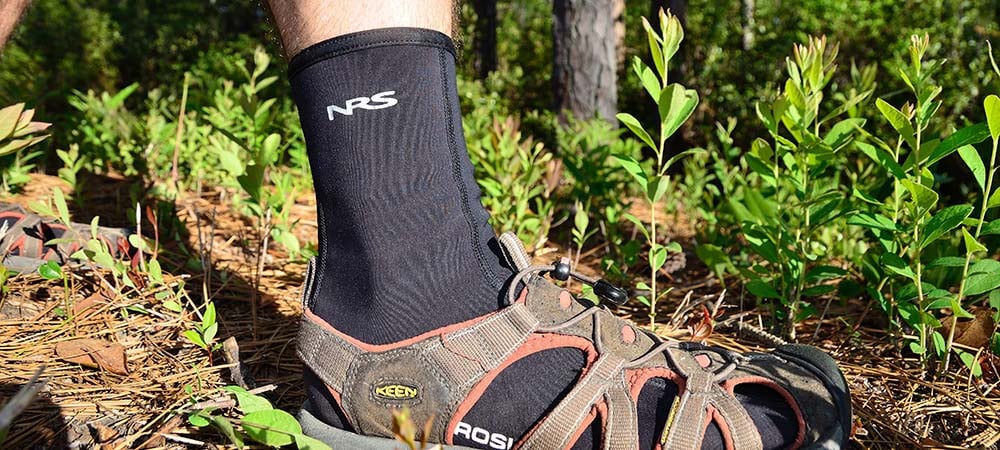 NRS Hydroskin Wet Socks
After a month of researching gear online and trying on neoprene socks at the local sporting goods stores, I chose the NRS Hydroskin 0.5-mm Wet Socks.
NRS's Hydroskin socks provide a layer of thermal protection to keep circulation and the angler in a high level of comfort. Quite often, the full length waders can become uncomfortable during the summer months even under mountain conditions. Of course, the nightly temperatures can get into the lower 40's in the states on Mountain Time, but, it readily heats up into the 70's during the day, and most of the time anglers are only in water below their knee anyway. Anglers using neoprene socks for their wet wading approach will quickly realize their comfort level is much higher than ever before.
Neoprene is flexible and retains its insulating properties when wet. But, what makes NRS's Hydroskin socks better than their competitors? NRS came up with a product that provides superior warmth in a small, thin package without compromising comfort.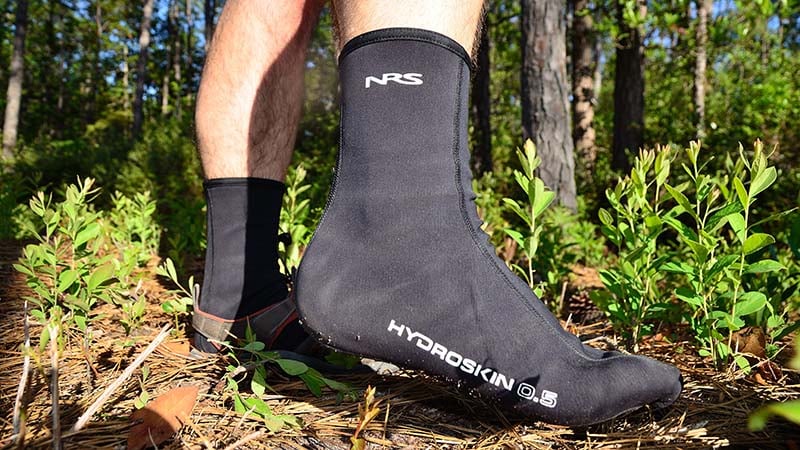 On the inside, the combination of the titanium laminate adhesive at the seams and the ThermalPlush inner lining increases its insulating properties to provide adequate heat retention when it is needed most. On the outside, the 4-way stretch PowerSpan outer layer provides enhanced mobility in all the right places, and the DWR coating forces water to roll off the sock's surface to reduce any evaporative cooling. Unlike most neoprene socks, the NRS Hydroskins fit like regular socks and are very comfortable in boots or sandals.
NRS's Hydroskins provide a layer of protection and warmth without the bulk of other neoprene socks. Most neoprene socks on the market today are between two and five millimeters thick. And when you add additional bulk, you add additional weight and stiffness in these types of fabrics. A thicker sock doesn't always equate to warmer results.
NRS Hydroskins have a thickness of only 0.5-mm that seems very thin on paper. And in reality, they are in fact very thin. But, a sock doesn't have to be thick to provide the necessary properties to keep your feet warm under chilly conditions. NRS figured it out and made a product that works.
NRS Socks In The Field
Honestly, I was a little concerned that the 0.5mm thickness would be too thin for my uses. But, the socks are anatomically shaped for left and right foot making them super comfortable and I was willing to sacrifice a little warmth for comfort on my trip deep into the backcountry.
Our trip took us deep within the Bob Marshall Wilderness of Northern Montana. At our first campsite on day one, we were over 70 miles from a cell phone signal and well over 100 miles to the nearest sporting goods store. I was confident in my choice for the NRS Hydroskins, but I didn't have a choice at this point and they would have to perform.
On the first morning, I pulled out the Hydroskins, slid them on my feet, and headed to the water. I slipped my feet into the water waiting for the unpleasant feelings to begin. Immediately, I could definitely feel the cool water rushing around my ankles and up my calves and I wondered how long I would last in this bone chilling water without waders.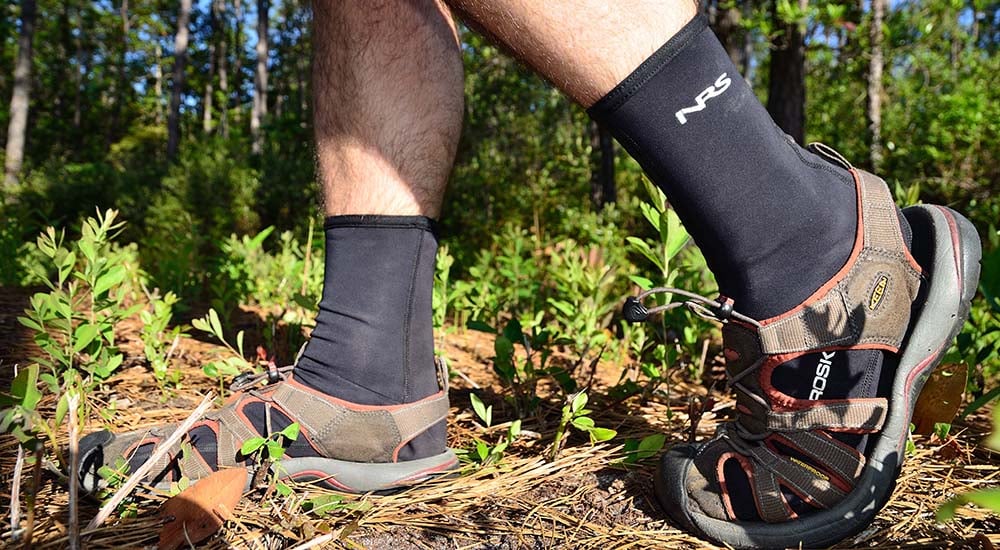 Within seconds, I made my first cast to an eddy behind a green-colored boulder in the stream and my size 12 March Brown fly vanished into thin air. I had my first west slope cut throat on the line. And for the rest of the day, we fished hard for several miles of stream away from camp. We entered and exited the river multiple times and I never experienced cold feet. The NRS Hydroskins were performing perfectly.
The next day, we took a six mile hike to another part of the river to see some new water and hopefully some more fat trout. My Hydroskins performed so well the day before, I decided to just wear these on the trail hike and back into the water again. Never even a hotspot or a blister whatsoever after a 12 mile round trip on both land and water.
Care
After realizing how great the socks performed, I wore them all day and everyday during the 6-day backpacking trip. But, I really didn't realize how bad the socks smelled until I got back home. Thankfully, neoprene is easy to clean in order to restore them back to new condition.
Neoprene isn't intended to breath and they stay wet most of the time trapping odors and microorganism inside. Cleaning is easy. First, the socks need to be thoroughly rinsed with clean water. Then, the socks need to be washed with an antibacterial soap first and if the smell is still overwhelming, the sock should be washed with a cleaning agent specifically made for neoprene, such as, wetsuit shampoo or Myrazyme. Afterwards, the socks need to be dried thoroughly before storing with towels or with the low heat setting on a hair dryer.
Final Thoughts
Neoprene socks aren't exactly new creations, but the NRS Hydroskin 0.5-mm socks are made to perform in a variety of situations and are a must-have item on any backcountry fishing trip.