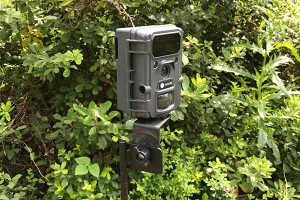 Hawke Optics has built up a reputable standing in the optics industry, offering a wide range of quality binoculars to fit in any consumer's price range. The models and price range varies, but one thing is constant—a high standard of quality.
Ever-changing technology introduces new game cameras in the retail streamline about every three to six months. One of the positives for consumers is prices are dropping as brands stay competitive. Many brands offer a variety of price points; some offer a few great quality cameras at very affordable prices. This is the case with Hawke Nature Cameras, the company's newest product for 2017.
The Hawke Nature Camera is available in three models: 10MP, 12MP, and 14MP. Each unit offers unique features. I received the 12MP model last month and was able to set it up on one of our food plots on our Alabama farm. Unlike some game cameras, I found the Nature Camera easy to set up with the on-screen prompts. The photo and video quality are among the best I have experienced in color and clarity.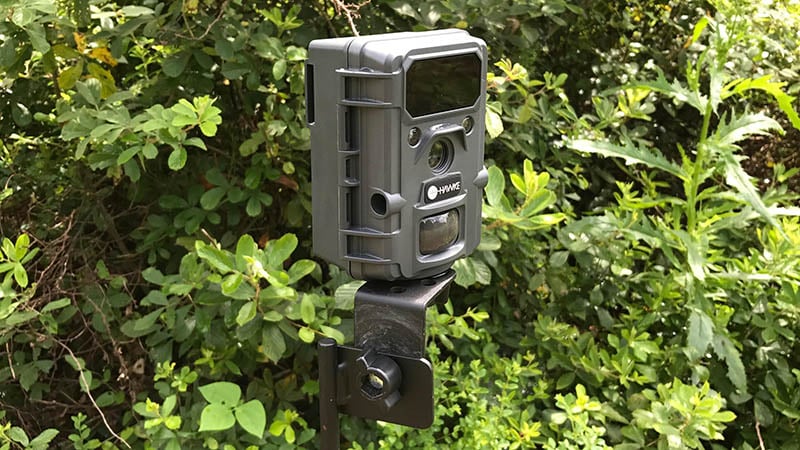 Hawke Nature Camera Features
The compact design of the Nature Camera made it convenient to place it in a camera bag for our weekly trip to check feeders and pull camera cards. Placing a camera on feeders is a lot easier than placing one on a food plot under a power line, especially since the easement makes it virtually impossible to find a good tree to place a camera on. The camera mount screw on the bottom of the camera allowed me to use a Stic-N-Pic on the edge of the food plot. A unique feature in the Nature Camera is the mount is on the front portion of the camera which allowed for on screen framing of the food plot before closing the back cover.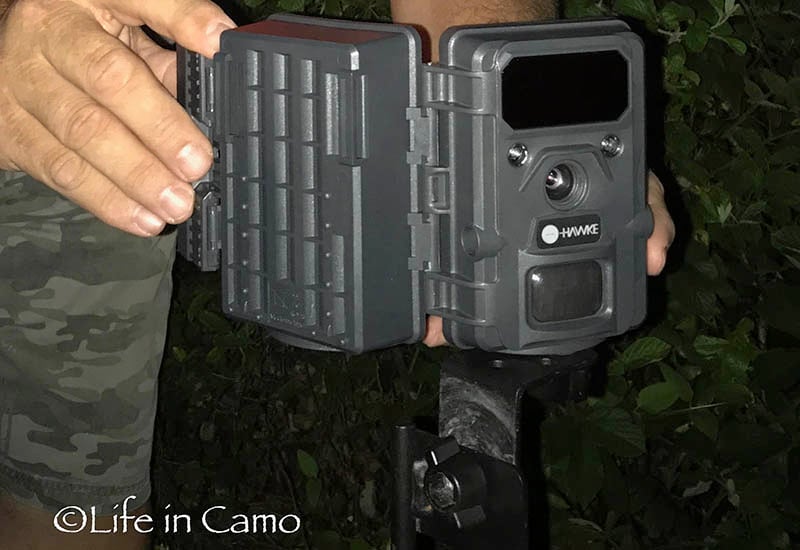 The 12MP Nature Camera offers a selection of image resolutions of 5MP, 8MP, and 12MP photos at a 1 to 5 trigger burst. The camera has a time delay of 5 seconds to 10 minutes and a trigger speed of under 0.8 seconds. A variable of burst, time-lapse, time delay and duty time modes are available in photo mode. You can choose between VGA or HD video resolutions. Thirty-four Covert IR LEDs with wide angle PIR motion detection sensor captures quality night photos and videos up to 60 seconds long. The convenient display screen, with on screen prompts, allows for easy edit of the settings in the field. Images and videos are stamped with the date, time, temperature, and moon phase on the bottom frame for reference.
The compact design is convenient, not only for carrying the camera to and from the woods, but it is easy to conceal and to set up in tight spots. The Nature Camera seals completely when closed and it weatherproof. The camera comes with a USB cable and a mounting strap. The cameras operate on eight AA batteries and offer an external power supply port. The Hawke Nature Camera offers quality and performance in a compact design for a very affordable price that is backed by a two-year warranty.
Specifications
| | | | |
| --- | --- | --- | --- |
| Feature | 10MP Model 46 100 | 12MP Model 46 101 | 14MP Model 46 102 |
| Image Resolution | 5MP/10MP | 5MP/8MP/12MP | 5MP/8MP/14MP |
| Video Resolution | VGA | VGA/HD | HD/Full HD |
| Video Length | Day 5-30s/Night 5-30s | Day 5-60s/Night 5-60s | Day 5-60s/Night 5-30s |
| Aperature | Day F3.0/Night F2.0 | Day F3.0/Night F2.0 | Day F3.0/Night F2.4 |
| Field of View | 55° | 55° | 53° |
| Trigger Speed | >0.8s | >0.8s | >0.3s |
| IR LEDs | 21 | 34 Covert | 48 Covert |
| IR Range | 39ft | 39ft | 66ft |
| Burst | Day 3/Night3 | Day 1-5/Night 1-5 | Day 1-10/Night 1-3 |
| Time Delay | 5s-10m | 5s-10m | 1s-10m |
| Display | 2" Text LCD | 2" TFT LCD | 2" TFT LCD |
| Power Supply | 8xAA | 8xAA | 8xAA |
| External Power Supply | DC-In 6V 1A | DC-In 6V 1A | DC-IN 12V 1.5A |
Endorsement Disclosure: Per the guidelines of the Federal Trade Commission, the product(s) reviewed or mentioned within this writing is an endorsement, and the writer may or may not have been compensated by "in-kind" exchange or remuneration to review the product. Logos and photos are the sole property of the rightful owner(s) and used within this writing solely for the promotion of the product(s) herein as requested by the product's manufacturer/representation, or in efforts of product exposure for the manufacturer(s).