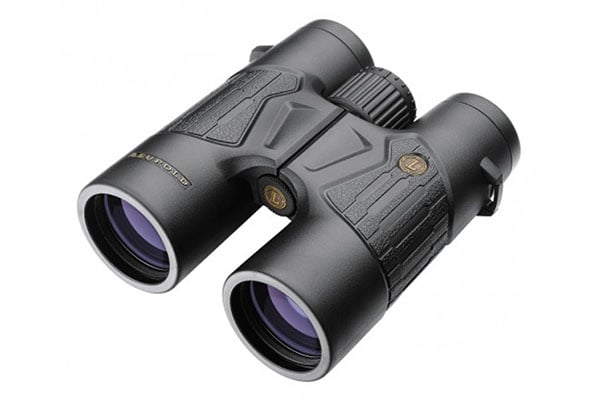 By Joel Zielke
Maybe it's because Leupold is a local (to me) company. Maybe it's because they have a great reputation. Maybe it's because I have never heard anyone complain about any of their products. Maybe it's just because I have liked their products when I have had a chance to look at them in the past, but I was really excited to get a chance to look at the Leupold BX-2 Cascades. In no way, shape, or form did they disappoint.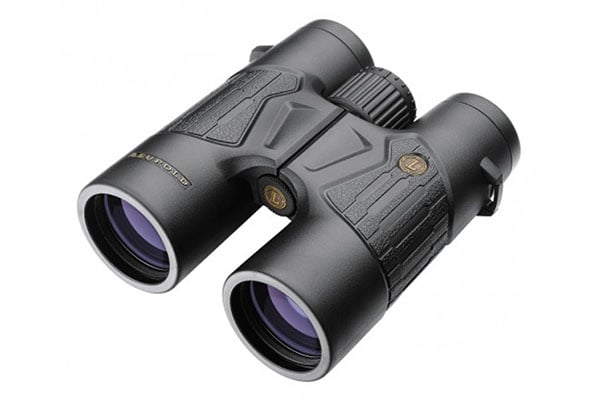 While this pair of binoculars is still in the same general price bracket as the others we have reviewed, we are now near the top of the inexpensive bracket. Their overall performance and a few little touches justify the extra expense. Before we dive into what I have to say about them, let's take a quick overview of Leupold says about their own product:
Center Focus/Lockable Diopter
BAK4 Roof Prism
Phase Coated
100% Water-Proof
Fully Multi-Coated
Long Eye Relief
Armored Aluminum body
Nitrogen Filled
Magnification: 10x
Objective Aperture: 42mm
Field of View: 267 feet at 1000 yards/89 meters at 1000 meters
Angular Field of View: 5.1 degrees
Weight: 23.1 ounces/655 grams
Length: 5.5 inches/140mm
Twilight Factor: 20.5
Exit Pupil: 4.2mm
Eye Relief: 16mm
Interpupillary Distance: 58-72mm
Close Focus Distance: 10 feet/3 meters
One of the things I grew accustomed to looking at with many of the other binoculars was the extra stuff that came along for the ride. In the case of the Leupold box you almost find yourself asking "Where is the rest of it?" It comes with a nice padded strap for the binoculars, a nice soft case, and a lens cleaning cloth. Unlike most of the other binoculars, the case has no accommodation for wearing it on a belt or any way to attach a strap.  While it may seem a bit weird to admit, this doesn't bother me at all. It would appear when you buy the Leupold binoculars you are not paying for any accessories to speak of. You are simply getting a pair of binoculars. I would imagine a greater percentage of the price paid is actually going into the binoculars themselves, as opposed to the "extras." This is primarily worth noting because of the potential extra expense of accessories someone might want.  You will need to purchase them separately.

To provide some perspective, the following notes were taken in the A.M. with slightly sub freezing temps, clear skies and the sun to my front and right side. At approximately 200 yards, the field of view covers half of the "3" on the right to the "0" on the right. There was a small amount of "Chromatic Aberration", probably the smallest amount of any of the tested pairs of binoculars. They were exceptionally clear.
At roughly 600 yards, the field of view is from half of the "1" on the left, to half of the "0" on the right. At this distance there was once again a very small amount of "Chromatic Aberration," but again, it was not a distraction. It seemed as if the edges were ever so slightly soft, but the contrast was very high.
Backing up to roughly 1000 yards, they again shined. High contrast, the whole field of view was in focus, and everything was incredibly clear.
On a different day in the early afternoon at roughly 70 degrees, with an extra set of eyes in my friend, and the sun to our backs we tested all the binoculars again. These binoculars fared exceptionally well again. In my friends opinion, there was one pair of binoculars that may have been slightly brighter, but there was a trade off in clarity. We were both of the opinion that if price was not an issue, this was the hands down winner of the reviewed binoculars.
Like most of the other binoculars, this pair carries a lifetime warranty. There are so many positives about this pair of binoculars, the first being their performance. On the first day when so many of the binoculars had performance issues, this pair seemingly had none. The clarity, brightness and contrast were all very good. Additionally, of all the binoculars tested, this was the only pair not "Made in China." Now, it is important to note that they are not "Made in U.S.A." or "America" either.  This pair is actually "Made in Japan." In some ways it almost seems like I haven't written enough about this pair of binoculars, but when it works like it's supposed to, there isn't a whole lot to say.  The lockable dioptic adjustment is an awesome feature, and unlike many other pairs I looked at once it was set, I didn't need to adjust it again. The dioptic adjustment is centrally located with the focus knob, as opposed to on an eye piece. To set it, you pull the adjustment knob out, set it, and push it back in to lock it.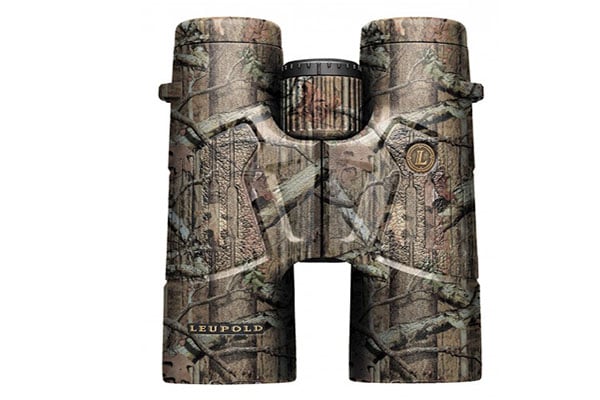 About the only drawback I can assign to this pair of binoculars would be the expense. For the money, they are the best performers, but they also have the least amount of accessories. So, not only are they more expensive up front, but they could potentially cost you more with acquiring additional accessories.
If buying something from somewhere besides China is important to you, this pair will work. If buying something from a known, reputable company is important to you, this pair will work. If expense is not your top issue, this pair will also work for you. This is a great pair of binoculars that certainly appears to be ready to give years of service with proper care and maintenance.