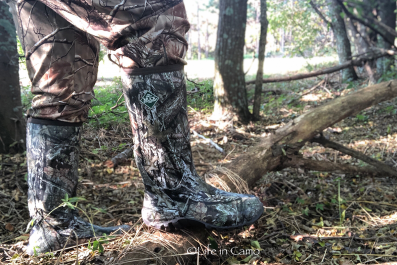 The Original Muck Boot Company delivers in your search for early season hunting boots.
Hunters depend on their footwear for comfort and durability, but they also rely on features essential to the type of hunt and terrain they will be navigating. There are a variety of features that make up a boot's versatility, but most important is that the boot fits correctly for extended wear. Today we will look at how find the best hunting boot for you and a couple Original Muck Boot Company models that work great for early season hunts – the Women's Wetland and Men's Woody Blaze.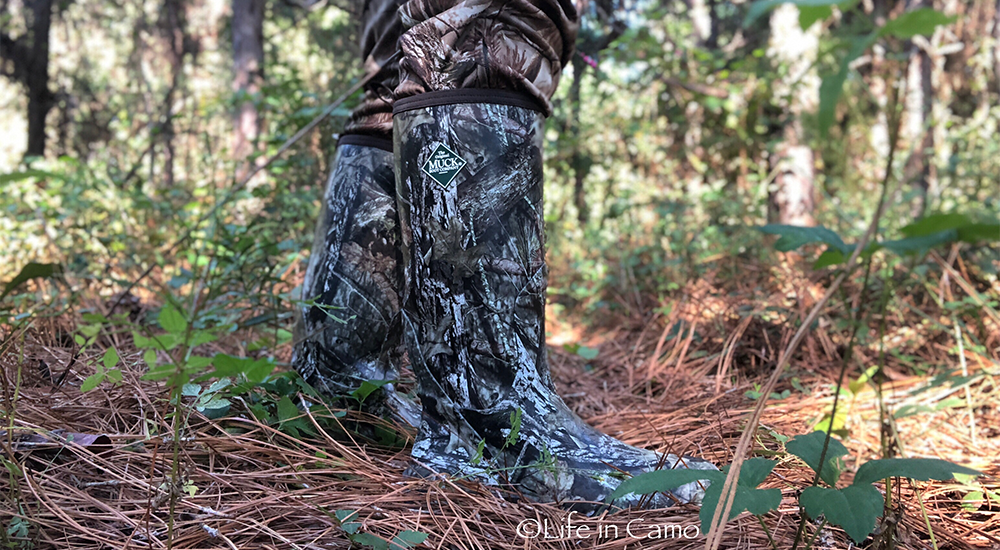 Essential Hunting Boot Features
From my experience, there really isn't a true all-purpose hunting boot. One pair of boots will not work for every terrain or climate. Even if you hunt primarily in one location, chances are you'll need a couple different models to fit your needs throughout the year. Knowing the typical environmental conditions and terrain that you will be hunting in will allow you to narrow down the choices in your search. As you shop boot models, you'll want to focus on the features essential for your application. This could be substantial tread for rocky terrain or extra insulation for cold temperatures. Listing these out before you shop will help you find a pair of hunting boots that will serve you well in your chosen climate and terrain.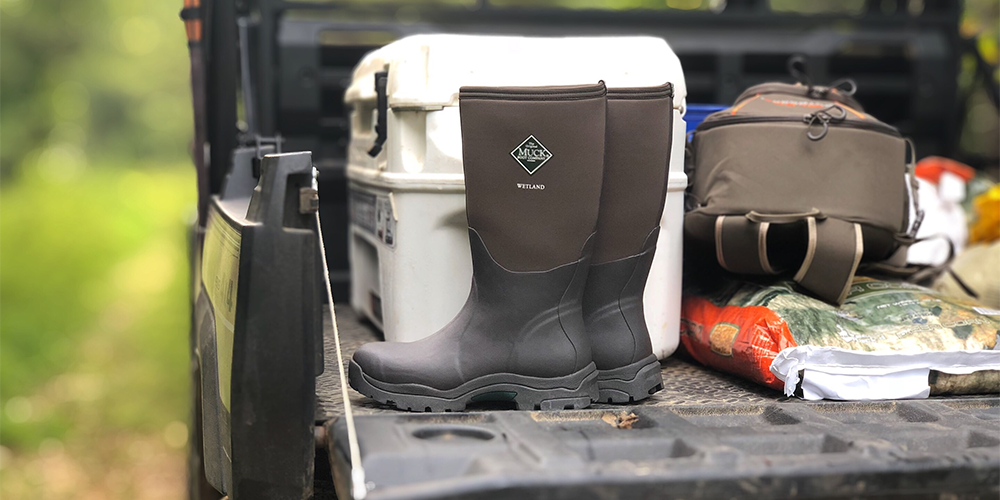 Terrain and Climate
The specific terrain and climate you hunt in is the biggest factor to consider in your search for a boot. For example, a hunter in the southeast where the weather is mild and the ground is relatively flat with a mix of wetlands and swampy areas would need a different boot than a hunter in the Midwest with its harsher weather, rolling terrain and rockier soil. In similar regards, a hunter who plans to spend the majority of their hunt from an elevated tree stand or primarily immobile will require different features than a hunter who will cover a lot of ground on foot scouting hills and mountains.
The outer sole is a critical element to match with the terrain you will be hunting. When hunting out west, more lug on the outer sole will work better when climbing hills or traversing rocky terrain. In the southern states, a milder tread will work better on flatter ground and especially in areas of sand or clumping clay. Waterproof boots will be a critical element in regions where water sources such as creeks or marshy land are common. If you are hunting where poisonous snakes are prevalent, snake-proof boots are essential.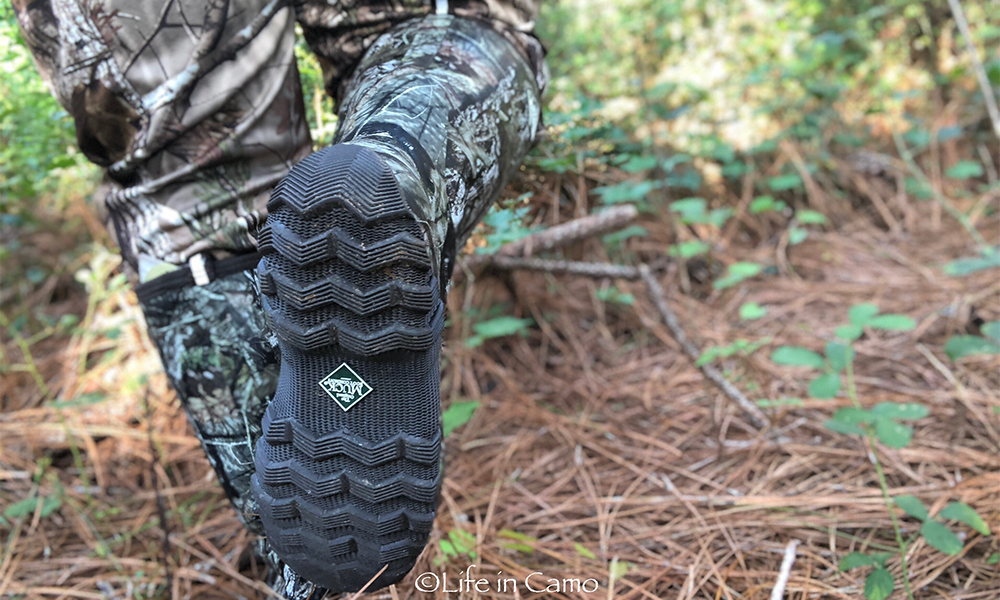 Features to Consider
Insulation is among the most crucial element for comfort. The largest complaint of most hunters is that their feet are either too hot or too cold. Often this will stem from having the wrong features for the style of hunting and type of terrain they are hunting. When selecting a hunting boot for early season, you need to keep in mind what temperature range you will be hunting in. It will be essential to look for uninsulated or lightly insulated hunting boots with superior breathability if you hunt in a hot climate.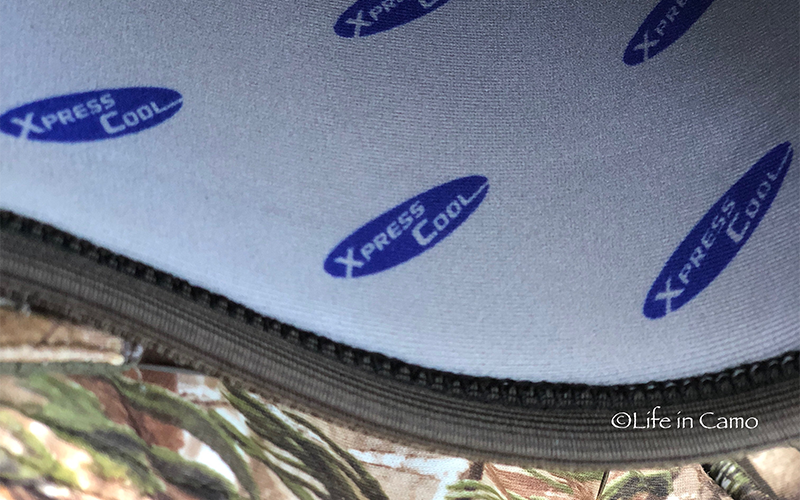 Waterproof boots are essential if the area you will be hunting has a higher risk of precipitation or prevalent wetlands, creeks, or swamps. There are many different types of waterproofing materials and methods. Look for 100% waterproof boots versus weather or water-resistant boots.
The Outsole is vital to the terrain a hunter will be traversing. A more aggressive tread with a prominent lug or cleat outsole works well for rocky, hilly, or mountainous terrain. Whereas, a less aggressive sole with no cleats or a minimal outsole is more suitable for flatter, sandy ground.
Proper fit is imperative to the hunt. Ensuring that you have the right fit requires three key elements: a snug fit through the ankle, heel, and forefoot. Make sure the ankle and heel have no slippage which will cause friction, ultimately causing blisters. Ensure that the toe box has plenty of wiggle room and that your longest toe is a thumbs-width from the end of the boot. This will keep your toes from touching the end of the boot when the terrain requires downhill walks. Tree stand hunters will need to consider buying at least a half size larger to keep from restricting blood flow to the feet. This keeps blood flow steady, and it allows the boot's insulation to perform to its potential.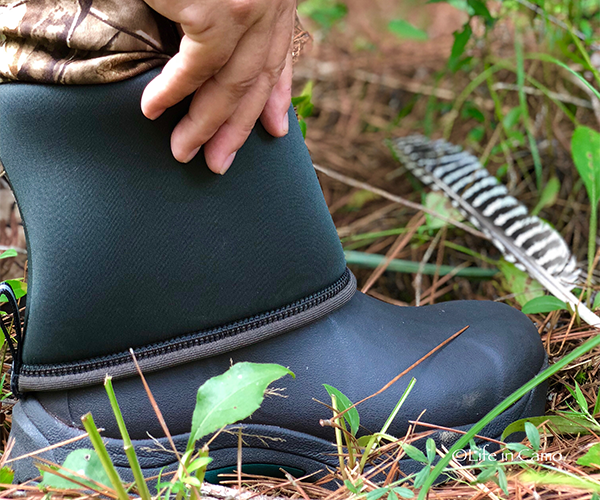 Best Early Season Hunting Boots
With the hot summer days and mild fall weather that many states that I hunt in experience, I am always in search of boots that offer comfort in high temperatures. A boot that can perform well in hot weather while withstanding the wetlands, swamps, creeks and river bottoms are essential to early season hunts.
Muck Boots Women's Wetland Boot
I found a great early season hunting boot this season with the introduction of The Original Muck Boot Company Women's Wetland Boot. The Wetland Boot is lightweight and flexible. It is made of 5mm Neoprene, four-way stretch nylon and is 100% waterproof. The Women's Wetland is available in bark color and in whole sizes from 6-11. The built-in rand on the toe and heel ensures extended life and durability in the area of the boot that results in the most wear and tear.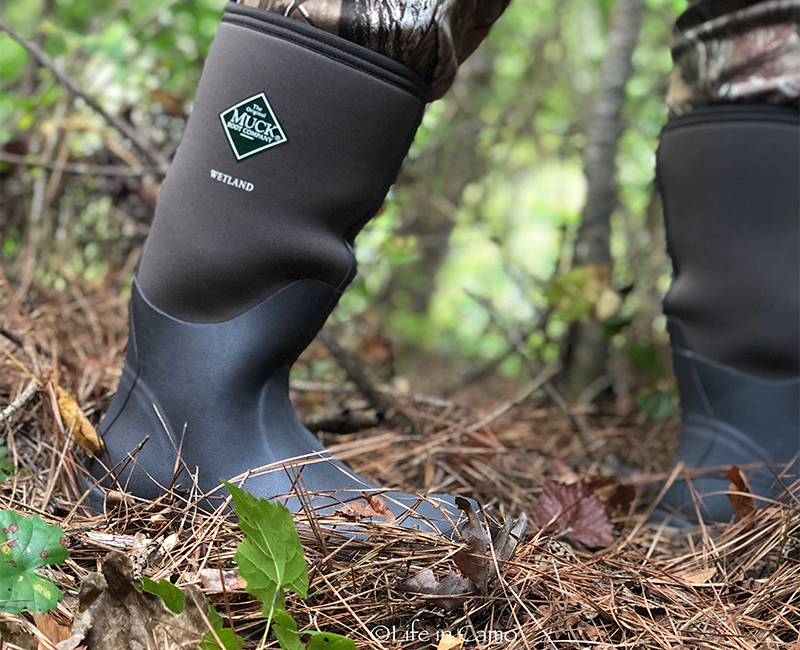 The addition of the built-in Achilles reinforcement adds protection for the wearer. The Air Mesh material allows the foot to remain cool in warm weather and breathable in colder weather. The MS-2 molded rubber outsole is much more streamlined than other rubber boots I have tried without taking away from the comfort of the footbed and toe box. The calf binding offers a stretch-fit that allows the top line to remain snug but comfortable. The Women's Wetland has a comfort zone from -20° F to 50° F, but I have worn these boots in warmer weather, and the lightweight and breathable qualities allow the Women's Wetland to still feel comfortable in warmer temperatures.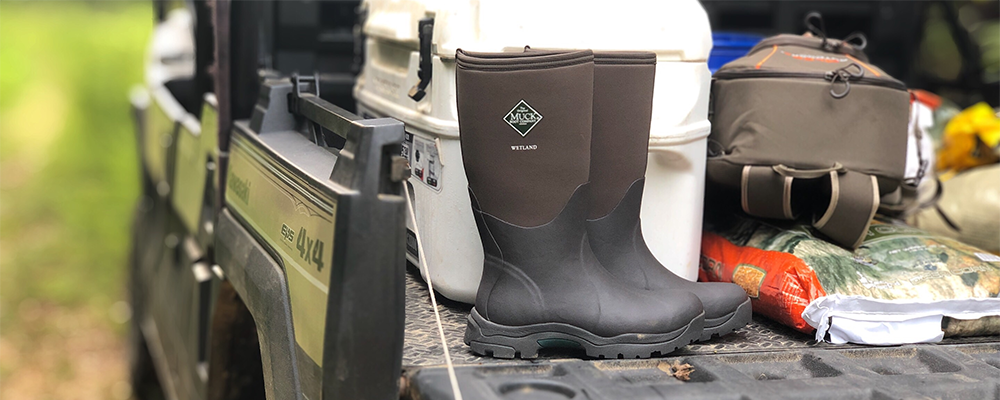 Muck Boots Men's Woody Blaze Cool Snake Boot
The fact that snakes are abundant in the southeast region and most active from mid-April through late August, snake boots are imperative in many areas. We recently received access to some hog hunting property with several winding creeks and swamp bottoms located on it. It was imperative that I find a comfortable waterproof boot with an all-purpose sole that would be cool enough to wear on sweltering hot days. However more important than that was snake-proof capability.
Just like the Women's Wetland Boot, the Original Muck Boot Company Men's Woody Blaze Cool Snake Boot in Mossy Oak Country is a great option for early season. The Woody Blaze Cool is surprisingly lightweight and flexible with a lightweight EVA midsole, rubber exterior, and XpressCool lining resulting in the perfect warm weather snake boot. XpressCool Lining is designed to reduce sweat to keep your feet dry and cool in warm weather conditions. The waffle outsole offers traction without being too aggressive in wet terrain. The 4mm CR Flex-Foam and extended rubber exterior provide 100% waterproof performance. The Woody Blaze Cool Snake Boot is available in whole sizes from 7-15 making it versatile for some women hunters as well. I was pleasantly surprised at how lightweight and flexible the Men's Woody Blaze Cool is; the majority of snake boots I have field tested in the past have been thick and do not offer the flexibility needed in the field.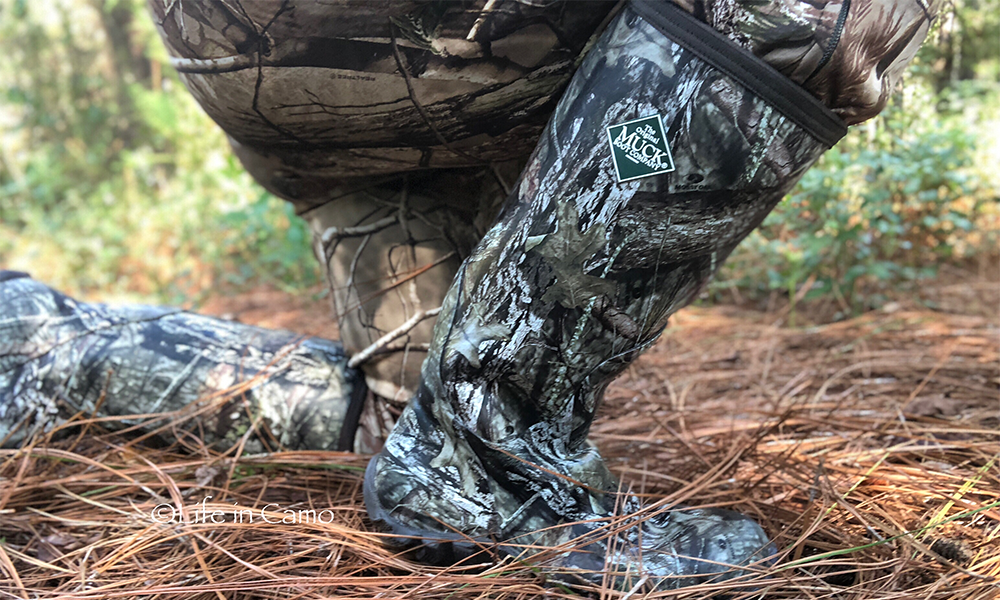 Tips To Find The Perfect Hunting Boot
There are several things to remember when in your search for early season hunting boots. Keep in mind that it is common for feet to swell during the day, so you should try on boots in the afternoon when your feet and ankles will be holding natural water retention. When buying rubber boots, remember that they do not require a break-in period and only the footbed will conform to your foot. The fit you feel on the showroom floor is the fit you will experience in the field.
The right sock is critical to the fit and performance of hunting boots, and you should always invest in premium socks. For early season hunting, keeping the foot dry and comfortable is imperative. Many hunters make an error in judgment when choosing socks to wear with their hunting boot. Wool socks have long been a favorite for those who spend many hours in their boots because of wool's moisture wicking and anti-blister properties. However hunters do not think to wear wool during warm months. Merino wool and wool blend socks are available in a variety of weights and thickness; some can be worn on the hottest of days, and others are spun for bitter cold days. Wearing a summer weight wool sock when temperatures are in excess of 80-90 degrees will allow the wearer's feet to remain dryer, cooler, and chafe-free better than cotton or nylon blend socks. You will need to bring the type of sock you will be wearing on the hunt when trying the boots on.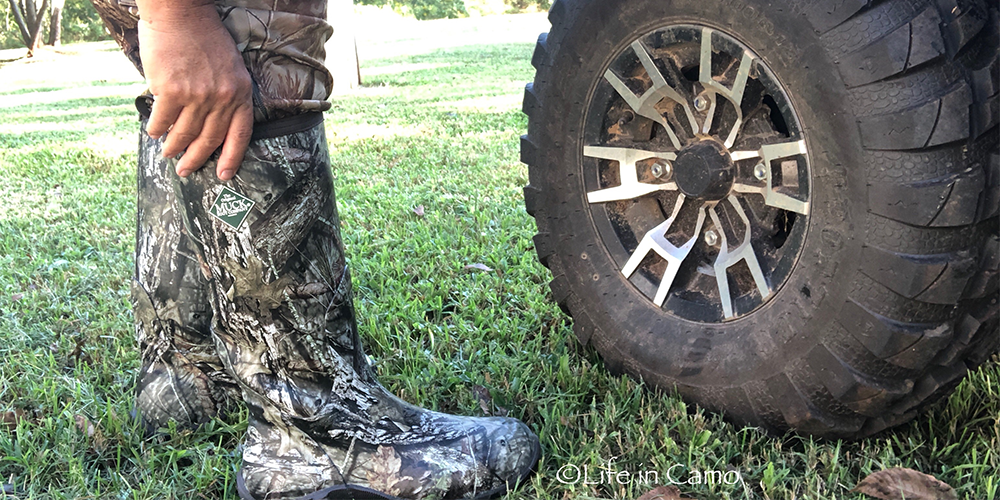 Last but not least, buying quality will be reinforced if you know the product has a warranty. With the Original Muck Boot Company products mentioned above, the company offers a great "Limited Warranty" on these and all of their products.
"Honeywell warrants (the "Limited Warranty") to the original end customer that its footwear (the "Footwear") will be free from defects in materials and workmanship for a period of one year from the date of purchase by the original end customer. The Limited Warranty constitutes the only warranty provided by Honeywell with respect to the Footwear and may only be modified or amended by Honeywell in a signed writing. In the event of a defect, Honeywell will, at our sole option and as your sole and exclusive remedy, repair or replace the defective Footwear without charge, or refund the price you have paid. Footwear that has been repaired or replaced is warranted only for the remainder of the unexpired portion of the warranty period."
Doing the Research
It has been proven time and time again that building a perfect foundation will keep you comfortable in the field and on the hunt longer. A quality, well-fitted hunting boot is essential to your hunt. It is important to choose a boot that fits properly and is built to perform in the terrain and conditions you plan to hunt. Selecting a brand based on what is popular at the time or what another person has suggested is not always the route to go. You should take into consideration your own personal requirements and customize the boot not only to your hunt but to fit your own two feet.
Endorsement Disclosure: Per the guidelines of the Federal Trade Commission, the products reviewed or mentioned within this writing is an endorsement and the writer may or may not have been compensated by "in-kind" payment to review the product. Logos and photos are the sole property of the rightful owner and used within this writing solely for the promotion of products herein as requested by the product's manufacturer or in efforts of product exposure for the manufacturers.