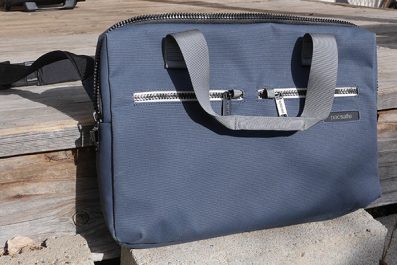 The PacSafe Instasafe Brief is a sleek, compact laptop case great for local travel or as a small carry-on bag to match your larger rolling luggage.
By David Link
The laptop bag is a key part of anyone's daily carry collection, and whether you're hitting the local coffee shop or carrying your laptop through airport security, you need a bag you can trust. The scary thing about a laptop bag or similarly shaped brief is it's a prime target for thieves. Just the very shape of a laptop or tablet can single your bag out. Luckily Pacsafe is more than just a bag and luggage brand, they specialize in anti-theft features in all their designs. Let's take a look at a great laptop-ready model in the Pacsafe Intasafe Brief.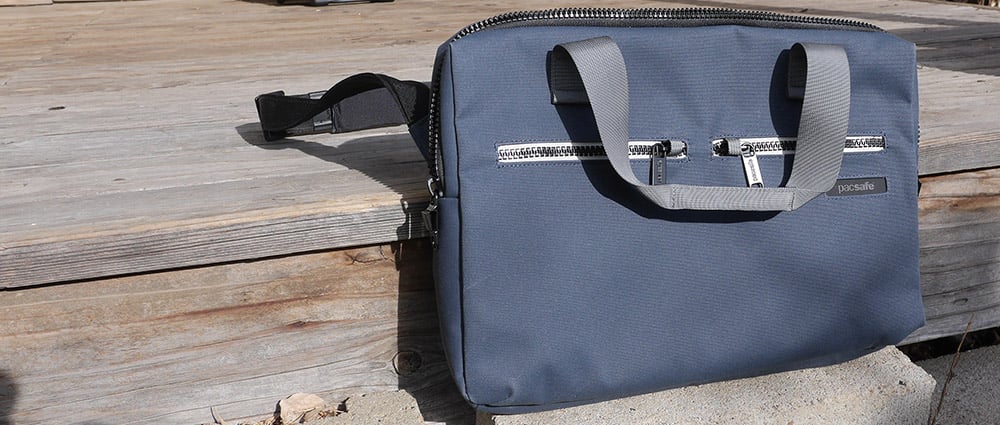 Pacsafe Intasafe Brief Basics
My first impression of the Pacsafe Intasafe Brief centered on its stylish and compact appearance. This certainly isn't one of those bulky cavernous laptop bags where you are tempted to stow unneeded gear for a daily commute. Instead the Intasafe is centered around organizing essentials, almost in a minimalist approach. This is not to say there's no room in the Intasafe Brief for your gear. Instead this laptop bag is designed to be streamlined and mobile for urban environments and carry-on scenarios.
The Pacsafe Intasafe is made 600D Poly Canvas which gives it both the look of quality and durability. The particular model I've carried is the navy color which is a sharp look for a laptop bag. If you don't want your bag to stand out, they also offer black and charcoal colors (I reviewed the Intasafe Backpack in charcoal here).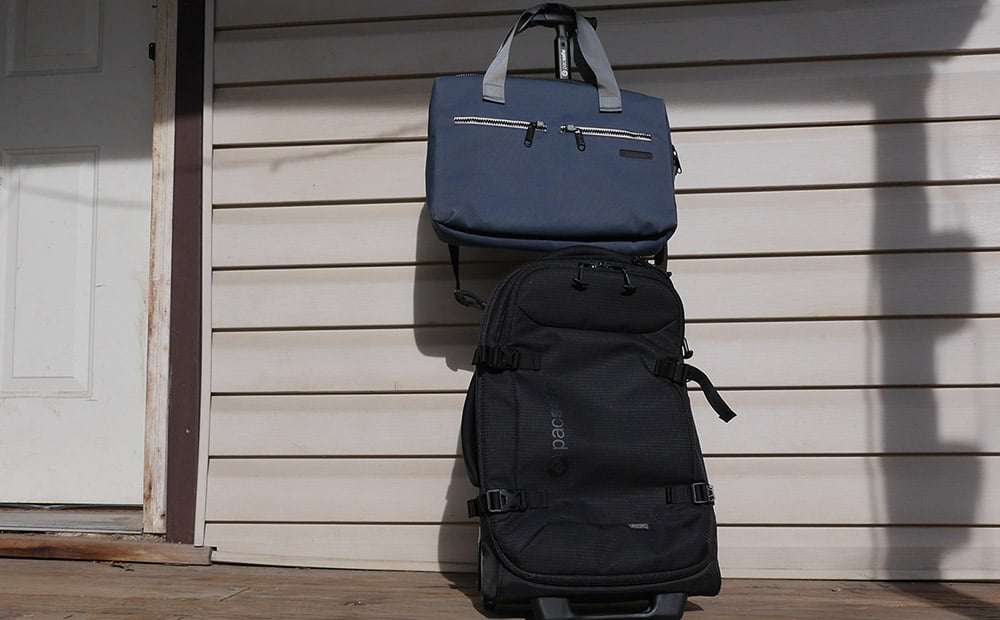 Specs
Weight: 2.05 lbs.
Volume: 16L
Dimensions: 11.4 x 16.1 x 5.5 in.
Anti-Theft Features: eXomesh slashguard construction, Carrysafe slashguard strap, Roobar Deluxe locking mechanism, and secured zip tab.
Identify Theft Protection: RFIDsafe blocking pockets and materials.
Laptop Storage: Fits up to 15 in. laptops and 10 in. tablets at the same time.
External Features: Two small front zip pockets and larger back zip pocket that doubles as strap storage, adjustable shoulder strap (13.8 in. to 29.5 in.) and luggage slip through feature.
Internal Features: Internal pockets for smaller item storage, pen loop, water bottle pocket and key / wallet lanyard.
Anti-Theft Features
A huge strength of the Pacsafe Intasafe Brief is its anti-theft features. There are four distinct elements I'd like to cover quickly.
eXomesh Slashguard / Slashguard Strap
First up is the eXomesh Slashguard, something you won't see in any other similar bag. This is a continuous wire mesh net that fits between the outer nylon material and inner material of the bag. Why do you need mesh padding in a bag? It prevents thieves from slashing and grabbing your items. Yes thieves will forego trying to pickpocket your bag and just slash it with a knife real quick to grab items. The eXomesh Slashguard ensures no one will cut your bag open either with or without you knowing. Pacsafe pairs this with a slashguard strap that is tougher than your normal laptop bag strap. The Intasafe strap can be used to wrap around tables or other fixed items so no one can quickly snatch the bag as well.

Roobar Deluxe Locking System
Next up is the Roobar Deluxe Locking System, and once you learn how to use this excellent feature, you'll wonder why you'd ever buy a bag without it again. Essentially the Roobar is a clever locking system that fixes both zippers on a strong steel locking bar. Note this is not the same as a padlock, and it doesn't require keys. Instead the Roobar can be locked and unlocked with the flip of its locking switch. This action takes time, which helps prevent thieves from quickly unzipping and pickpocketing your items. Better yet, those who haven't seen the Roobar won't immediately understand how it works, which is a further deterrent. Of course if you're using the pack in a comfortable environment, you don't have to use the Roobar to zip the bag closed.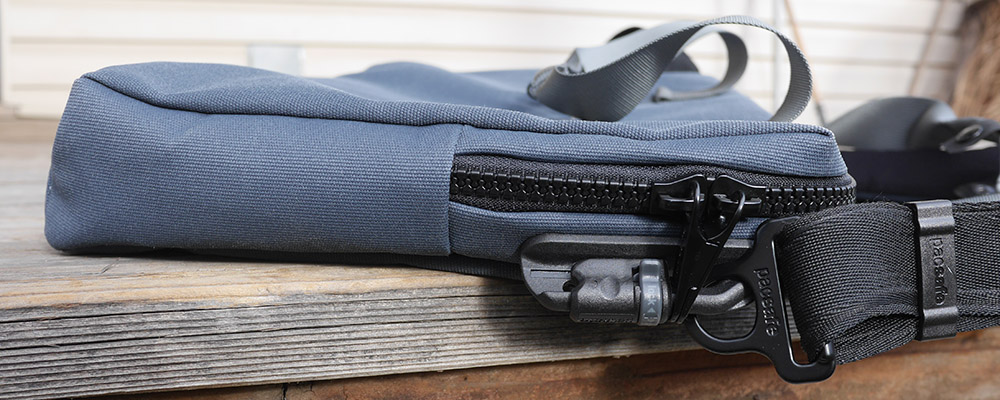 RIFDsafe Blocking Pockets And Materials
RIFD scanner use is becoming more and more popular among identity thieves, and still much of the US is relatively unprotected from this almost unnoticeable technique. Thieves with the right hardware can scan your chip credit cards and obtain information without ever having to see or touch the card itself. Fortunately brands like Pacsafe are developing tech to combat RIFD based theft, and the Intasafe Brief is designed with anti-RIFD resistance in mind. The Intasafe bag has RIFDsafe pockets that prevent thieves from scanning those areas. Note not the whole bag is RIFDsafe, but these pockets are the logical place to store your cards or wallet whenever they are not on your person.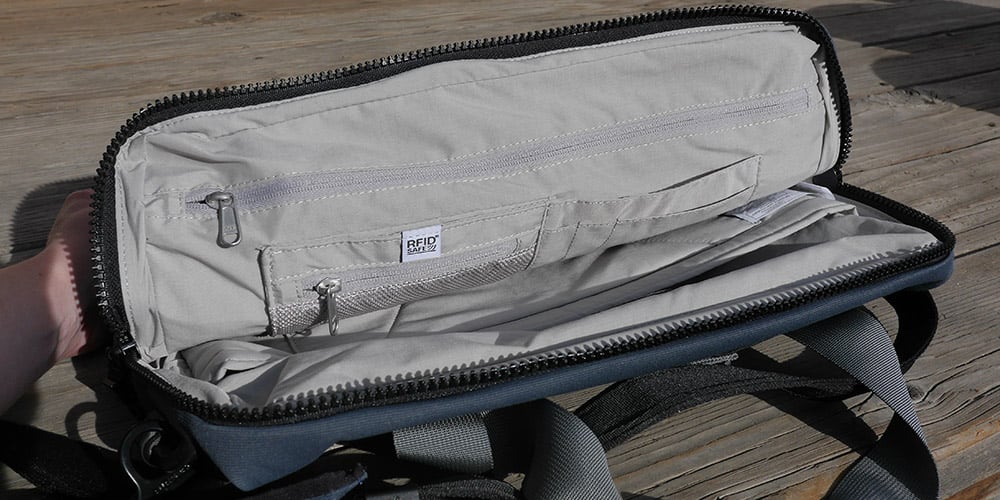 While you're at it, check out Pacsafe's RIFDsafe line of wallets including a Pacsafe V125 Tri-fold Wallet and Pacsafe LX200 Clutch Wallet.
In Use
I've carried the Pacsafe Instasafe Brief as my primary laptop bag for a few months, and it has quickly replaced any other options for tech transport. For example, I have this larger bag from another brand where I can also carry my digital camera and gear alongside a laptop, but it's not something I'm eager to lug to the local coffee shop. The Pacsafe Intasafe Brief is easy to pick up, slide your laptop and charger into, and head out to your destination. My primary home laptop is a 15in. Acer, which is a little larger than the standard 15in. MacBook, but it still fits in the larger compartment of the Intasafe (although not in the internal sleeve). If you carry your tablet along with your laptop, it fits in an adjacent tablet sleeve that accomodates models up to 10in. With the tech sleeves and the main interior pocket, you have a lot of options to store your favorite technology and other gear.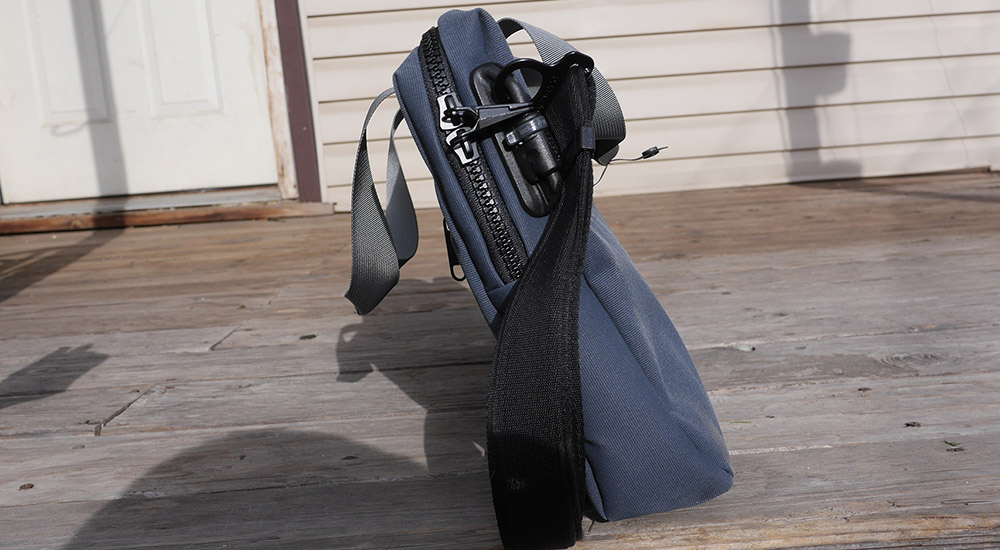 Determination
Simply put the Pacsafe Intasafe Brief is a sleek, rugged and streamlined laptop bag that you'll want to carry for years to come. It's certainly not the biggest bag on the market, but Pacsafe has larger options if you desire more space in your laptop carry. It's packed full of valuable anti-theft options that might just save you from losing your gear, and it fits with larger luggage for hands-free carry in the airport. Priced at $129.95, it's an affordable option, especially if you consider you'll be carrying it for years to come. In a world where thieves are always plotting against your bags, Pacsafe is a brand to trust.