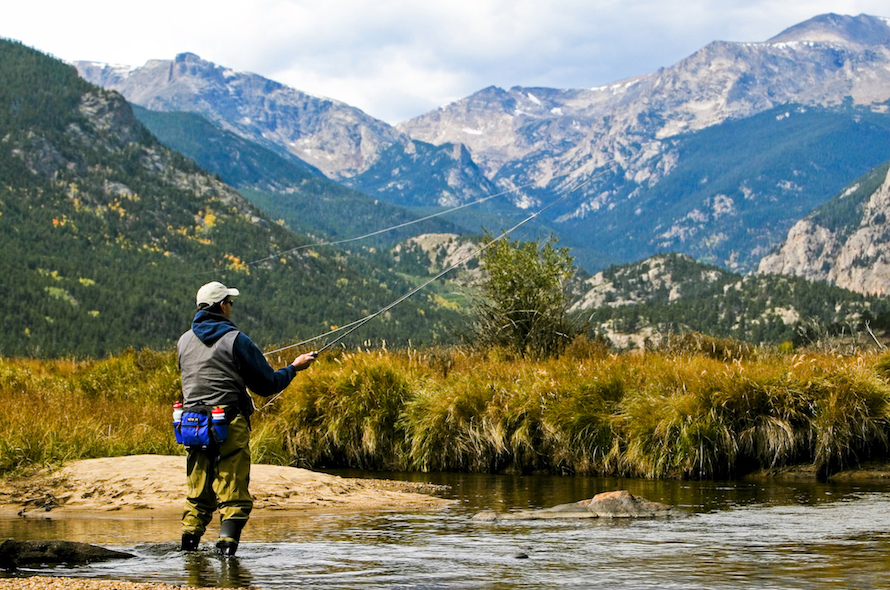 Last Updated on
Nowadays, many people see fishing as an amenity rather than means to get food. Some of them do fishing to shake the hormones, while others seek calmness and mindfulness. Many people just love to explore the underwater world and consider fishing one of the activities promoting the learning process. Regardless of the reasons, fishing helps escape the noise of a big city and take a break from the routine.
If you're a beginner with no experience, your mind is probably occupied with questions like "what fishing gear do I need" and "how to get the best fishing accessories". Well, such questions are fairly expected as the market is flooded with fishing products of all kinds. It's understandable that many beginners get lost and end up with the wrong gear.
To shield you from such a bad experience, let us introduce you to the world of fishing gear and accessories and provide you with information that might be helpful. Before we move to our list, we'd like to provide you with the answer to the following question.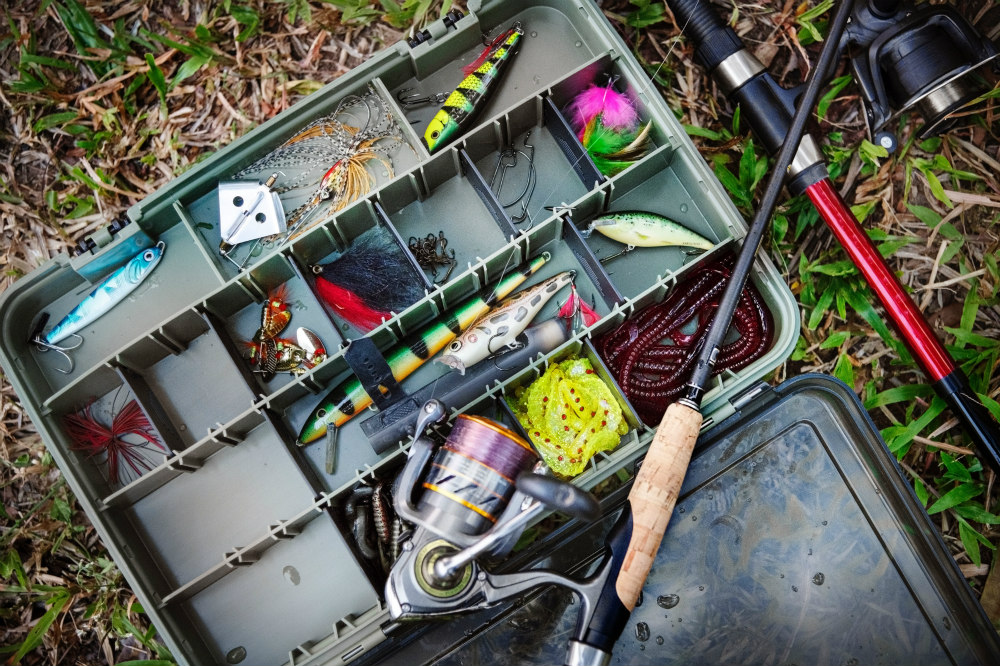 What do you need for fishing?
When someone mentions fishing, the first thing that comes to mind is the fishing rod. Before buying one, think of the place you want to be fishing and the type of lure you will be using. It's all about balancing strength and flexibility.
A stronger rod can handle heavier lures but lacks sensitivity with smaller fish bites. A lighter rod provides greater sensitivity but can break under the pressure of a big fish.
The length of a rod has an impact on its strength and how far you can cast. Short rods are made to withstand great pressures and provide better control, but, at the same time, they throw a line at shorter distances. Long rods cast farther but are hard to maneuver. The length ranges from 4 to 14 feet. A 7 feet fishing rod is considered the best place to start.
What you should also know is what power and action are. Power is the measure of how much it takes to bend the rod, and action is about where the bending happens. The power range is like that: Ultra-Light, Light, Medium, Medium-Heavy, Heavy, Ultra-Heavy.
As for action, there are fast, medium, and slow action rods. Fast-action rods bend only on the upper part. In medium-action rods, bending starts from the middle part. Slow-action rods bend all the way to the handle. "Fast" rods are rigid, sensitive, and can deal with heavy baits, whereas "slow" rods are flexible and cast far, but need a smaller bait.
Basically, you'll see fishing rods made from fiberglass, graphite, and composite materials. Fiberglass rods are very plastic and, however, lack sensitivity. Graphite rods are rigid and sensitive to small fish bites but, at the same time, are more frangible. Composite materials take the best of two worlds, but you have to pay a higher price.
For your rod to actually work, you need to equip it with a reel. The most common reels are spinning and casting which are used with spinning and casting rods respectively. To put it shortly, small and lightweight spinning rods are designed to work in lighter and milder conditions whereas casting rods are used for heavier applications as they are made more rigid and powerful.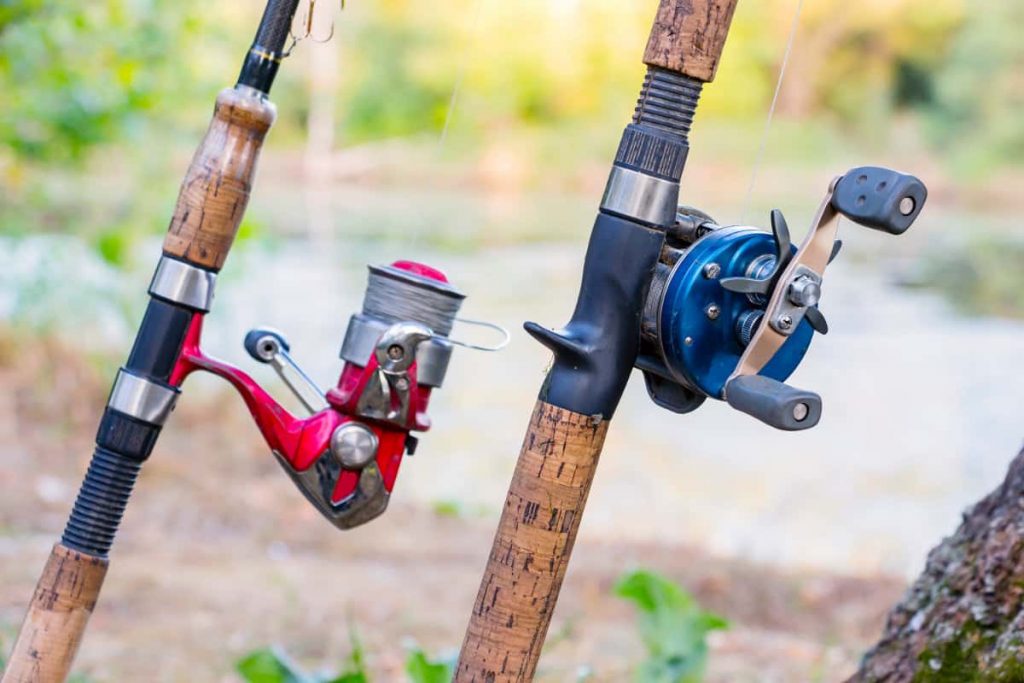 Lines differ in their diameter, strength, and color which influence their castability, visibility, and flexibility. Choose the line based on the environmental conditions. For rough environments, you would want to use a strong and thick line, and in clear waters, a thin and less visible line will do best.
The other fishing gear items you'll need are hooks, baits, bobbers, and sinkers.
Hooks differ in size and type (single, double, triple). To choose a hook of the right size, consider the size of fish species you want to catch. As for type, a single hook will be just right for a beginner.
The bait is used to get the attention of a fish. Depending on the species, a fish can be attracted by something organic (bread, dough), live bait (worms or live fish), or fake bait. Choose light-colored baits in sunny weather and dark-colored baits in limited light conditions and cloudy waters.
To keep the bait and the hook close to the surface, you need a bobber. The smaller the bobber, the more feedback you get.
And, finally, a sinker. Its purpose is to stabilize the system. They differ in shape, material, and weight.
Now that you know a little more about what fishing gear a beginner needs, let us recommend you the best fishing accessories that are worth buying.
Top 5 Fishing Accessories and Gear
ST.CROIX ROD Triumph Spinning Rods
First of all, you need a rod. St. Croix Rods is a company that has been manufacturing fishing rods for more than 70 years now. Experimenting with new materials, it managed to overcome difficulties and became one of the most noticeable fishing gear producers.
Here we have a whole rod line called Triumph. The line includes 19 rod models that differ in length and power, from 5-inch Ultra-Light to 7.6-inch Medium-Heavy rods.
These lightweight and small spinning rods will suit a beginner. The guides of a spinning rod are down-facing which adds up to the sensitivity because the line is always in contact with the guides. If you'd want to use a standard 7' rod, the Triumph line offers fast-action rods ranging from Medium-Light to Medium to Medium-Heavy.
Triumph Spinning rods are made from mid-modulus graphite (SCII carbon). Modulus is a degree of stiffness. It doesn't mean that high-modulus rods are stiffer than mid-modulus. It means that with stiffer graphite, a manufacturer needs less material to achieve the same stiffness. It leads to high-modulus rods being more lightweight than mid-modulus ones.
Triumph rods also feature ceramic guides made from aluminum oxide. Ceramics reduce friction and allow for smooth movements of the line.
A cork handle is tactile and more comfortable to hold in cold weather. Cork is also a very sensitive material and gives quick feedback.
Long story short, it's a great spinning rod for a beginner as it's sensitive, lightweight, stiff, durable, and inexpensive.
SCIENTIFIC ANGLERS Amplitude Bonefish Black/Surf/Ivory Fly Line
The next top fishing accessory is an Amplitude Bonefish fly line made by Scientific Anglers. It is designed for bonefishing in shallow salt waters. A long reversed taper allows for delicate delivery to skittish fish.
The line features AST Plus slickness additive which greatly reduces friction. The additive is built down to the line core and moves to the surface over time to regenerate slickness. All this means increased durability, better maneuverability, and longer casts.
The medium-length head ensures fly control and casting accuracy.
Bonefishing in flats requires quietness meaning you need to shoot at longer distances where the fish are unlikely to hear sounds made by you. A special shooting texture of the running line contributes to longer casts.
NOMAD DESIGN Madscad 190 Sardine Sinking Stickbait
If you like catching a big fish, you need a capable lure for that kind of fun. 190mm/7.5 inches in length and 160g/5.6oz in weight, the Madscad is a deep sinking stickbait designed for trolling and long-distance casing.
You can work it slow and fast with long sweeps or short tip twitches. The moves made by the Madscad are irresistible to tuna, kingfish, mackerel, giant trevally, and other reef species.
Stainless steel plate and full-body foam core construction make this stickbait durable and tough.
NOMAD DESIGN Dartwing Lure
This popper bait is made to reproduce fish skipping. It is unevenly weighted and has a winged head which allows the lure to dart side to side which gives an impression of a wounded fish. If you want a sinking bait, the belly will work like a keel.
In the floating version, the cup in the head will create surface disturbances and makes spitting noises, which excite the predators.
GILL 30L Race Team Bag
While fishing, you need to keep all your gear, tackle, and other stuff away from the water. This waterproof bag manufactured by the Gill company will protect everything you put in it from getting wet. The bag is made from fully waterproof PVC tarpaulin fabric that is also puncture-resistant, and the zipper is sealed by a roll-down closure. With a 30L capacity, you get enough space for keeping all necessary stuff there.
We hope our recommendations will be helpful to beginners and maybe even expert anglers. All products mentioned above are good value for money and will make your fishing experience more pleasant and rewarding.
Also Check out our collection of Sealife underwater cameras.