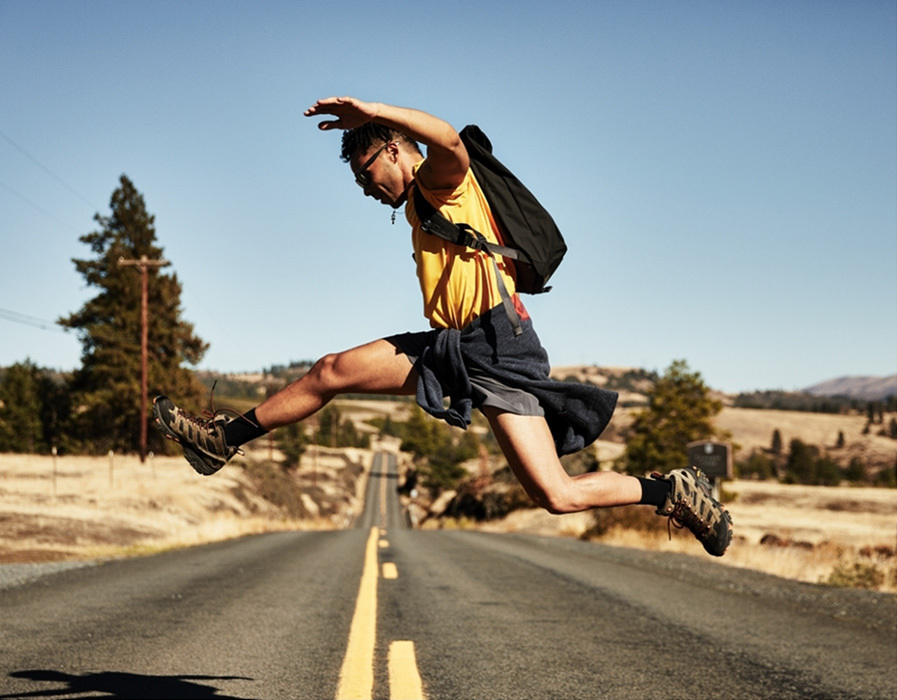 Last Updated on
As all of us know, a journey of a thousand miles begins with a single step. Which makes this first step a particularly significant occasion. A joyful and hopeful beginning sets the spirit for the whole trip, just like your morning routine helps you get into the right mood for the day. But it is not only the first move you should pay attention to. A thousand miles is quite a long way, and that's why you need to know which terrain you will traverse. Asphalt or cobblestone, grasslands or mountains, beaten paths or untouched wilds – the options are galore. Luckily for all of us, there is someone who can help you get the right equipment that will serve you long and faithfully on your journey. "Treat your gear as a friend – and it will never betray you." There may be no such saying, but this is the right attitude. After all, you can only walk barefoot for so long. Merrell boots can become your trusty companions and carry you through those miles.
Alright, off with fancy words and nebulous descriptions, this article is about one footwear brand that Gritr Outdoors is happy to cooperate with. We are dedicated to bringing our customers only the highest-quality goods while keeping their options plenty. Merrell has millions of customers vouching for the brand's attention to detail and industrious work, so who are we to doubt the voice of the clients? You won't find fairer critics than those with a first-hand user experience. But don't take our word for it – you are more than welcome to form your own opinion. Gritr Outdoors has several dozens of various Merrell shoes and boots for all sorts of occasions. Mostly outdoor ones.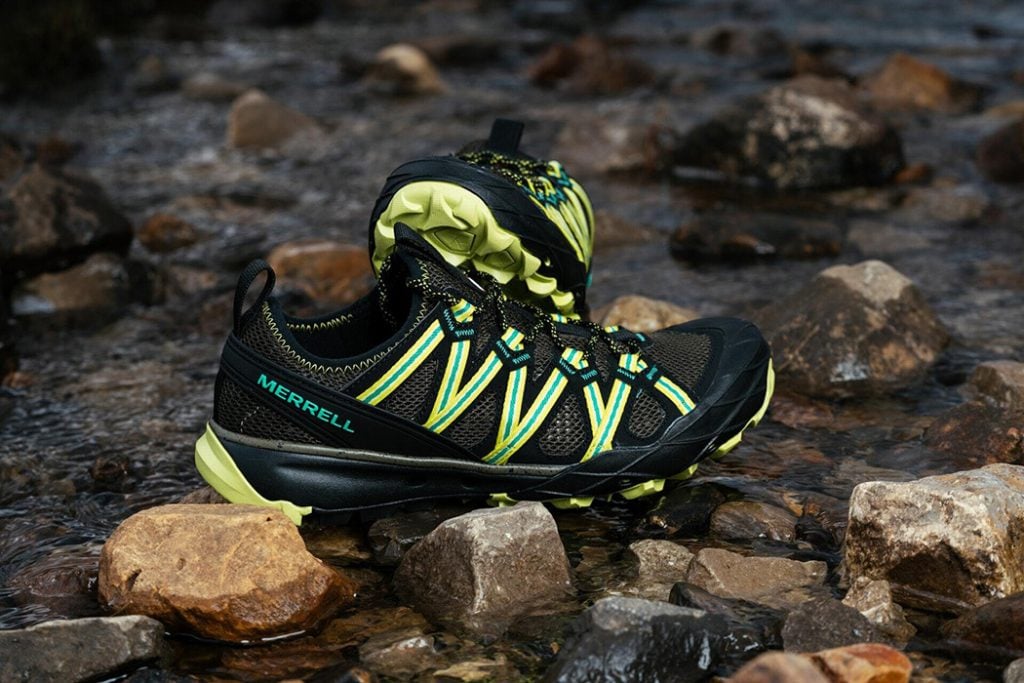 History
Before we get into details of Merrell footwear, let's pay our respects and say a few words about the brand's history. Merrell was founded in 1981 by two executives of the Rossignol ski company, Clark Matis and John Schweizer. The two decided to pair up with an experienced custom boot maker Randal Ivan Merrell, who crafted high-grade and pricey footwear. The initial goal was to design a pair of affordable yet durable high-performance boots. That goal was reached the following year and thus began mass production of the new boot line. The choice fell on Italian factories since Italy was a leading footwear exporter to the world market at the time. In 1983, the first batch of Merrell boots arrived in several hiking gear stores on the east coast. The obvious success encouraged the founders to carry on. Even though Randal Merrell sold his share of the company in 1986 and returned to making custom boots, the company carries his name to this very day.
When the company changed hands in 1987, the new owner, a Finnish sports equipment company Karhu, moved the production to Asia to lower retail prices. The sales never stopped growing and by 1988 reached the $4 million mark. In two years, Merrell became a global enterprise, with divisions in Canada, Scandinavia, and the UK and $10 million worth of year sales.
In 1997, the company was acquired by its current owner, Wolverine World Wide, a leading footwear corporation. Wolverine introduced several changes to already existing product lines that eventually, through some challenges and solutions, led to the launch of Merrell Jungle Moc – one of the brand's current signature products.
By 2010 Merrell boots were being sold in more than 151 countries, and the company had been dealing in apparel and accessories for three years already. Today, Merrell feels as good as ever. The company is dedicated to empowering all people to actively explore the world of the outdoors by equipping them with only the highest-grade footwear and apparel.
Now that the history part is over, let's take a look at what Merrell has to offer. Or, to be more precise, which of their products you can find on Gritr Outdoors.
Merrell Work Boots
Even though any job would be your pleasure with boots like these, work footwear is designed specifically to prevent injuries that can happen while you are on duty. Or protect your foot from a falling something, that can happen anywhere. But work boots should not only be durable and tough but also not hamper your movement. It's easy to put on a metallic shoe but not as easy to walk in it. Ok, putting it on would also be challenging, but the point is that robustness should go hand in hand with comfort. This combination is where Merell work boots excel. Many of them feature waterproof membrane or leather uppers that will keep moisture at bay. Almost all Merrel work boots are equipped with composite or alloy safety toe for either lightweight non-metallic or more robust metallic protection. These boots also have a Merrell air cushion installed in the heel for shock absorption and increased stability.
Merrell Tactical Boots
These boots won't help you come up with more intricate tactics or overarching strategies but can become reliable partners for any servicemen and women. You will have a hard time finding boots that will help you maintain your footing better than these guys. M Select or Quantum Grip rubber outsoles make retaining balance on slippery surfaces a cakewalk. Many Merrell boots utilize the same technologies, so be sure that your tactical boots will also have waterproof uppers, heel air cushions, and other useful features.
We do not have a complete collection of Merrell footwear on Gritr Outdoors, but it seems appropriate to describe some of the boot lines you can find on their own website. After all, Merrell became famous as a producer of hiking boots, and it would be a crime not to tell you anything about them.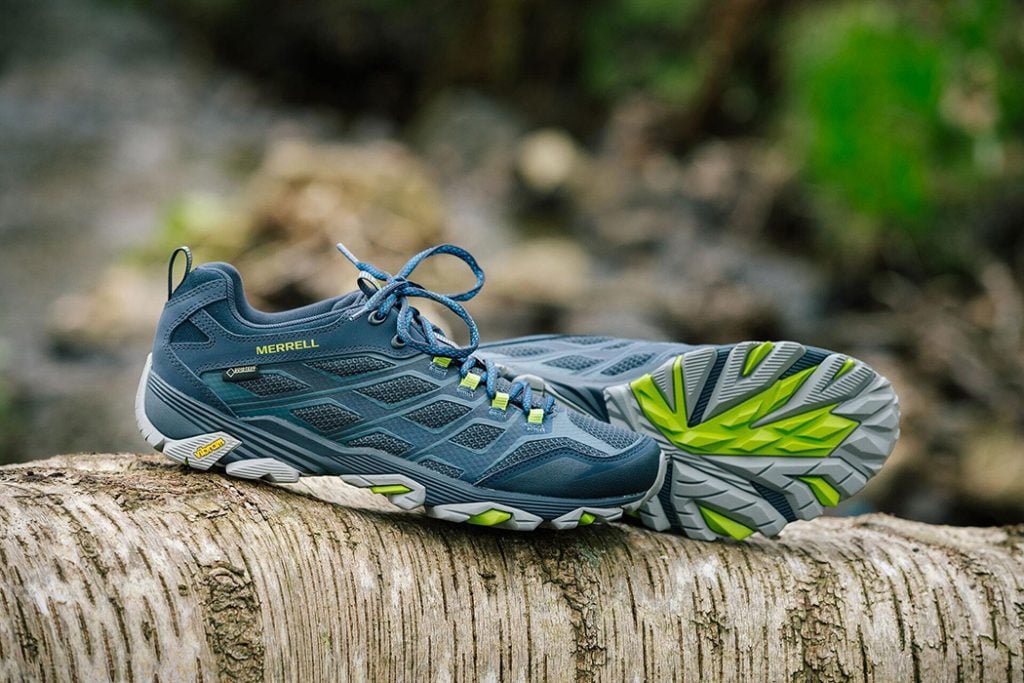 Merrell Hiking Boots
Decades of perfecting made Merrell hiking boots peerless leaders on the outdoor equipment market. A balanced ratio of support, comfort, and protection is the obvious advantage, and the variety of boots fit for different terrains only adds to the already impressive kit. Lightweight boots that will keep your movements agile and quick, heavy-duty hiking boots for ultimate protection and feet support – Merrell makes all kinds of trekking boots. They are all endowed with features essential for every hiker: strong traction, waterproofing, durability, ventilation, insulation (when needed). Merrell even produced sneaker-style hiking shoes, fit for lighter terrains and ankle-length hiking boots for avid mountaineers.
Merrell Water Shoes
If you want to keep your feet protected but have no desire to get your sneakers wet, Merrell Hydro Moc is the answer. These slip-ons are a perfect choice for days spent in and around water. With contoured arc support and articulated heel with strap for a secure fit, Hydro Moc won't make you walk on water but will definitely make your footing steadier.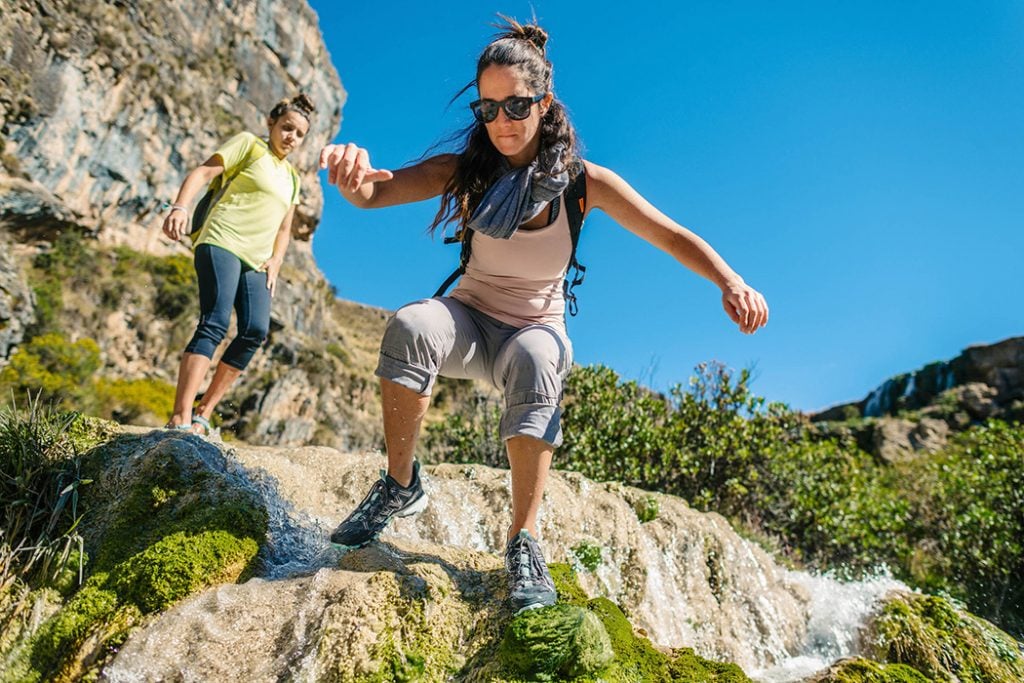 That is by no means an exhaustive list of Merrell's wonderful goods. There are also other types of boots, apparel, and accessories. If you didn't find something you were looking for on Gritr Outdoors, be sure to check again later. We constantly replenish our stock and add new products to our list.