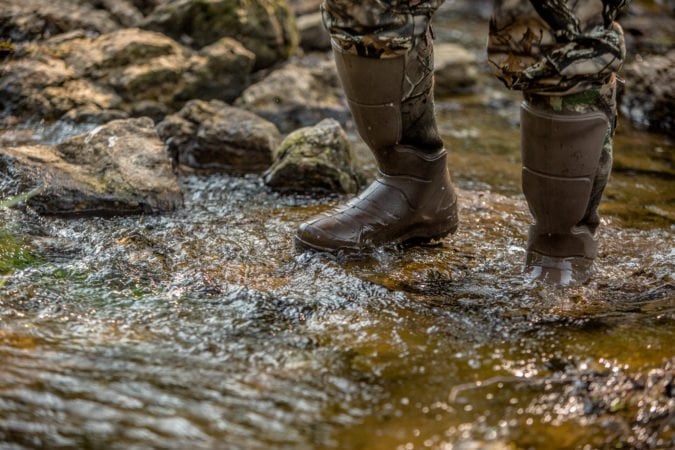 Last Updated on
Footwear is the critical point in your hunting outfit because it either makes or breaks your hunting trip. But with the availability of so many different hunting boot designs comes perplexity. How to choose hunting boots? What are the best hunting boots? All questions alike are great because they show a hunter's serious intentions. Well, in this article, we highlight what things need your attention when choosing hunting footwear that will work for you personally. Let's get started.
Boot Design
Most designs you're going to encounter fall into two broad categories.
Rubber boots are intended for use in sloppy conditions, such as marshes, swamps, and creeks because they are 100% watertight. For that reason, they make the best waterfowl footwear that will keep you dry for the whole trip. Rubber boots are also scent-free, meaning they don't absorb your odor and help you escape detection by sharp-nosed deer. So you can consider them for your early-season deer hunting as well.
The NOSHO Gusset rubber camo boots from DryShod are ideal for hunting in damp and cold environments. They are waterproof from top to bottom, lightweight, and feature neoprene booties that keep feet warm.
Field boots combine and balance different features that make them a much more versatile design that suits a range of hunting scenarios. They are made with either full-grain leather or synthetic materials like nylon, polyester, neoprene, and synthetic leather.
Natural leather boots are more durable and suit heavy-duty applications like traveling in rugged terrain. They also have a molding capability, shaping your feet over time and ensuring additional comfort. However, leather hunting boots tend to be heavier and take more time to break in than synthetic footwear.
Synthetic boots are cheaper but not necessarily less durable than their leather counterparts. Technological advancements have made leather-like durability a reality in synthetic boots, but be prepared to pay a higher price for such a performance. In general, synthetic hunting boots are intended for lighter-duty applications. They are also breathable, which makes them the best hunting boots for Arizona deserts and similar climates.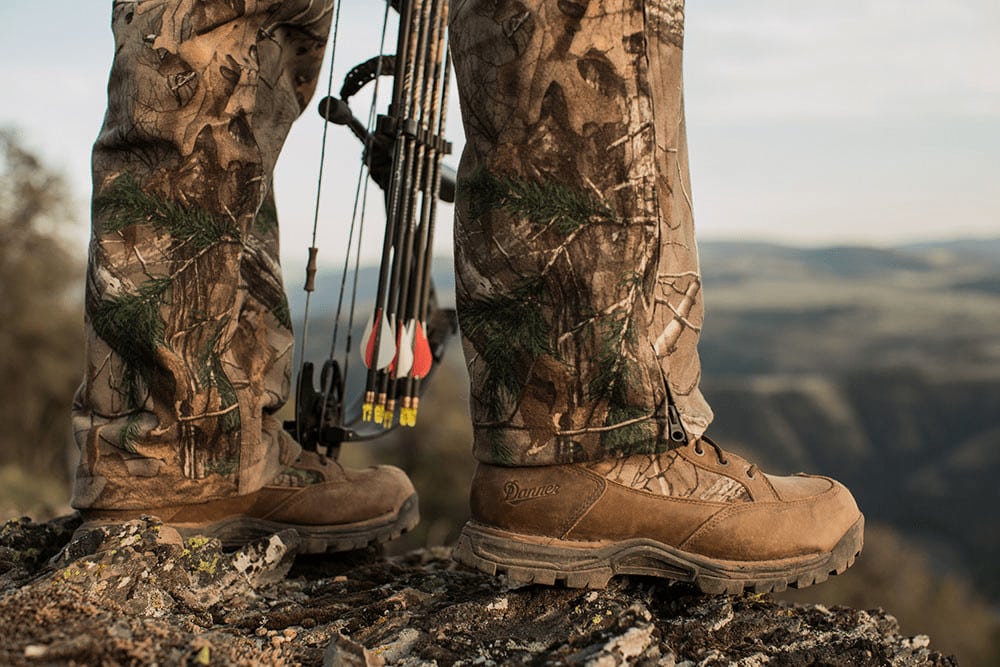 Stiffness
You should choose boot stiffness according to the geography of your hunting area. What works in one terrain fails in the other. Boots that are too stiff can cause foot strain and boots that lack stiffness can lead to a twisted ankle.
Let this straightforward logic guide your choice: more complex terrains require stiffer boots. If you're hunting sheep, deer, or elk in rugged terrain with shale rock and steep mountainsides, you need a pair of very supportive boots. In contrast, if your hunts mostly take place in the flat country, flexible boots make more sense.
Kenetrek makes one of the best backcountry hunting boots. The foundation of the whole company was the desire to build boots for brutal terrains. Mountain Extreme is Kenetrek's bread and butter. These full-grain leather boots employ a 7mm midsole for extra support and outsoles with deep relief for better traction.
Waterproofing and Breathability
Always having a pair of waterproof boots seems reasonable, right? Hunters often find themselves in damp environments, that's true, but do you really need that kind of protection? The thing is that while waterproof boots don't allow any water from the outside, they also prevent your sweat from escaping the inside. Things get even worse as the level of physical activity rises. Lack of breathability and constant friction lead to blisters.
Waterproof boots are great for specialized applications. For instance, 100% waterproof DRAKE Mudder 2.0 boots with a 16" neoprene upper are great for waterfowling.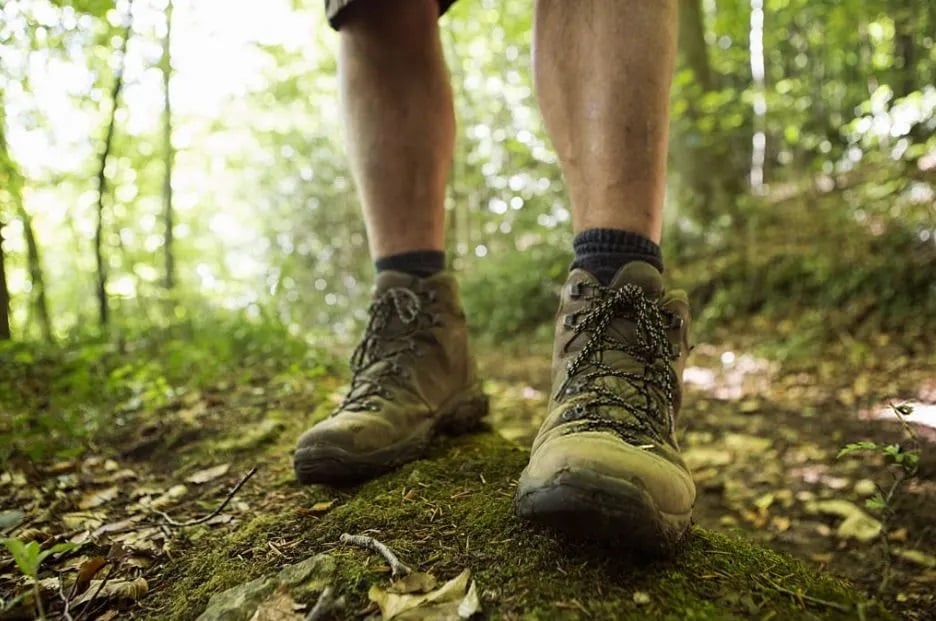 In most cases, however, you'll be fine with a pair of water-resistant boots that repel non-critical amounts of water. Also, pay attention to breathability, and get highly breathable boots for high-output hunts in warm weather conditions. For example, the Garmont Tactical T8 Bifida Wide are designed to be extremely durable, still allowing your feet to breathe.
Insulation
Insulation can be achieved with multiple means. The most obvious way to keep your feet warm in colder weather is to get boots with built-in insulation measured in grams.
0-200 grams – best boots for deer hunting in the early season or turkey hunting in spring.
400-800 grams – great for high-output hunts during the mid or late season.
1,000 grams and higher – suits ice-cold weather and low-activity hunting scenarios.
When choosing insulated boots, you should always account for the weather and level of physical activity and balance them. In most cases, little or no insulation works just fine. Highly-insulated hunting boots are only great for treestand deer bowhunting or hunting ducks sitting in the blind, that is when you can't make your toes warm by moving around.
If you have hunting boots with lighter insulation, you can also wear warm socks. Thus, you'll get lightweight boots that keep you warm in cold weather. You can't go wrong with wool or wool blend socks because they effectively insulate your feet even when wet. They also have great moisture-wicking properties.
Fit
Proper sizing is essential for ensuring comfort during your hunts. Choosing hunting boots by fit differs from choosing your regular footwear because of their specific application. You should always consider what socks you want to wear and pick hunting footwear based on your choice.
Always try on boots with socks that you're actually going to wear on hunting, not some random socks that you've been wearing when you entered the store. Also, it's better if you try on boots late in the day, when your feet are a bit swollen.
Boots should fit snug, not too tight to cut off blood circulation of your toes, not too loose that your feet slide forward. We recommend always using the same sock-boot system. With the availability of wool socks varying in thickness, you might be tempted to switch them with the temperature fluctuations. But don't fall for it because it'll disturb your comfort.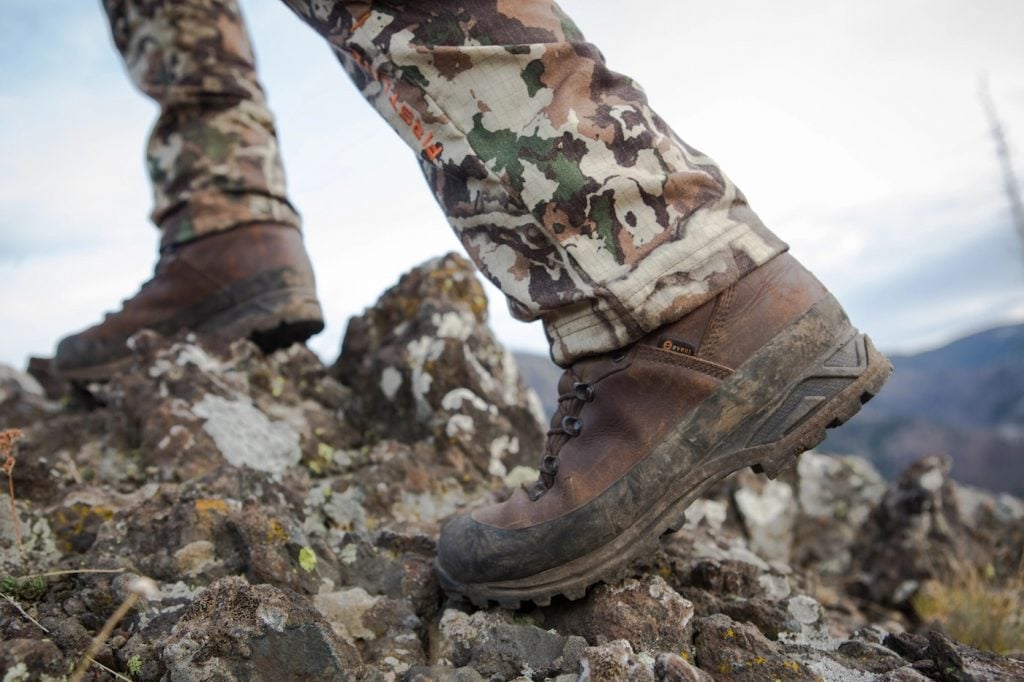 Breaking-In
All boots, especially leather ones, need some time to break in. So don't be hasty testing your right-out-of-the-box boots in the field. The time needed for them to break in depends on the boot design. Typically, stiff mountaineering boots for hunting require dozens of miles of moving around lightly dressed and then with your hunting gear on. After that, you'll get the most comfortable hunting boots that you can wear on actual hunts.
Final Words
Let's sum up and give some examples. The best all-around hunting boots are field boots because they combine various features. Rubber boots are best for damp environments and waterfowl hunting. Hunting antelope in a flat country requires flexible and breathable boots, whereas the best boots for hunting sheep in mountains are stiff and supportive. When hunting from the blind or treestand in cold conditions, highly-insulated boots will do the job. However, consider wearing a combo of low-insulation or no-insulation boots and wool socks for other scenarios.