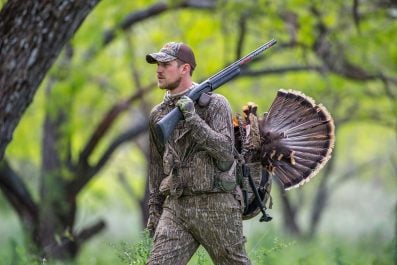 Last Updated on
On a spring 2016 Kansas turkey hunting trip, my husband Richard and I had planned to be in the field long hours and had to be mobile because of the vast area we were hunting. Following in behind him, he almost looked like a Sherpa. His silhouette was almost unrecognizable as his turkey vest was filled with all the usual hunting paraphernalia, several bagged decoys hung on his left shoulder and a turkey lounger chair hung on his right. Worse yet, he had to set most of it down just so he could use his binoculars to glass the fields.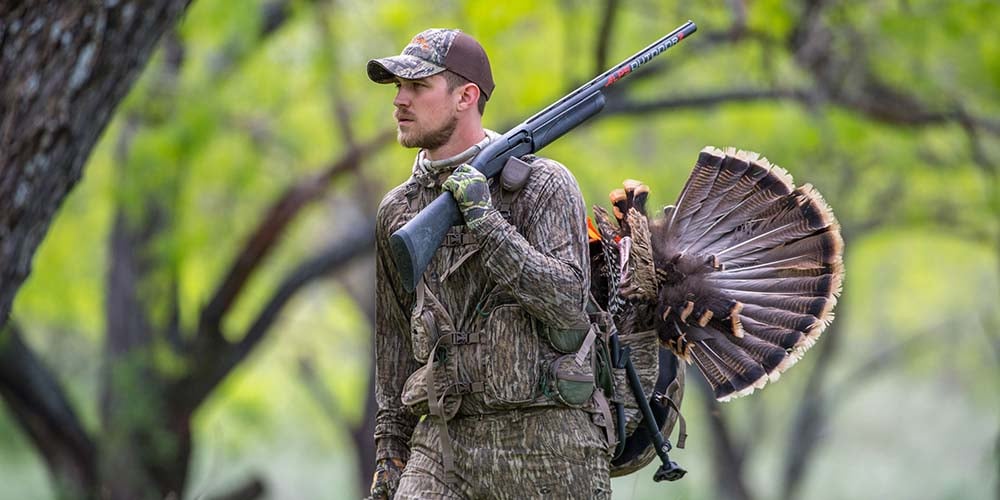 After scouting the area, we spotted several hens feeding with two toms in tow approximately 250 yards from us. We made a plan to quickly work our way to the area these birds were headed by navigating through a dried-up creek. As we approached an area that we felt would give us the best shot opportunity, we unloaded our gear from our turkey vests, set the decoys out, and set our chairs up. Since we did not have a tree line or a solid surface to lean against, I quickly regretted my decision to bring my turkey stool without a backrest. We were backed up to some shrubs and there was nothing solid to lean against. For the first 30 minutes, I didn't have issues with this predicament.
After an hour in this position, the birds were indeed working toward us, but they were taking their time. I started to fidget due to the fatigue I was feeling as a result of no back support to lean against. By the time the birds were in sight, I was very uncomfortable but still had to painfully sit through the time it took for the birds to come within shooting range. All I could do was hope the fatigue and my legs that were asleep would not affect my shot.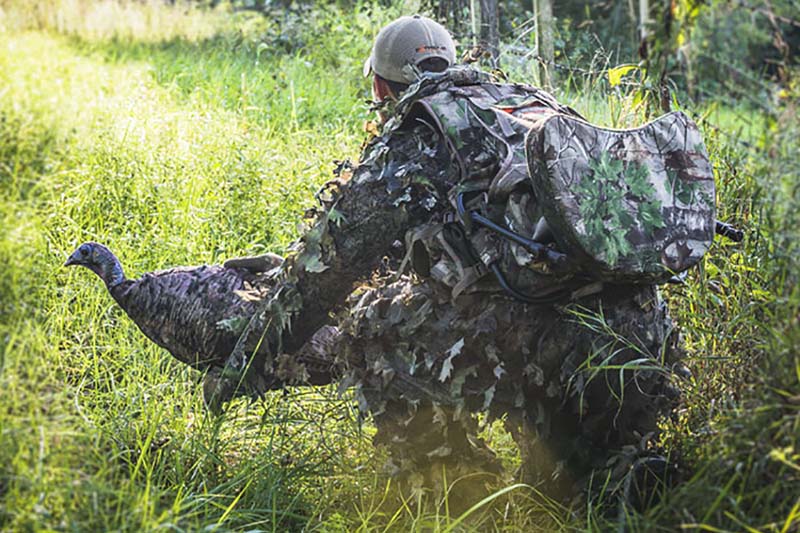 On our drive home from this hunt, we discussed ideas to streamline our turkey hunting gear. Richard had mentioned turkey vests with a backrest built in and how that would save us from having to carry stools or chairs in. However, the last product that we knew of similar to that, the company was no longer marketing that product. We found the solution while attending the NWTF Convention and Sport Show in Nashville, Tennessee last year. The Alps Outdoorz NWTF Grand Slam Turkey Vest quickly became a hot commodity on the expo floor, and the item was a sellout on its debut. We had to wait until later in the season, but finally we were able to acquire a vest in our chosen pattern for this year's hunt.
Alps NWTF Grand Slam Vest
As with any quality designed turkey vest, the Grand Slam offers ample pockets. The various pockets provide two slate call pockets, a striker pocket capable of holding three strikers, a locator call pocket, a removable diaphragm call pouch, and a silent protective box call pocket with a chalk storage pouch. There is also a phone see-through protective sleeve style pocket that allows the use of touch screens without removing them from the sleeve. Five shell loops provide easy ammo storage, and the two mesh zipper pockets are perfect for license, permits, and tags. The vest offers two water bottle pockets, one on each side, a large game bag on the back with quick-release clips for easy loading. Finally, there are side compression straps that will allow the user to customize for a perfect fit with and without a harvested bird. For those all day hunts, the vest is H2O bladder compatible.
What makes the Alps Outdoorz NWTF Grand Slam Turkey Vest so unique is the "sit anywhere kickstand frame." The lightweight adjustable legs are fast locking with large swivel feet to deter the kickstand-style legs from sinking into soft ground or sandy soils. The frame is virtually unnoticeable while wearing the vest. It does not interfere with a shotgun worn on either shoulder or the game harvest / turkey decoy pouch on the back of the vest. The fold-away 2.5" cushion seat and frame are both easy to engage while wearing the vest, even in a rushed situation. The vest cushion and kickstand frame give hunters a great advantage point for harvesting birds.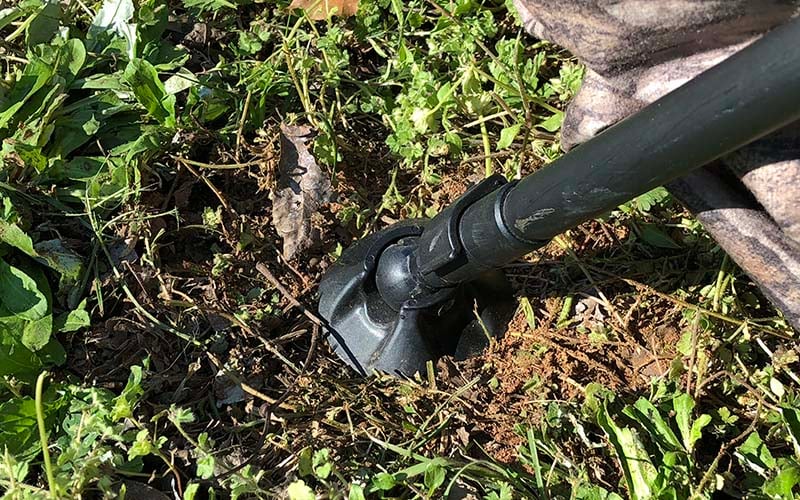 The Grand Slam turkey vest weighs just under seven pounds with the frame in. However, since we don't have to carry a turkey lounger, turkey stool, or other metal frame seat, the added weight of the vest is acceptable. As an added bonus, the vest distributes the weight more evenly, and the kickstand frame is removable when hunting in an area where it is not needed. Without the kickstand, the vest weighs an average of four pounds, six ounces. Available in two colors, Mossy Oak Obsession and Mossy Oak Bottom, the standard size fits waists up to a 48" and the extra large size fits waists from 48" to 58".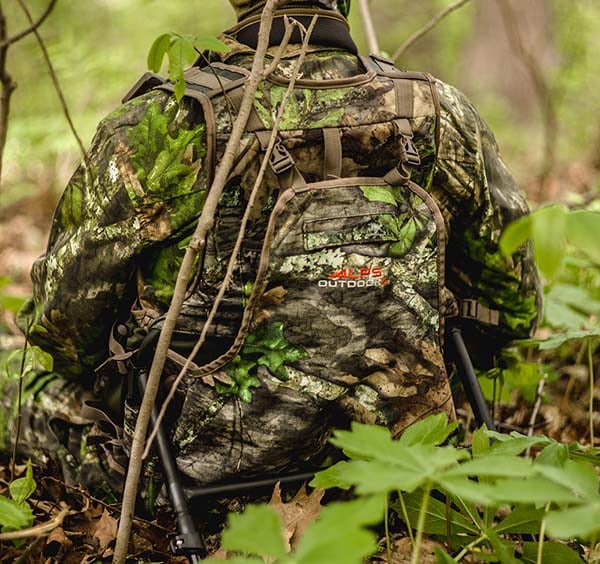 Final Thoughts
The Alps Outdoorz NWTF Grand Slam Turkey Vest is ingenious in giving hunters the option of having a perfect seat when the option is needed and not taking away any of the storage they are accustom to, including a game harvest bag. My experience from the 2016 season intrigued me to give the Grand Slam a chance, and we now leave our turkey hunting loungers behind. This gives us more mobility and a free shoulder, and we like having several gear pockets and large game bag for additional storage.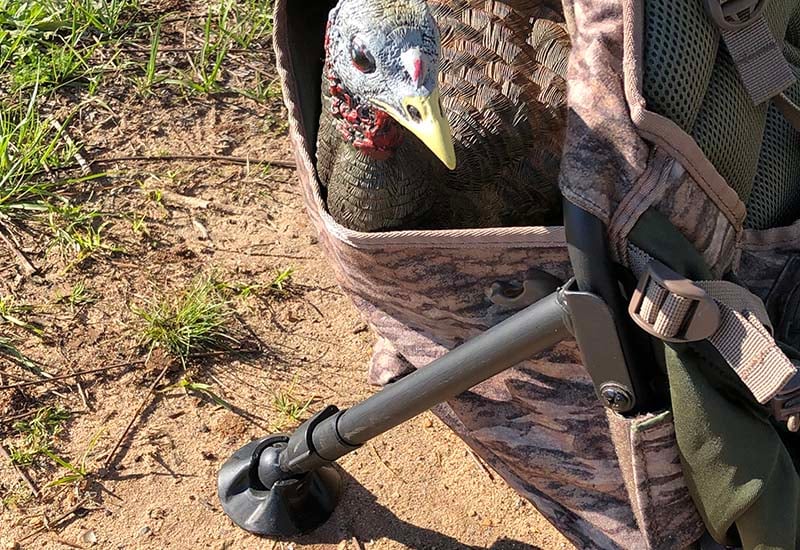 As an NWTF licensed product, a portion of the proceeds from each purchase benefits the National Wild Turkey Federation's Save the Habitat, Save the Hunt initiative.
Endorsement Disclosure: Per the guidelines of the Federal Trade Commission, the products reviewed or mentioned within this writing is an endorsement and the writer may or may not have been compensated by "in-kind" payment to review the product. Logos and photos are the sole property of the rightful owner and used within this writing solely for the promotion of products herein as requested by the product's manufacturer or in efforts of product exposure for the manufacturers.