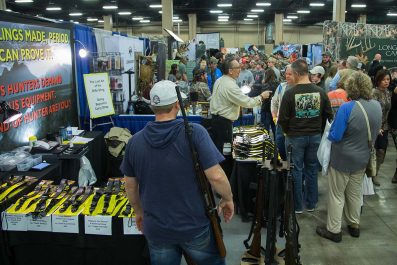 Continued from Best of NWTF 2018 – Part 1.
Houndstooth Game Calls Morning Striker Owl Call
A locator call can be critical to finding that hot spot in a particular area in the early morning. There are a ton of them on the market, but not all of them are user-friendly. I know this for a fact, because I have a drawer full of the ones I cannot use. The Houndstooth Game Calls Morning Striker Owl Call is very user-friendly, and after a few blows on the call and a few hand adjustment and lip adjustments, I was getting the hang of it. I was able to get a variety of owl vocalizations to emit from the call with very little air. The walnut call was easy to hold and easy to cup hands at the end of the call for a variety of sounds and volume.
Federal Premium Ammunition Heavyweight TSS and 3rd Degree
I hold true to the adage "if it works, don't fix it," and that held true until last season when I had a critical issue with my preferred brand and type turkey load I was using, resulting in making me "gun shy" to continue using them. It is time for a change and I have heard a lot of good reviews on the blended shot, and some excellent reviews about TSS shot. I was excited to find that Federal Premium Ammunition is offering both for 2018. Both turkey loads incorporate the new FLIGHTCONTROL FLEX™ Wad control; the system opens from the rear separating the wad from the shot thus allowing a more controlled release. The 3rd Degree blends #5 copper-plated lead, #6 FLIGHTSTOPPER® lead, and #7 HEAVYWEIGHT® TSS shot in one shell with the FLIGHTCONTROL FLEX™ Wad that works with all standard and ported turkey chokes. This shot combination allows for a good pattern at variable distances per the flight and weight of the shot. The 3rd Degree is available in 3 and 3.5 inches for 12-gauge, and 3 inches for 20-gauge.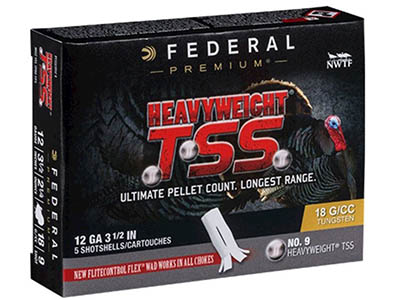 We hunt a lot of long-range situations such as cow pastures in the south and in the Midwest. As we hunt the edge of agricultural fields, we often need the added advantage of having the confidence in you long range turkey load. The HEAVYWEIGHT® TSS is 18 grams/cc density of Tungsten Super Shot pellets that pairs with the FLIGHTCONTROL FLEX™ Wad giving this shot superior long-range effectiveness. The HEAVYWEIGHT® TSS is available in 3 and 3.5 inches for 12-gauge, and 3 inches for 20-gauge.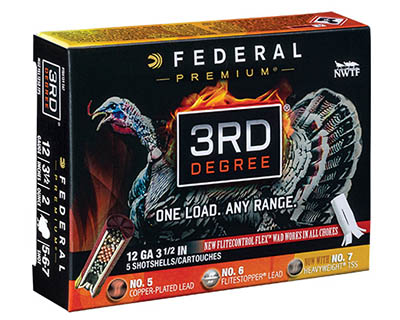 TruGlo Hip Shot Adaptive Shooting Rest
The TruGlo Hip Shot Adaptive Shooting Rest is a compact, telescoping design that can save a turkey hunters arms in the right situation and assist in placing the perfect shot. Although it was not specifically advertised as a turkey shotgun shooting rest, I can easily see how it can come in handy. The shooting rest is lightweight and foldable that adjusts from 20" to 29". It can be used to shoot from a standing, sitting, kneeling, or prone position and is great for tree stands and ground blinds. The TruGlo Hip Shot can be folded down to carry on a belt, a backpack, or a turkey vest.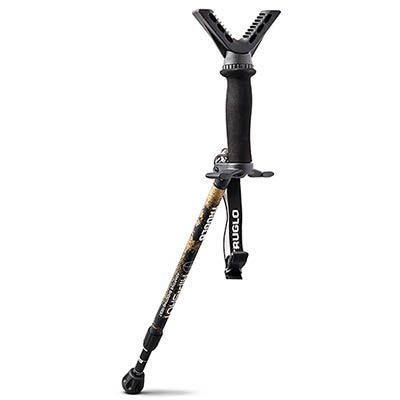 Strutt'N 360 XDR
The Strutt'N 360 XDR™ was getting a lot of attention at the expo as the displayed DSD full strut decoy turned methodically, but yet so slowly as if showing off to imaginary hens. The Strutt'N 360 XDR is a small packable unit the comes with a transmitter for controlling from where you sit waiting to take the shot. The patented unit is built with high torque and is completely watertight, and it includes a decoy post that can be used with a variety of decoy brands. Unlike other similar motion devices, you do not need to customize a decoy for specific use with this unit making the decoy unusable in any other situation. The slow and deliberate movement is lifelike and will surely arouse the attention of boss toms from a distance. The unit runs off six AA batteries that will easily last the entire season and more. The unit is designed for you to use your favorite decoy without modifying it by using the decoy post provided. Always check the regulations in the state you will be hunting to see if motion decoys are legal.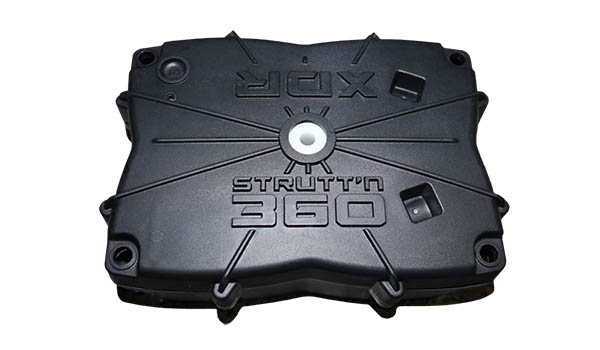 Alps Outdoorz NWTF Deception Blind
The Alps Outdoorz NWTF Deception Blind in the first of its kind. A lightweight mobile aluminum hub-style half height blind that is easy to put up and take down quickly if you need to cut the distance between you and a bird. The blind makes it possible to use your turkey lounger, recliner style turkey vest, or any low-profiles style chair. The Silent-Trac window system offers easy-slide windows for an adjustable window height so you can get the perfect height even with a shooting stick. The window offers the hunter a 270° view. This blind will come in handy to conceal movement on those hunts where you have to wait out a bird. The blind measures 46 inches in height with a 48"x44" dimension, allowing a shooting width of 56". The blind weighs 8 pounds. The Alps Outdoorz NWTF Deception blind comes with a convenient zipper carry bag with a shoulder strap. It is available in Mossy Oak Obsession.
Tenzing TZ TR18 Turkey Vest
The Tenzing TZ TR18 is not the first turkey vest of its kind to turkey hunters, but it is the first that is lightweight, weighing 5.25 pounds. The TZ TR18 offers a patented aluminum spring-loaded leg system that will convert the turkey vest into a hunting recliner with a dual-layer padded fold-out seat. The pocket system offers one large main pouch on the rear and strategically placed accessory pockets for calls, shells, gloves, facemask, strikers, decoys, and other important turkey hunting gear. There are several zippered interior pockets, and two exterior slate call pockets hold two slates each. The vest even offers two hand-warmer pockets to keep your hands warm on those cooler mornings. The spring loaded legs stow with small hooks until needed and with a quick and simple pull of the legs, a hunter is ready to set up where needed. No need to worry about a tree for a backrest, giving the hunter the advantage of setting up in the best possible place for the shot. High-performance air mesh back panel and extra padded shoulder straps keep the vest comfortable for extended wear. It is available in Realtree Edge and Mossy Oak Obsession.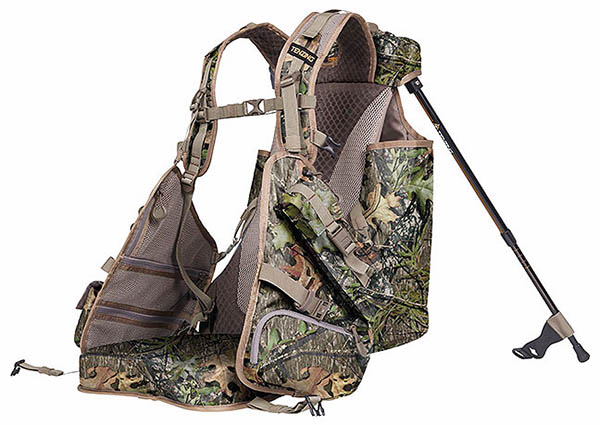 With all the items checked off of my new product list, I am excited about taking these twelve items, and a few others, to the woods with me for the first time this spring on my turkey hunts in Alabama, Tennessee, Missouri, Kansas, and Nebraska. I will make sure to share with you how well these products performed in the field, what I thought about them, and how successful the products were on my hunts.