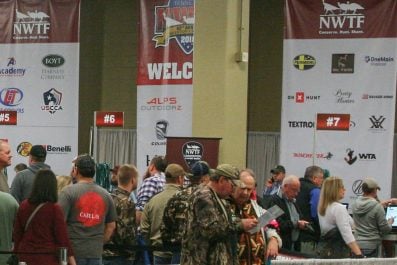 Innovative Turkey Hunting Gear from the 42nd NWTF Convention & Sport Show.
As with every year since its beginning, turkey hunters from all over converge upon the largest turkey hunting expo in the United States, and for a good reason. All of the turkey hunting gear favorites, including the newest turkey hunting gear in the industry, is on display. Every year I go with a laundry list of items I need to replace or replenish, items I want to try, and new items I have seen advertised. This year at the 42nd Annual NWTF Convention and Sport Show was no different. Here are the twelve items that I will be taking to the field with me this spring.
TruGlo F.A.S.T.™ Universal Shotgun Sights
The TruGlo F.A.S.T.™ shotgun sight has a ramp-style rear sight resulting in fast and easy sight alignment with the .060" diameter front fiber. The sights have adjustable windage and elevation and fit most 12 and 20-gauge ventilated rib shotgun barrels. The TruGlo F.A.S.T. universal shotgun sight is perfect for turkey hunting allowing a hunter quick, easy alignment for that perfect lethal shot.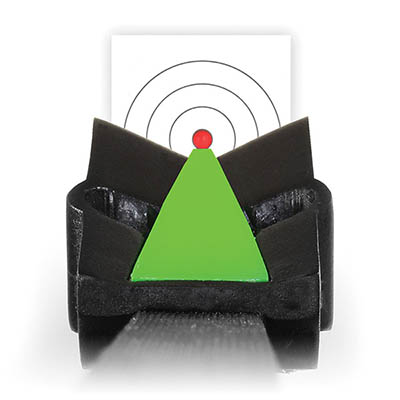 Jekyll & Hyde Turkey Decoy by GHG Decoy Systems/Avery Outdoors
The Jekyll & Hyde Turkey Decoy is sure to get the attention of turkey; it made me stop and take a second look. The flexible EVA constructed decoy is placed on a motion stake allowing the decoy to swivel. The decoy combines an aggressive red head on one side and a passive blue head on the other. The decoy is available in three species, Eastern, Rio, and Merriam's turkey, giving hunters the option to choose the species they are hunting. The decoy includes a fabric fantail but a real tail can be used. The Jekyll & Hyde decoy comes with a convenient carry bag.
Primos SurroundView™ 360° Blind
If you have picked up a magazine, scanned social media, or read any of the outdoor industry wire services, you have more than likely heard and seen the Primos Double Bull SurroundView™ 360°. This blind has received more attention in the Bowhunting and hunting world than any other product since its release at ATA in January. The one-way see-through walls allow the hunter inside the blind to have an unobstructed 180° view of the surroundings. All four walls of the blind are one-way see through with one being a moveable blackout wall for a customized back wall. There are five shoot-through ports and silent slide closures. The exterior material it constructed of the legendary Double Bull durable material in TRUTH Camo that works in all terrain. The blind is a full size 60"x60"x70" diameter and weighs 23 pounds packed in the convenient storage bag.

LaCrosse Venom Snake Boot
I start my season early in the southern region where poisonous snakes are abundant. I wear snake boots through August in the south to hunt turkey and hog; it just comes with the territory. Finding a non-insulated snake boot that gives you peace of mind while you are wearing them is extremely important, especially during those dark mornings walking through planted pines or in swamp bottoms to set up on a bird you roosted the night before.
LaCrosse Venom snake boots offer superior full-grain leather and 1000 Denier nylon 18" full-length protection of the lower leg, ankle, and foot. The flexible snake protection fabric that is placed between the interior lining and exterior of the boot is lightweight. The most convenient feature is a waterproof side zipper incorporated with full lace-up eyelets on the front of the boot, allowing you to get the perfect fit regardless if you are tucking one layer in or, for colder mornings, several layers with thick socks. The outsole is low-lugged for quiet stalking. Available in Realtree APG and is available in a men's size 5 through 14, which gives women and youth sizing options.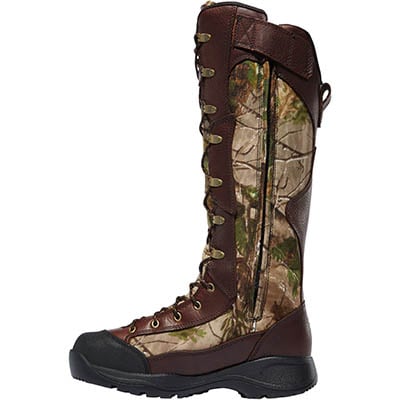 MOJO Scoot'N Shoot
The MOJO Scoot'N Shoot is a popular reaping/fanning decoy that is built to be mobile with a built-in handle and ground stake. The decoy has a realistic silk tail that is removable and attaches easily to a hub that offers realistic movement. The foldable wings have a hunter orange detachable safety flag on both wings. The decoy is easy to stow in the turkey pocket of your turkey vest or to hand carry when you are chasing that trophy bird. MOJO warns: "This decoy makes the hunter look like a long beard, boss gobbler. Do NOT use on public land, leases, or anywhere other hunters might be present and could mistake you for a real turkey! Use only in very controlled hunting areas."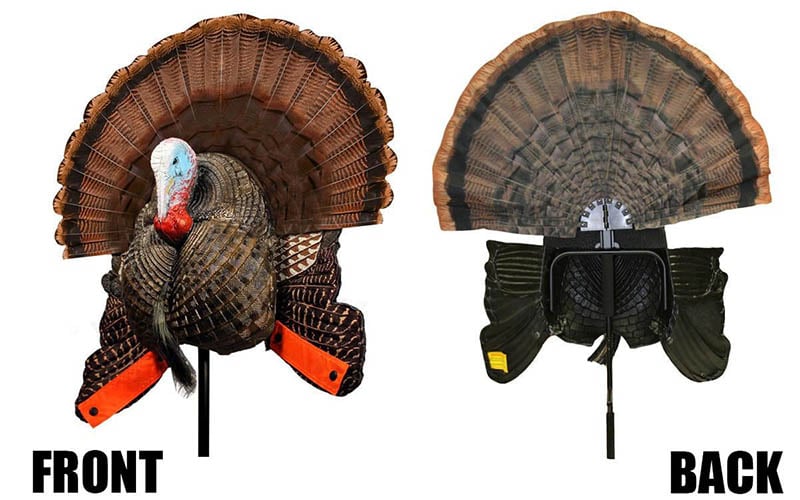 Houndstooth Game Calls Dixie Hen
A skilled turkey hunter knows the importance of quality calls, and eventually, every turkey hunter ends up with a vest full of their favorite ones. I have never had a lot of luck running a glass call until I picked up the Houndstooth Game Calls Dixie Hen. This crystal over glass call in a laminated walnut and cherry pot was not only easy to use, but the yelping and cutting that came out of this call with the diamond wood striker would be what humans would call "solid gold." The resonation was perfect every time regardless if the striker touched the crystal a few times or a whole series of yelps and cuts.