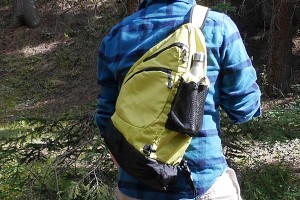 By David Link
For over 30 years, Ameribag has designed innovative backpacks built to alleviate stress on the back, neck and shoulders. Today we look at one of their newest models for 2017, the Ameribag Citron Tech Bag.

Basics
It's no secret that a fully loaded backpack can take quite the toll on your shoulders and back. If you're active in the outdoors or around the city, it's common to play a balancing act of how much gear do I need vs. how much I can do without. While Ameribag's newest outdoor-focused pack won't help you decide what to pack, it will help you carry that load in a healthier way. That's because Ameribag's Healthy Back Bag line was built to redistribute the pack's center of gravity, alleviating stress on your neck, shoulders and back. This is most evident in the line's signature one strap instead of two strap configuration. The Ameribag is essentially an innovative combination of a messenger bag (one strap) and an outdoor day pack (two strap). The one cross-body strap is a very agile design that still allows you to carry a good amount of gear wherever you go. The bonus you get in the outdoor-specialized Tech Bag is an optional clip-in waist strap that provides more stability. Remarkably this allows you to wear the Ameribag Tech Bag four different ways. Let's take a closer look at the Ameribag Tech Bag.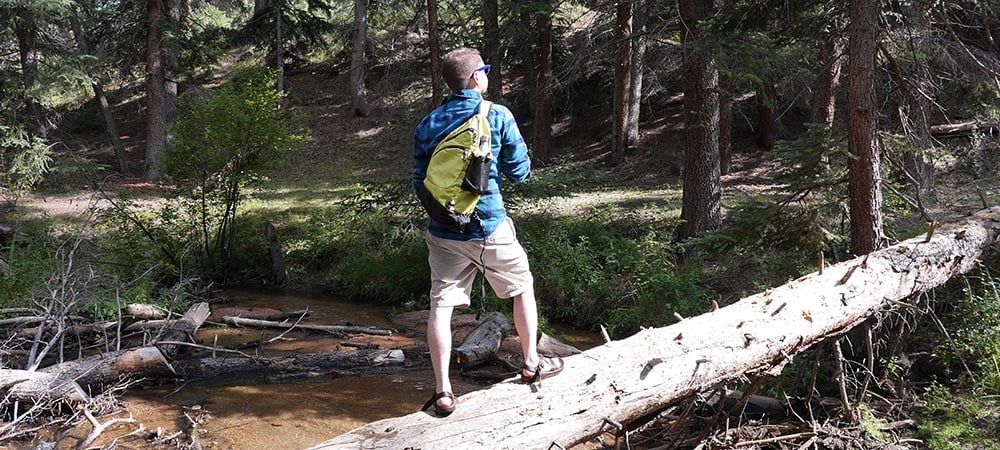 Features
The Tech Bag has five external pockets: one small wallet or phone pouch, two medium sized pouches on either side of the bag, one large internal compartment, and one bottom shoe or wet gear pouch. There is also an external water bottle pouch with an adjustable cord to keep the bottle in place. Inside the main compartment there are four sleeves to tuck gear away as well as two pen sleeves, a key ring lanyard, and one internal zip pocket. There is also a good amount of space inside the internal compartment for a jackets, gloves and other larger gear. As its name suggests, this particular model comes in a citron or lime green color. It is also available in a darker indigo color. Both colors have a faint swirl pattern showcased throughout the pack.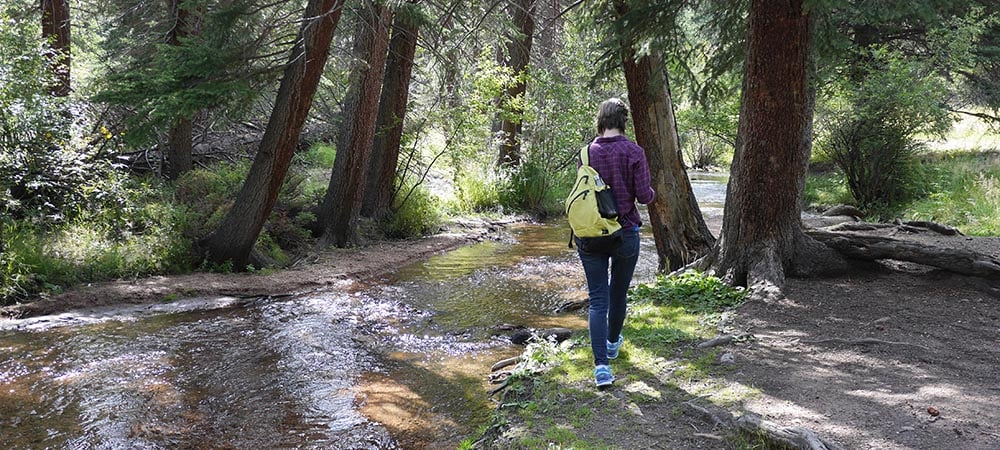 Specs
Material:

Lightweight, quick-drying nylon.

Style:

Ergonomic, form fitting backpack, designed for minimal impact on your back.

Pockets:

Multi-pocketed interior with wet gear or shoe section at the bottom.

Straps:

Main cross body or shoulder carrying strap with additional waist strap for support.

Weather Resistant:

Sheds water but isn't completely waterproof.

Dimensions:

19″x 12.5″ x 7″
Testing
The real strength of the Ameribag Outdoor Collection, the Tech Bag included, is its flexibility to handle both casual outdoor hikes and adventures into the city or around town. This is truly a grab and go pack with a moderate amount of cargo space. Chances are you've never worn a backpack quite like this, and it's likely to get some attention from those still using boring, clunky backpacks. I tested the Ameribag Tech Bag on several short hikes and a few treks around town. Even loaded up with a moderate amount of gear, the main carrying strap is extremely comfortable, and sliding the pack on and off is a breeze. Of course the design doesn't make this a "fatigue-less" pack, and weighing it down with a lot of gear will still result in some fatigue. This said the design really does work, and overall I felt less shoulder and neck fatigue after a hike.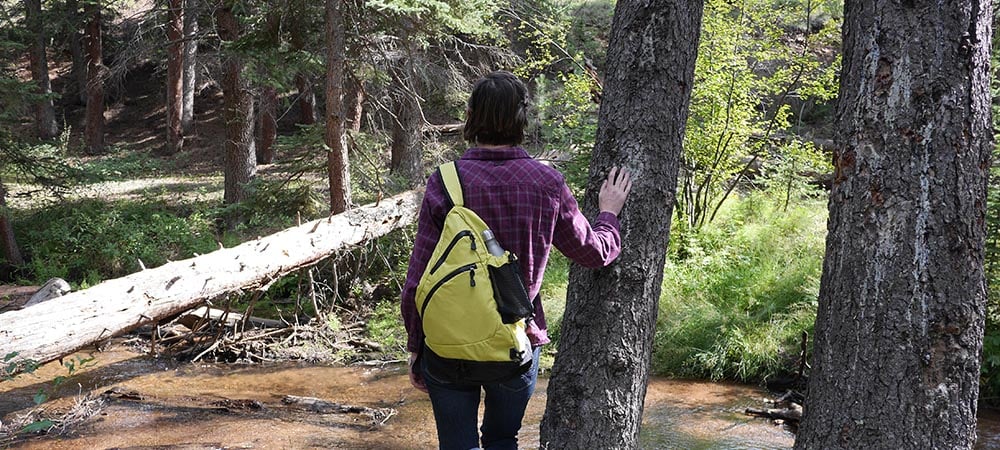 Determination
Simply put, the Ameribag Tech Bag is a unique bag that's well worth adding to your collection. It makes a great gift for those that are on the go often, and I could see it fitting perfectly into the day to day life of someone who rides transit in and out of the city. An obvious strength of this bag comes in the single strap design, and it truly is enjoyable to wear.
Now I do want to make one thing clear that may be a little confusing given this is called a "tech bag." This is not a laptop bag, and although you could squeeze a smaller laptop in with the rest of your gear, it doesn't sport a dedicated, padded laptop pouch. I think it would be cool to see Ameribag take on a dedicated laptop bag, but given their signature cross-body carrying scheme, there would be some design issues to overcome. For now this bag is better suited for devices like iPads and tablets, smartphones, headphones and all their related accessories. You could also use it as a lighter school bag zipping from class to class if needed. The bottom wet gear or shoe pouch makes this an ideal minimalist gym bag as well.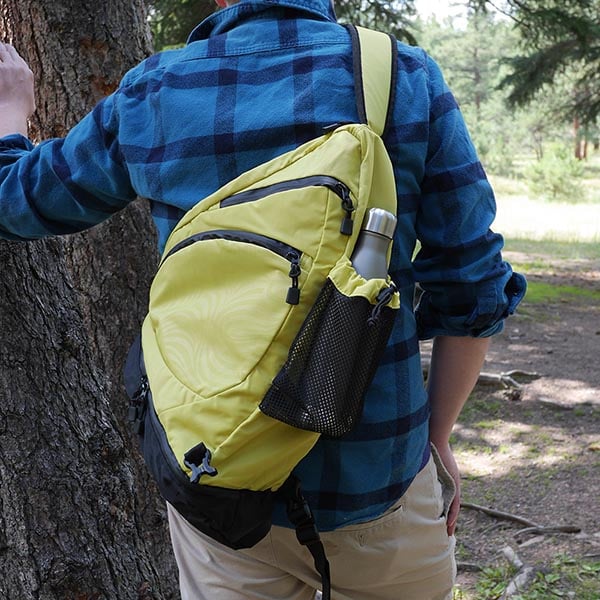 For outdoor uses, the Tech Bag is a light-duty pack or a nice asset to your camping setup. You can keep your electronic and personal gear in it and separate from other bags that may get dirty in the course of a camping trip. As you would expect, this is not a backpacking pack, nor is it suitable for mult-day trips. It really is the definition of a day pack. I think the added waist strap for stability is a nice feature for a long hike as well, but you probably won't find yourself using it casually walking around town. At $85 MSRP, it's right in line with what a quality backpack its size typically costs. In addition, there are plenty of other models available, especially fashionable leather and small-sized Healthy Back Bags for women.