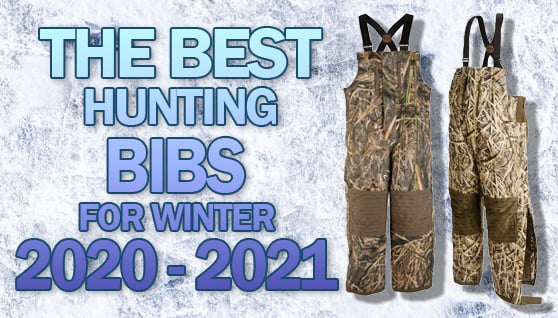 Mother Nature's winter is always beautiful. Enjoying that view, however, becomes challenging if you're not dressed for the weather.
No matter which type of hunting is your favorite, one thing remains in common: having the right hunting apparel makes a big difference in hunting experience and performance, as there is nothing worse than to be freezing to death at your favorite hunting spot.
Wearing the right hunting apparel during the cold season will keep you comfortable longer, which increases your chance of success. 
In this article, we're going to cover the top points you need to know about the best hunting bibs, including what features make a good hunting bib, and offer you some options for an upcoming season.
WHAT MAKES A GOOD HUNTING BIB?
When we are talking about hunting bibs for WINTER, there are some specific features that a good hunting bib should have. The features outlined below are the most important ones for WINTER hunting bib:
Water-resistance is the key point when it comes to keeping your legs safe while hunting in winter. That is why, the majority of hunting bibs are made of high-quality materials that wick away moisture, never allowing water to seep in. Otherwise, your legs will turn into icicles. No one would want that.
Multiple zippers, including leg zippers
The bibs also cover your chest, keeping your torso free and clear from rain, dew, biting wind, and more. If you are getting too hot, no worries. Some bibs have front zippers, so you can use them to air yourself out and have some breathability.
Hunting bibs with full leg zippers give you a lot of flexibility. That means you can get boots through easily without taking them off.
So, if the bibs you want to buy have no zippers on the legs, please, just walk away. Because leg zippers make the life of a hunter a lot easier!
As far as we are talking about the winter season you want bibs that keep the cold out and remain breathable. So it's a must to look for INSULATED hunting bibs. Insulation allows for your own body heat to come back and warm your skin, which is an essential feature.
Shoulder straps + Adjustable waistband
Along with being able to move freely, adjustable suspenders help to keep the hunting bibs securely in place and keep them up where they should be. So you won't mess with it halfway through your hunt.
Cargo pockets, chest pockets, and back pockets
A bunch of zippers and pockets are necessary for storing all of your hunting essentials. They keep everything – phone, hunter ID and extra ammo – at hand, secure and dry. Some of the bibs also come with handwarmer pockets. Keep your hands warm and ready to curl around the trigger or to string back your bow.
TOP 3 WINTER HUNTING BIBS
SITKA Stratus Optifade Elevated II Bib
SITKA Stratus Optifade Elevated II Bib
This Stratus Bib responds to changing weather and equalizes your body temperature throughout the season. This has been achieved through the use of GORE WINDSTOPPER membrane placed between a silent micro-fleece shell and a micro-grid interior. Also, we cannot but notice that the Stratus Bib has clever design. What does it mean? Well, it features low-profile adjustable suspenders and silent snap cargo pockets, which allow easy access even from a seated position.
Key Features:
Low-Profile Adjustable Suspenders
Full-Length Side Zippers
Silent Snap Cargo Pockets
Durable Water Repellent Finish
BANDED Squaw Creek Insulated Bib
S.H.E.D.S (Super Hydrophobic Evaporative Development System) shell over 100 grams of PrimaLoft Silver insulation – that's what makes this Banded Squaw Creek Bib extremely warm and protective.
This bib has a real dream-team list of features. Remember we told you that a bib without leg zippers don't worth your attention. Well, this bib has FULL SIDE LEG ZIPPERS.
What is more, it has fleece-lined hand-warmer pockets on the chest that will keep your hands from freezing. Adjustable chest side zippers make access to your undergarments a lot easier. Articulated knees and a high back panel are just a few more features that make these bibs so special.
Key Features:
SHEDS waterproof breathable technology
100gram PrimaLoft Silver premium insulation
Zippered front provides easy access to undergarments
Zippered chest pocket
Fleece lined hand-warmer pockets
Full side leg zippers
Side zip chest adjustments for custom fit
Adjustable suspender and waist belt
The Drake LST Insulated Bib is loaded with features. This bib has fleece-lined hand warmer pockets positioned on the back side of the bib. Such pockets are always a warm and comfortable place to rest your hands. Featuring full-length zippers all the way down each side allows you to zip wet, muddy bibs completely off without having to remove your boots.
Key Features:
Reinforced knees and seat with laminated 300 denier fabric
180g polyester insulation
Taped seams
Magnattach pocket
Call separator
Against-the-body hand warmer pockets
Easy on/off side leg zippers
Zippered chest pocket
Zippered slash pockets
CONCLUSION
To ensure comfort during a cold hunting season give priority to the proper hunting bibs. They'll will make your hunting experience a pleasant one. Knowing what features and specs to pay attention to, you'll easily find a perfect winter hunting bib corresponding to your needs!
Also, you may search for other hunting bibs on our website HERE.