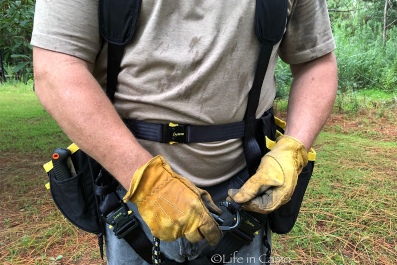 Fall is quickly approaching, and soon hunters will be in the woods placing stands in prime locations in pursuit of this seasons' "Hit List Bucks." As hunters, we all have the personal responsibility of wearing safety harnesses while climbing and hunting from elevated stands, and this includes during the initial placement of stands. Putting up and taking down ladder stands and lock-on stands comes with a higher risk of falls and precautions should always be taken for your personal safety and security.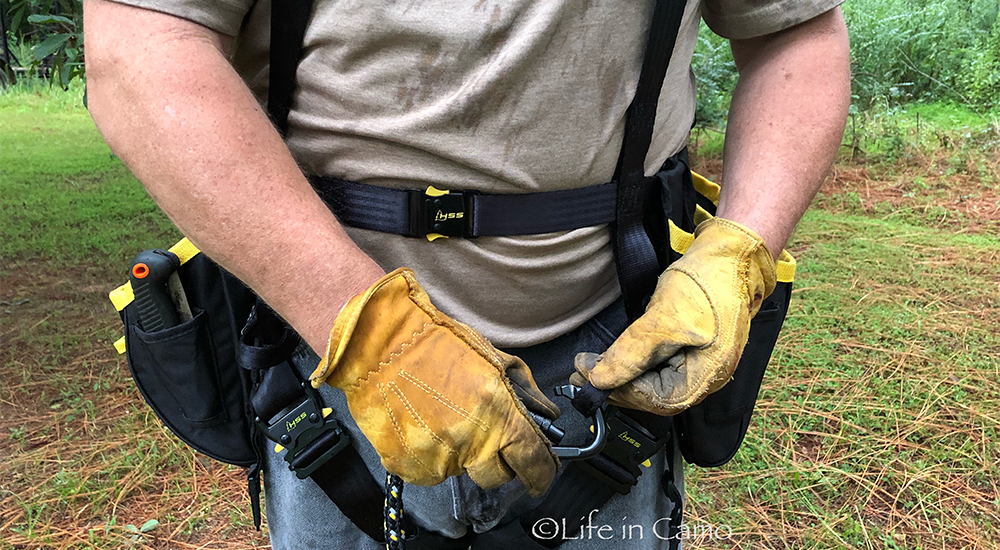 Simple Solution for Pre-Season Preparation
Many hunters use a simple lineman's belts while placing or removing tree stands while others use their actual safety harness they use for hunting. The problem with using your actual safety harness you use for hunting is that it exposes the harness to sweat, odors, wear and tear. There are also limited pockets for tools, ratchet straps, chains, or other necessities needed to secure the stand to the tree. Hunter Safety System, the premier safety harness manufacturer in the industry, offers a wide variety of styles for every age and size hunter. One of the newest safety harnesses they offer is the HSS Hanger Harness.
The Off-Season Safety Harness
The Hunter Safety System Hanger Harness is the first harness designed for off-season use for erecting ladder stands, hanging lock-on stands, and cutting shooting lanes from an elevated stand. The HSS Hanger Harness is constructed of sturdy, hardwearing fabric with easy adjustability at the torso and leg straps. The waist and leg belts connect and disconnect quickly with a squeeze on the buckle side tabs. The two waist pockets slide along the waist belt making the pockets easily assessable when needed and out of the way when not needed. The deep pockets are like wearing a tool belt with sectional dividers, and there are a few custom exterior pockets to store hand tools or ratchet clippers. The pockets are deep enough to secure steps, LIFELINES™, tools, ratchet straps, bow hangers, and other items you should need for hanging a stand and preparing it for the season.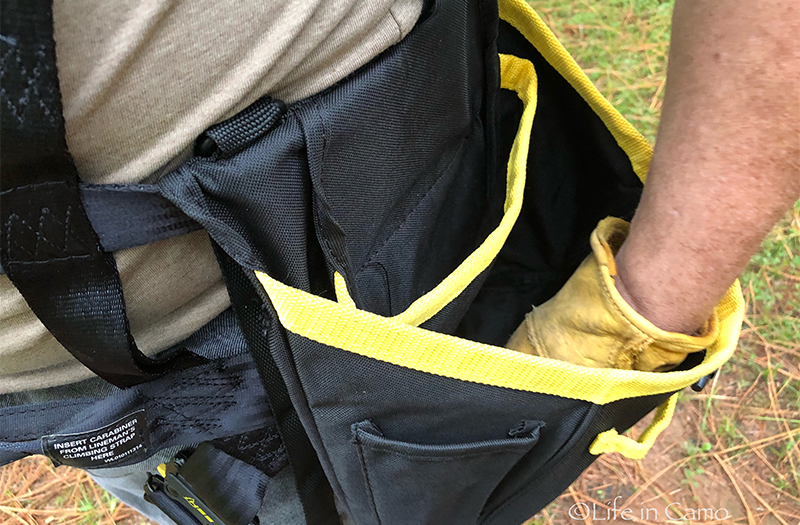 The professional grade lineman's belt that is included comes with a double carabiner rope-style climbing strap ensuring safety when climbing and descending trees. The HSS Hanger Harness weighs only 2.7 pounds, and the simple backpack-style torso straps make the harness breathable during the warmer days of pre-season preparation. It is also comfortable to wear over heavier garments during colder weather. The Hanger Harness is available in sizes to fit every stature from small/medium, large/extra-large, to 2X-large/3X-large. Included with the HSS Hanger Harness is an adjustable tree strap, a suspension relief/deer drag, an instructional DVD, and a Safe-Use instructions manual.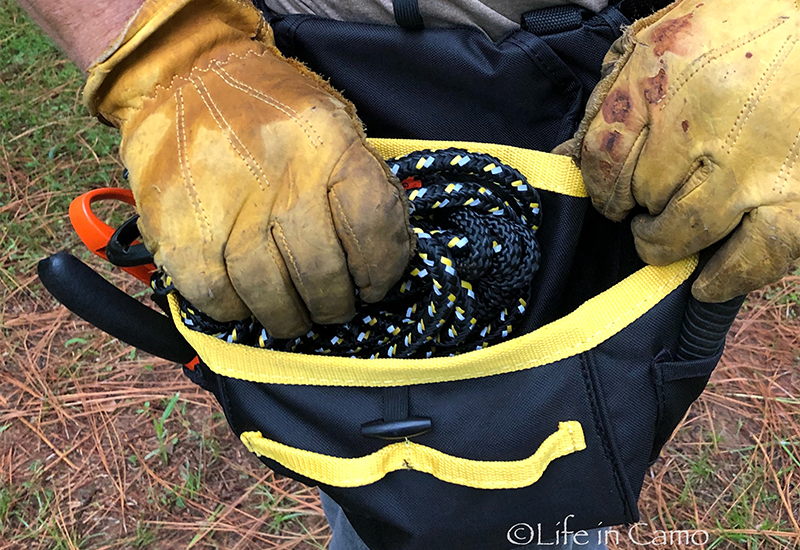 A Worry-Free Investment
The Hunter Safety System Hanger Harness is designed for working, not hunting, so you can wear it worry-free of accumulating scents when it comes to sweating, applying bug spray, or when using chainsaw fluids during pre-season preparation. This harness is also great for any time you are putting up or taking down ladder stands, LIFELINES™, or hanging or removing lock-on stands. As with all Hunter Safety System Harnesses, the investment is a small price to pay for the safety and security. Their products ensure that you will be returning to your family and friends at the end of a day in the woods.
Endorsement Disclosure: Per the guidelines of the Federal Trade Commission, the products reviewed or mentioned within this writing is an endorsement and the writer may or may not have been compensated monetarily or by "in-kind" payment to review the product. Logos and photos are the sole property of the rightful owner and used within this writing exclusively for the promotion of products herein as required by the product's manufacturer or in efforts of product exposure for the manufacturers and/or their agents and representatives.