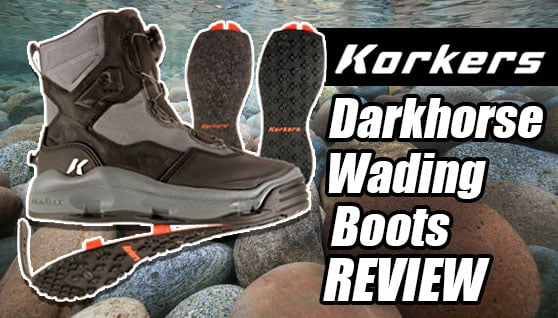 Last Updated on
What makes a great wading boot? Firstly – A great wading boot should provide solid ankle support;
Secondly – fit comfortably, and thirdly – it should ensure a firm grip on slick rocks in moving water;
Can all those aspects be brought together in one boot? Yes! Korkers Darkhorse is that boot.
By the way, who are Korkers?
Korkers designs and produces all-terrain footwear with an interchangeable sole system so anglers and outdoor enthusiasts can optimize their traction performance for whatever terrain and weather condition.
Korkers Darkhorse boot delivers comfort and support, traction, and durability. Moreover, it is fast-drying, lightweight, and versatile. Let's take a closer look at the Korkers Darkhorse boot.
Design
The Darkhorse boots' profile is aggressive and protects your ankles at all cost. There is the Achilles support in each boot, right above the heel where most wear on wading boots first occurs. Usually, anglers are starting to feel the holes forming in the boot liner and the Achilles support in the Darkhorse boot solves that issue.
One more feature worth noting is the sturdiness of the upper section of the boot. Upper sections are firm but move with your feet and ankles while the toe cap and base are rigid.
Construction
The construction of the boots is quite simple – the tough hydrophobic nylon uppers, with synthetic leather support sections. Such construction sheds water quickly and the Darkhorse boot dries rapidly and therefore resists mildew.
Also, molded Thermoplastic Polyurethane (TPU) toecap and sidewall rand to cut down on wear and abrasion. The TPU material is known for the durability of rigid plastic and the wear-resistance and flexibility of rubber.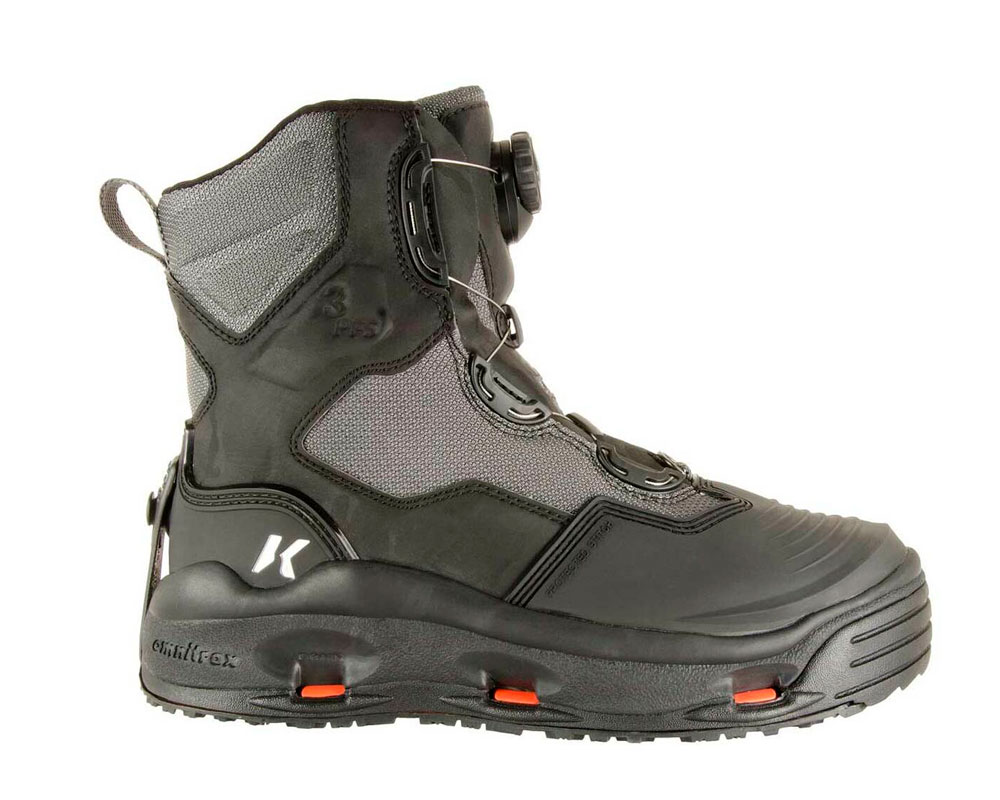 Lacing system
The Korkers Darkhorse boots fit comfortably over bulky wader boots without slipping. This snug fit comes as a result of the BOA lacing system. The system uses a steel cable looped through a series of laces and a knob-driven reel. To tighten, you simply need to turn the knob to wind the steel cable around the reel. To take off the boots, you need to pop the reel knob upward to let the reel spin freely and the cable to slide out. The stainless-steel cable is strong and rust-resistant. BOA lacing system makes the process of tightening the boots smooth and even.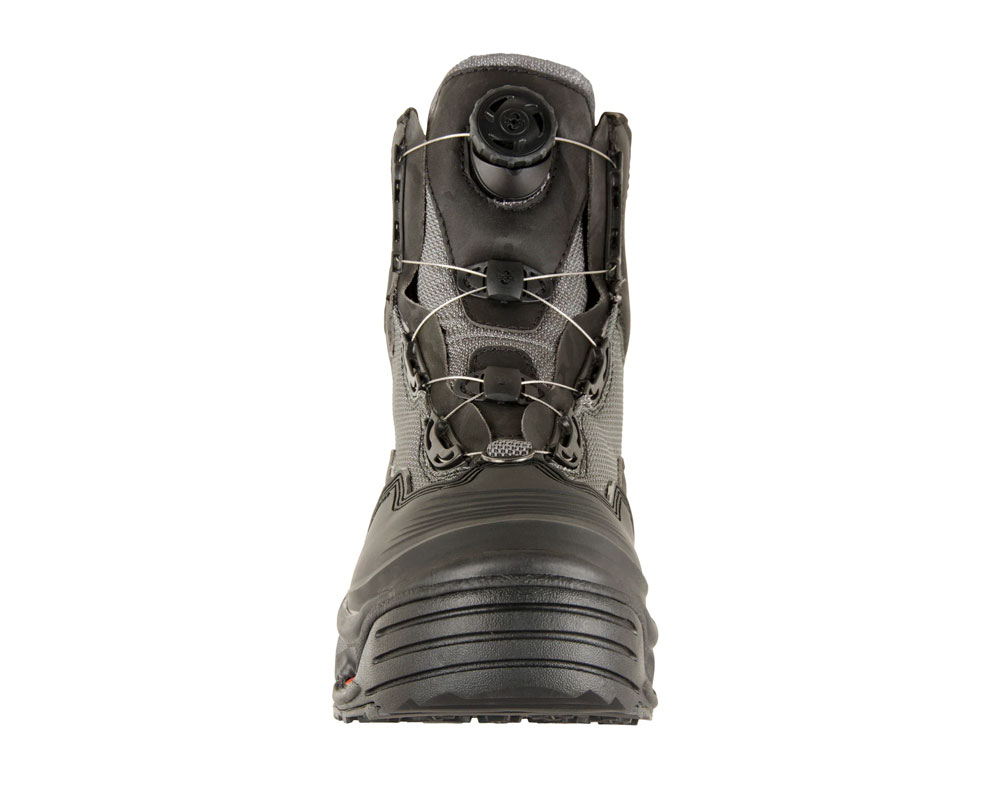 Grip and versatility
Korkers Darkhorse Wading Boots provide excellent gripping for all-day walking in the river. How? Thanks to the Omnitrax interchangeable sole system.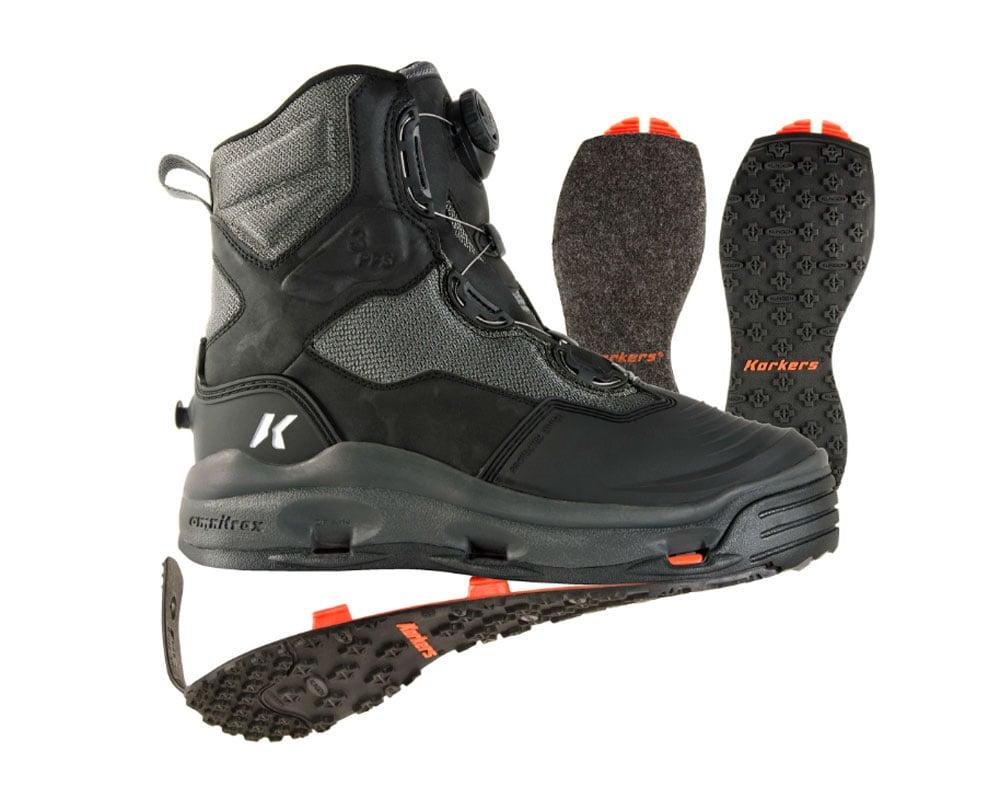 Korkers has developed such a system that allows anglers to swap outsoles to meet the needs of various fishing environments:
Felt sole – is ideal to use on slime-slick rocks, as they provide ultimate grip;
Studded rubber sole – is a perfect choice for when you need to repeatedly move from shore to river and back again;
Unstudded rubber – works great for days spent on drift boats (where metal studs can be highly damaging).
So, the Darkhorse boots provide lots of benefits to traveling anglers and are available with two sole packages:
Korkers also took care of all female anglers and made a female version of Darkhorse boots to ensure that all women can enjoy a fit that's as comfortable and secure as the male.
Final word
For around $200 Korkers Darkhorse boots will last the average angler four or five years at least. Such price is quite attractive. $200 for comfortable BOA lacing system, interchangeable Omnitrax sole system and perfectly fitting wader boots.
So, if you are in the market and looking for some boots that will survive wet wade and big hikes you should seriously be thinking about the Darkhorse from Korkers.
You may also be interested in this article: Korkers Devils Canyon Wading Boot Review