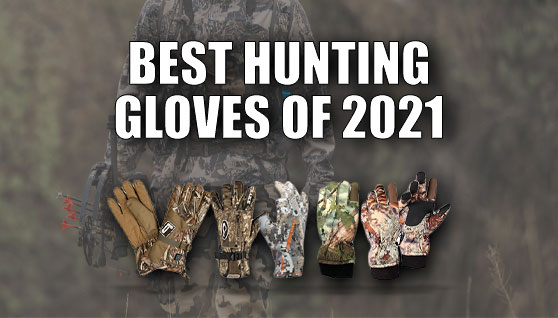 Last Updated on
Hunting gloves are a necessary part of hunter's apparel, especially in cold and wet weather conditions. Keeping your hands warm and dry during hunting is extremely important as no one wants to miss a shot because of frozen hands. But the protection from elements is not the only thing gloves serve for. Gloves also help avoid accidental scratches and injures and ensure both hands can be moved and used freely in any situation. That's why a hunter should always have a set of good gloves to get maximum warmth and comfort.
In this article, you will learn how to choose a good hunting glove and find a list of best hunting gloves that deliver warmth and protection without losing dexterity.
HOW TO CHOOSE THE BEST HUNTING GLOVE?
Choosing hunting gloves, you should take into account a few factors to pick the best ones. And the first step is to decide what type of gloves will suit you better.
TYPES OF HUNTING GLOVES:
Full Finger gloves are considered to be versatile. They cover a hand and all the fingers, keeping you warm and making such gloves especially good for cold weather. They also protect your hands from moisture and damages. Such gloves are usually flexible but sometimes it can be difficult to use hunting equipment.
Fingerless gloves are a great decision when you want to protect your hand but at the same time, you need your fingers to stay uncovered to have a better feel or to use your navigator. Such gloves are ideal for the early season but are not suitable for cold weather. A fingerless hunting glove is a good choice for archery.
Mittens are perfect for hunting in extremely cold weather conditions as they provide maximum warmth keeping the fingers together but with the least dexterity. It can be hard and uncomfortable to hold things or use the hunting equipment. Still, some mittens have a folded back design so that you can quickly free your fingers when needed.
MATERIAL
Another important factor is the material of the glove. Choosing the material depends on weather conditions and the climate you will be hunting in. The level of expected durability of the glove should be considered as well. Here are some of the most frequently used materials.
Gore-Tex material has become very popular recently. This durable fabric is water-resistant, windproof, and warm. Gloves made from Gore-Tex material are lightweight and breathable that increases hunter's comfort and protection.
Leather gloves are very popular among hunters as they are extremely durable and provide good protection for your hands. They also take the individual shape of your hand in a very short time. But leather is not very breathable. That's why it's better not to choose it for warm weather.
Wool is a natural material that keeps your hands warm. It is used in almost all winter hunting gloves and is a good option for hunting in cold weather. However, please mind the level of softness. If the wool is pricked, it may distract a hunter.
Fleece is a synthetic material that doesn't irritate sensitive skin. Fleece gloves are always lightweight, warm, and very breathable. What is more, the cost of such gloves is usually not high. But they are not very durable and don't provide any level of water-resistance.
WHAT MAKES A GOOD HUNTING GLOVE?
Durability is an essential part of a hunter's gear and apparel. It's really important to have a pair of gloves that will not tear up after a few uses and protect your hands from scratches and injures when dealing with bushes and branches. In this case, leather or neoprene will be a good option, but there are plenty of synthetics that can be durable as well.
Deciding on which insulation to choose, you should consider the environment and expected air temperature. Low temperatures require fleece or wool insulation that will keep your hands warm in extremely cold conditions. Nowadays hunting gloves with Thinsulate are popular as well as PrimaLoft insulated ones.
Water-resistance is a very important feature when choosing a hunting or a shooting glove. Water-resistant materials for the upper layer don't let water in and keep your hands dry and warm. So if you are going to hunt in snowy and wet weather conditions, this feature is a must.
Hunting gloves must be absolutely comfortable to wear. Nothing should distract and irritate the hunter during long hours of looking for the game.
TOP 6 HUNTING GLOVES
BANDED Squaw Creek Insulated Glove
The Banded Squaw Creek Insulated Glove is one of the best hunting gloves. These gloves feature SHEDS (Super Hydrophobic Evaporative Development System) waterproof breathable technology that makes them 100% waterproof and keeps your hands dry all the time. The PrimaLoft silver premium insulation keeps the heat, making these gloves perfect for cold weather. The gloves are made of durable 275 denier exterior construction and feature a wide-mouth opening for easy on/off and topside articulation with an adjustable cuff for a perfect fit. Easy-grip palm with full range finger movement provides great dexterity.
The Bottomland Camo pattern of these gloves helps hunters stay undetected in dark hardwoods and tree stand environments.
Key Features of BANDED Squaw Creek Insulated Glove:
SHEDS waterproof breathable technology
Durable 275 denier exterior construction
PrimaLoft silver insulation
Wide-mouth opening for easy on/off
Full range finger movement
Easy-grip palm
Topside articulation with adjustable cuff
BANDED H.E.A.T. Insulated Glove
The Banded H.E.A.T. Insulated Gloves are the warmest hunting gloves perfect for cold weather. They feature 100-g Primaloft Silver premium insulation and 3-level adjustable heating element. With these heated gloves, your hands will always stay warm even in the worst weather conditions.
The gloves only require a battery with 1 USB port and need a battery sized small enough to fit into the pocket on gloves.
Key Features of BANDED H.E.A.T. Insulated Glove:
3-level adjustable heating element
100-g Primaloft Silver premium insulation
SITKA GEAR Optifade Elevated II Fanatic Gloves
Fingerless hunting gloves are a necessity for many hunters. The Sitka Fanatic Gloves feature the half-finger design on the forefinger and thumb that frees up your primary digits and makes it comfortable to pull a trigger or use a touch screen GPS or phone, while less useful fingers stay warm. Built from 4-way stretch-woven polyester, the SITKA Fanatic Gloves offer a perfect balance of warmth and dexterity. Durable leather pull provides an easy and comfortable on and off. You can use these gloves with the hand muff built into Fanatic system pieces for maximum warmth on cold weather conditions or separately for hand concealment due to Optifade Elevated II Finish on warmer days. 
Key Features of Sitka Fanatic Gloves:
4-way stretch-woven polyester
Leather Pull
Half-finger design on the forefinger and thumb
Optifade Elevated II Finish
Here you can find Women's Optifade Elevated II Fanatic Gloves.
The Sitka Gradient Glove is the best hunting glove for mid-season hunts. This lightweight liner glove has a tighter, more form-fitted cut and is made from a super stretch microfiber fleece. That offers lightweight warmth and allows maximum dexterity for shotgun operation. The design on the Gradient Glove is versatile as it can function as either an independent glove or as an added layer underneath other gloves or mittens.
These gloves are available in two patterns: Camo Optifade Timber and Camo Optifade Waterfowl.
Key Features of SITKA Gradient Gloves:
Super-stretch polyester knit
Microfiber fleece
Brushed on the inside
4-way stretch ear band
Tight-woven jersey face
Anti-microbial treatment
Perfect for mid-season hunts
King's Camo Insulated Gloves are very comfortable waterproof hunting gloves. Having 40 grams of Thinsulate Fill, they provide warmth during late season hunts. This pair of insulated gloves is made from 100% polyester quick-dry material that keeps your hands dry. Grip palms and fingertips provide improved functionality and a better feel for a shooting gun. The streamlined design on index fingers delivers great trigger finger dexterity. These gloves are available in two patterns: Desert Shadow and Mountain Shadow. Both perfectly match your Camo.
Key Features of King's Camo Insulated Gloves:
Warm and waterproof
40 grams of Thinsulate Fill
100% polyester Quick Dry material
Streamlined Index Fingers
Grip Palms and Fingers
DRAKE LST Refuge Gore-Tex Glove
The Drake LST Refuge Gore-Tex Gloves are the warmest hunting gloves. They supply maximum warmth and provide comfort and functionality for hunting. The outer shell is made from Refuge HS material for strength and durability, and is backed by 100% waterproof and breathable GORE-TEX technology. For greater warmth, Drake features a zippered pouch for stashing Hot Hands heat packs.
Key Features of DRAKE LST Refuge Gore-Tex Blades Glove:
Refuge HS outer fabric treated with DWR (Durable Water Repellent)
Waterproof, breathable GORE-TEX membrane
Digitized goat skin leather palm
200g insulation in back of hand
140g insulation in palm of hand
Webbing cinch with tri-glide at wrist
Hook and loop closure cuff to lock in heat
HotHands zippered pocket on back of hand
You may search for other hunting gloves on our website here.
CONCLUSION
Having a good set of gloves may significantly affect the hunting experience. So provide your hands with maximum comfort and protection by picking proper gloves. Choosing the best hunting glove won't be a problem as long as you know what features to consider. Make the hunting process pleasant and successful!