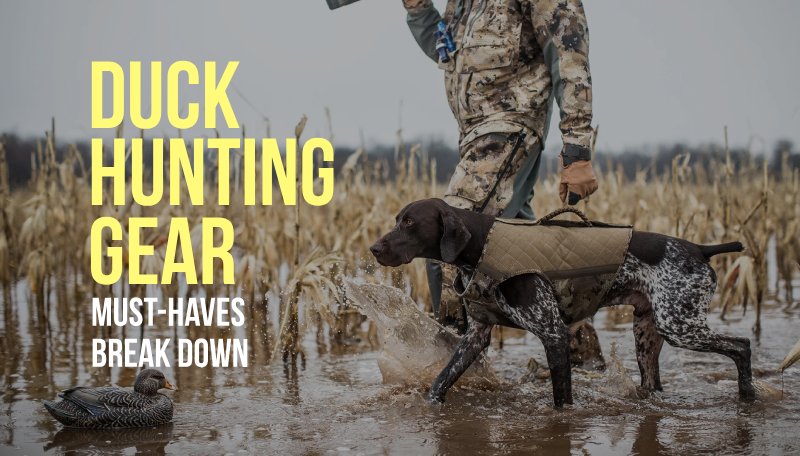 Last Updated on
As a waterfowler, you face the relentless and often unpredictable conditions on the marshes. And let's not forget our loyal canine companions who brave these conditions alongside us, their safety and comfort are equally paramount. The right equipment can make the difference between a rewarding day in the field and a frustrating one. That's why in this article, we will discuss the must-have duck hunting gear and accessories. We'll recommend items that have proven their worth in the toughest conditions and have earned a place in every waterfowler's kit.
Quick Duck Hunting Gear List
Duck hunting camo & waders
Clothing accessories
Duck hunting blind & accessories
Blind bag / waterfowl backpack
Decoys, rigging & decoy bag
Duck call
Binoculars
Shooting earbuds & sunglasses
Dog gear
Duck Hunting Clothing & Waders
Do you know that birds, unlike ungulates, have superior eyesight to humans? Ducks have a keen eye, making it all the more important for hunters to blend seamlessly into their surroundings.
Duck hunters often opt for camo with photorealistic depictions of bark and reeds. Sure, a moving person might be easy to spot in this attire, but since duck hunters are usually stationary, it's not really a problem. Another, more advanced option is a break-up duck hunting camo designed for waterfowl hunting. Unlike mimicry camo, this type features contrasting micro and macro patterns in the colors of marshes or flooded timber areas. These are mixed optimally to exploit the vision of birds in motion above the hunter.
Depending on your hunting area, budget, and features you'd like to have in your duck-hunting clothing, you can check out duck-hunting jackets and waders from brands like River West, Banded, Drake Waterfowl, and Sitka Gear.
Take the Banded Aspire Catalyst, for example. It's an all-season wader featuring a waterproof-breathable technology for ultimate comfort in all conditions. The wader's design is innovative with a minimal-stitch construction, enhancing mobility without compromising durability. It also boasts the PrimaLoft Aerogel insulation insert that offers thermal protection against both hot and cold exposure, an over-the-boot protective pant with a strap system, and an integrated LED light in the chest pocket.
Sitka is more of an advanced option. One of the standout features of the Sitka Delta zip wader is its reinforced shins and knees sporting rugged foam pads that can withstand years of abuse, whether you're breaking the ice or busting through the brush. And thanks to the GORE-TEX material, it's built to keep you dry season after season.
Also, don't forget to get a pair of merino wool socks. Merino wool is great at retaining warmth, cushioning, and moisture-wicking.
Clothing Accessories
But there's more to consider. Ducks are sensitive to UV light. What does this mean for you? Basically, that you'll want to camouflage everything. Your hands, face, and even your hunting gear need to become part of the landscape. A pair of hunting gloves can help mask your hands.
If you don't like the feeling of pulling the trigger in gloves, you can get a hand warmer, like this one from Banded, which also has shell loops.
A mask and some paint will take care of your face.
Duck Hunting Blind & Accessories
One piece of equipment you absolutely need in your duck hunting gear arsenal is a quality duck blind. There's a wide variety to choose from – boat blinds for those aquatic hunts, field blinds for land-based strategies, and even dog blinds for your furry companion.
You'll also need a blind chair to keep yourself comfortable in your hideout for extended periods. Some chairs, like this one from Banded, come with a swivel feature that enables you to turn easily and quietly, ensuring you don't miss any action.
Blind Bag / Waterfowl Backpack
If you're unsure about what to choose, consider your duck hunting area. If you're planning to hunt mostly in flooded timber areas, a duck hunting backpack would be a sensible choice as you'll likely be standing half-submerged in water and moving from one location to another.  This requires more mobility, which a backpack can provide by keeping both your hands free.  One drawback of a backpack is its limited accessibility, but if your hunting jacket and waders have sufficient pockets and compartments, this becomes less of an issue. Alternatively, you could opt for a pack with zippered pockets on the side,  such as the SITKA Full Choke Optifade waterfowl pack.
Its TPU-coated polyester build ensures durability and water resistance, complemented by water-resistant zippers to keep your gear dry.  The pack has a main pocket, secondary pockets, and side pockets for easy access to essentials. It also features a webbing loop for hanging and carry handles for easy transportation.
If you plan to hunt from a blind and want to keep your duck hunting accessories accessible, you may want to consider a blind bag,  like this one from Rig'Em Right. It is a well-crafted piece of duck hunting gear.  It features a heavy-duty 600D polyester construction and a hard-shell bottom. For storage, it offers a spacious main compartment, handy side pockets for quick access to essentials, a separate molded ammo compartment, and a molded sunglasses case.  The bag features a hook to attach to a hook in the timber or a nail in the blind, as well as clips to attach to stubble straps on the outside of your blind.
Decoys, Rigging & Decoy Bag
Ducks love hanging out in groups. If they see other ducks gliding on a wetland, they simply can't resist joining in. That's why you need decoys. Starting with six or twelve decoys is plenty. But remember, ducks have sharp eyes and can spot colors like a pro, so go for decoys that look real – right size, right colors.
And don't forget to grab some decoy rigging accessories, like anchor weights to keep your decoys steady and rigging lines to control the movement and positioning.
And, of course, you'll need a decoy bag to transport all your decoys and rigging gear to your hunting spot.
Duck Call
A duck call is an essential piece of duck hunting gear. If those ducks are feeding out of range, you're going to need one to lure them in. Most duck calls come in two designs – single-reed and double-reed.
If you're looking for something easy to start with, single-reed calls are your best bet, as they are usually louder. Plus, once you've got the hang of it, they offer a lot more versatility.
On the other hand, while double-reed calls need a bit more oomph behind each blow, they can sound incredibly realistic, even in the hands of a beginner.
Binoculars
When scouting for ducks, you need a clear, up-close view of distant areas, and that's where binoculars come in. Spotting flocks of ducks from afar, identifying their species, and observing their patterns – all of these tasks become a whole lot easier with a good pair of binoculars.
For tracking ducks in flight, an 8×42 binocular can be ideal. It has a large field of view, which allows you to keep your eyes on the birds even when they're on the move.
What if you're scouting out your favorite honey hole and want a closer look? In that case, a pair of 10×42 binoculars could be just the ticket. They offer higher magnification, helping you spot those elusive ducks from a distance.
Shooting Earbuds & Sunglasses
When you're duck hunting, you often find yourself looking up into the sky, tracking the flight of ducks. But here's the thing – the glare from the sun can be blinding, making it hard to keep your eyes on the target. That's why sunglasses are considered must-have duck hunting gear.
Take these Leupold sunglasses, for instance. One of the standout features is its In-Fused Polarization which helps to reduce glare from the water. Another key feature is the lens ventilation that prevents fogging. Also, these glasses boast an ANSI-certified frame and ballistic-rated lenses.
Shotguns are loud – really loud. Extended exposure to such high noise levels can damage your hearing. That's why ear protection is also a must-have. The best option? Electronic earbuds. Unlike traditional earplugs, electronic earbuds don't just block out sound; they actually reduce harmful noises while amplifying duck calls or your hunting buddies' voices.
Walker's offers some of the best shooting ear protection devices on the market. These NRR 25dB active compression buds boast sizing fins, which come in three sizes so you can wear them for long periods without discomfort, and full dynamic range speakers for clear sound.
Dog Gear
We've already mentioned dog blinds, but what else does your four-paw partner need for the hunt? A dog vest! It's a must-have for every duck hunter, especially when heading out into colder conditions. When the water temperature dips below 55 degrees, the air temperature falls under 40 degrees, or winds exceed 20+ mph, your loyal companion may start losing vital body heat quicker than you'd anticipate.
Dog vests, like the Avery Boater's Dog Parka, are designed to trap your dog's body heat, helping to dry their coat faster and reduce the energy-draining effects of shivering. Not only does it offer warmth, but it also provides buoyancy and protection, ensuring that your dog can safely carry out its tasks for you.
Full Duck Hunting Gear List
Clothing: duck hunting camo, waders, thermal underwear for cold weather, clothing accessories (gloves, hat, mask), moisture-wicking socks
Hunting aids: duck calls, decoys, decoy rigging accessories, blind & blind chair, duck strap, choke tube
Bags: blind bag or waterfowl pack, decoy bag
Hearing protection & sunglasses
Dog gear: dog blind, dog vest, leash, dog whistle
Additionals: survival gear, rain gear, food & water (for you and your dog), personal stuff, first aid kit
FAQ
What do duck hunters wear?
Duck hunters typically wear water-resistant clothing, including a camo jacket and pants (or waders), waterproof boots, gloves, and a hat. The camouflage should match the surroundings to blend in.
What color is best for duck hunting?
The best color for duck hunting is camouflage that matches your hunting environment. This could be a mix of browns, greens, and grays. Ducks have excellent vision and can detect bright and unnatural colors.
Can you duck hunt without waders?
Yes, you can duck hunt without waders, but they are often needed to retrieve downed birds unless you have a dog or the water is shallow enough to walk in with rubber boots.
Can you duck hunt without calling?
You can duck hunt without calling, but using a duck call can significantly increase your chances of attracting ducks. However, improper use of calls can also scare them away.