Last Updated on
By David Link
Nikon's entry level Fieldscope, the Nikon Prostaff 5, and their mid-level Fieldscope, the Nikon Monarch ED, both provide great spotting scope choices for hunters, birders and other outdoor enthusiasts. Yet when it comes to deciding between the two, it can be hard to know which is the better option for you, especially without trying them out in the field. Each provide surprisingly crisp and clear images for their price point, but it's the extra features and construction details that will help you narrow down one or the other. Let's compare the Nikon Prostaff 5 to the Monarch ED to see which will better suit your spotting needs.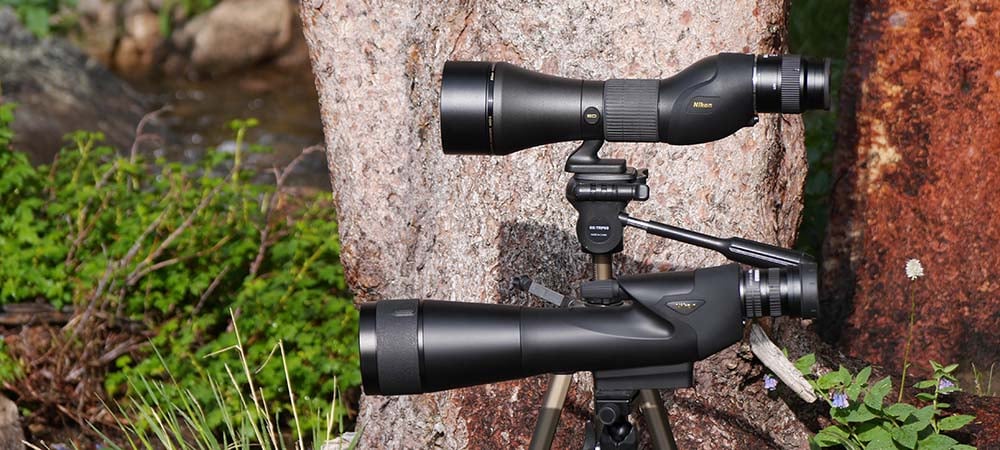 Basics
For the purposes of this comparison, I tested the Nikon Prostaff 5 20-60x82mm Fieldscope with the Nikon Monarch ED 20-60x82mm Fieldscope. When you first compare the specs of these two Fieldscopes, they appear relatively similar. They have the exact same size objective lens at 82mm, and they have almost identical magnification ranges at 20-60x. Magnification is controlled by a focus ring on the eyepiece for both models. Both models have extendable sun shades (a standard in spotting scopes these days), and they come with nylon carrying cases to protect the optic while in the field.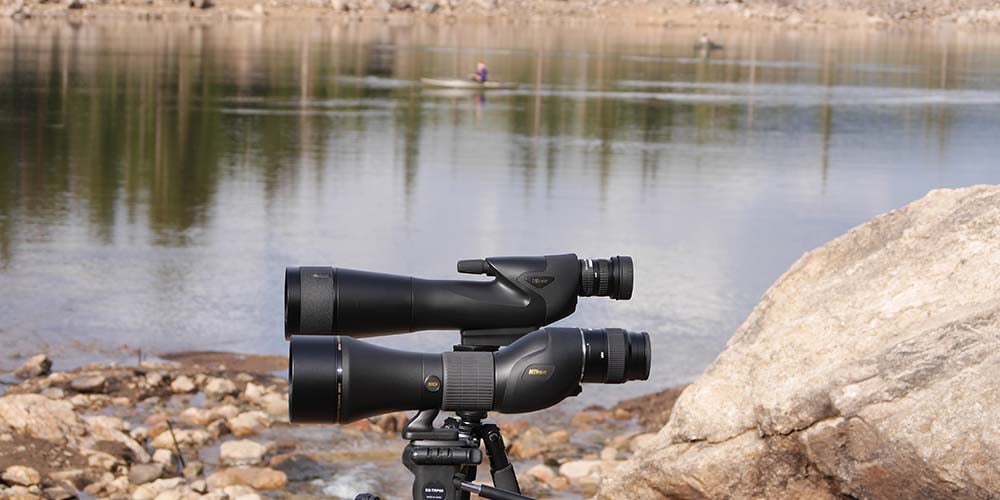 The differences come when you start to compare dimensions. Prostaff 5 is a couple inches longer, while the Monarch ED is over 20 oz heavier. The Prostaff 5 focuses with a little protruding knob set far back on the device, and the Monarch ED focuses with a body-wide focus ring set in the middle back of the device. As you would imagine, the Monarch ED feels sturdier and better build than the Prostaff 5, and it's optic quality and clarity is without a doubt superior. The Monarch ED also has a better field of view (only 7 more feet at 20x), but you can definitely notice the difference in the field. Let's compare the individual model specs back to back below.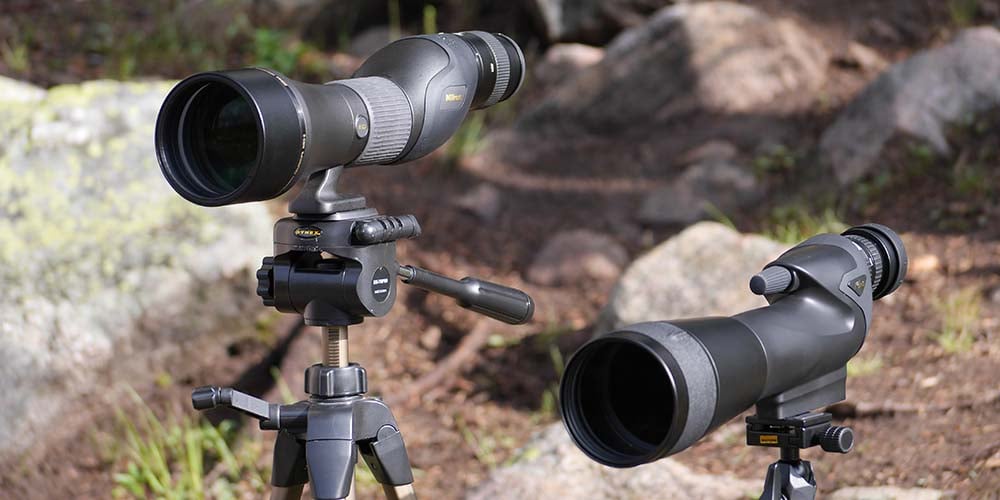 Specs
Nikon Prostaff 5 Fieldscope
Magnification: 19.4-60x
Objective Lens: 82 mm
Field of View: 104.8 ft. @ 20x
Eye Relief: 16.5 mm
Exit Pupil: 4.12 mm
Close Focus Distance: 20 ft
Size: 14.8″ x 3.7″
Weight: 33.5 oz
Nikon Monarch ED Fieldscope
Magnification: 19.4-60x
Objective Lens: 82mm
Field of View: 111 ft. @ 20x
Eye Relief: 16.1 mm
Exit Pupil: 4.1 mm
Close Focus Distance: 16.4 ft
Size: 12.8 " x 4.1″
Weight: 58.2 oz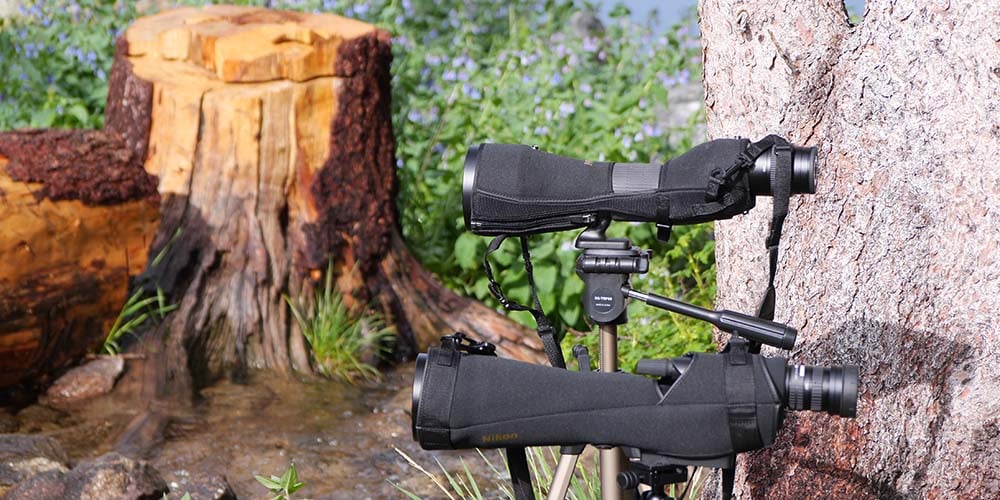 First Impressions
Upon opening the boxes, Nikon neatly packs everything up so you can break the scope back down for travel if need be. The eyepiece comes in a separate holding box within the package, and all elements have their own storage caps so no internal parts are exposed when you break the scope down. Both models come with a uniquely fit nylon sheath / carrying case as mentioned above. The Monarch ED comes with snap button attached nylon eyepiece and objective lens covers while the Prostaff 5 nylon case only extends to the end of the optic. While the Prostaff 5 cover is easy to fit on the optic, fitting the Monarch ED cover is a real adventure, at least it was for me. I'd like to meet the engineer who designed this carrying case, because it's a real piece of work. Of course it has to be an open design to allow the focus ring to work, but I could never get it to fit quite correctly. Anyway, I digress.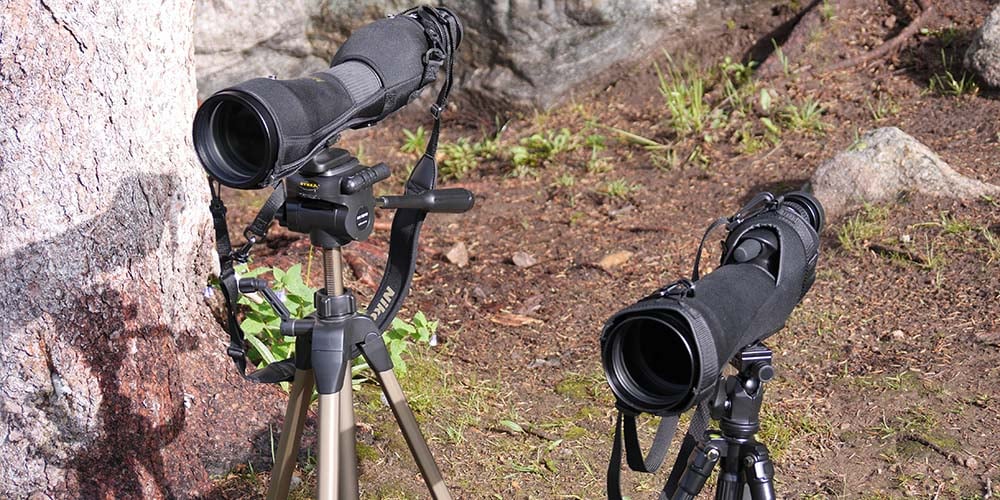 Construction quality is really the major difference that stood out to me when I opened both optics. It's not that the Prostaff 5 is built poorly, but rather it's built out of a plastic composite, so it feels a little less sturdy than the Monarch ED. The Monarch on the other hand is a behemoth, and it's construction is based around metal components rather than plastic. This is really to be expected as the Monarch ED is a mid-range fieldscope while the Prostaff 5 is more entry-level. You'd expect the mid-range optic to be built better, especially for the price. I think it's important to make a distinction here. The Monarch ED is an overall stronger optic, and it may be able to take a solid drop on the ground without breaking. This said, it's durability comes with the disadvantage of added weight. At almost 60 oz., you're definitely going to feel this optic in your pack. The Prostaff 5 is roughly half the weight of the Monarch ED, and this reduction is sure to make a difference on those long hunts and hikes. This will really be one of the big comparison points for customers deciding between the two.
In The Field
I've tested both the Prostaff 5 and the Monarch ED over a period of several months. I've done everything from backyard birding to scanning for mountain goats on a long camping trip next to an alpine lake. There's no doubt you get plenty of value out of these optics. The optic quality is good in both models, but I must say the optic quality in the Prostaff 5 is surprisingly good for the price point. I expected to see an optic with a substantial reduction in optic quality, but this just isn't the case. The Prostaff 5 compares to the Monarch ED in terms of clarity and sharp images extremely well.
I've already talked about weight, but some other upgrades you'll find in the Monarch ED come in terms of ease of focus and magnification adjustment. The Monarch's focus and magnification rings are significantly easier to use and much more ergonomic. This makes a big difference when you only have a matter of moments to hone in on a subject. Trust me, wildlife seem to move extremely fast when you're trying to dial in on them with a spotting scope, and fumbling around with the focus ring will almost certainly lead to a missed viewing opportunity. The Prostaff 5's focus knob just isn't in that great of a position. I find it awkward to try to find the little knob up top while holding the scope, and once I find it, turning it just doesn't feel natural. Now is this a deal breaker for the optic? Certainly not, but I would bet side by side the Monarch will acquire targets faster in the field than the Prostaff 5 almost every time. This is another factor to consider as you compare.
Another disadvantage I'd like to touch on is the primary plastic construction of the Prostaff 5. Even with the nylon sheath / carrying case, I think it's safe to assume the outside of the optic will start to take a beating after substantial use. I doubt you'll have to worry about the optic functioning, but it will start to take on a beaten appearance. So again, not a deal breaker, but if you want your Fieldscope to look pristine after several years of use, the Monarch ED is the better option. There's no doubt the Monarch will hold up better, it's just a matter of where your priorities and budget are.
Hiking
Hiking with the Monarch ED isn't my favorite thing ever, but to be fair I've used similar competitor scopes that weigh about the same. It's just part of the burden of using a spotting scope with a high range of magnification. Trust me once you get high on a mountain or over a vast plain, hauling the scope is well worth the trouble! If you regularly hunt or hike with a partner, sharing the gear load can also make hauling a heavier spotting scope more realistic. I also hiked with the Prostaff 5, and as you would expect it was much easier on my back. But I will say once I set it up, I kind of wished it was the Monarch ED. You just have to figure out how much you can haul, especially since you'll be carrying other gear, water and food in your pack as well.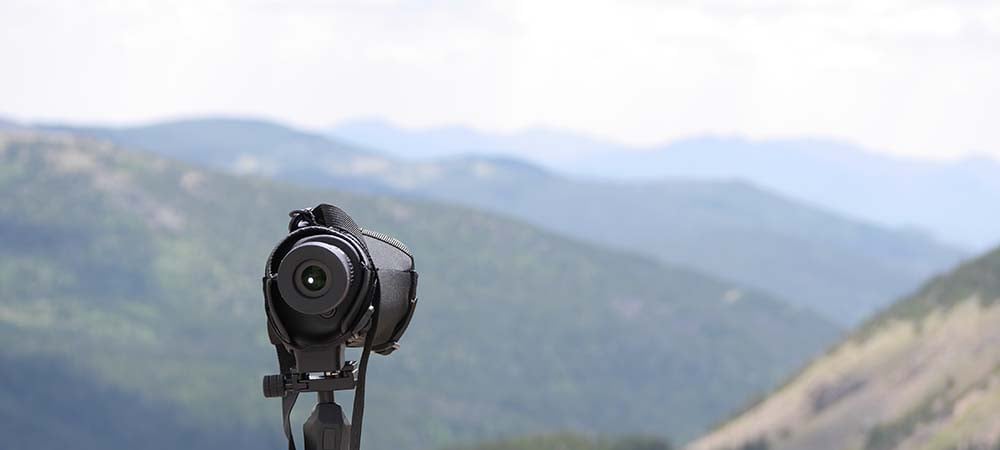 Digiscoping
Nikon probably has the most features and extras devoted to digiscoping on the market, which makes sense given their origins as a photography company. I'm a new digiscoping hobbyist, and it was fun to try digiscoping with both models, although I did not have any additional hardware for the task. What I found is pretty simple, the Prostaff 5 pretty much isn't that great as a digiscoping-focused scope. You're going to get a sizeable vignette every time unless you test a lot of different cameras through the setup. I am just in no position to tell you what will work best. The Monarch ED is much more digiscoping friendly, and you can get replacement eyepieces like this 30-60 Wide Angle Eyepiece made specifically for the Monarch ED. I imagine that upgrade would make digiscoping even better through this Fieldscope, plus there are a ton of other accessories to consider for digiscoping that Nikon offers. All in all the Monarch ED is probably the best digiscoping option at its price point on the market.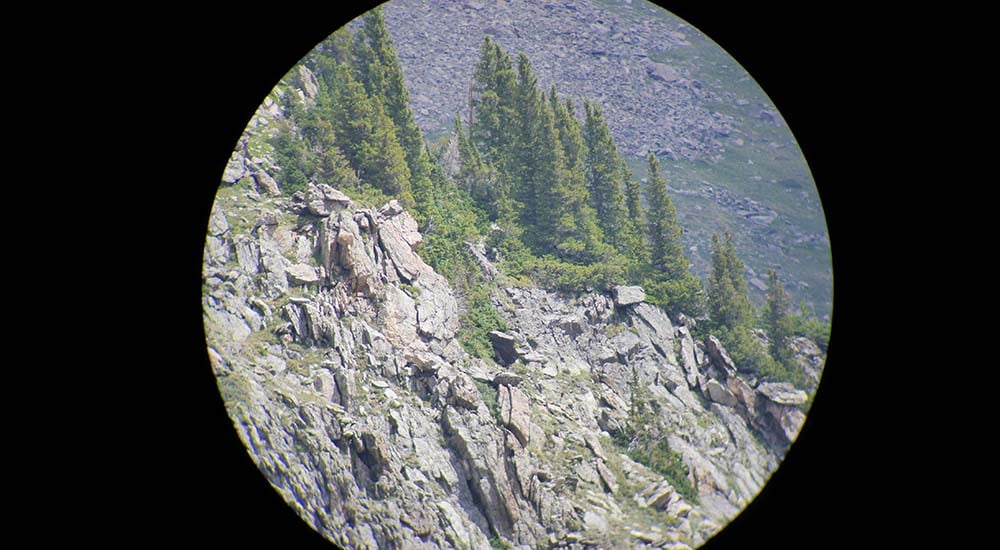 Determination
I'd be lying if I said I'd choose the Prostaff 5 over the Monarch ED if price was of no object. I doubt most people would. However, as I've said, the clarity and crisp images that the Prostaff 5 offers is extremely surprising, and this certainly doesn't feel like I'm using an entry-level spotting scope when I'm looking through it.
This said, the primary factors you'll have to weigh as you decide are:
Longevity – The Monarch ED is a clear winner here, and I have no doubt this scope will last for years upon years.
Optic Quality – Again the Monarch ED is the winner, but it's not a landslide like I thought it would be, which is a testament to Nikon's optic construction these days.
Weight – The Prostaff 5 wins this no contest. If you want the longevity and quality of the Monarch ED, you're going to have to sweat it out as it weighs heavy in your pack.
Ease Of Adjustment – The Monarch is a joy to adjust in the field, and it's adjustment rings are probably the best I've encountered at its price point. The Prostaff 5 is just a little awkward to use, not a deal breaker, but it's not the easiest optic to use ever.
Price Point – Spotting scopes aren't cheap, which is why a lot of outdoor enthusiasts want one but settle for an entry-level pair of binoculars instead. I will say the Prostaff 5 is pretty affordable for a spotting scope at just under $600. If you want the added quality of the Monarch ED you'll pay for it, but it certainly represents a better long term investment. You just have to ask yourself the question: "Is the price of the Prostaff 5 better placed in the more substantial investment of the Monarch ED at $1600? Only you can truly answer that question.
Digiscoping – This isn't a consideration for everyone, but if you want to run a digital camera successfully through your fieldscope, the Monarch ED is the prudent choice here. The Prostaff 5 just isn't designed for serious digiscoping, and there are far less accessories to match this pursuit for it. So if you want to take great digiscoping images, the Monarch ED is probably the best place to start.
Thanks for reading and let us know if you have any additional questions on these two optics. You can also contact us directly to talk about the ordering the best spotting scope for your needs.