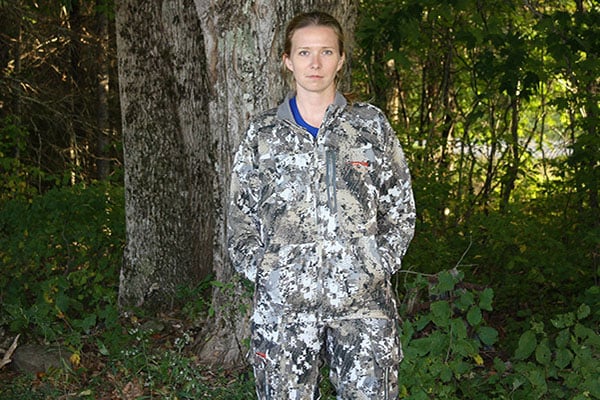 While the number of women hunting is growing quickly, the number of outfitters for women isn't keeping pace. We sometimes have to "make do" with what we're offered.  Sitka makes it not only possible but comfortable. How do you as a huntress get comfortable in men's clothing? Time and patience.
Let's get personal here for a moment. Personal on my side. I'm middle aged (women will understand why I've added this detail.), 5' 4", and a size 8/10. While you don't need this information about me, you do need it for comparison sake. My favorite pants, jacket and shirt are modeled here by Kristin. She's 5' 7" and let's just leave it at that.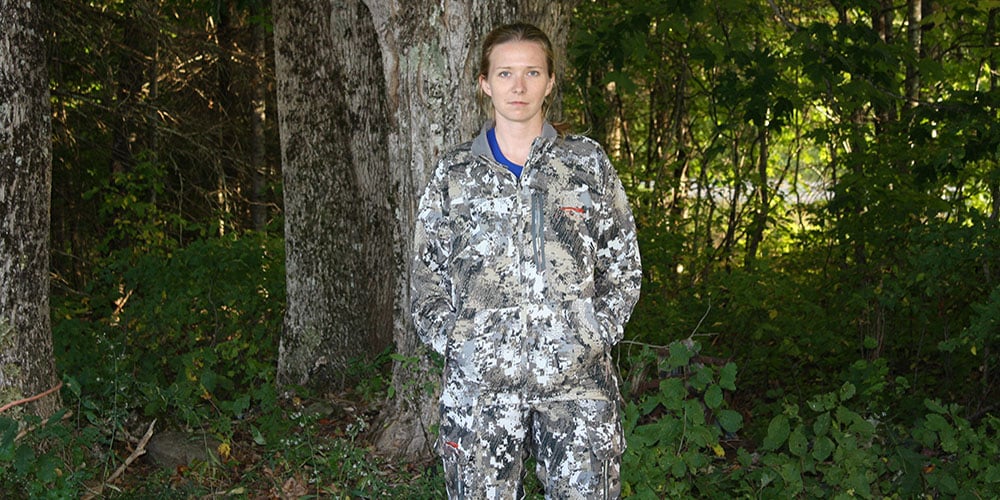 Finding gloves that are comfortable has always been a challenge. The fingers are usually too long and the hand too wide. Shooting with fabric folded over the tip of your finger isn't only inconvenient and uncomfortable, it's dangerous. The Sitka Elevated II Fanatic Gloves solved this problem. The fingertips are open. The annoying issue of uncomfortable fabric at the end of the finger has been solved. Four-way stretch polyester is soft and fits comfortably against your fingers. I chose a size medium and they fit well. The stretch fabric fits my hands without being too snug or baggy.
These gloves were great for bear and upland game bird hunting when I didn't need warmth. I've fired rifles, shotguns, and my compound bow with Sitka Elevated II Fanatic Gloves with confidence. The half-finger design allowed me to text my contact person when I was arriving at and leaving my ground blind or tree stand during bear season without taking the gloves off.

The Core Heavy Weight Zip-T in size medium fits me fairly well. Women have wider hips than men so a size medium was required to keep the bottom of the Zip-T from being too snug. The length was good in a medium, not too long. If you aren't "hippy" you can probably get away with a size smaller. Fit the Zip-T to your hips rather than waist. The shoulders fit well. There's plenty of room for a lightweight base layer if needed, but the soft fabric is so comfortable against my skin I was glad I didn't need a base. I'll be wearing the Zip-T during deer season knowing it will help me stay warm during a typical late November day in Maine.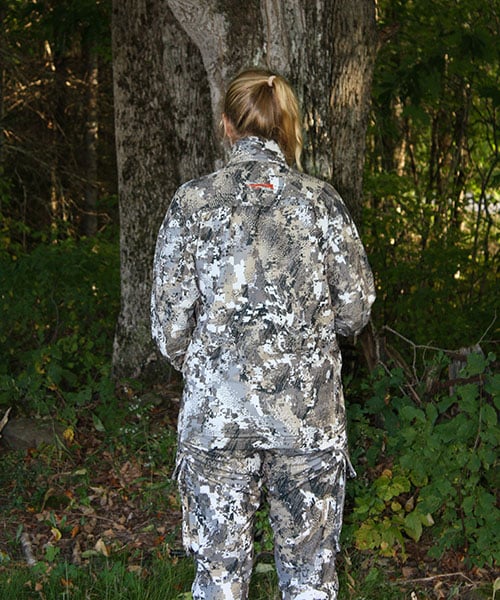 The neck is tall for someone my height but the fabric is so soft it wasn't a problem. When the sun dropped below the tree line and the temperature started to fall I pulled the neck up to cover my chin and stayed a little warmer. If it's too tall for you simply unzip it a little. The zipper isn't abrasive. The size small in the Core Heavy Weight Zip-T fit my 30" waist but the bottom didn't fit my size 8/10 hips.
The arms of the Core Heavy Weight Zip-T are an inch and a half too long but because the fabric is soft it's not a problem. I pulled the fabric up toward my elbows and didn't give it another thought. The sleeves aren't so long that they're in the way when I walk through a field or along a backwoods road while bird hunting.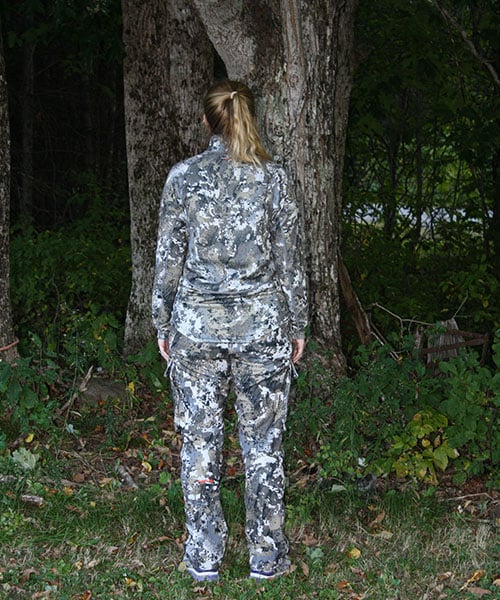 The Equinox Jacket is fantastic. A medium is a little long on my 5' 4" frame, but it fits so well in the hips that the length covered my lower back without bunching up. It's made of four-way stretch fabric that doesn't ride up when I sit down. The pocket on the right chest is well-placed for women. If I kept my somewhat heavy phone in the pocket it wasn't uncomfortable on my chest. The zippered pockets lay flat rather than bowing the fabric out, something that doesn't always happen when we're in men's clothing. The tailored fit is made for men but does come in enough at the waist to make it fit me well.
The harness opening on the Equinox Jacket has a well formed flap to cover the opening. It's smooth and was unnoticeable when I leaned back in the ground blind and the tree stand. The ranger finger pocket also lays flat against my chest. It was particularly important that it not gap because I spent a couple of days hunting in drizzle. Rain gear would have been too noisy and warm. The fabric kept me dry and stayed dry inside that un-zippered pocket.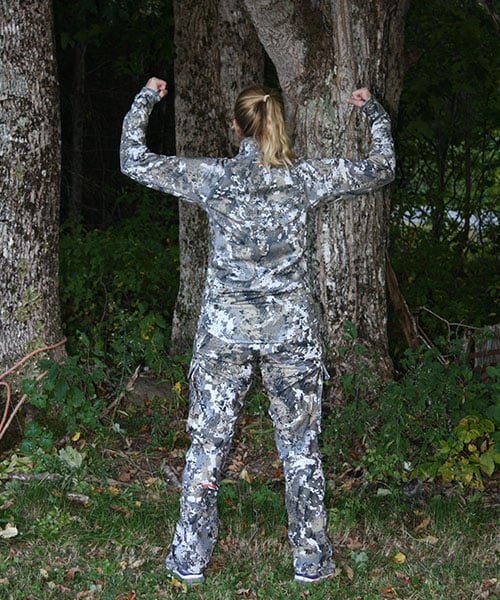 I've looked at the Equinox Jacket hanging in my closet several times when I reach for a jacket and wish I could wear it more often. Of all of my Sitka clothes, this fits me the best. I do love this jacket.
The hardest part of outfitting myself with Sitka came with the pants. Wider hips, shorter legs and waist were the three major considerations. Like the Core Heavy Weight Zip-T, I had to fit the pants to my hips first, and that required a size medium again. Sizing is consistent. My Sitka Equinox Pants and jacket and the Zip-T are medium.
The medium size allowed enough room for the pockets to lay flat and fit my hips. The waist on the Equinox Pants is a bit tapered, not a straight waist and hip line which is great for women. A surprising aspect of these pants is the thighs. We tend to have a little wider thighs and these pants have plenty of room without being baggy. I never felt like I had to adjust them while spending hours sitting stone still in the stand. The distance between the gusseted crotch and waist band is comfortable if you're average length.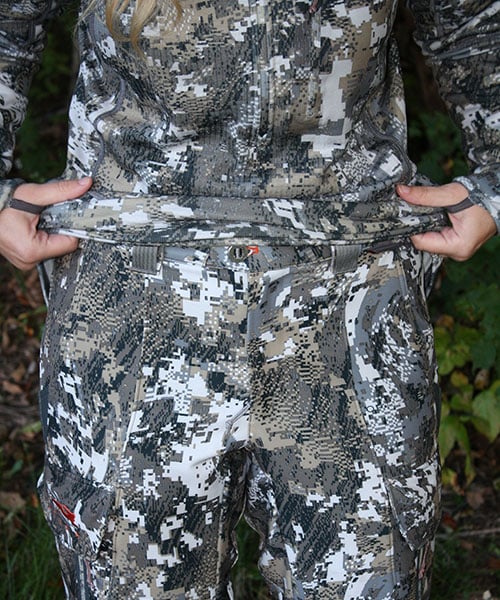 Fitting the Equinox Pants to my hips meant having pants that are a little long in the legs. This was easy to deal with because the pant legs are straight. They are close enough to fit smoothly inside my Muck Boots, but they're also wide enough to fit over my boots. They're close enough to stop at the top of my hiking boots without hanging down to the heel where they'd be stepped on. The legs stay in place and don't ride up over the ankles of my hikers, and wouldn't even if they weren't a little too long.
The cargo pockets on the thighs of the Equinox Pants are big. I didn't have to carry a hunting pack if I didn't want to thanks to the pockets. The cargo pockets are placed for someone with a little longer arms but only an inch or so low, definitely easy enough to reach. I put a 16 ounce water bottle in one pocket, my hunting license in a zippered pocket, knife and small flashlight in another, and a Beretta multi tool that's heavy for its size in the other zippered pocket. Even with the weight, the pants didn't sag. The give of the fabric kept the pants fitting well and didn't add length to the legs.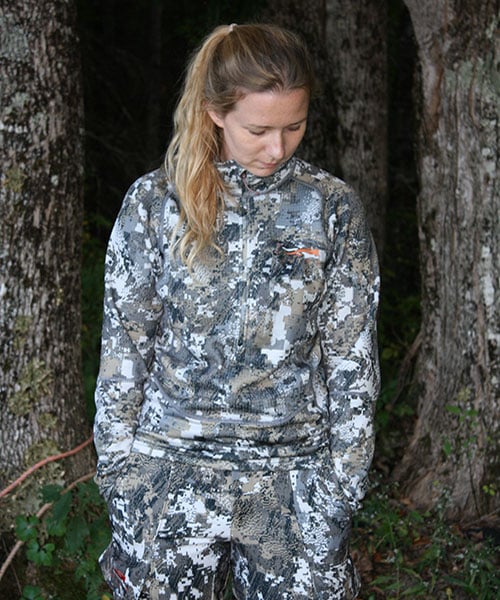 The pants have a feature I missed until I'd worn them a few times. The zipper works both ways. I noticed an odd feeling on my abdomen as I was getting ready one to leave one afternoon. I'd pulled both tabs on the zipper so while I'd pulled the zipper up, I'd also pulled the other tap and pulled the zipper up but open. I did it more than once. This isn't a feature we have on women's pants so it caught me off guard.
An important part of Sitka's clothing is durability. I've climbed some rough tree stand ladders, crawled on the ground to get under brush I was too short to climb over, and I wore them out in bad weather. During bear season, I checked baits that required me to walk through deep water and a lot of mud. Knowing that I had another pair of pants with me in case this didn't go well, I drove flew through mud and puddles on the gravel road to see how dirty I could get these Equinox Pants before I couldn't get them clean. Women are very busy with family, work, home, and volunteering. We often have to squeeze in time to hunt. There isn't any extra time to wash our gear every time it gets dirty. No problem! I wasn't able to stain these clothes. Dirt fell off as it dried. I checked game cameras on a wet morning by sitting on my knees. The duff on the forest floor didn't leave stains. After three weeks of bear hunting and several days of retrieving ruffed grouse, the clothes still look brand new.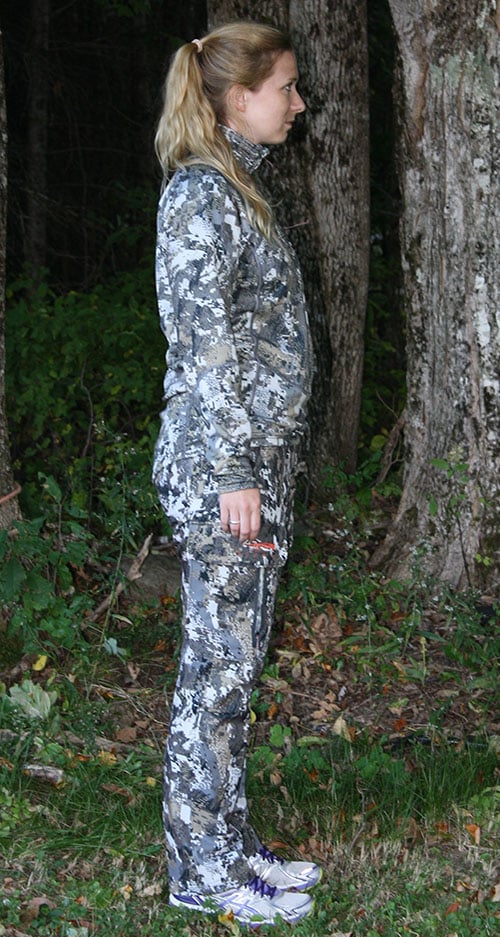 Sitka has a very detailed and accurate sizing chart on their website. Because I live in a remote area and would have to drive two hours one way to try the clothes on, I trusted the sizing chart. I was a little unsure on the Zip-T so I bought a small and a medium with the idea that I'd return the one that didn't fit. I kept both and will give the smaller one as a Christmas gift. Trust the sizing chart with its seven separate measurements, and make comparisons between men's and youth sizes. You might need to mix and match between the two for your best fit.