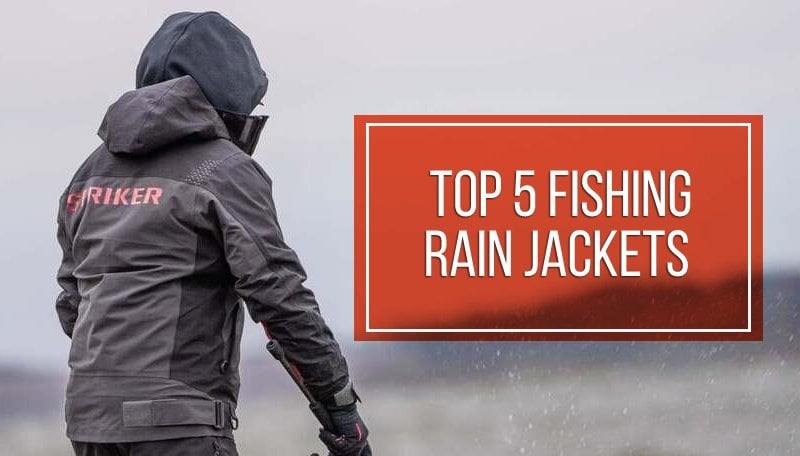 Last Updated on
Fishing is a pastime enjoyed by many people, but for some enthusiasts, fishing in extreme conditions can be the ultimate thrill. Whether it's braving the icy waters of Alaska or battling the strong waves of a stormy sea, anglers who enjoy this type of fishing need to be well-prepared. Some may think a simple raincoat or a down jacket is enough to protect them, but, in reality, fishing in extreme conditions requires specialized but comfortable clothing made to protect against harsh elements – rain, snow, and cold.
In this article, we will take a closer look at some of the best fishing rain jackets designed to make extreme weather fishing possible and, most importantly, delightful.
Table of Contents
STRIKER ICE Ice-Fishing Jacket
STRIKER ICE Adrenaline Rain Jacket
GILL Hydrophobic Down Fishing Jacket
GILL Waterproof Fishing Jacket
5.11 TACTICAL Waterproof and Breathable Jacket
Conclusion
FAQ
STRIKER ICE Climate Veil Stryk Transition Fishing Jacket
If you're unfamiliar with the brand, Striker Ice is one of the best fishing brands crafting technology-based garments for extreme ice fishing enthusiasts. Not only does it use the latest technologies to create fishing clothes that are genuinely protective but pays attention to providing the utmost comfort and ease of movement to anglers.
The brand has several collections with varying insulation and features, but even basic apparel will provide the necessary protection and mobility. However, there're a few reasons why you should consider buying the Striker Ice Climate jacket. Let's take a look at the features.
First, it's probably the most versatile jacket in the Striker Ice lineup due to the removable G2 Softshell liner allowing for ultimate temperature regulation. This feature also makes this jacket a true all-weather garment because you can remove the liner to cool yourself after fighting a fish as well as wear it independently as a fishing pullover when the weather is more forgiving.
Now, a good fishing jacket should be waterproof to keep away whatever Mother Nature throws at you during your ice fishing adventure. And, as you know, we don't recommend anything we have doubts about. So, thanks to the Hydrapore Waterproof laminate, the Striker Ice Climate is waterproof and breathable. However, pay attention that it's not rain gear and will protect the wearer only from slush, snow, and other common ice-fishing elements, so don't expect it to keep you dry under heavy rain.
What makes this Striker Ice jacket even better is the patented Sureflote® flotation assistance that provides two hours of flotation in water. Crafted with care from low-density polyethylene foam, this unique system locks in the air using closed cells and multi-layered membranes to help keep you afloat. And don't worry about mobility, as it won't restrict your motion in any way.
Additionally, the jacket features an inner pocket that provides easy access to your phone for those picture-perfect moments.
STRIKER ICE Adrenaline Rain Jacket
If ice fishing is not your thing and you want something for your warmer fishing adventures, the Adrenaline jacket is what you're looking for. Unlike the Climate developed to protect against snowfall and splashes of water, the Adrenaline is a true rainwear able to stand out against heavy rainfalls.
Let's talk about waterproofing first. As mentioned, the Striker Ice Climate features the Hydrapore Waterproof membrane technology. It has a waterproof & breathability rating of 5K/5K. Without getting into too much detail, this means the jacket is resistant to light rain and snow. Well, the Adrenaline has a W/B rating of 15K/10K, which means it stands against heavy rain and snow falling under light pressure and is breathable enough for moderate activity. So, with that said, the Adrenaline features an improved membrane technology crafted to keep you dry in elements longer. To make the jacket even more waterproof, Striker Ice added the DWR finish that aids in repelling water.
However, the membrane alone isn't sufficient to make a waterproof fishing jacket. The Adrenaline also features a fully seam-sealed construction enhanced with water-resistant YKK zippers to make the garment invulnerable to moisture in the weakest points, as well as cuffs made from neoprene, the material used to manufacture wetsuits.
Generally, the Adrenaline waterproof rain jacket features a sleek and modern design that makes you stand out in any fishing group. Reflective pattern hits on the inner cuff and back shoulders, making it easily visible in low-light conditions, ensuring safety on late-night fishing trips. It's also equipped with an oversized fleece-lined collar, a 3-position adjustable hood, and adjustable hem and sleeve cuffs to protect you from high winds.  Four exterior waterproof storage pockets let you store all your essential fishing gear.
GILL Hybrid Down Fishing Jacket
Gill is a well-known fishing brand that specializes in manufacturing high-quality technical garments. It has been creating innovative, high-performance clothes for several decades, and its products are trusted and used by anglers and sailors around the globe. Gill prides itself on using the latest technologies and materials to create technical garments that provide the best possible protection and functionality for the most adventurous anglers. Its range includes foul-weather gear, waders, and, of course, water-resistant jackets.
Its Hybrid Down jacket that you see here was developed for winter fishing and, thus, has plenty of features to meet the needs of demanding anglers.
First of all, it's filled with a natural down insulation that not only provides the needed warmth but also repels water thanks to being treated with a hydrophobic chemical. Unlike synthetic insulation, down has a higher warmth-to-weight ratio and is durable with proper care. Besides, it's very compressible, which makes it very convenient to transport. Regular down has one major disadvantage, though. It loses insulating power when wet. However, hydrophobic coating kills off this problem.
For even better performance, the shell of this Gill jacket features a down-proof, wind-proof fabric. Down-proof means the material is stiffer and stronger to prevent feathers from leaking. Note, however, that it also means the fabric is heavier.
For more comfort, the jacket has stretch panels and sleeves that give anglers greater ease of movement, allowing them to move more freely and flexibly when casting their lines and fighting fish.
GILL OS3 Coastal Fishing Jacket
Now, for lighter applications and warmer weather, Gill has come up with the OS3 Coastal Jacket. It's made with the proprietary 2-layer waterproof, breathable, lightweight XPLORE fabric treated with the XPEL finish.
The XPEL is a state-of-the-art eco-friendly chemical that contains no harmful PFCs while providing excellent durability and water-repellency – the drops simply roll down off the fabric, preventing them from permeating. Great, but it's not all. The XPEL also makes the fabric stain-resistant for up to 30 washes (50 with proper care and treatment) and provides odor control – since water can't penetrate the fabric, it doesn't create a positive environment for bacteria to grow and populate.
The jacket is designed with several other features meant to keep you comfortable and protected. For one, it has a fully lined 2-way adjustable high-visibility hood that provides outstanding protection from rain and wind. The high-cut thermal collar gives extra warmth and coverage to your neck, protecting you from cold winds and harsh weather conditions. Finally, the adjustable cuffs with PU inner seals keep water and moisture from entering the sleeves of the jackets.
5.11 TACTICAL Tac Dry Rain Shell
You know, not only fishing brands provide great waterproof jackets. Originally, 5.11 TACTICAL was founded to create high-quality, functional, and innovative clothing and gear for military and law enforcement professionals but over time, the focus has expanded to include outdoor enthusiasts and everyday consumers who demand practical and durable clothing for their adventures.
This rain jacket was developed for efficient patrol duty weather protection, but it doesn't mean you can't use it for fishing. Engineered for extreme performance, this jacket is ultra-lightweight, waterproof, and breathable (10K/10K) to help you stay dry and comfortable in wet and humid conditions. Its five-pocket design maximizes storage space for all your fishing essentials, while the storm flap at the front helps keep out any wind and rain.
The jacket is made of 100% seam-sealed nylon, ensuring its durability is matched only by its performance. It also has a roll-up and removable hood that comes in handy during unpredictable weather changes. Elastic sleeve cuffs help prevent rain from seeping in, while articulated sleeves and an overall ergonomic fit provide the necessary freedom of movement.
Conclusion
GRITR Outdoors knows how important it is to choose the right fishing wear that is both weather-protective and flexible. At our store, you'll find plenty of dependable jackets, including the discussed ones, as well as puncture-proof waders, warm bibs, and UV-protection shirts designed to elevate your fishing experience. So, explore our range and don't settle for less.
FAQ
Do I need a waterproof or water-resistant fishing jacket?
It depends on your requirements. If you expect heavy rain or snow and high winds, better opt for a waterproof fishing jacket.
What's the best waterproofing level of waterproofing?
20,000mm+ is the highest waterproofing level developed for high activity in wet conditions. For most fishing scenarios, you will do great with garments having a lower waterproof/breathability rating.
Why is my waterproof fishing jacket isn't waterproof?
Your fishing jacket may not be properly sealed, so water could be seeping in from the seams or zippers. Additionally, it may have worn out over time due to inadequate care and maintenance.