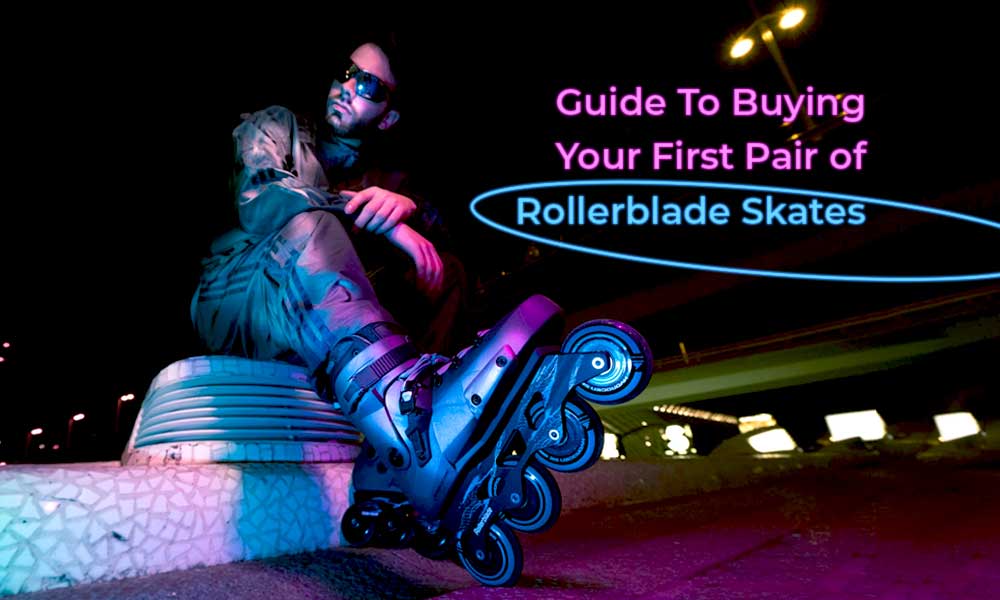 Last Updated on
You don't need to ride a motorbike or ski down a snowy mountain slope to feel the electricity that speed charges through your body. Wheels are indeed a necessity, but you can make use of them in a more mobile form. While there are at least two devices that match the given description, rollerblade skates are the ones that give you ultimate control over the course of your journey. Instead of mounting the means of taming speed, you become the speed conqueror yourself, the skates carrying you to cut through the air. In case speed doesn't rank among the things that tickle your fancy, there is still raw fun of skating at whatever speed you prefer. But is there anything to know before acquiring your first pair of rollerblades? Of course there is – you already learned that from the title. Here are the things worthy of the attention of every beginning skater. 
Table of Contents
 What Do You Get from Skating?
 Types of Roller Skates
     Inline Skates (Rollerblades)
     Quad Skates
     Speed Skates
 Performance Features
     Wheel Size
     Wheel Durometer
     Brakes
     Number of Wheels
 Choosing the Right Size and Fit
 Conclusion
 FAQs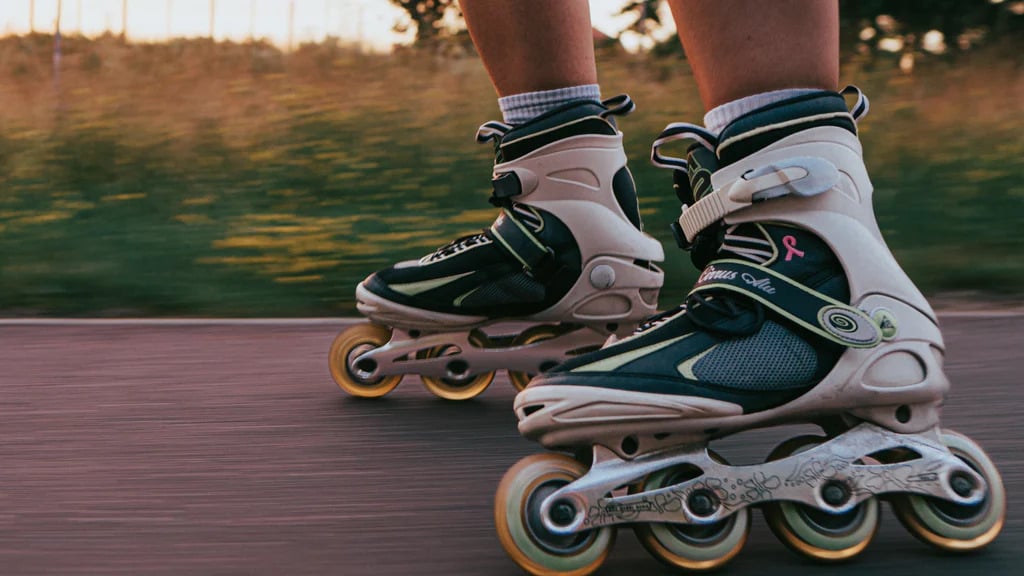 What Do You Get from Skating?
The chances are you're already interested in skating, so we don't need to sell this activity to you. However, it never hurts to recall why we do the things we do. Roller skating is a great way to get exercise and have fun at the same time. Skating is an excellent cardiovascular exercise that strengthens the heart muscle and provides aerobic training. It also has all the health benefits of running with 50% less impact shock to joints, which makes skating a more gentle way to train your body. Apart from health benefits, roller skating offers a great way to spend time while learning new skills and bumping into new people, figuratively and less so. It's also a great way to stay active and have fun while doing it! Plus, roller skates are relatively inexpensive compared to other sports equipment, and you can skate throughout the year, the climate of your state allowing. With all these benefits, it comes as no surprise roller skating is on a roll at the moment.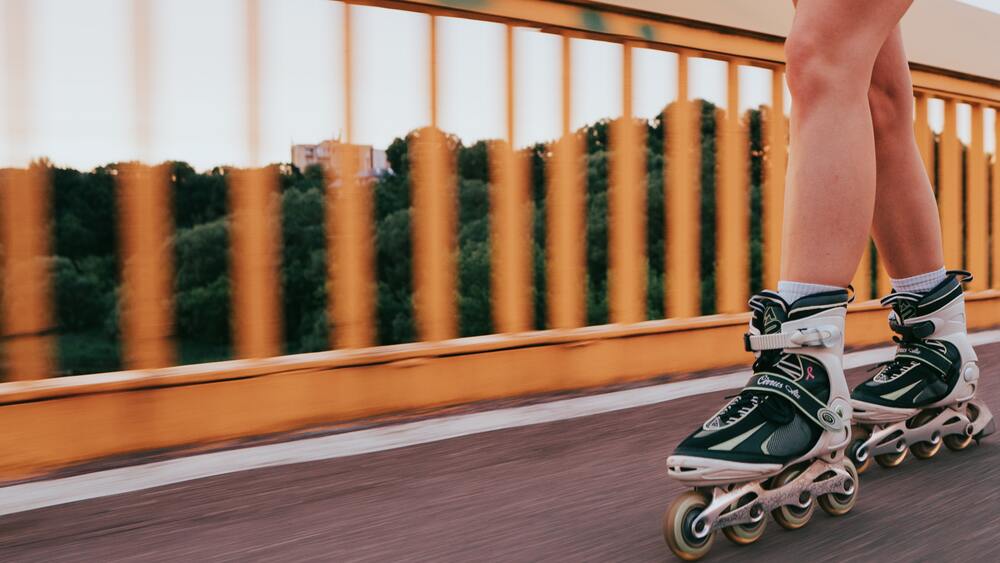 Types of Roller Skates 
The terminology of the roller skating world is somewhat heterogeneous. Some would say that roller skate is an umbrella term for all skates that utilize wheels in their design, as opposed to ice skates that feature blades that allow the wearer to slide on the ice. Others claim that the term roller skate is opposed to the term rollerblades which is the focus of this article. Before we get down to giving recommendations on Rollerblades in particular, we deem it necessary to clarify the distinction between different types. If that information is no news to you, here's the shortcut to the Rollerblade part.
Inline Skates (Rollerblades)
Inline skates, also known as rollerblades, are a type of roller skate consisting of two to five wheels arranged in a single line. They were the first type of roller skate introduced and have become increasingly popular over the years. The brand Rollerblade is often associated with inline skates due to their promotional efforts which made the term "rollerblade" a synonym for inline skates. Recreational models often feature rubber stops or breaks at the rear to alleviate slowdown.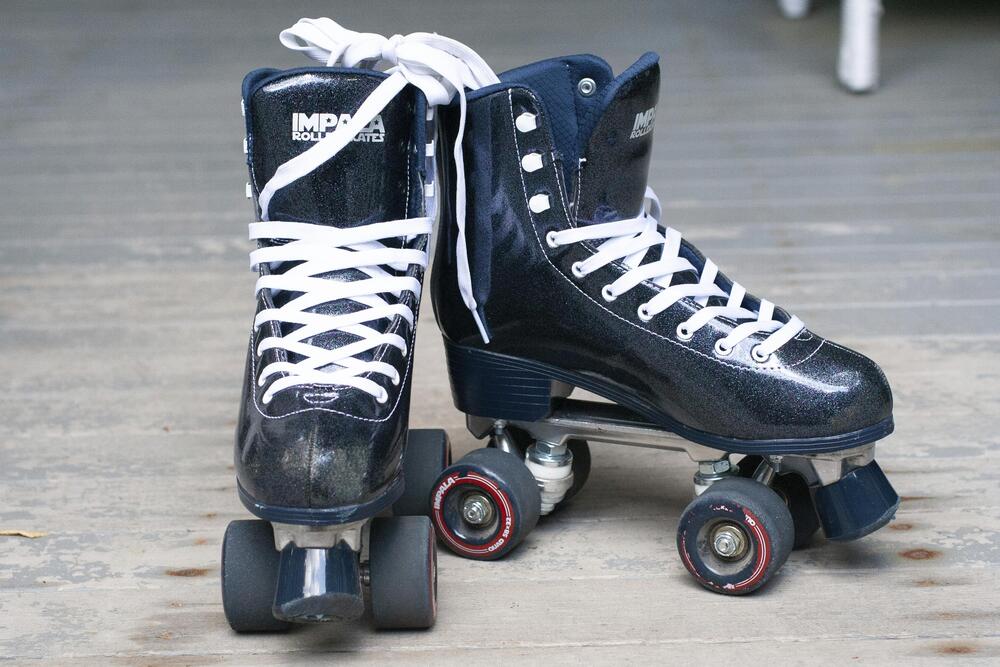 Quad Skates
Quad skates have four wheels arranged in two parallel lines, making them more stable than inline skates. They're great for beginners because they provide more balance and control than inline skates. Quad skates are perfect for recreational skating at parks or rinks, as well as performing tricks like spins and jumps. Another peculiar thing about quad skates is the front brake placement. 
Speed Skates
Speed skates are a type of roller skate designed for ultimate speed. They feature a lower-cut ankle boot which offers more range of motion, allowing the user to move faster than with other types of skates. However, increased speed comes at the expense of reduced agility and precision. Speed skates usually have 3-5 wheels, larger than those of recreational skates, for more even weight distribution and feature no breaks. They are designed for skating on long, even courses and are hardly suitable for everyday use.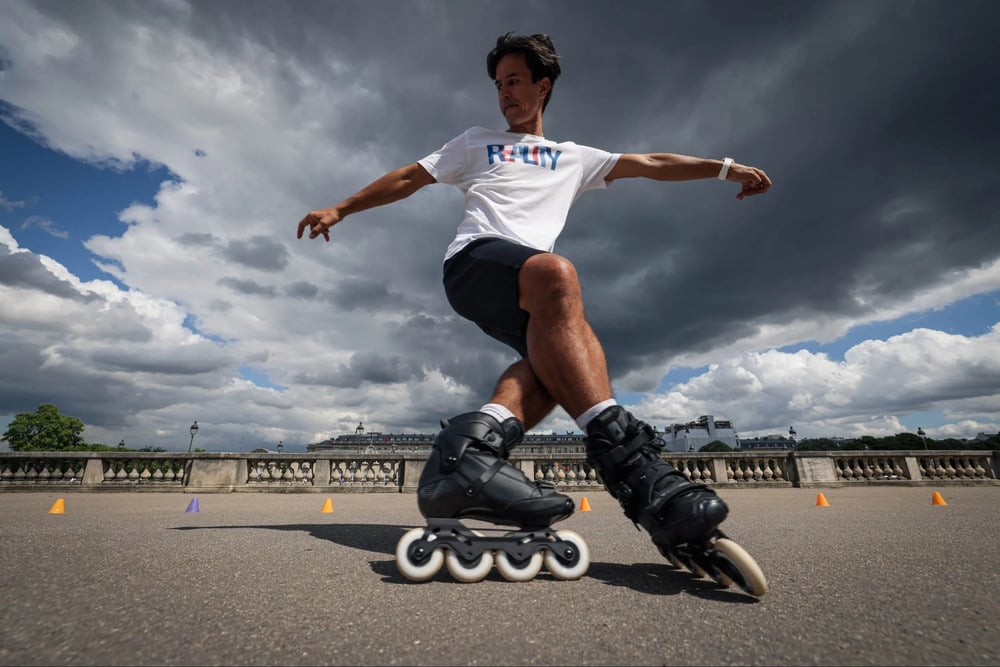 Performance Features
Now that we got theory out of the way, let's talk about something tangible. There you have a rollerblade looking at you, looking awesome but saying nothing in particular. How do you get it to talk? There are some features that can give away a rollerblade's potential and give you a hint on whether you are compatible or not. Pay attention to these four elements and you'll need no crystal ball to know your shared future.
Wheel Size
Even though this is one of those number-related categories, it can be boiled down to two understandable notions: big and small. 
Bigger wheels excel at long-distance runs, as they make it easier for you to maintain speed while not requiring you to apply more energy. In addition to helping you maintain speed, rollerblades with bigger wheels also tend to be faster than their smaller-wheeled relatives. However, they take you further from the ground, and that means less stability.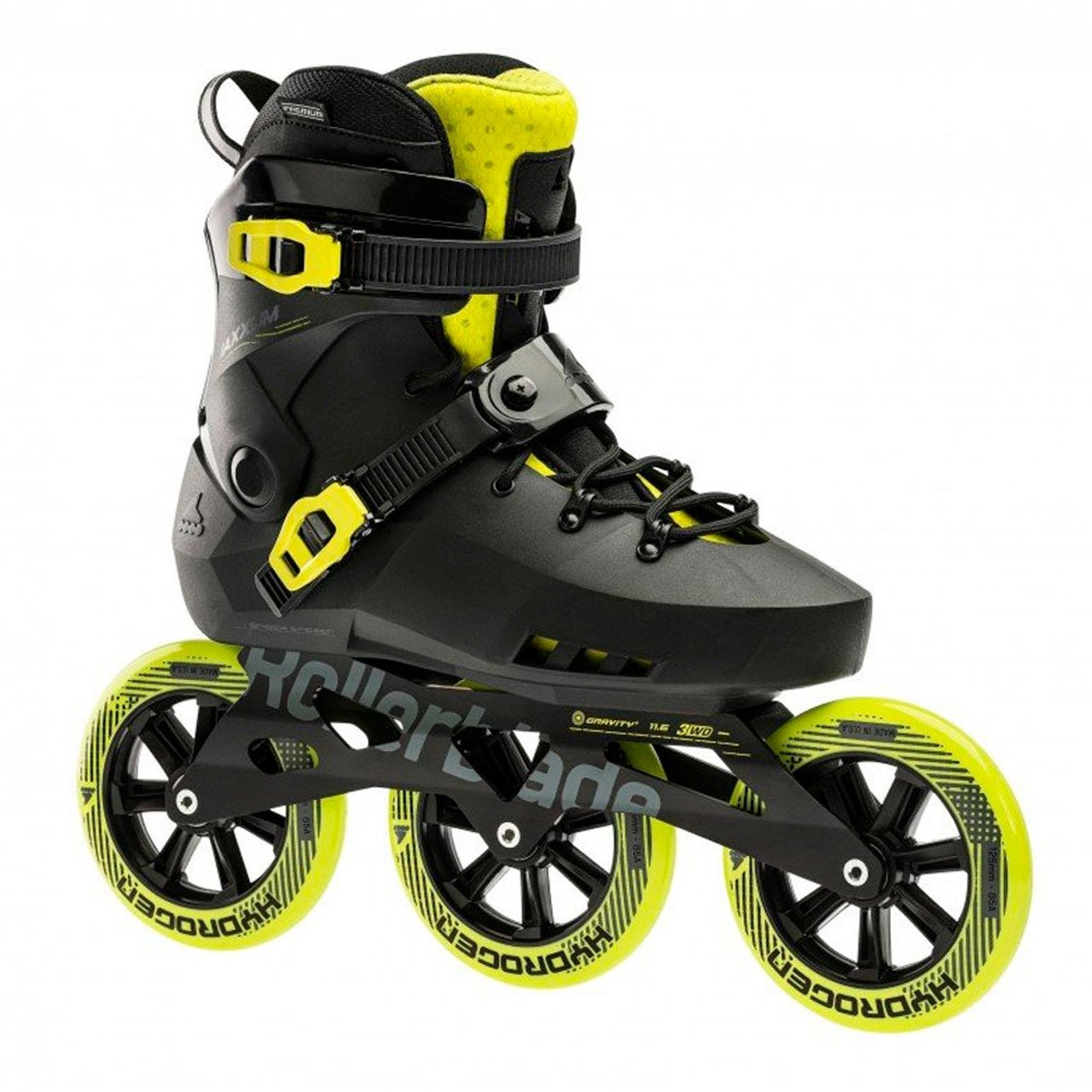 We can use Rollerblade Maxxum 125 Skates as an example of big-wheeled skates. Exceeding even the upper limit of recreational skate wheel diameter (which is app. 90-110mm), these rollerblades can easily be classified as speed skates. They feature only three 125-mm wheels to maximize the frame capacity but believe you us, these three wheels will carry you faster than 4 or 5 smaller ones. As befits speed skates, Maxxum 125 have 85A wheels, meaning their durability won't be a concern.  
On the other hand, we have smaller wheels, most suitable for shorter distances and casual city skating. Since they bring you closer to the ground, small-wheeled rollerblades prioritize maneuverability and agility. They also allow for easier turns and stops. Their speed rates will be lower than those of big-wheeled skates, but they are still rollerblades and they still can be pretty fast.
Wheel Durometer
The scarlet letter A in rollerblades stands for a much more innocuous thing than its literary analog. A is an indicator of the wheels' durability. The usual figures for fitness skates are 78-85A. The higher the number, the harder the wheels are, meaning they have a longer service life and are better at retaining their form (on a micro level). The higher A figure suggests that the skate is going to be pretty fast. Lower A figure means that wheels are relatively soft and will change their shape (on a micro level) when pressed on. That means their area of contact with the ground is greater than that of bigger wheels, so they offer more friction and grip, making a minor sacrifice of speed to balance the scales.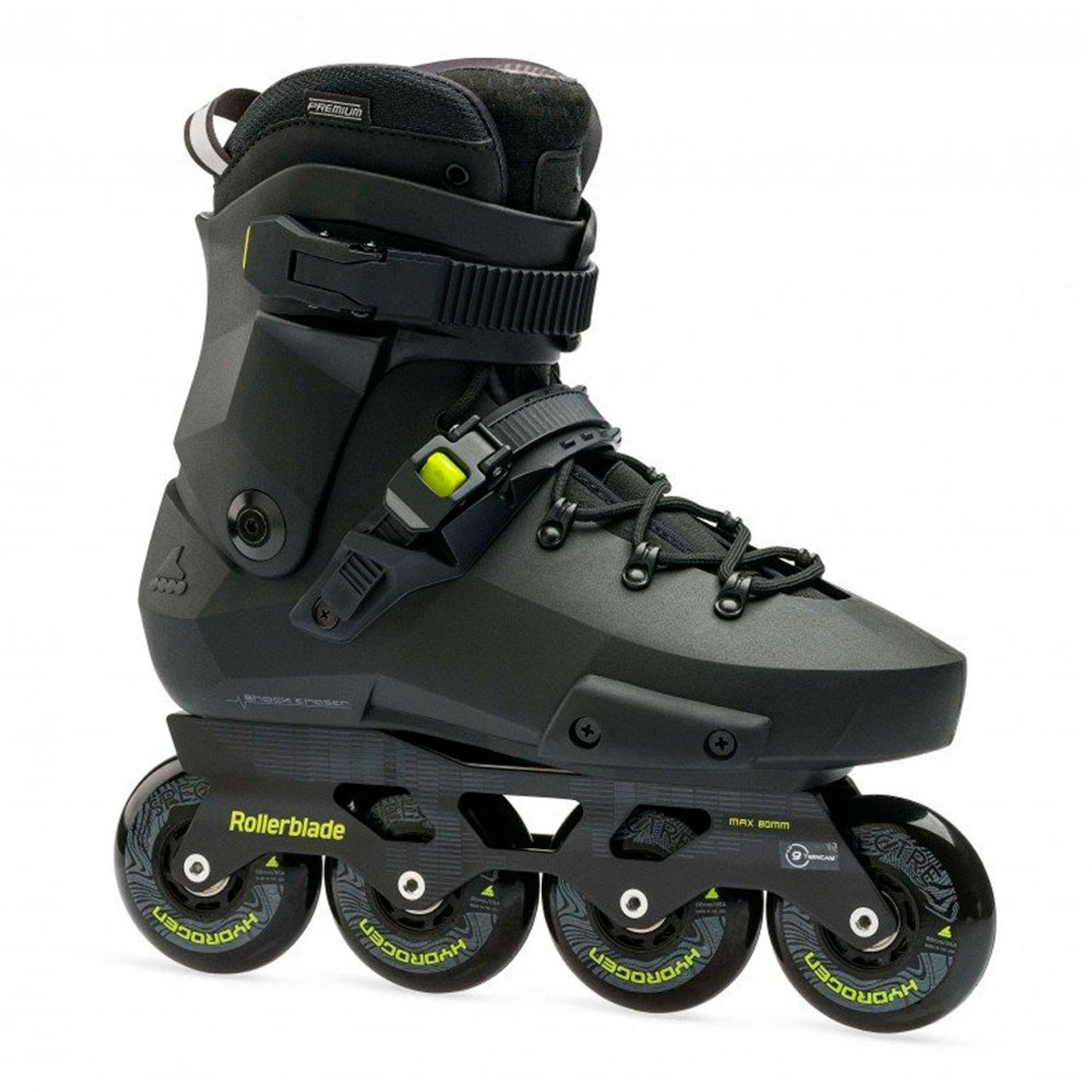 Let's take a look at the Rollerblade Twister XT model, taking both factors we've covered into consideration. Equipped with four 80mm 85A wheels, this model offers exemplary stability and grip. Most suitable for zigzagging city landscapes, Twister XT offers ultimate performance, less vibration and sought-after longevity. The security of the wheels' spinning capability is ensured by ILQ-9 Classic Plus bearings. Obviously, wheels are far from the only benefits Twisted XT boasts, but they are an illustrative example of how wheel size and durability figures affect the skates' performance. 
Brakes
Skating is an extremely enthralling activity, but not enthralling enough to make people unwilling to ever stop. In that regard, rollerblades are much more convenient than skis, given brakes are present on your skates. Brakes offer skaters more control over their speed and direction, the ability that never looks out of place. Brakes also provide an additional safety measure in case of emergency stops. Without brakes, skaters must rely on dragging their foot along the ground to slow down or stop, which is a neither quick nor accurate way to do so.
There are several types of rollerblade brakes available for purchase, but the most common is a replaceable rubber pad brake that attaches to the back wheel. This type of brake is commonly found pre-attached to most recreational and fitness skates across brands. Other types include toe brakes, heel brakes, and electronic braking systems, but they are not particularly popular on rollerblades. Speed skates don't have any brakes at all, the Rollerblade Maxxum 125 is only one of many examples.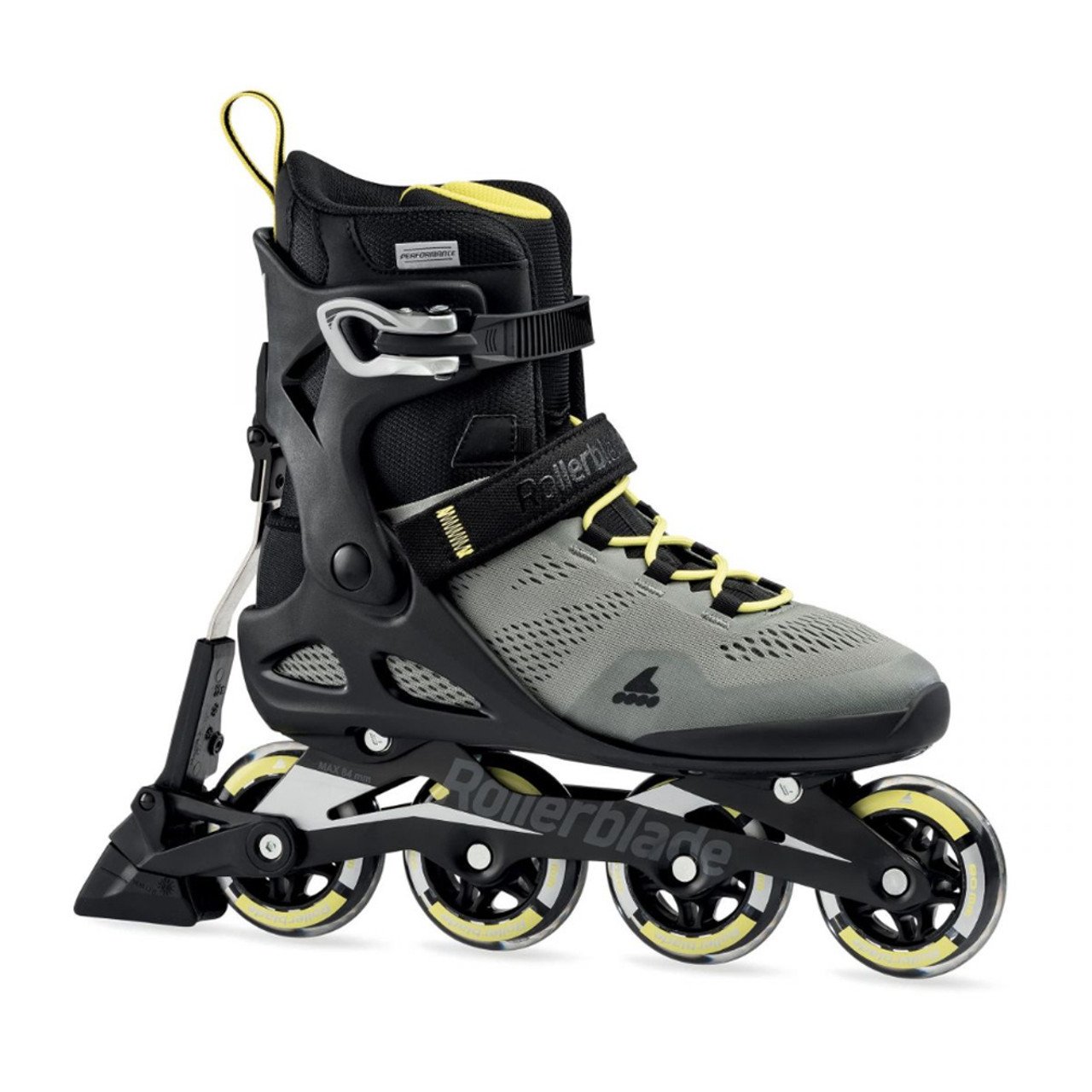 Unlike the majority of skates that feature standard brakes, the Rollerblade Macroblade 80 ABT boasts something of a brake nonesuch. Eliminating common difficulties skaters (esp. new ones) face when making a stop, Macroblade has the ABT brake system as its distinctive feature. The Active Brake Technology offers a manually adjusted brake that offers you more control over the stopping process. While conventional breaks require the skater to lean backward, lifting the toes, Macroblade brings a four-wheels-on-the-ground braking experience, eliminating potential balance and control issues. All you need to do is slide your breaking foot forward – and a smooth, gradual brake is at your service. The brake is also height-adjustable, meaning you can lower it in case it wears down.
Number of Wheels
Rollerblades have from three to four wheels these days, and the reason for such a variety has nothing to do with looks. The number of wheels determines their maximum size as well as other determining characteristics of a skate like speed, agility, grip and stability.
How does the number of wheels affect the performance of a skate? In short, it's a tradeoff between speed and agility. Three-wheels-setup means more speed, as the wheels themselves can be bigger and thus provide a swifter skating experience. Four-wheel design, on the other hand, is all about stability and grip, because your weight is distributed more evenly. However, inline three-wheel skates are said to be more comfortable for skill acquisition.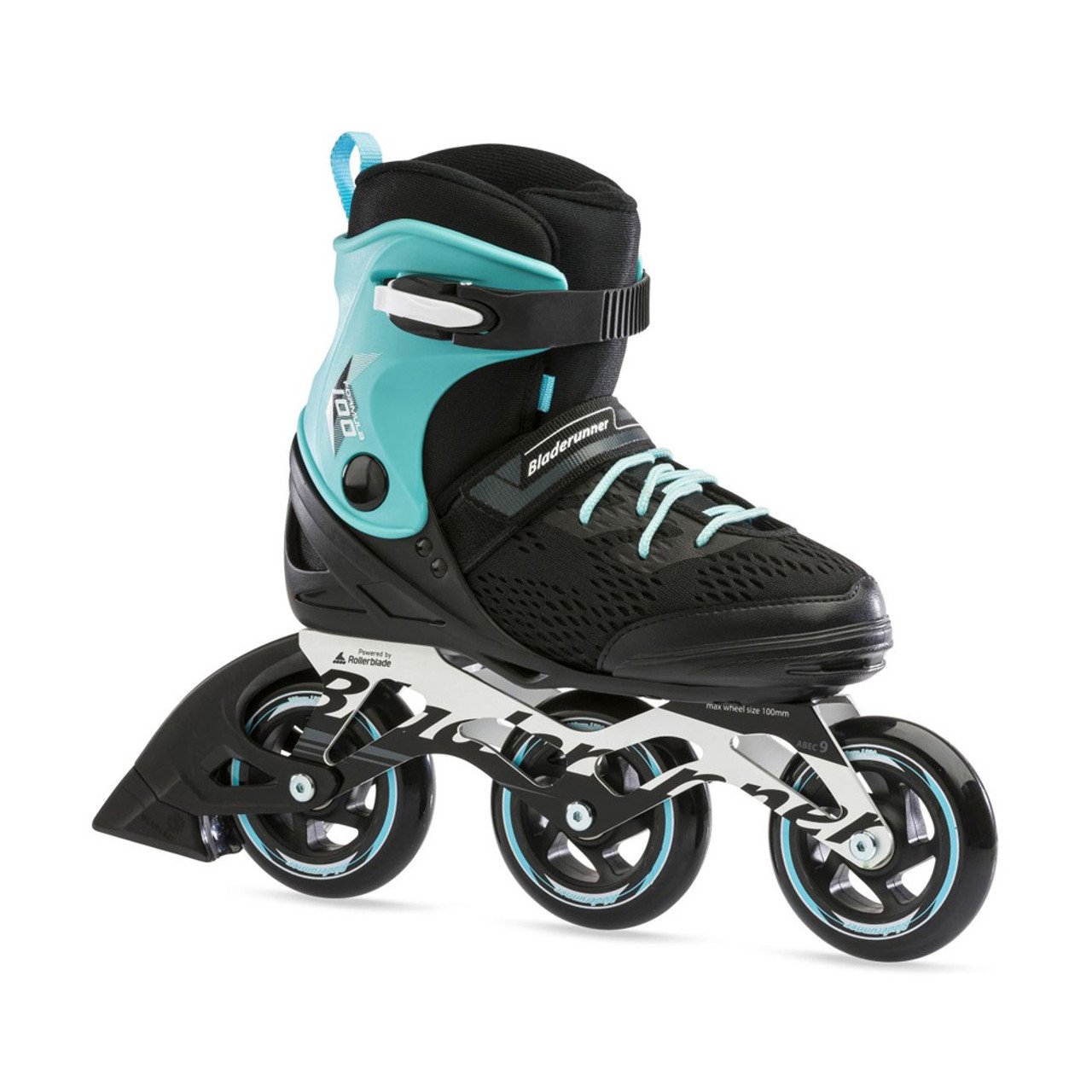 Take Rollerblade Formula 100, for example. These rollerblades are equipped with three 100-mm 82A wheels, secured by ABEC 9 bearings. With a time-tested traditional brake design, these rollerblades make for a fine beginner's option. 100 mm is a conventional wheel diameter for a three-wheeled skate, so you can rest assured it will be up to all the challenges of first tries.
Choosing the Right Size and Fit for Your Rollerblade Skates
Rollerblade fit is a pretty common question. Things can get complicated with your regular shoes, not to mention such specialized equipment as skates. Here're a few tips on how a fitting skate should feel.
Toe Space. Your toes should not reach the nose of the skate, so make sure the fit isn't too snug. You need to have enough room to move them a bit. If the fit is too tight from the very beginning, with time, it is bound to get only worse. However, having too much free room is equally precarious. Many shops, online ones in particular, have comprehensible size charts that give some clarity on how different sizes relate to each other. 
Heels. Your heels should sit securely in the back of the boot. You can double-check this feature by putting your foot at an upward angle and tapping the back wheel on the ground while sitting. Then get on your feet and lift each skate up. Your heels shouldn't jiggle around or rise up.
Don't rely on well-known rules of going one size up or down. The most reliable way to determine a suitable fit is by relying on your feet size. You would need to measure it yourself, it's not a particularly arduous task.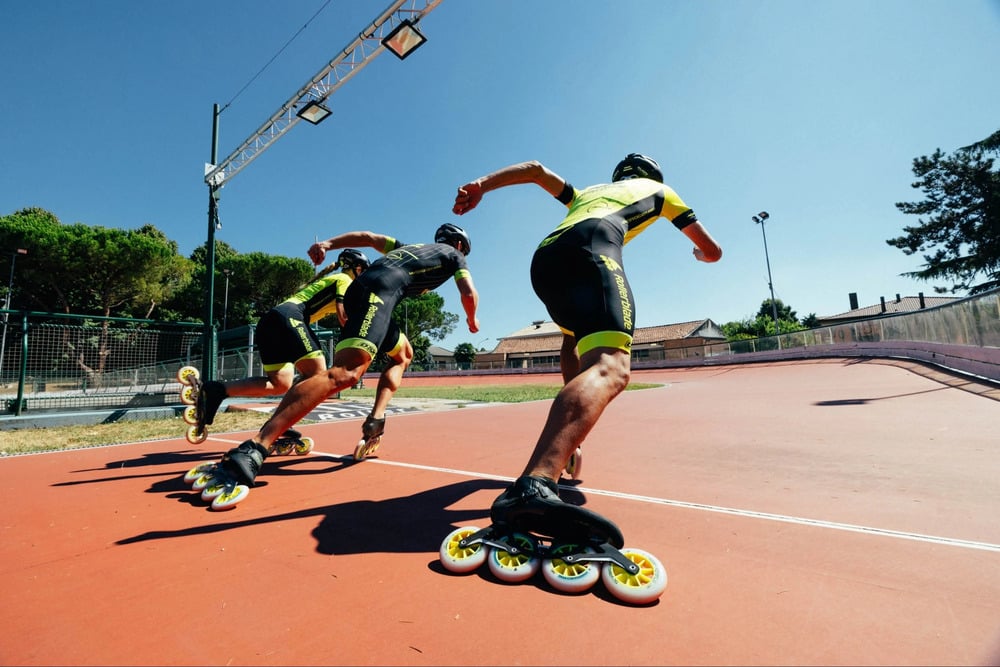 Conclusion
Rollerblades offer unparalleled mobility and speed unmatched by any other means of transportation like skateboards and bikes. However, it is crucial to get a pair that suits your style of skating. It might be a good decision to get the hang of things before delving into more speedy models. With that being said, it's always a good idea to train with something you plan to use for a long time. If you are thrilled by the feeling of cutting through the wind, opt for skates with three big wheels and a high wheel durability ranking. If you prefer a more down-to-earth skating experience with better grip and stability, take a look at four-wheeled skates with a lower wheel durability rating (but nothing below 82A). Regardless of what you end up choosing, you can rest assured Rollerblade's skates will serve you long and faithfully.
FAQs
Is there a difference between inline skates and rollerblades?
The words 'rollerblade' and 'inline skate' are actually synonyms. They both describe a roller skate with wheels arranged in a line. Due to the marketing efforts of a Rollerblade brand, their name became synonymous with the very products they manufacture. 
How do I stop on rollerblades?
First, there's a heel brake that you can perform if your skate is equipped with one. Bend your knees, extend your arms in front to counterbalance, push the skate with a brake forward and lift your toe.
Secondly, there's a T-stop. To perform that one, you'll need to push one skate forward, leaving the other leg straight down in a perpendicular manner, not allowing your ankle or knees to bend. Your foot will slide back to you as you slow down and you'll end up in a T-position.
Finally, there is a plow stop. Spread your legs slightly while skating and pull your toes together until they meet. 
What are some safety tips for rollerblading?
Wear protective gear such as helmets, knee pads, elbow pads, and wrist guards.

Make sure your skates fit correctly – not too tight or too loose.

Be aware of your surroundings and yield to pedestrians, cyclists, cars, and other skaters.

Skate at a speed you're comfortable with and know your limits.

Don't skate in the rain or snow as it can be very slippery and dangerous.

Follow the flow of traffic in skating rinks and be aware of the different zones within them.

Stay hydrated and wear sunscreen when skating outdoors for long periods of time.

Learn how to fall safely by practicing controlled falls on grass or other soft surfaces before attempting them on concrete or asphalt surfaces while skating outdoors.
How do you choose the right size rollerblades?
A suitable pair of skates will leave some room for your toes to move a bit. At the same time, it will securely sit your heel. To increase your chances of finding a perfect pair, we suggest you measure your feet and use that information. Opting for one size bigger or smaller than your usual one can backfire.