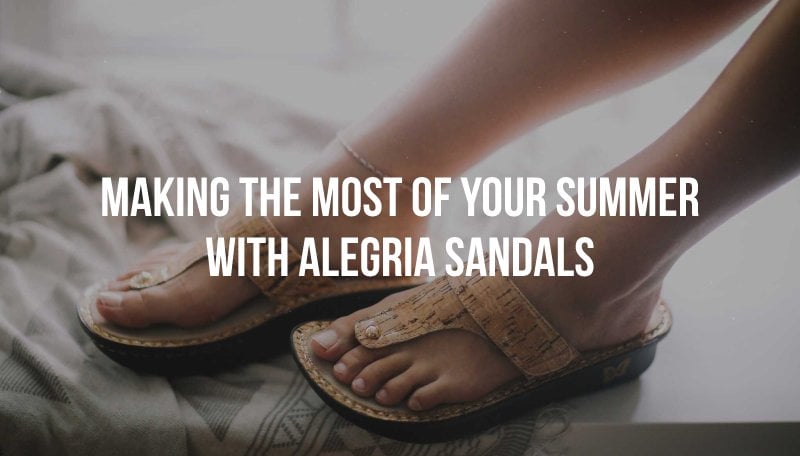 Last Updated on
Many rely heavily on sandals – they're the go-to shoes during the hot summer. But regular sandals don't always offer ideal comfort, leading to painful problems like lack of arch support, irritation, blisters, foot deformities (bunions and hammertoes), and dead skin buildup. Wouldn't it be great if there were a solution that would kill off all those issues without sacrificing style? Well, guess what? Alegria (the brand of PG Lite) is here to save the day! In this post, we'll guide you through different Alegria summer shoes and explain how exactly Alegria sandals achieve ample comfort while still looking fashionable.
Table of Contents
Popular Styles of Alegria Sandals for Summer
– Wedge Sandals
– Strappy Flat Sandals
– Flip Flops
– Thong Sandals
– Mary-Jane Shoes
Making a Statement with Alegria Shoes in the Summertime
Caring for Your Alegria Sandals
Popular Styles of Alegria Sandals for Summer 
Alegria offers a plethora of shoe styles to choose from, making it easy to find the perfect shoe for any occasion. From gladiator sandals to wedges and platforms, the brand has you covered for all your summer footwear needs. So, without further ado, let's take a closer look at some of the most popular styles of Alegria women's sandals.
Alegria Wedge Sandals
Wedge sandals are a timeless style that adds elegance to outfits for various occasions, from casual outings to more formal events. Basically, they are a type of sandal that features a wedge-shaped platform sole that tapers low at the toe to high at the heel.
Some women accustomed to lower, flatter shoes may be hesitant to consider wearing wedge sandals because they fear they lack support and balance. However, unlike high heels, wedge sandals have a more extensive base that provides more stability and balance, making them a safer alternative for those seeking height and comfort. Alegria wedge sandals, in particular, offer an added layer of comfort with their cushioned footbeds and adjustable straps.
Let's take these stunning Alegria Summer Black Leather Sandals as an example.
They feature a plush, microsuede-wrapped footbed for enhanced comfort and no skin irritation, while a lightweight, non-marking outsole will make you feel like you're walking on clouds. The outsole features a slip-resistant material that provides better stability.
For those women looking for flatter designs, Alegria platform sandals may be a match. Platforms are considered a type of wedge shoe, as they also feature a high but non-tapered base, making them better for casual outings.
Alegria Strappy Flat Sandals
While wedges may be fashionable, flats are a versatile and practical choice. Flat sandals provide better arch support, reduced pressure on the balls of your feet, and less stress on your knees and back. They're also easier to walk in, making them perfect for those long summer days when you're on the move.
Alegria offers strappy flats in a wide variety of styles and designs. You can go with simplistic sandals with wide velcro straps, like these Rubie Sandals:
Or you can choose something more dressy, like these beautiful Kerri sandals.
Let's take a closer look at the Kerri. One thing immediately speaks volumes: it was accepted by the American Podiatric Medical Association for its superior comfort and support. With two adjustable hook-and-loop closure straps, it's easy to get a custom fit, while the leather upper and lining provide breathability and next-to-skin comfort. But the most prominent feature is the patented removable footbed. It includes a base made from cork and soft polyurethane and a layer of memory foam on top of it – together, they provide just the right amount of support and cushioning.
The Kerri shoes also feature a no-slip rocker outsole that encourages a more natural stride.
Alegria Flip Flops
While wedges and flats might be fashionable, nothing beats the simplicity and ease of good flip-flops. They are perfect for the beach, the pool, and any situation where you need to slip your sandals off quickly.
Alegria flip-flops are one-piece designs made from lightweight EVA with molded arch support. Moreover, they have a rocker bottom for more natural movement and balanced pressure distribution.
Alegria Thong Sandals
Thong sandals are an elegant and chic alternative to traditional flip-flops associated with beaches and pools. While flip flops are a classic summer staple, thong sandals offer a more refined and sophisticated look that can easily transition from day to night.
Like other Alegria summer shoes, thongs feature lightweight, non-flexing structured rocker outsole with built-in arch support. Here are some designs in case you're considering this style of summer shoes.
Alegria Mary-Jane Shoes
While mary-janes are often associated with colder weather because of the closed toe box, Alegria mary-janes shoes offer a comfortable and stylish option for summer. They come in a variety of styles and colors, each featuring one of Alegria's unique and vibrant patterns. Whether you prefer bold and bright or understated and minimalistic, there's a shoe to match your style.
But comfort is where these shoes truly shine. With their cushioned footbed and adjustable straps, these shoes are designed with all-day wear in mind. The padded collar and rocker outsole offer added support and stability, ensuring that your feet remain comfortable no matter how long you're on your feet.
Making a Statement with Alegria Shoes in the Summertime
Summer is the season to show off your unique sense of style, and with Alegria sandals, it's easy to create a signature look that's both comfortable and fashionable. Choosing the right ensemble is just as important as choosing the right footwear, and with Alegria shoes, the possibilities are endless.
When it comes to Alegria mary-janes, try pairing them with a floral patterned summer dress. The playful design and the comfortable yet stylish shoes will create a look that is equally easy and fashionable. Adding a pair of earrings or stylish sunglasses will elevate your outfit even further.
Alegria wedges are perfect companions for dressy occasions. Pair them with a cocktail or flowy maxi dress for a romantic and stylish summer outfit. Statement jewelry and a clutch will finish off your look, making it perfect for a night out.
Alegria flats offer a casual and effortless look. Pair them with your favorite pair of shorts or jeans, a stylish summery top, and a hat, probably, a cowboy hat, to complete your summer outfit. With a wide range of colors and patterns, you can choose a pair to fit your signature style.
As you see, styling Alegria sandals is easy, as their unique style, design, and patterns allow you to add a touch of personality and flair to any outfit.
Caring for Your Alegria Sandals
It's essential to keep in mind that different materials require different caring techniques. Whether your Alegria sandals are made of full-grain leather, suede, cork, or other materials, proper care will ensure their longevity and keep them looking great. Here, we'll discuss how to care for your Alegria sandals using various methods specific to the materials used. With these tips and tricks, you can keep your Alegria sandals looking and feeling like new for seasons to come.
Alegria recommends cleaning distressed leather and soft nappa leather using a damp cloth. This method is also preferable for cleaning metallic parts and printed leather uppers. Dress crinkle leather is recommended to clean with a non-abrasive leather cleaner or a damp cloth. A shoe-shine leather creme is the best for full-grain leather. To ensure the maximum longevity of the nubuck, which has a velvet-like surface, use a specialized suede cleaner. However, if your shoes feature suede, you must use a suede brush and be very gentle because Alegria treats its suede with a specialty coating.
We've also mentioned patented triple-layer Alegria footbeds. Actually, they can't be washed as the materials used in them aren't water-resistant. So you need to replace them every year or so.