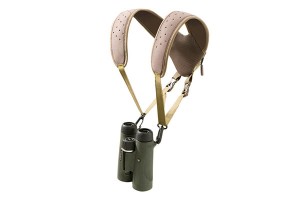 You have seen binocular harnesses listed alongside binoculars or as add-ons to your binocular purchase, but with the standard neck strap that comes with almost all binoculars included in the box, why would you consider adding a harness to your binocular set up? First, it naturally depends upon how you plan to use the binoculars, and a harness isn't necessary for every type of binocular user. For example, those looking for a pair of "car binoculars" or binoculars they use to glass while taking day trips or sightseeing trips will probably find a harness to be overkill. However others who plan to hike with their binoculars and/or spend several hours at a time using their binoculars to glass nearby landscapes may find a harness makes their adventures much more pleasant and less fatiguing. Let's take a deeper look at the reasons why a harness is a good addition to your pack.
Fatigue
A common issue with prolonged binocular use is "neck fatigue." The neck strap focuses all the weight directly down on the back of your neck, and after you wear the binocular for a while, your neck inevitably starts to ache, especially if you are wearing a heavier pair. This can be a particular problem for seniors and older users who like to bird watch but can't handle any extended strain on the neck. A harness transfers this strain to the shoulders, and most find that the shoulders bear such stress far better than the neck. In addition, there are now two points of contact on the body (left and right shoulders) instead of just the neck.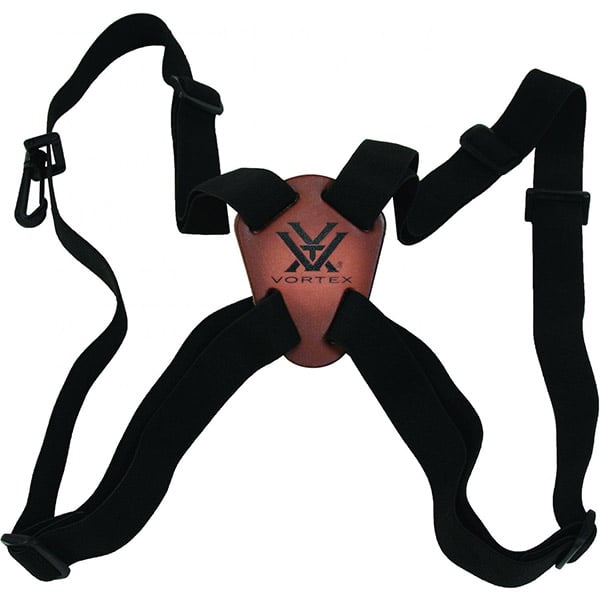 Convenience / Quick Action
A major problem that a lot of folks who use optics in the field, whether it be binoculars, spotting scopes or even cameras, is the pain that comes with casing and retrieving their optics as the proceed on a hike. This is an issue we can easily grasp. You're on a hike searching for wildlife, and the optic in your pack is there to enrich your viewing experience and get up close to the illusive animal you are tracking. However, depending on your surroundings, wayward branches, uneven trails and other obstacles lead you to store your optics in the case when moving from spot to spot. Yet what happens when you chance upon an animal and you want to get a closer look? You have to bend down, unzip the case, and take off the lens caps, etc. By the time you perform this tedious task, the animal has likely wandered off, perhaps due in part because you were scrambling around to get your optics instead of focusing on the moment. You miss the moment you were out to capture because your optics were stowed in your pack.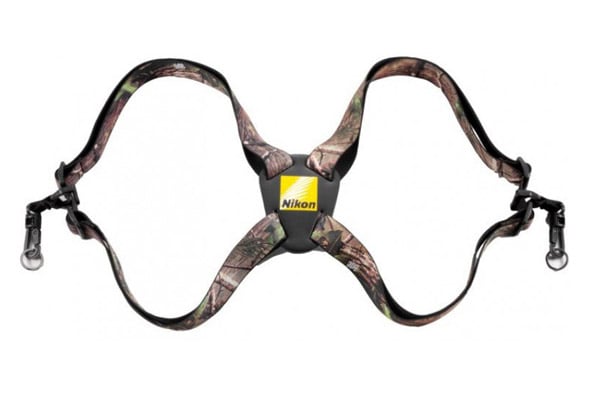 A harness can reduce this problem for binocular users by holding the binoculars securely against the chest. When that illusive bird or other animal pops up at a moment's notice, you can simply grab your binoculars and be focusing in on the wildlife in a couple seconds. You miss less of the event you are out in the field for by traveling with a harness instead of the binoculars stowed in the case. The only exception to this system would be those times where you have to scramble up rocks, but of course you can always case it for those times and then pull them back out before you move on.
Security
While we just touched on how important it is to have the binoculars against your chest should a viewing opportunity present itself unexpectedly, the security the harness provides is just as important when you plan to hike with your binoculars out. A harness keeps binoculars from flopping about as you travel down uncertain terrain, and this reduces the chances of the binocular banging against a nearby rock or being scratched by a nearby branch. The way binoculars swing when worn with just a neck strap makes any substantial hiking with them a risky act, and this is one of the biggest reasons a harness belongs in your outdoor pack.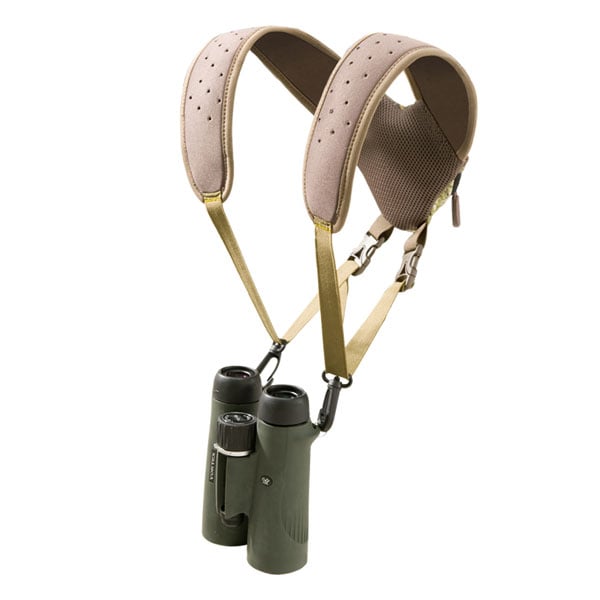 Adjustable Wear
Most binocular harnesses can be worn two different ways, and some harnesses provide more even more wear options. The primary method of wear is where each strap is worn over the shoulder and the binoculars are positioned firmly against the chest. The harness should be adjusted so as the user draws the binoculars up, the eyepieces are automatically at eye-level. The second method of wear is where both shoulder straps are transferred off to one side, usually the shoulder matching the dominant hand. This position allows the binoculars to hang under the armpit of the dominant hand, but they can still be easily drawn up to eye level just like the primary wear method. Many harness models can be worn just like a neck strap for those situations where you don't have time to slip into the full harness as well.