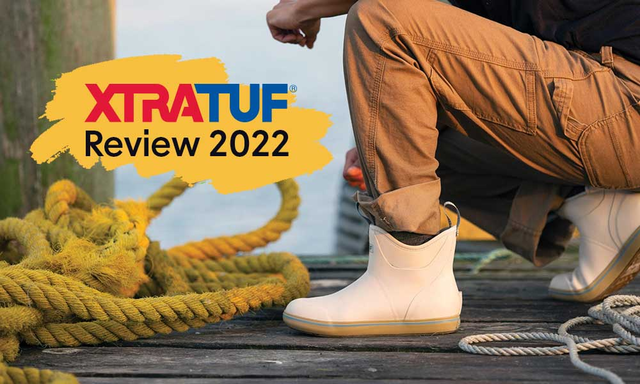 Best Xtratuf Boots For Sale
Visit Our Store
We all know that the outdoors is not only about warm, sunny days with grass green and land dry. Different states enjoy a different number of good weather days when the earth doesn't try to leave its mark on you, and the skies don't try to wash you clean. However, mud and rain inevitably become uninvited companions of an outdoorsman, an issue we need to address. Staying in is the easy way we are not going to consider. Instead, Gritr Outdoors suggests you take a look at the footwear of a brand dedicated to manufacturing fishing boots that fear no weather. Xtratuf, ladies and gentlemen, and some of the famed Legacy boots you can acquire in our online store.
    Boots Reviewed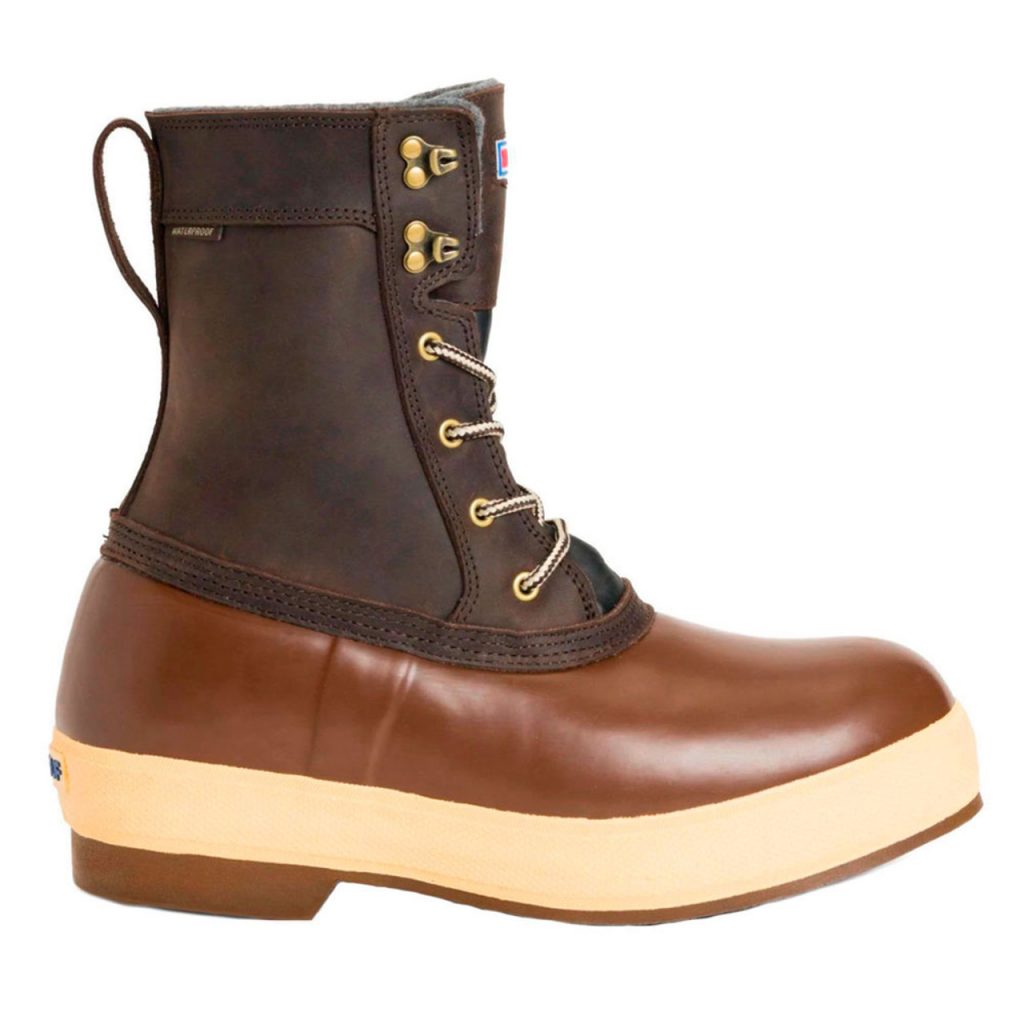 Xtratuf Men's 8in Legacy Lace Insulated Chocolate Boot 
We begin our review marathon with the descendant of the company's signature line of fishing boots. This model is one of the proud members of the latest generation of the Legacy line that takes all the greatest features of the Classic model and reassembles them in a new, modified form. The Legacy Lace series introduces a new feature to the time-tested classics: a reinforced lace-up upper. The upper features a full-grain, waterproof leather that allows the boots to repel water effectively while staying sufficiently warm to be worn during winter days. Unlike its predecessors, the Legacy Lace boots boast adjustable fit thanks to the lace design allowing you to secure the uppers however you see fit. The interior has also changed. The foam insoles are designed specifically to make all-day wear more comfortable. Apart from that, the boots are quite similar to the brand's classics. They feature triple-dipped latex neoprene for a seamless base that ensures optimal traction for wet and slippery surfaces. The lace upgrade not only serves its function but also adds a new touch to the familiar pair of boots.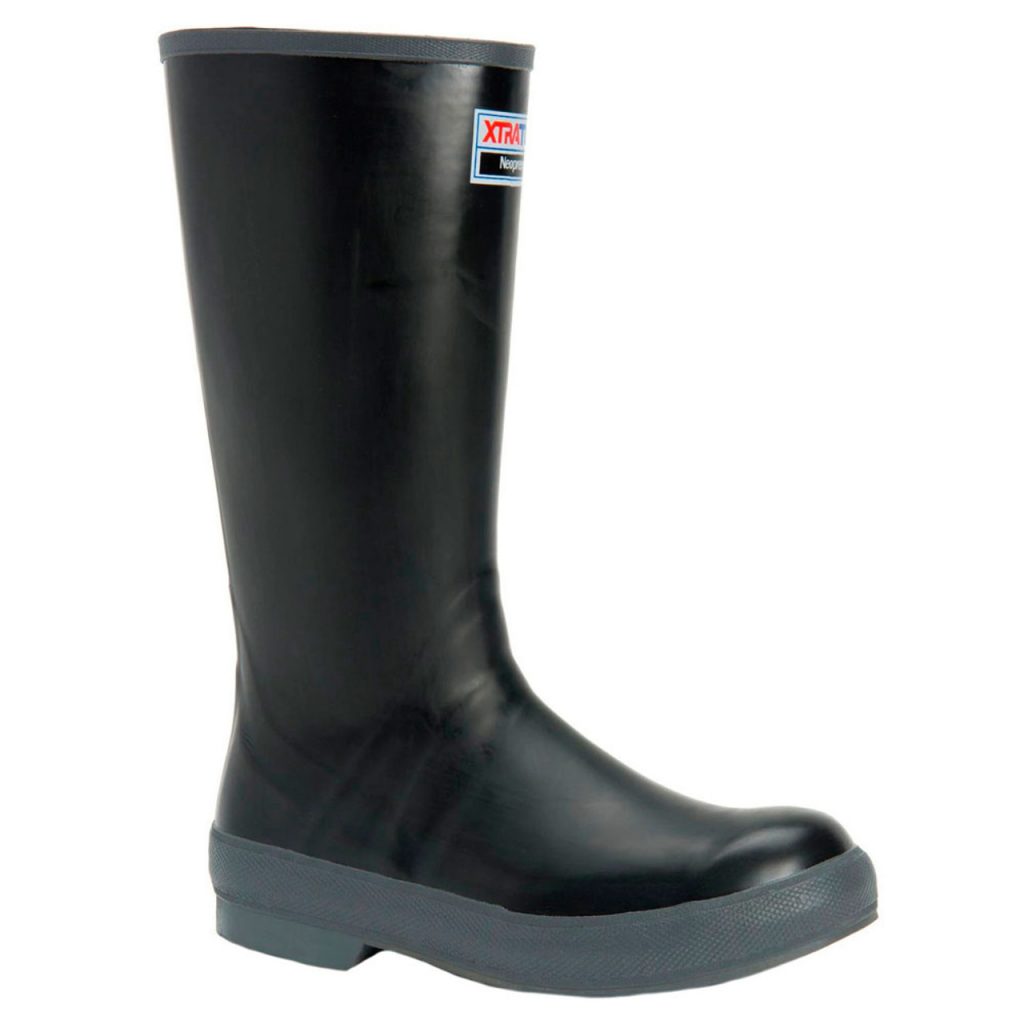 Xtratuf Men's 15in Legacy Black Boot
A favorite among commercial fishermen, the Xtratuf Legacy Boot collection is now available in black! A benchmark of the dedicated fishing footwear industry, the Legacy Boots offer all-day wear comfort to crucial for fishing industry workers. Since they are designed for the harsh conditions of Alaska's open water, rest assured they can withstand the challenges that inland rains and mud have to offer. Even the phrase
exemplary element resistance
doesn't fully reveal the protective qualities of these boots. The special coating makes Legacy Boots impervious to a wide range of acids, corrosives, and contaminants. These are not your ordinary rubber boots, if only because they are not made of rubber. The boots feature latex neoprene that is softer, lighter, and more flexible than regular rubber. Some boots hamper your movement due to being stiff and unresponsive to your body's lead. The Xtratuf Legacy boots' flexibility allows the wearer to stay agile. Do we even need to mention they are totally waterproof and slip-resistant? A different pair of fishing boots wouldn't suit assiduous fishermen working in the cold waters of Alaska. Cushioned insoles with arch support are the cherry on the top of Legacy Boot's list of benefits.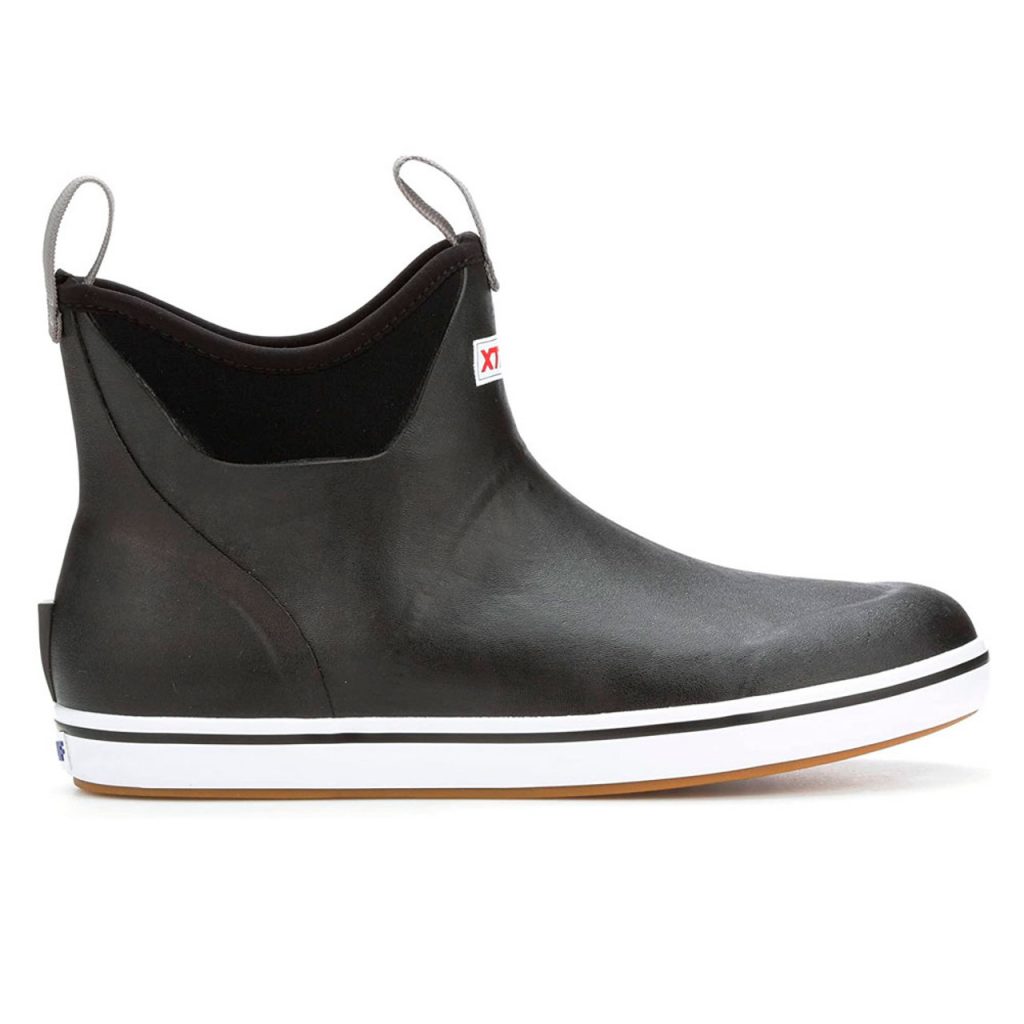 Xtratuf Women's 6in Ankle Deck Boot
At times, you don't need the coverage of full-length boots. You might very well fold them down, but they will still be on the longer end, and you might want something shorter. This pair of Xtratuf Ankle Deck Boots is designed specifically for those women who want some of the Legacy Series benefits in a shorter form. Someone would call it a more stylish interpretation of the good old Legacy Boots, but they are more different than you might expect. Since they are shorter and require less material to build, they are much more lightweight than traditional Xtratuf Boots. These are constructed with hand-laid rubber, so they are not commercial-grade boots. Such an approach ensures makes every pair more personalized. There are also some features you can recognize from the brand's signature footwear. For example, they feature the same slip-resistant Chevron outsole used in all Legacy Boots, so slippery surfaces pose no threat to you. They might not be the best choice for rigorous weather conditions, but they are great for rainy or muddy spring and fall days.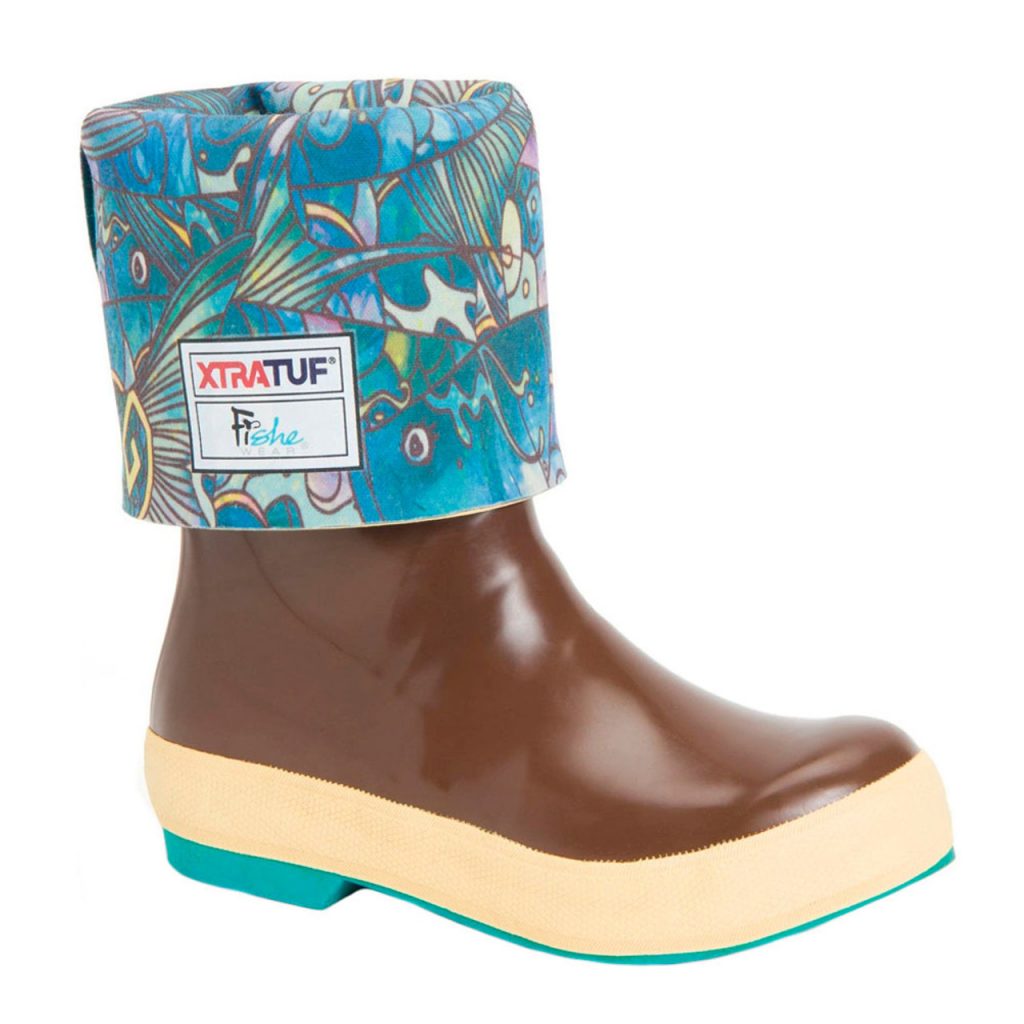 Xtratuf Women's Fishewear 15in Legacy Brown Deck Boot
Back to the renowned Legacy Series, Women edition this time. They say that truth doesn't tarnish when repeated time and time again, so it won't hurt to recall the benefits the Legacy Series boots grant their wearers. By buying these boots, you get a reliable companion that will keep you on your feet. There is a slip-resistant, non-marking outsole that provides enough traction to prevent wet surfaces from playing their tricks on you. There is hand-layered construction that ensures there is enough flex and stress at critical points. There is also a waterproof, highly chemical-resistant exterior that keeps the boots safe from the harmful impact of acids, corrosives, and contaminants. What sets them apart from regular Legacy Boots is the interior design. They feature a Totally Tarpon Print developed in collaboration with FisheWear. You can add a touch of style to your outdoor look by wearing them folded down. To be honest, such a beautiful print doesn't deserve to be hidden in the interior, so that's the best way to wear them. These boots are known to be somewhat tight in the calf when wearing your regular size, so we strongly recommend ordering a size bigger to also leave some space for wearing thick socks.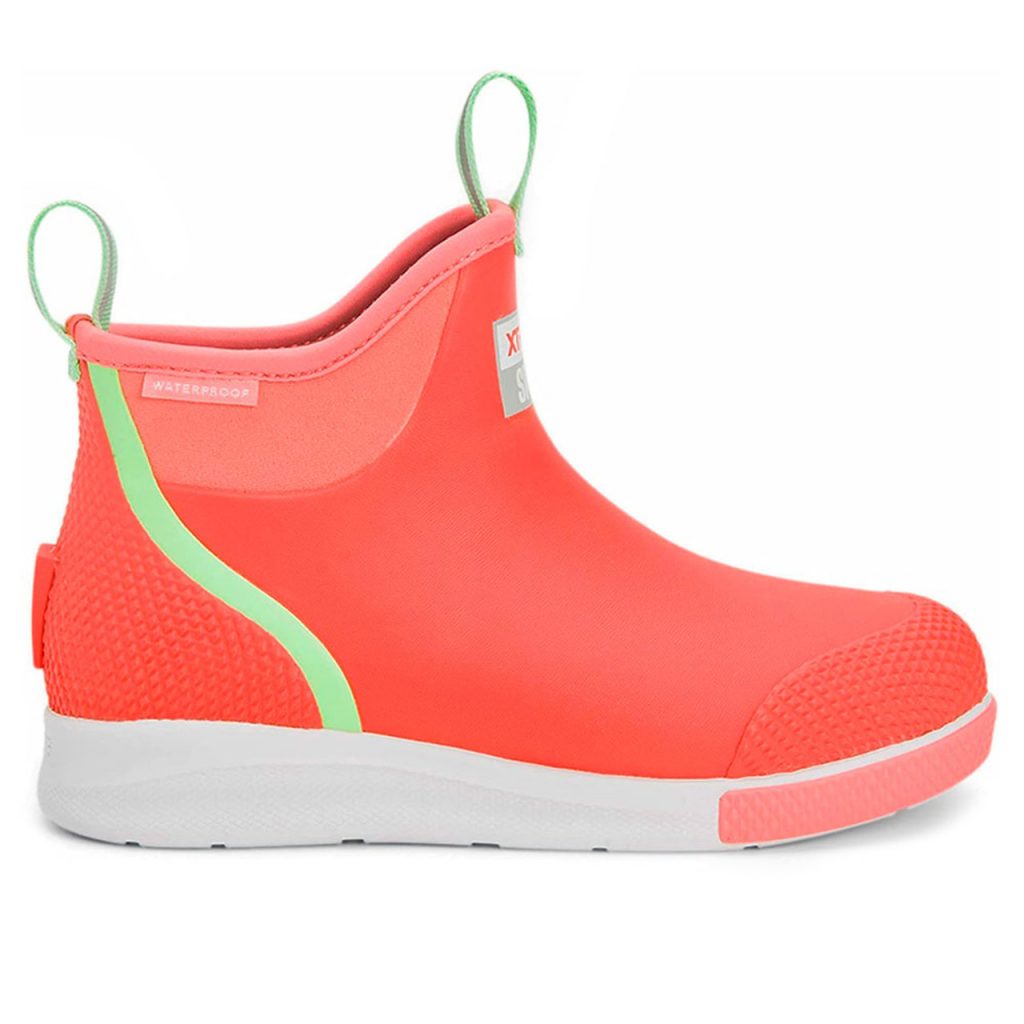 Xtratuf Women's Ankle Deck Sport Fishing Boot
Another pair of boots with an eloquent name. As you might guess, a new silhouette introduces the spirit of sport to the Ankle Deck Boots collection. Being about 30% lighter than the regular version, these boots combine the best features of sneakers and rubber boots. The Sport model is built from a different material: high-performance PRO-LITE foam is more flexible than rubber but no less durable. As befits sporting footwear, these boots are easy to slip on and pull off: a rare blessing for boots meant for wet and muddy weather. The one-piece non-marking outsole is, shock content, slip resistant. We know it's a recurring feature in all the Xtratuf boots, but it's there, and this is a review. To sum it up, the Xtratuf Women's Ankle Deck Sport Fishing Boots deliver the agility of a sneaker and the traction of a full rubber boot. They are quite a snug fit, so we suggest you order a size bigger.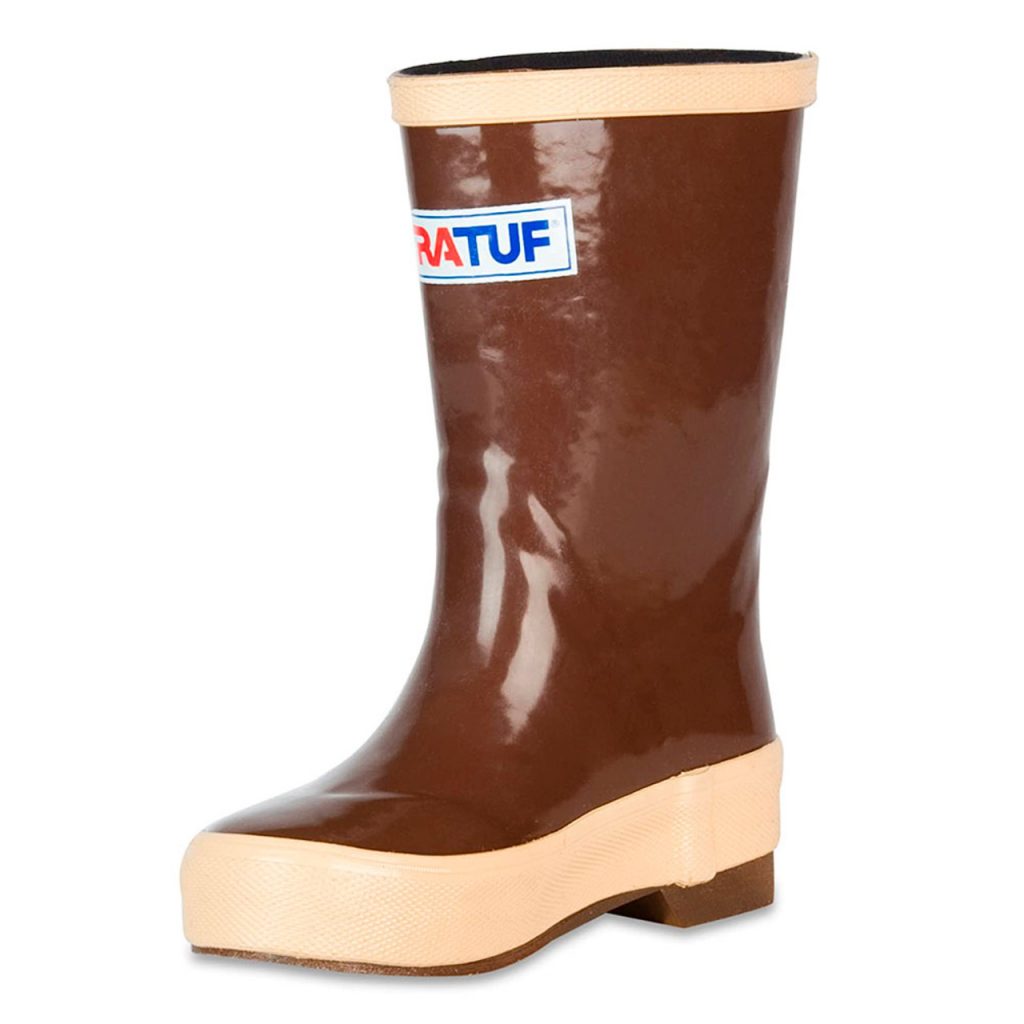 Xtratuf Little Kid's 8in Legacy Copper/Tan Boot 
Children are more willing than anyone to explore the outdoors regardless of the weather. The desire to jump all the water out of a puddle seems to be encoded in our genes and can only be contained by a firm hand of a parent. However, it's only natural for kids to explore the world around them in the only way they know, through touch. We should encourage their curiosity and buying Xtratuf Little Kid's Legacy Boots is one way to do so. With these, you can rest assured your child's feet are going to stay dry unless the puddle turns out to be deeper than expected. They are also easy to clean, so muck and dirt are not an issue. They also feature full-rubber coverage and, guess what, Chevron outsole. In one sentence, these are the miniature version of the famed Legacy Boots with all their signature features.