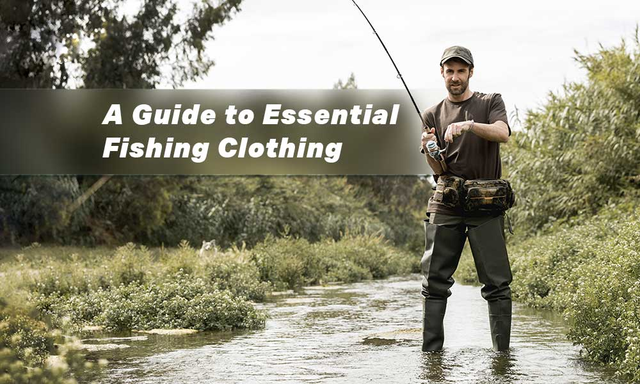 Last Updated on
The question of fishing apparel relevancy has been puzzling many anglers since the moment dedicated clothing was introduced. After all, if it doesn't allure fish or directly increase your chances of catching one, why bother spending money on it? Fish don't see you wearing a fishing outfit, but they see a lure. A pair of shorts won't help you reel in a big catch, but a sturdy fishing rod will. And yet, for some mysterious reason, the fishing clothing market is abundant and doesn't show any signs of being neglected.
There is a good reason for it, and it is functionality and personal comfort. Fishing clothes won't make the fish jump out of the water into your hands, but there is another participant in this endeavor who deserves focus. It's you, the angler. How long can you withstand the scorching rays of the sun? How long can you fish soaking wet from the waves? Or shaking from a biting cold? No fishing rod can protect you from those things, however advanced and high-end it is. That's a job for fishing clothing. To ensure you can fish comfortably regardless of inconveniences the weather might throw at you.
A complete fishing outfit comprises many garments. Hat to cover your head. Upper and lower body clothing to take care of your body. Footwear to make sure your feet are in a good place. Outerwear to stand against the elements. And accessories to be the frosting for our apparel cake. As usual, there are many varieties to each article of clothing, and your cake can look however you want. In this article, we touch on every element of a complete fishing outfit and the options you have with each of them.
Table of Contents
Fishing Headwear
Upper and Lower Body Clothing
      Upper Body Clothing
      Lower Body Clothing
Fishing Footwear
Outerwear Clothing
Fishing Accessories
Conclusion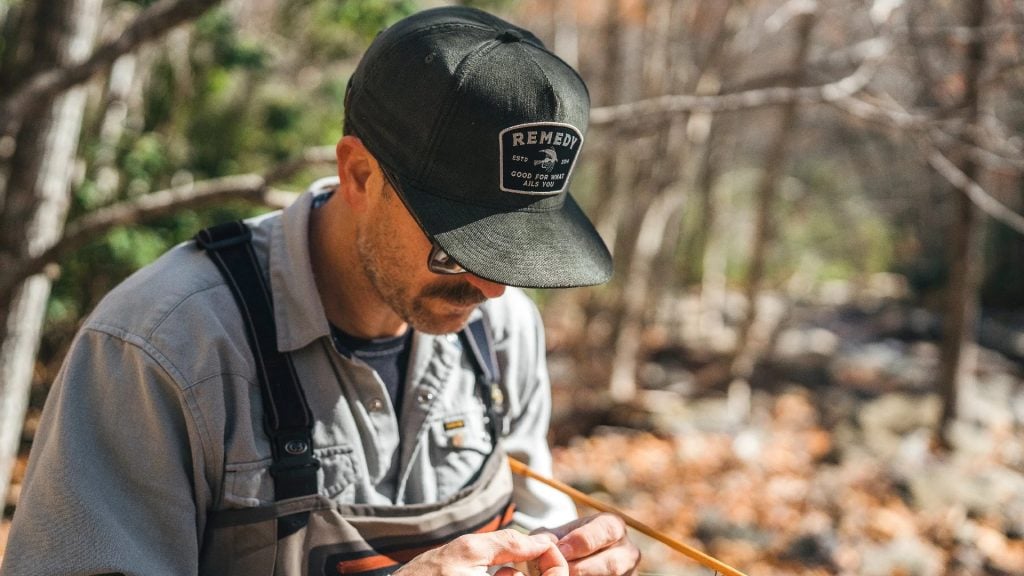 Fishing Headwear
Headwear styles are plentiful, and many of them can serve you well on your fishing trips. While nobody has invented a universal one-design ultra fishing hat yet, many hat models have features that an angler can benefit from. The choice depends heavily on your surroundings, so it might be useful to see the big picture before deciding on the details. Here are fishing hats fit to endow an angler's head.
Hat Options 
Caps
Baseball caps are probably the most popular type of hat out there. The chances are every angler has at least one, which inadvertently makes them a regular choice. Caps do offer some benefits an angler needs, like protecting your head and the part of your face from the sun while remaining breathable and lightweight. Caps' availability puts them before all other types of hats, even though they might not be the best option available. Their sun protection can't compete with that of dedicated fishing hats.  
Bucket Hats
A simple cloth hat with a brim is known alternatively as the fisherman's hat. It is usually made from fabric like denim or canvas, sometimes from heavy wool. These hats were originally worn by Irish fishermen as protection from the rain because the materials used for them were naturally waterproof. Modern iteration is different from its predecessor. Today, bucket hats are made from lightweight materials and are used majorly for sun protection.
Sun Hats
As you can guess from the name, sun protection is the primary focus of sun hats. They share this function with bucket hats, but the two aren't the same. As a rule, sun hats are worn for physically undemanding activities and leisure. The reason for it is the hat's wide brims, wider than those of bucket hats. However, several designs still make for a fine choice for a fishing hat. Straw hats, being a variety of sun hats, are known for their breathability and affordability. They offer lightweight protection from the sun while also letting the wind do its refreshing job.
Boonie Hats 
A Boonie is another wide-brim hat that was traditionally worn by the military. A Boonie hat shares some similarities with bucket and sun hats, but its brim is much stiffer. They often feature small loops around the crown of the hat meant for holding elements of camouflage. Though hiding is rarely an angler's tactic, this hat is still a viable option for head protection.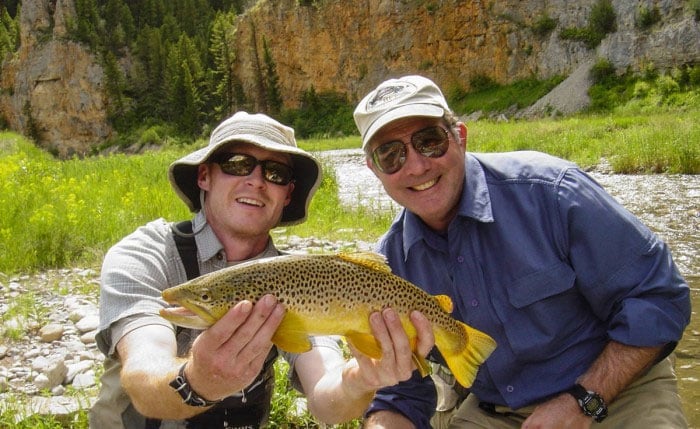 Features to Look For
One thing that can be found in the majority of hats mentioned (except for caps) is a chin strap. This element prevents hats from being blown away by the wind. The waterproof lining is another feature that should be present in a perfect fishing hat. But the main focus is on sun protection. 
A moderate amount of sunlight can be beneficial, but prolonged exposure is extremely harmful. Everyone is aware of the risks fraught with UVA and UVB rays, but sunstroke is another danger that needs to be addressed. Fishing rarely takes an hour of your time, and hours spent under the sun will cost you a heatstroke unless you have head protection. Getting a hat with sufficient Sun and Ultraviolet Protection Factors is essential.    
Recommendations
These hats make for solid headwear choices for warm weather. If ice-fishing is your passion, you would need something much warmer. But there are no recommendations regarding hats for winter fishing. Warmth retention and protection from wind and snow become the priorities in this case. Any hat you'd wear in cold weather will do nicely.
As for summertime fishing, there are several guidelines to follow. First, account for the fishing site. If it's saltwater fishing, make sure to get a hat with a high UPF rating. Vast expanses of water reflect sunlight making it more focused, so you'll need all the head protection you can get. We also recommend opting for headwear with chin straps to eliminate the possibility of hijacking. Baseball caps are not the best choice for such occasions. But the story is different for inshore freshwater fishing. In inland territories, water doesn't exacerbate the harmful influence of the sun, and the wind is usually less strong. There, you have more freedom in your headwear options. 
Upper and Lower Body Clothing
Going down, we come across body clothing, an always-essential element. You might leave your hat at home on a cloudy day, but fishing clothing is always a must. Unlike hats, fishing apparel is designed exclusively for anglers and is endowed with features that make staying in aquatic and near-aquatic environments more comfortable. Of course, some items of clothing from your wardrobe can fill that niche as well, but nothing performs better than specialized gear. 
A typical outfit of an angler includes at least two elements: garments, covering the upper and lower parts of the body. 
Upper Body Fishing Clothing Options 
T-Shirts
T-Shirts tend to be anglers' first choice on hot summer days. Indeed, a few can force themselves to wear something with long slings when everything you want to do is literally have as little clothing as possible. However, our advice is to abstain from hasty decisions and leave your worn-for-years T-shirts at home. Fishing T-shirts are quite different from regular ones, with looks being the only thing that unites them. Fishing T-shirts are made from lightweight breathable materials with high UPF ratings. They actively wick moisture away from the skin instead of absorbing it. Casual T-shirts can't boast the same features.       
Long Sleeve Shirts
The only significant difference between fishing shirts and T-shirts is the sleeves. The materials and sun protection levels are usually the same. The obvious benefit of long-sleeve shirts is the increased skin coverage area. The more areas of your body are protected from direct sun rays, the better for your health. To make up for potential warmth-related inconveniences, manufacturers make long sleeve fishing shirts extremely breathable. Stain and water-repellent qualities are also parts of the long sleeve's kit.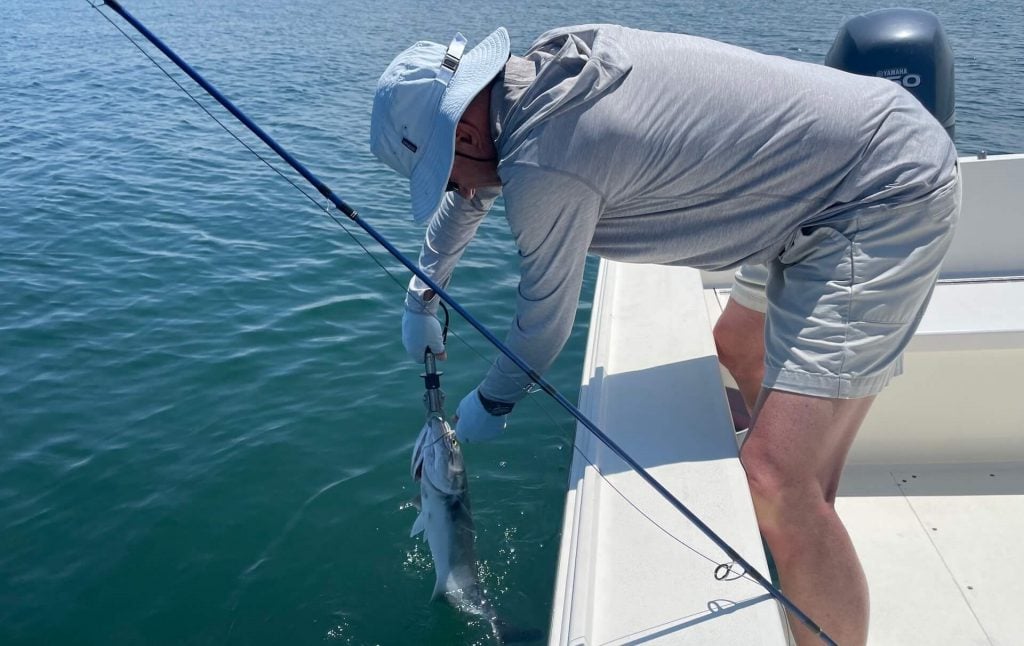 Lower Body Fishing Clothing Options
Shorts 
Shorts are the gift of the Universe created to help people live through summer. When the weather is blazing, and you are sweating more than a sinner in church, the very idea of donning anything else must be fear-inducing. People rarely get dedicated fishing shorts, replacing them with regular ones, and such a strategy is completely understandable. After all, shorts are made from lightweight materials, so breathability tends to be on the level. What casual style shorts lack is water-resistant/ repellent qualities. Maybe it's not a big deal to get your shorts wet in summer, but if the source of getting wet is constant, you'll soon get tired of walking or standing wearing wet clothing.
Pants
The thing about fishing pants is that they are not designed for warm weather. They are usually made in darker colors, known to attract the sun's attention, so they are hardly a good option for hot summer days. On the other hand, you won't find a better option when the weather is colder. Even chilly summer mornings and evenings might bring you to regret the decision to wear shorts instead of pants. During other seasons, fishing pants are a must.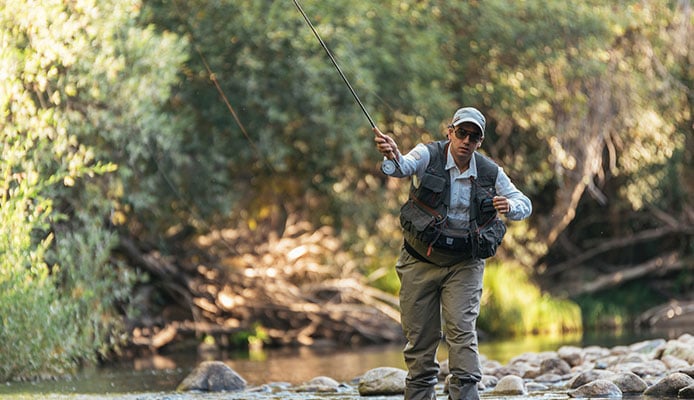 Features to Look For
All garments that can be classified as lightweight fishing apparel share one quality. It's moisture-wicking properties. Like with any other physical activity, sweat is an inevitable companion of fishing, and it never helps to do things better. Another reason for making upper and lower body garments wick moisture away is their versatility. They are often worn as base layers during colder seasons. Moisture wicking is the primary function of the base layer. With layers piled up, sweating may soon become an unbearable issue. Clothing with moisture-wicking properties makes sure it doesn't reach that point.
Recommendations
Though the idea of using your regular summer clothing for fishing is quite appealing, we strongly recommend getting at least one dedicated fishing long-sleeve shirt or T-shirt. It will serve you well during summer and will be one of the best base layering options in colder times. We don't insist on getting fishing shorts, though the benefits they bring are undoubtedly pleasant.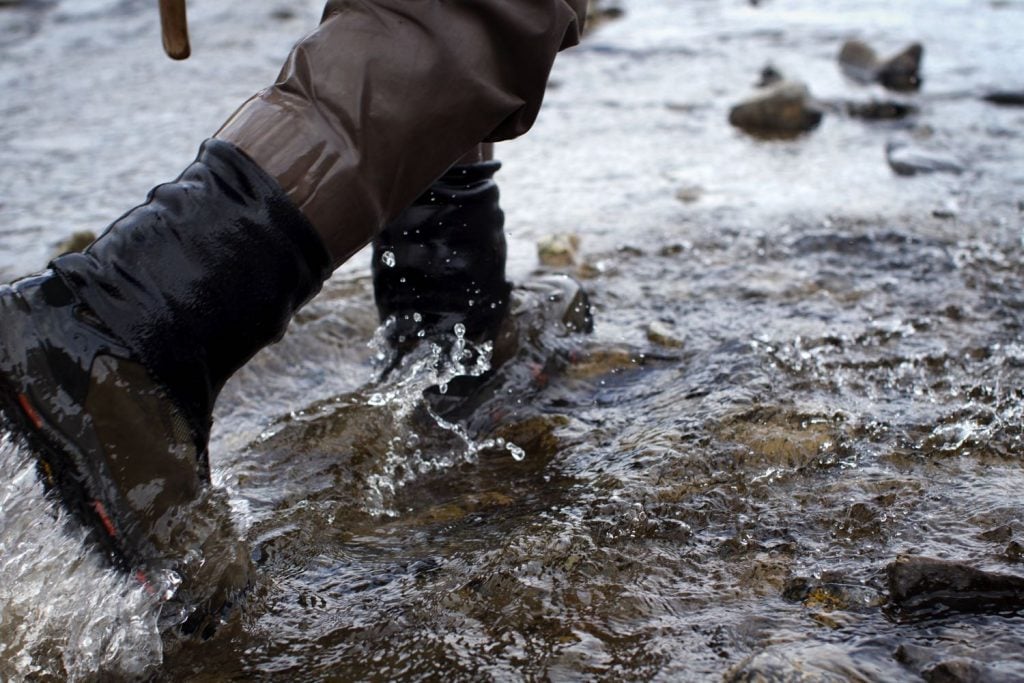 Fishing Footwear
One slip on a slippery stone or deck is all it takes for people who skimped on fishing footwear to reconsider the quality of their decision. One pierced sole and foot is all it takes to never again venture into the river without a pair of sturdy fishing boots on. Living through a cautionary tale is not mandatory for starting to appreciate dedicated boots and shoes. Fishing footwear can be divided into two groups, each essential for different styles of fishing.
Fishing Footwear Options
Fishing Boots
An absolute must in every angler's wardrobe (or wherever you store your footwear), fishing boots stand out from the footwear crowd. You won't confuse them with anything else: rubbery shafts immediately give away the purpose of the boots. There are plenty of ankle fishing boots too, but you get the gist. They are indispensable when it comes to in-water fishing and are very handy for fishing from banks. Fishing boots feature sturdy slip-resistant outsoles, a waterproof exterior, and an insulated interior. They come in ankle and knee-height varieties. The latter is a must for fishing and wading in shallow waters. If you have plans on submerging higher than the knees, waders are imperative.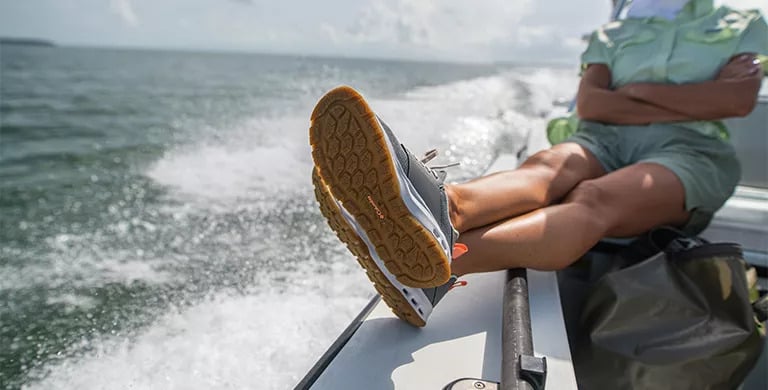 Fishing Shoes
The luckiest of us have regular opportunities to fish from the deck of a yacht or another vessel. The outfit of a yacht trawler differs from the set of clothing for fly fishing, and the same goes for footwear. Fishing shoes are designed for environments with few natural obstacles, vessel decks being a primary example. Their main feature is a slip-resistant outsole that helps you retain your foothold. They are commonly known as deck shoes since they are worn almost exclusively on vessels. 
Features to Look For
The reason why regular boots won't do for fishing is slip-resistant outsoles. Everything water touches becomes slippery after getting wet. Decks and rocks are the best examples. You'll need to somehow traverse these slippery surfaces, preferably without joining your catch in their habitat. Slip-resistant outsoles of fishing boots help you stand firmly on your feet, while the waterproof exterior makes sure no water will invade your personal space. Those features are usually exclusive to fishing and wading boots, so getting a pair should be your first priority.
Outerwear Clothing
Fishing is a year-round activity. Catching fish while basking in the sun constitutes only a quarter of the year's fishing opportunities, given the weather is favorable. Can the advent of the cold force anglers into their homes? Hardly. They make a list of fishing outerwear clothing, they check it twice, they get everything they need and go rolling on ice. In all seriousness, weatherproof clothing covers all adversities the weather might bring, including rains and winds of transitional seasons. It includes garments for upper and lower body parts that boast enhanced resistance to the elements.
Weatherproof Fishing Clothing Options 
Fishing Rain Gear
Rain is an obstacle that can stand in the way of an angler any time of the year. While rain poses no obstacles for fishing, standing in the rain is an activity far from pleasant. Water-resistant gear is no longer enough – you'll need nothing less than waterproofness. Rain jackets and rain pants are all made from fabrics that repel water instead of absorbing it. They are also often windproof and thus are perfect for foul weather. Traditional yellow raincoats can do the job of protecting you equally well, but they might be a bit more restricting in terms of movement.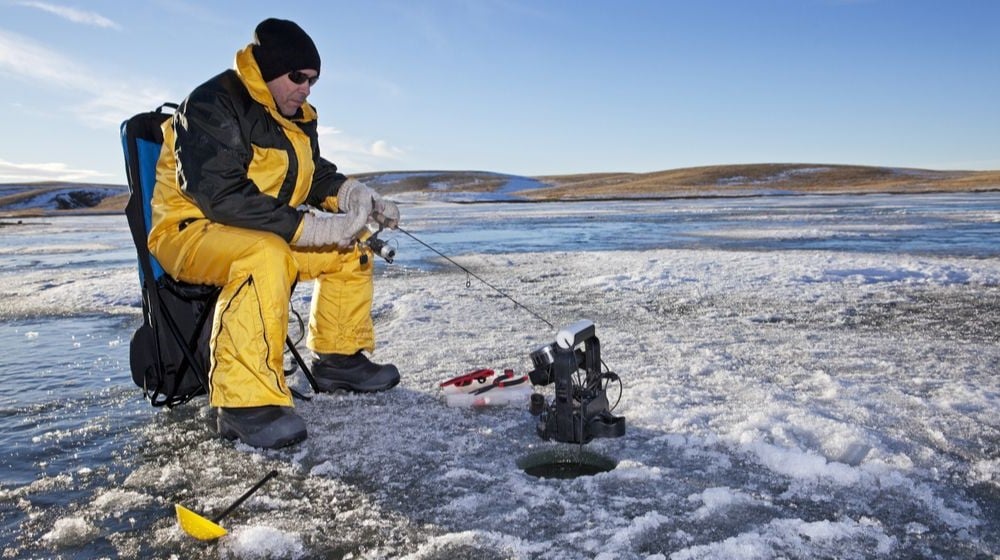 Ice Fishing Gear
Ice binds rivers and lakes, lulling them into a deep frost sleep. But life never stops underneath the ice. Ice fishing gear takes the best features of rain gear and adapts them for colder climates. Insulation becomes more relevant, displacing waterproofness from the throne. The choice of insulation levels is quite ample, so you can find garments for all sorts of winters. Waterproofness doesn't go anywhere, for snow is only an altered rain. The third feature is exclusive to ice fishing gear, and it is buoyancy. Falling in water unintentionally is hardly an enjoyable experience, but falling through the ice can cost you your life. Buoyant ice fishing jackets and pants don't let you sink, keeping you afloat and increasing your chances of survival.
Features to Look For
When choosing outerwear for fishing, you should consider the weather first. Wind- and waterproofness will be a priority in any case. Those two things can make you call off the whole fishing operation pretty quickly. The level of insulation is equally important, though it depends heavily on the temperature. Finally, buoyant fishing jackets are a must for ice fishing. They've already saved many lives and can save yours as well.
Layering System for Fishing
Layering is the key to comfortable ice fishing. Every layer plays an important role in keeping you warm, dry, and protected from the elements. We've already touched on outer layers, so brief advice on the other two is due.
The base layer is tasked with keeping you dry. It wicks moisture away from your body and aggregates it on the fabrics. Leggings and shirts with corresponding qualities are the best choices for this layer.
The mid layer is responsible for insulation and keeping you warm. All sorts of hoodies, sweaters, and sweatpants can fill that niche.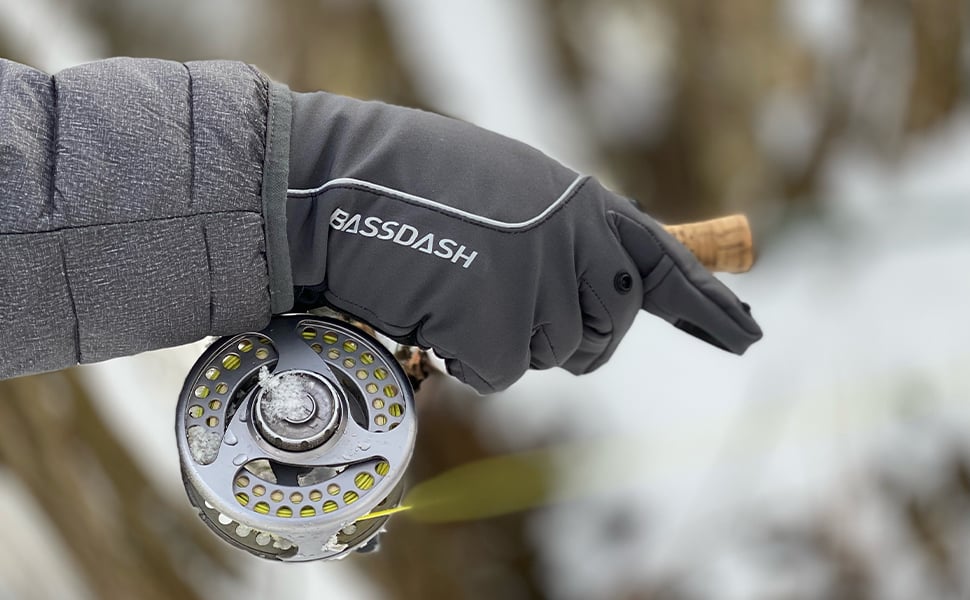 Fishing Accessories
Now that our fishing outfit is almost complete, it's time for final complements. Fishing accessories are those little details that make your fishing experience whole. Different seasons call for different accessories, so you'll probably end up with a modest accessory collection after a year of active fishing.
Fishing Accessory Options
Gloves
Some anglers appreciate the direct contact between hands and rods, while others prefer to eliminate the possibility of callus. Fishing gloves can be divided into two categories. Winter fishing gloves go with ice fishing gear and protect your hand from frostbite. Gloves with silicone grip improve gripping experience and wrist flex.
Sunglasses
Anglers need a clear line of sight when fishing. Sun makes people wince and limits their vision, that's why sunglasses are a reasonable investment.   
Neck Gaiters
When the weather is frosty, every gap is a way in for the cold. Neck gaiters eliminate possible intrusions while keeping your neck warm more effectively than scarves do.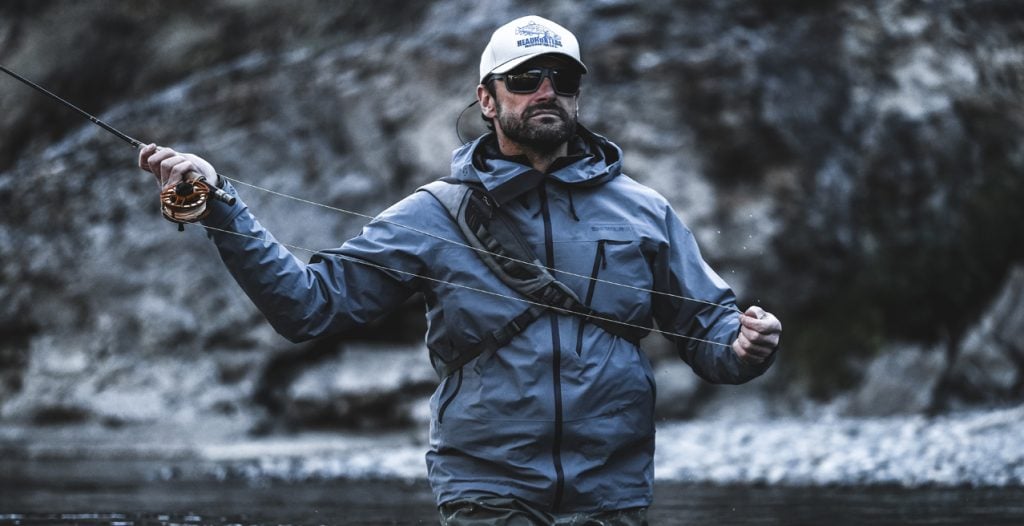 Conclusion
As you can see, fishing apparel is not a big industry scam to pull more money out of people. It is specialized gear that is designed to cater to all the needs of anglers. It makes the fishing process more comfortable and enjoyable, directly affecting your performance. Fishing clothing should be chosen depending on the season: lightweight and breathable garments for warmer days and three-layered insulated fishing outfits for winter. Fishing boots are irreplaceable in their ability to prevent an angler from slipping while keeping your feet protected and dry. You can enrich your fishing wardrobe with garments and boots on Gritr Outdoors.