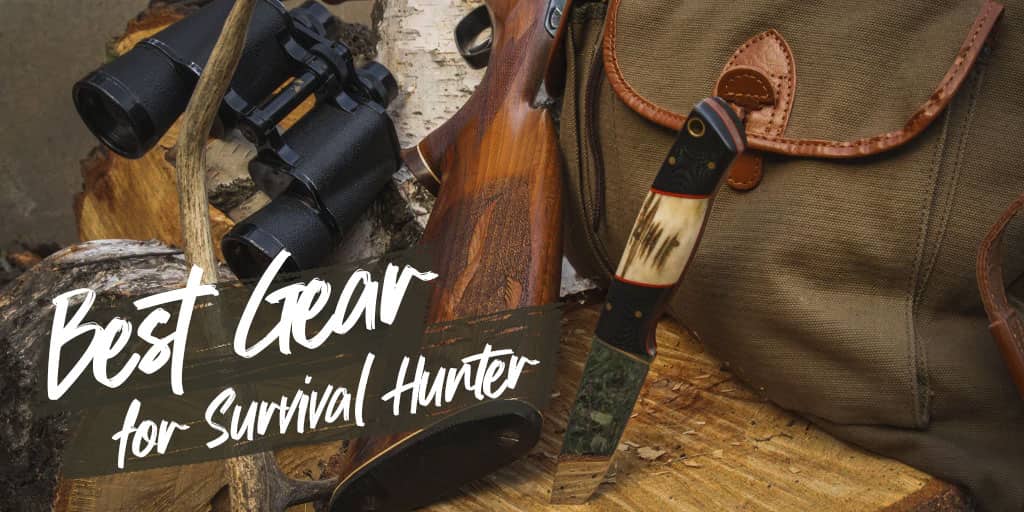 Last Updated on
You'd agree that hunting with a full backpack of the best hunting gear and a rifle on the shoulder is easy as a pie as long as you're stealthy and know the behavior of animals. But imagine yourself in the field without these beautiful pieces of modern hunting equipment. Humans are poor hunters in themselves. However, we have a developed human brain trained for creativeness. We don't have big claws or sharp teeth, but we can build traps and craft weapons with improvised materials.
Nowadays, wilderness survival is growing popular. Thousands of people head out to the forest with minimal gear to test their survival skills for fun or to prepare for an emergency. Since you never know what the conditions will be, learning survival hunting is vital.
We've prepared a list of gear that must be in your hunter's survival kit. We recommend you bring along the mentioned items each time you go into the wild.
Knife For Survival
A pocket knife isn't considered a common EDC for no reason. It's a multi-purpose tool and a self-defense weapon no outdoors enthusiast should leave their home without in the first place. In a situation of wilderness survival, with the help of a knife, you can fashion spears, cut pieces of your clothing, footwear, and backpack, cut wood, skin and gun animals, and build traps.
A spear is the core of your survival hunting system. It's the easiest to bushcraft and can be used to hunt an array of various critters, from squirrels and rabbits to birds and fish. While you can fashion a spear without a knife, this task would take much more of your precious time. Better make carrying a knife a good habit. You can also lash your knife to a stick with a paracord or laces. However, using your knife in such a way, you risk losing or damaging it, so it's safer to keep it for other purposes.
CRKT is a long-established American manufacturer of EDC, pocket, tactical, and hunting knives. The company collaborates with the world's best designers and uses premium materials to deliver top-quality tools that serve long and perform to the highest standards.
This particular CRKT is a folding design, compact and utile, with a blade made from AUS 8 stainless steel. AUS 8 is mid-range steel with a relatively high level of carbon that improves hardness and provides significant edge retention and high chromium content for corrosion resistance. Blades made from AUS 8 are great but won't stay that way for a long time if not sharpened and cleaned.
The M16-03Z also has a lightweight and durable nylon-reinforced handle. The flipper deploys the blade consistently and fast.
Backpack For Survival
An avid hunter can always use a high-quality, feature-rich backpack. When on a regular hunt with a firearm or a compound bow, an ideal pack should provide enough capacity to safely and effectively carry optics, small gear, and clothing. When in an emergency, stuck in the wild without your primary hunting weapon, you would like your backpack to have many various elements that you could turn into improvised survival tools. For example, a zip slider can be fashioned into a fish hook, while straps and hardware can be used for attaching things.
King's Camo is among the best hunting clothing brands, and it also makes top-quality accessories. Its Mountain Top 2200 Backpack is a great system. It's a technical pack with 2200 cubic inches of cargo space, with a dozen thoughtfully organized compartments. The main compartment features a top roll-down enclosure. The front part of the back incorporates a zipper on the bottom that provides a second access to the gear stored in the main compartment. The front also has an additional compartment featuring small pockets for organization.
On the sides, the 2200 pack has elastic pockets with padded flaps intended for shielding your spotting scope or any other fragile gear from damage. The waist belt also has two compartments on its sides.
The bottom of the King's Camo backpack contains two features. The first feature is a scabbard drop-out that allows you to attach your firearm or a bow to the pack and securely hold it in place. The second one is a stowaway canvas pull-out shelf that allows you to carry a deer quarter, a shed, or anthers. The pack also features a drop-out rainfly and a hydration bladder.
Hunting Jacket For Survival
Sometimes, the weather changes unexpectedly, especially in the mountains. Remember the three things you need to stay alive in the wild? These are water, energy, and warmth. You need the energy to find food that will give you more energy. However, your body loses it very quickly when wet and cold. That's why you need protective hunting clothes that will serve as the first barrier between you and the weather.
A good hunting jacket is not one with the most advanced camo patterns but one with protective features that will make you comfortable, dry, and warm. Let's take the Swift from Banded. It's one of the best jackets for hunting we carry for sale at Gritr Outdoors. First of all, it has a soft-shell exterior that doesn't produce noises when you move. The soft material is wind-proof and water-resistant. For additional wind protection, the jacket features a mock collar. The interior is fleece for warmth and comfort.
This Banded comes in the best hunting camo patterns developed by Mossy Oak and Realtree – wetland, bottomland, and timber.
Headlamp For Survival
Since most hunts take place in low-light conditions, you should have some sort of a light source. A flashlight is a common tool for outdoor enthusiasts. However, when still-hunting, your reaction and stealthiness are two things that almost certainly guarantee success, so it's better to keep your hands free from everything but the weapon to stay focused. Here's where headlamps come into play. 
But not just any headlamp. Usually, hunters use those with additional red or green LEDs. Since ungulates are red-green color blind, red or green light is less likely to spook them. Also, human eyes adjust to darkness faster after exposure to red and green lights than the default white one.
The Pro Hunter Maxus from Browning, one of the best hunting clothing and gear brands, is a great headlamp for low-light hunting. The main LED puts out 170 lumens effective at 70 yards and switches from spot to flood. The green and red modes protect your night vision and aid in keeping you stealthy. The Maxus runs 48 hours on low.
Bear Spray
No survival hunting kit can do without bear spray, especially when you are out in the field practicing your survival skills with no real weapon at your disposal. Actually, guns are not as effective against bears as you might think. A bullet put where it belongs kills, but how quickly? Even an experienced hunter armed with a big-caliber weapon and steel nerves has a slim chance of successful repulse of a bear attack. Bear spray is a much more reliable defensive tool in this respect.
The UDAP Safety Orange is a 7.9oz can loaded with a non-lethal super-hot oil-based formula. The pepper fog instantly affects the nose, lung, and eye tissue and stops the charge. The Safety Orange comes with a hip holster for quick access.