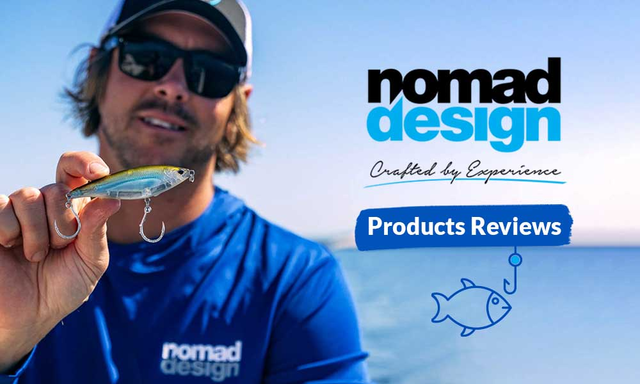 Last Updated on
The fishing gear market is as varied as any other, with hundreds of brands offering millions of goods to seeking customers. The brand community is very similar to a marine one: there are plenty of small fishes trying to make a name for themselves and big fishes basking in recognition and fame. However, in contrast to the fishing world, the worth of the brand is not determined by its size. A small brand dedicated to producing quality lures ranks higher than a bigger company manufacturing mediocre goods. Where does Nomad Design lie in that fishy hierarchy? The products are always the most eloquent indicator of the brand's reliability. We suggest you make up your own mind on whether this brand deserves your trust. Here are reviews on some of their products you can find on Gritr Outdoors.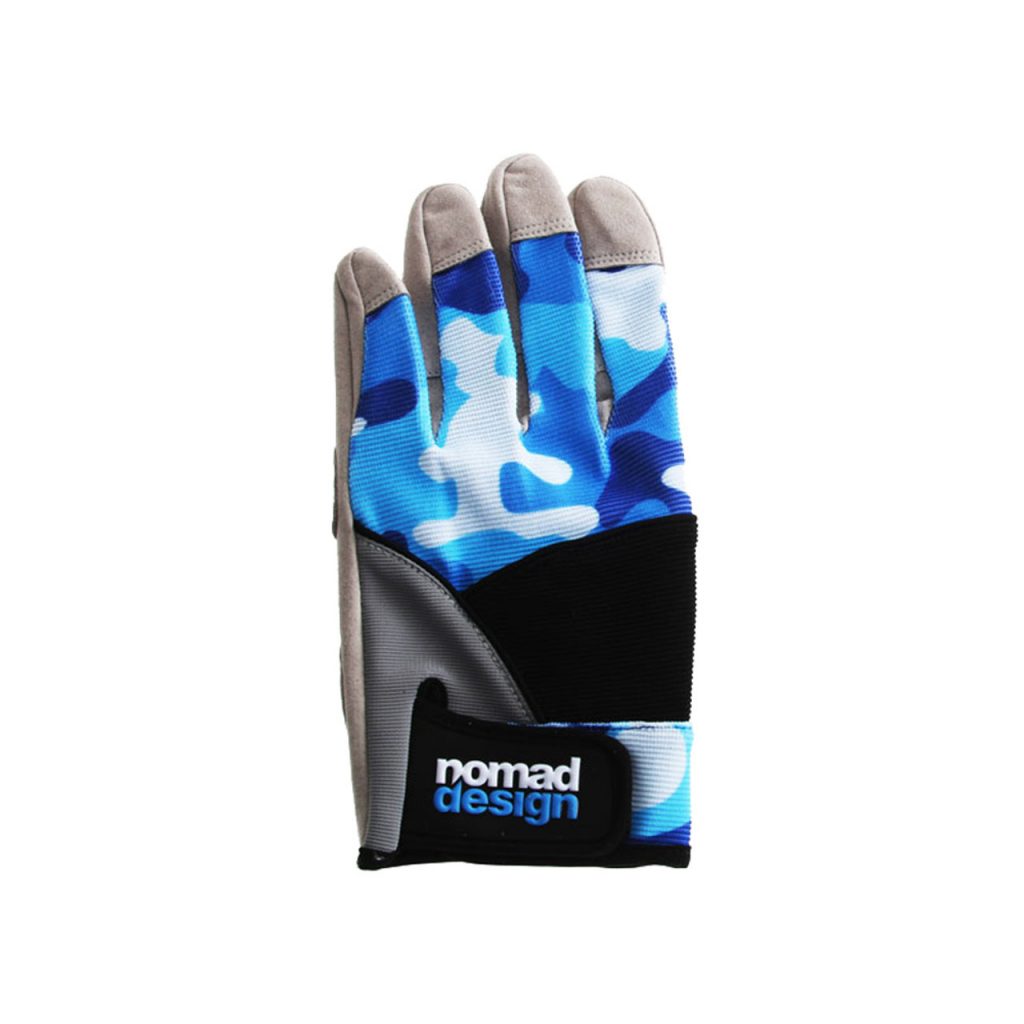 NOMAD DESIGN Casting Gloves
Some anglers consider gloves an excessive accessory one can easily get by without. Most of them have either just gotten into fishing or been pursuing this hobby for too many years to bother. However, everyone who got their hands sunburnt once or twice or was lucky to survive an outrageous braid assault knows how important it is to have a pair of reliable gloves on. Nomad Design casting gloves were designed to meet every angler's every need. Those are full-fingered gloves that protect every inch of your hands from sun attacks, sparing you the discomfort of sunburns (at least on your hands). Sweaty hands are also not a problem, for these gloves feature a breathable mesh back that makes fishing in gloves in hot weather much more tolerable. To recognize the suffering of every finger that has ever been assaulted by a braided line and break this vicious circle, Nomad Design added reinforced leather on the casting finger. The palms feature grip pads for, well, an even more secure grip on that rod or whatever it is you're holding or grabbing on to. Apart from angling dedicated features, these gloves can also boast increased durability reached by super strong double-stitched seams and high-quality leather. If a braid is a regular companion on your fishing trips and you look for something that can handle its capricious character, Nomad Design casting gloves are just what you need.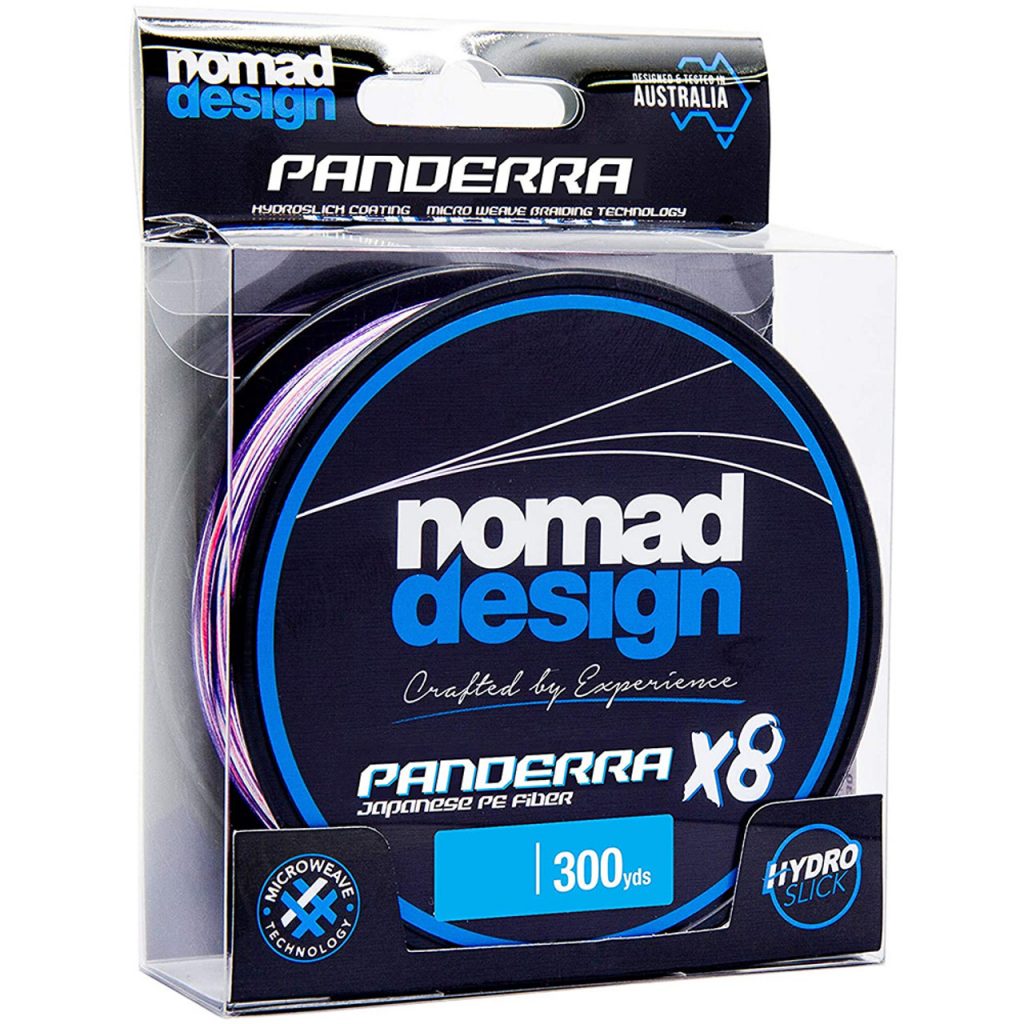 NOMAD DESIGN Panderra 8x Multicolour Fishing Braid
You know how we, article writers, always claim the subjects of our reviews to be the most important elements of a hobbyist's success? Well, we won't do that here, simply because you can't catch a fish with even a single piece of a complete fishing rod configuration missing. Braid is a potential part of that set, if you prefer it over monofilament line, that is. Being dense, thin, and taut are the qualities braids are valued for, and Nomad Design Panderra Multicolor Fishing Braid is a finest representative of the braided fishing lines family. Being more than just another item coming out of an assembly line, this braid is a result of multiyear testing by Nomad Sportfishing Adventures – one of the world's leading Charter Operations. Blue water sportfishing experiences require extraordinary gear, and Nomad spent years designing and testing lures and braids that would be up to the challenge. Panderra fishing braid possesses all the features of an award-winning accessory for casting, jigging, and trolling. This braid is made from the highest quality Japanese PE fiber that allows for both thin diameter of the braid and unparalleled robustness. The specially formulated Hydroslick coating increases the braid's abrasion resistance and casting distance while making it super smooth. Nomad Design Panderra braid boasts the highest tensile strength of all braids with the given diameter. In addition to one-of-a-kind construction, it also offers complementary assistance through multicolor design. The braid color changes every 30ft indicating the depth of the descent. The braid designed by providers of one of the world's best blue water fishing experiences can handle it all, which makes it a very reasonable investment.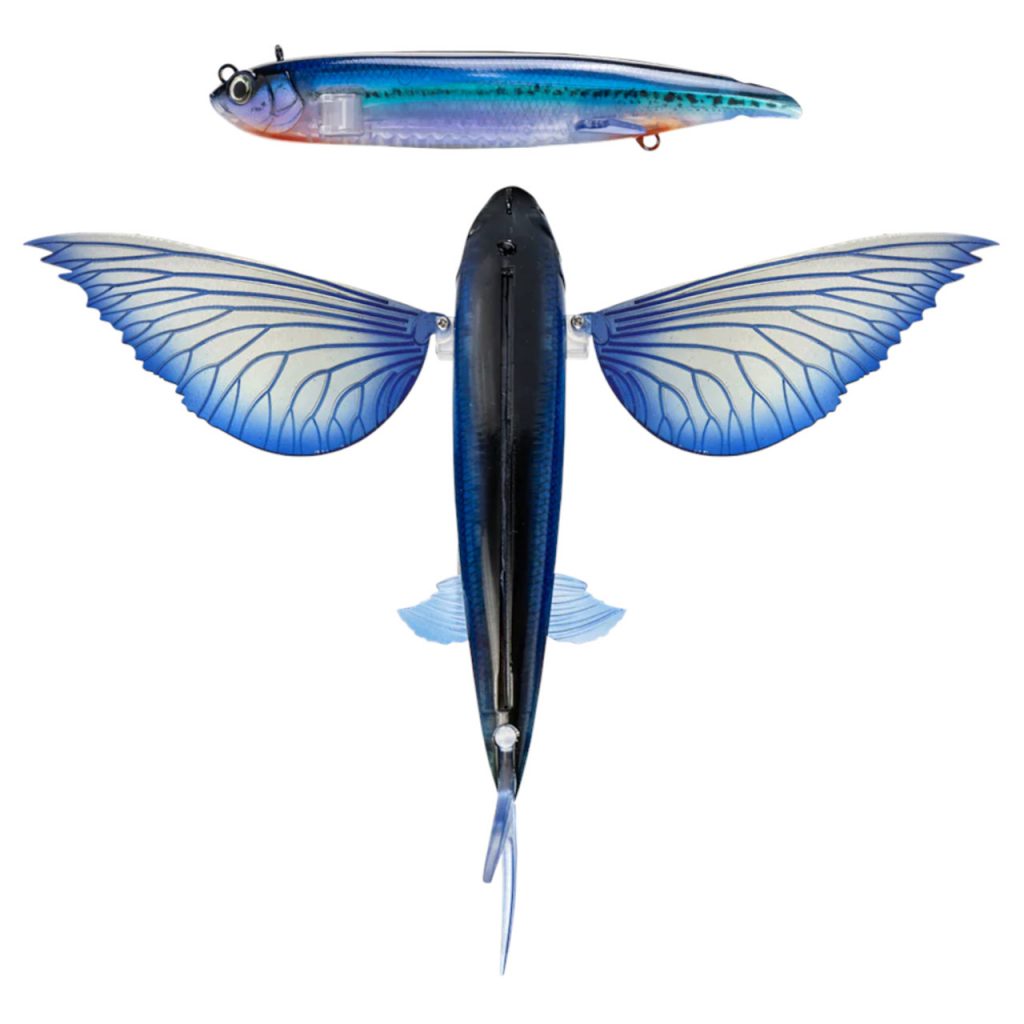 NOMAD DESIGN Slipstream Flying Fish Lure
As you can imagine, braid has not been the sole focus of Nomad Design's engineering efforts. There was a time when the Nomad Fishing Adventure team had to make the most of mass market lures that simply were not fit for the Coral Sea blue water fishing. That is how Nomad Design was born – out of necessity for better lures and fishing lines. The Nomad Design Slipstream Flying Fish Lure is the brand's most recent invention that will surely catch the attention of gullible yet fierce oceanic predators. The lure's resemblance to real flying fish is striking, all thanks to the innovative folding wings design. The wings can fold back when cast extra distance or when fighting blue water predators for reduced drag through the water. This feature reduces the damage to the wings from backward drag or rigorously fighting fish. The wings, tail fin, and side fins can also be changed and replaced should they get damaged, or if you just want to create a unique color combination (and there are plenty of parts to choose from). The lure offers several rigging options, including the possibility to slide the leader through a channel in the middle of the body. Another major advantage of this flying fish lure is the proprietary High-Density ABS. Conventional plastic was insufficiently strong, so Nomad Design went the extra mile to create their own compound that would be worthy of their lures. The High-Density ABS plastic is ultimately stronger than any other plastic used in lure production these days. Thick wall construction only adds to the lure's sturdiness. All things considered, Nomad Design Slipstream Flying Fish Lure is the ultimate choice for catching blue water trophy fish.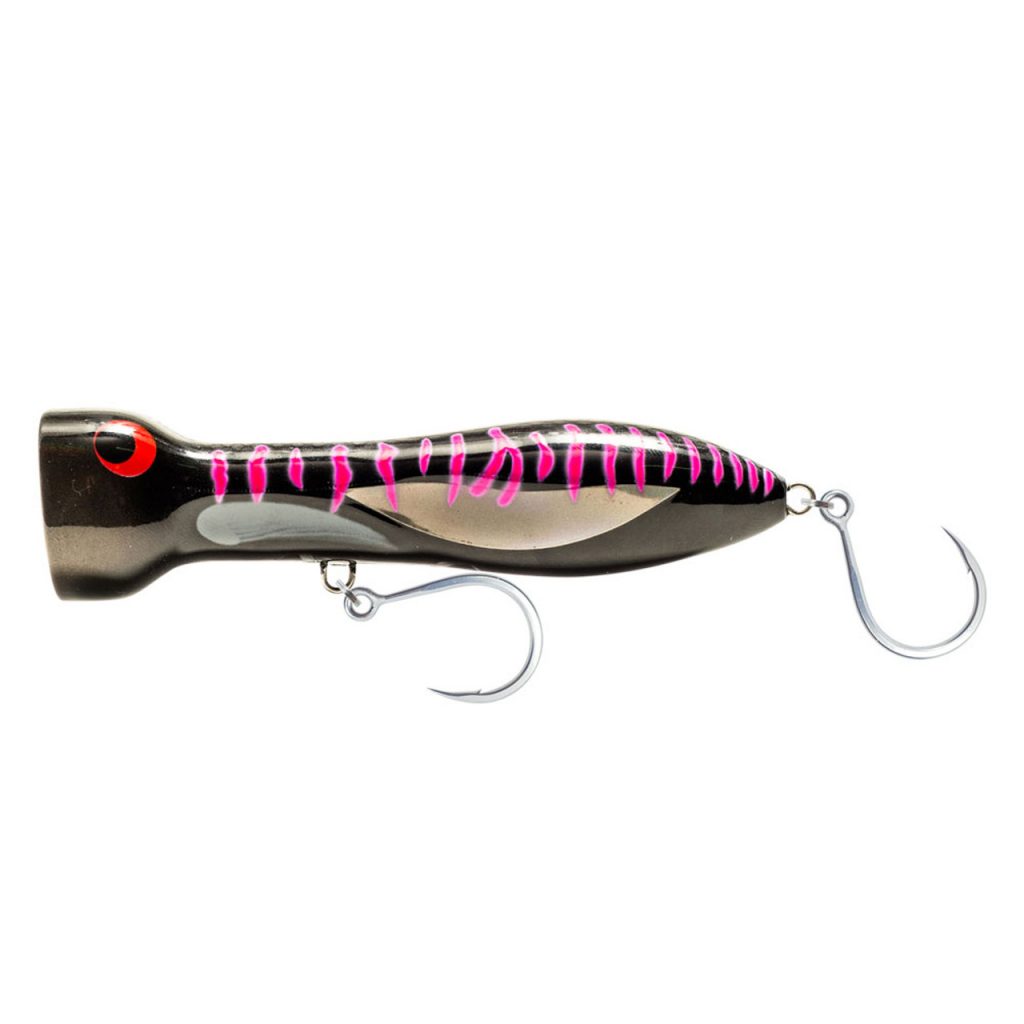 NOMAD DESIGN Chug Norris Popper Lure
You don't need to send your lure drifting in the blue depths to catch something worthy. Plenty of trophy-level fishes can be caught swimming near the surface. Topwater fishing presents a rare and exciting opportunity to watch the fish chase and take the lure. Since this type of angling is on Nomad Fishing Adventure's list of activities, it comes as no surprise that the company developed a line of specialized surface poppers. The Chug Norris Popper Lure lives up to the name of its inspirer, being the undisputed conqueror of the waves and king of both inshore and offshore popping. The lure's shape is a result of years of design experiments aimed at finding the most optimal shape of a popper. The ultra-deep cup face strikes the perfect balance between grip in the water, noise, and bubbles. It shows exemplary performance even in rough water while requiring minimal effort from an angler. The Chug Norris popper boasts an impressive swimming action both in surface and subsurface tests, leaving a bubbly trail that will taunt even the most chill of fish. Whether you've already mastered walk the dog action or still walking that road, Nomad Design Chug Norris Popper Lure will make for a trusty associate in your surface fishing efforts.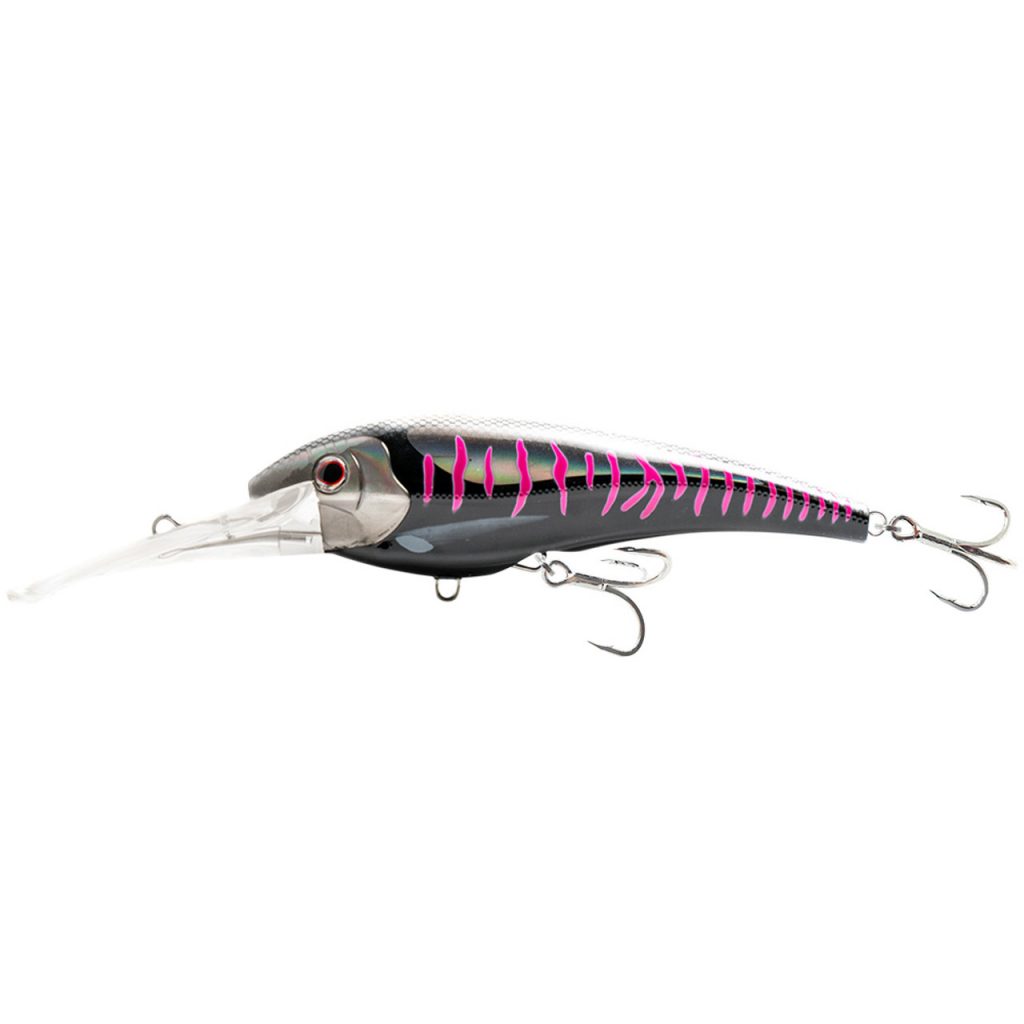 NOMAD DESIGN DTX Minnow Floating Lure
Salmon looks beautiful when roaming the blue depths, salmon looks gorgeous when served on a dinner plate. To catch one worthy of the king's platter, a trolling enthusiast needs no ordinary gear. Luckily for all of us, Nomad Design specializes in unordinary gear, and DTX Minnow Floating Lure is solid proof of that. Having raised the bar in trolling minnow performance, this lure brings its user benefits sought after by all trolling enthusiasts. The brand's Patented Autotune System, developed over years of research, makes sure the lure trolls straight and increases its diving depth and troll speed. The floating model features a wider body and is designed for intense action at slower speeds while showing comparably great results at high speeds. With a rare ability to remain centered regardless of what comes its way, the DTX Minnow Floating Lure is undoubtedly a must for every passionate trolling enthusiast.