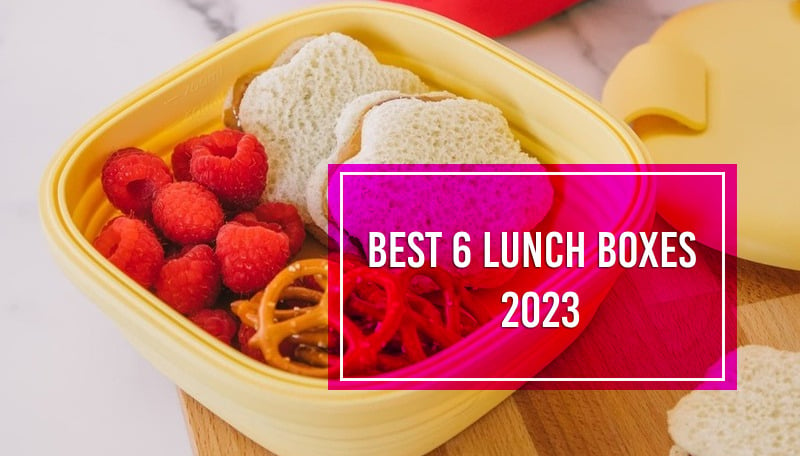 Last Updated on
Having a meal is an important rite we perform each day. More than once, that is, and at least one of those meals is usually had somewhere far from home. While eating out always remains an option, nothing can compare to a home-cooked meal. The best part is that you don't need much to bring a part of home comfort into your lunch. There is a special box that can contain it and carry it through the day until you are ready to consume it. Here's the list of the 6 best lunch boxes that will keep your gems of home cooking fresh and undisturbed.  
Lunch Boxes Reviewed
   Takenaka Bento Bite Dual Lunch Box
   Takenaka Bento Bowl Lunch Box
   Bentgo Salad Container
   Hot Bento Self-Heated Lunch Box
   Stojo Collapsible Lunch Box
   Cafe Kitsuné Lunchbox
   FAQs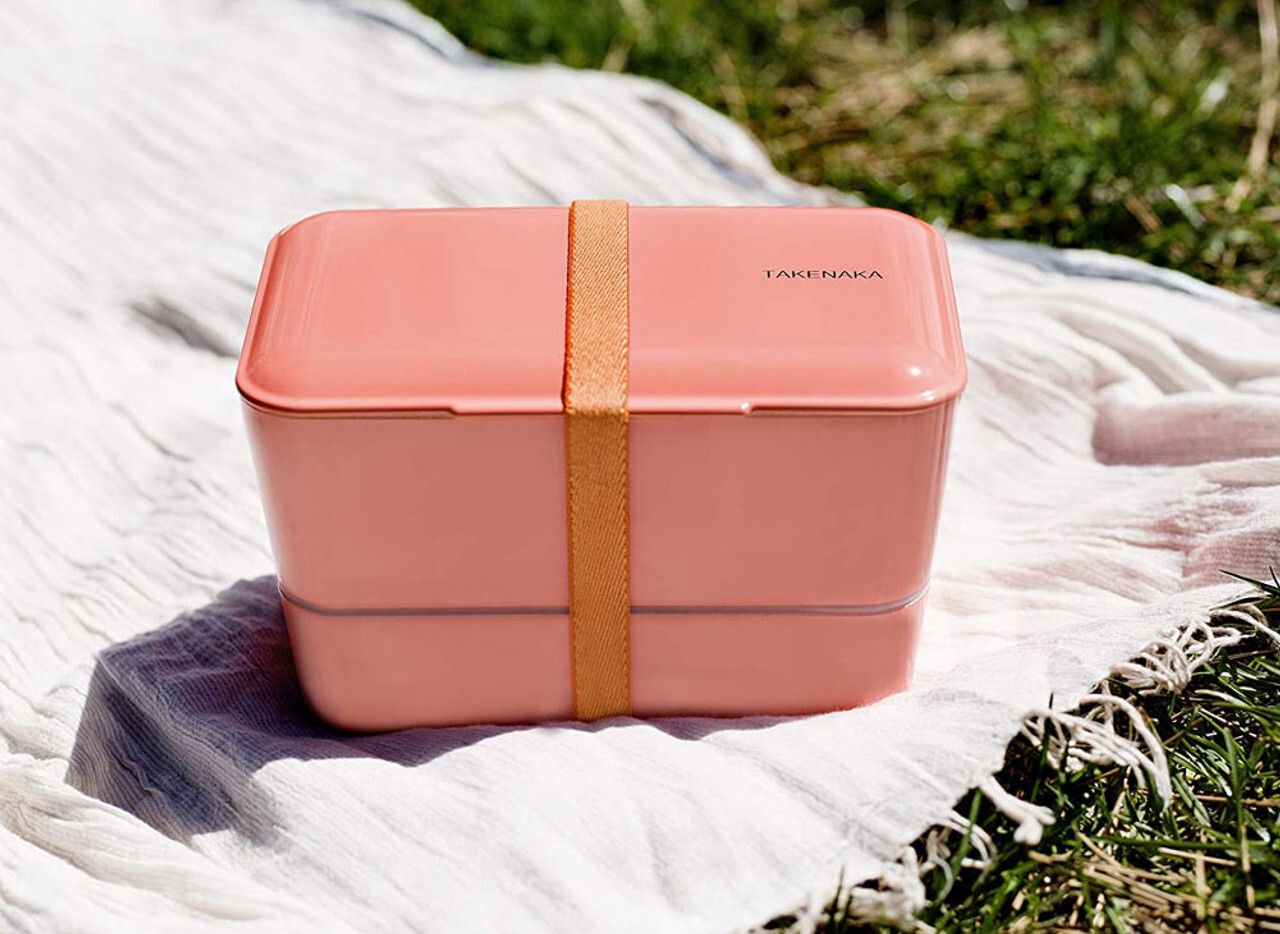 outd
Takenaka Bento Bite Dual Lunch Box
Let's dive right into the nitty-gritty, starting with the capacity. The Takenaka Bento Bite Dual Lunch Box boasts a main container that can easily accommodate a generous portion of pasta or any other delectable meal. On top of that, or rather in the middle of it, it features a convenient fork tray that you can instead use for herbs or grated cheese. Talk about versatility!
A few words about the internal arrangement. One of the two containers features a movable divider to prevent your neighboring dishes from mixing up. While the compartments on the top tray don't entirely prevent saucy foods from sloshing around, they still do a pretty decent job of keeping everything contained. So don't worry about your flavors mingling too much, they'll still be nicely separated.
Packability is always a crucial factor when it comes to lunch boxes, and the Bite Dual offers a spacious yet compact solution. The deeper bowl of this lunch box may seem a tad awkward to fit in your bag or tote, but it turned out better than I'd anticipated. The lunch box's sleek design makes sure you can still carry it with ease. 
What would fit nicely in a lunch box like that? Pretty much anything, really, as long as it's solid food. I've tried pasta with a bit of garnish in the neighboring compartment, and it sits nicely. I've tried sandwiches and fruits, and they sit nicely too. The lower layer is perfect for containing sides that might need a bit more space than the main dishes. Imagine packing​ fluffy ​white rice topped with​ sesame seeds in the bottom compartment,​ teriyaki chicken skewers ​on one side of the top compartment, and a colorful ​array of pickled vegetables on the other side. ​It's like having a mini buffet right in ​your lunch box! 
During my testing, the Bite Dual lunch box proved to be solidly built and remarkably durable. I say that having dropped it quite a few times, so those are not just words. It got no scratches, not that I purposefully tried to scratch it, but nonetheless. Plus, it's dishwasher-safe, meaning you don't need to bother handwashing it unless you want to. It's also microwave-safe, so you can pack foods that might need to be warmed up.
In terms of aesthetics, well, you see it all. Its design is pleasantly simple, without any extras that might overcomplicate it. Besides, it comes in an array of eye-pleasing pastel colors, so there will be a little boost to your mood every time you are about to start eating.
The bundle also includes a fork that might work for you, but I found it insufficiently strong. I'd pack my own cutlery and use the tray for storing additional ingredients instead. In all other respects, Takenaka Bento Bite Dual Lunch Box deserves all the praise it gets.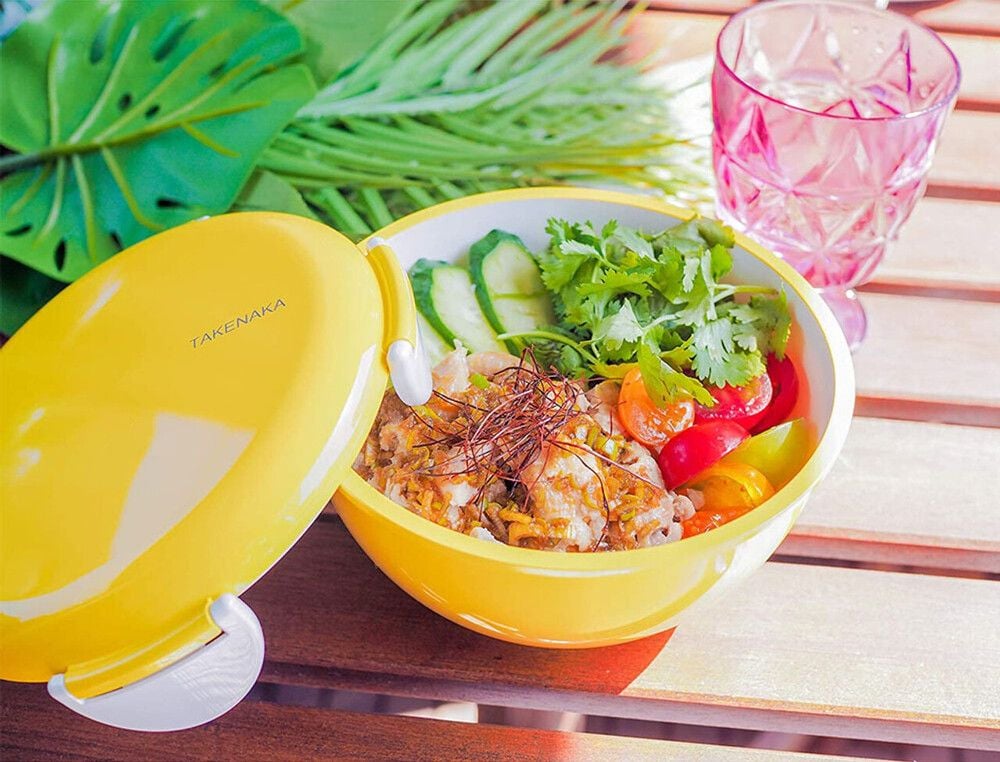 Takenaka Bento Bowl Lemon Zest Lunch Box
Another Takenaka creation is a beautifully designed, practical bowl lunch box that is best suited for large, composed dishes. The vibrant lemon-yellow exterior instantly caught my eye, but it turned out there is much more to that lunch box than its looks.
The capacity of this lunch box is impressive, offering 43 oz of space. That means it can accommodate a substantial meal, making it perfect for those with bigger appetites or for sharing between two people. That is, if you are ready to eat from one bowl because this lunch box features no dividers. That's hardly an advantage, but I don't think it would match the intended design. It's meant to be a bowl, and it's better off as a single vessel.
The compartment is deep, ideal for packing salads and stews. There are no compartments for toppings or dressings, so you might want to either store them separately or pack a ready dish.
One of the standout features of the Takenaka Bento Bowl is its packability. The sturdy locking system ensures a tight seal. The bowl is airtight but not leakproof, unfortunately, so I still don't recommend it for soups or anything else containing too much liquid. It will, however, hold thick gravy and messy foods without any problem.
In general, I'd call it a great addition to Takenaka's popular Dual Lunch Box. The Bowl Lunch Box lacks the versatility and volume of its sibling. At the same time, it might be a better option if you are tight on space and only need to pack one dish.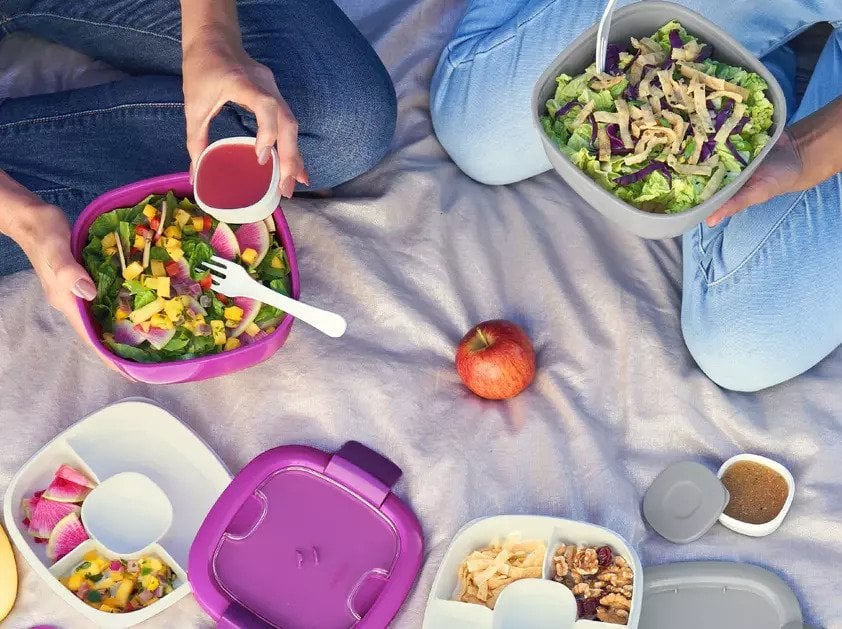 Bentgo Salad Container
Another bowl-like container on our list doesn't lag behind the Takanaka creation. If anything, it lacks some of its disadvantages, which make Bentgo Salad Container superior in certain aspects. It boasts a comparable diversity of color palettes and even features a built-in fork. But let's take things one step at a time. 
First off, the size. The Bentgo Salad Container offers a whopping 54 oz capacity, and that's, like, a lot. You could fit a small garden in there, one plant for sure. It's the most spacious container of this review and well, if you want more food brought with you, it's hard to find a better option.
Now, onto the internal arrangement. Both compartments deserve praise, even if for different reasons. The lower compartment is extremely spacious and constitutes the biggest part of the container in general. You can fit in your main salad, pasta, or as much as four cups of greens there. On top of that, literally, you have a compartment tray that's arguably the hallmark of this lunch box. It features one large 10-ounce and two 5-ounce compartments as well as one 3-ounce compartment for sauces. You can get all the toppings you want, or at least the biggest part of them. Alternatively, fill them to the brim with tasty snacks, the choice is yours to make. Just make sure none of the non-dedicated compartments contain saucy foods, as they are likely to slosh around.
Another great thing about Bentgo Salad Container is that it keeps food fresh, as befits any of the best lunch boxes. The airtight lid design combined with a sealing ring and locking clips ensure your meals won't lose freshness by the time your lunch comes. The reusable fork is built into the lid, so it doesn't occupy any of that food storage space, which is, to be honest, more than enough.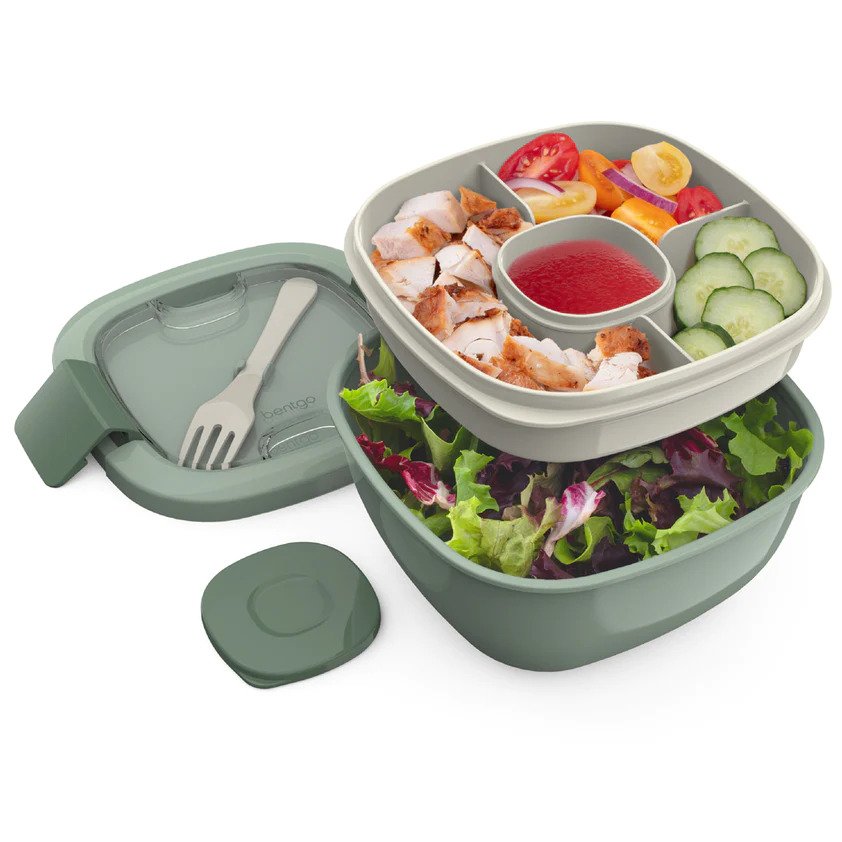 As for the exterior, Bentgo Salad Container looks sleek and modern and comes in a range of colors. It has also passed the crash test with flying colors, its locking tabs unaffected by the impact whatsoever. And don't worry about leaks: the lid latches firmly to the bowl, so nothing will spill out. 
This lunch box can't boast the best packability on the list. Due to its high volume, it will hardly be the most compact one. As these two features are in inverse relation, you can either eat more of your cake or pack it comfortably, but not both. 
The Bentgo Salad Container is microwave, dishwasher, and freezer safe. It's also BPA-free, so you can rest easy knowing your food is stored safely.
In short, Bentgo Salad Container is a somewhat improved version of the Takenaka Bento Bowl Lunch Box. It features a compartment tray, a better airtight lid, and a grip to hold your fork. On the other hand, some people may find the bowl too big and uncomfortable to pack, especially if your bag necessities are already fighting for space.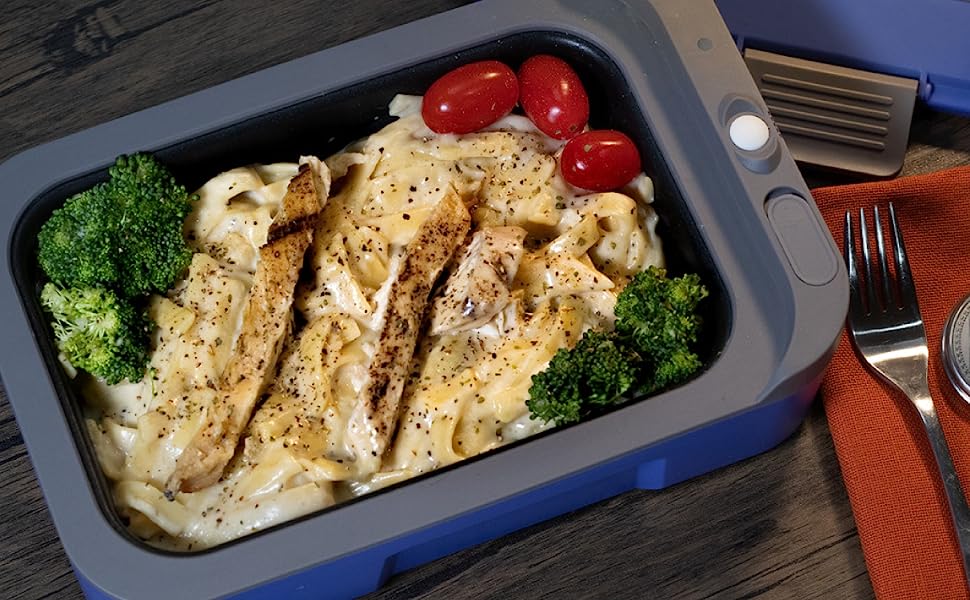 Hot Bento Self-Heated Lunch Box
Many of the lunch boxes covered in this review are marked as microwave-safe. But what if your lunch box were a microwave in and on itself? That fantasy has already come true, with the Hot Bento Self-Heated Lunch Box being its incarnate.
This little culinary marvel boasts a stainless-steel food tray coated with a non-stick surface, making both your cleaning chores and heating your food a breeze. A word of warning: this lunch box is NOT DISHWASHER-SAFE. It's electric, so doesn't fare too well when fully submerged in water. Don't submerge it.
The tray is embedded right into the device, so it's not going anywhere. Plus, it comes with the Primus Cutlery Set, featuring a 7″ stainless steel knife, fork, and spoon snuggly tucked into a compact leather sleeve.
Now, let's chat about capacity. It's got enough room for a small sandwich and a few sides. A toasty grilled cheese with a side of fruit or chips would fit just right. But don't just limit yourself to sandwiches. You can load up the bottom with hearty pasta and top it off with some crunchy veggies. Remember, dense items at the bottom, light ones at the top!
The Hot Bento Self-Heated Lunch Box is not just easy on the stomach, it's easy on the eyes too. Its sleek design offers excellent portability, making it perfect for those always on the go. A little soap and running water, and you're good to go.
Obviously, the primary benefit of this lunch box is its self-healing capabilities. The magic starts happening when you double-press that power button. In just 10 to 15 minutes, your food reaches the perfect temperature. Stir or rearrange your food after 5-10 minutes for even heating. And if you release the latches during the heating process, you'll increase the heating efficiency.
The lunch box also has a smart heat modulation system to manage liquid and solid food heating. But remember, caution is key when heating small amounts of sauce or liquid. You'd want to avoid any pressure imbalances.
And if you're wondering about battery life, the Hot Bento Self-Heated Lunch Box has everything figured out. The Hot Bento Self-Heated Lunch Box automatically shuts off when the food tray temperature hits 125°C/257°F and restarts after cooling slightly to save battery life. However, like all things, the battery may need replacement eventually.
Now, every product has its quirks, and the Hot Bento is no different. Don't forget to double-tap the power button to start the heating cycle, as a single press won't do the trick. Also, preclude any water leakage as it will cause the circuit board assembly to short out, rendering your device inoperable.
Long story short, the Hot Bento Self-Heated Lunch Box is a game-changer for those who crave hot meals on the go. It's a smart, stylish, and efficient way to enjoy your lunch. And with a 1-year warranty against defects in material and workmanship, there is no reason for you not to give it a try.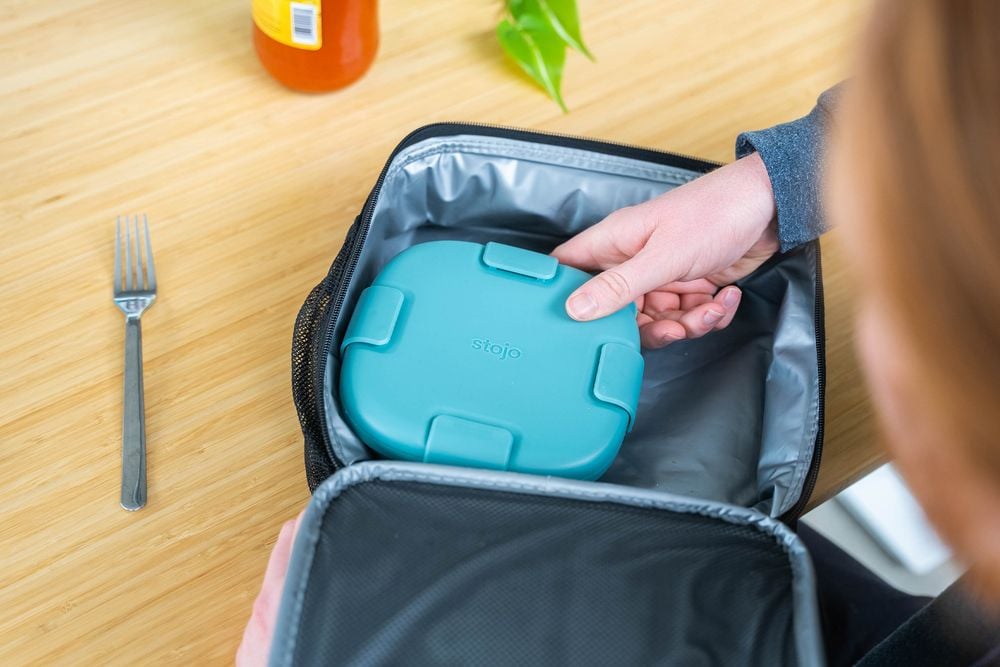 Stojo Collapsible Lunch Box
If Hot Bento solves the problem of cold food, then Stojo Lunch Box addresses the issue of bulky lunch boxes. Not right away, but eventually. This fantastic piece of culinary kit is made of food-safe, BPA-free silicone, and BPS-free polypropylene. And guess what? It collapses down to just 1.2 inches tall!
You can carry your homemade chicken pasta salad for lunch, then collapse the box down and toss it in your bag without any hassle. And if you're traveling, this baby can easily store those hotel breakfast items you want to snack on later.
The Stojo Collapsible Lunch Box is also as sturdy as they come. The top snaps onto the bottom with four clasps, ensuring your food stays put. And the wide bottom of the bowl? No more worrying about your lunch tipping over! But just to be on the safe side, I recommend not putting any saucy or liquidy foods in there, lest the box contents should seep through.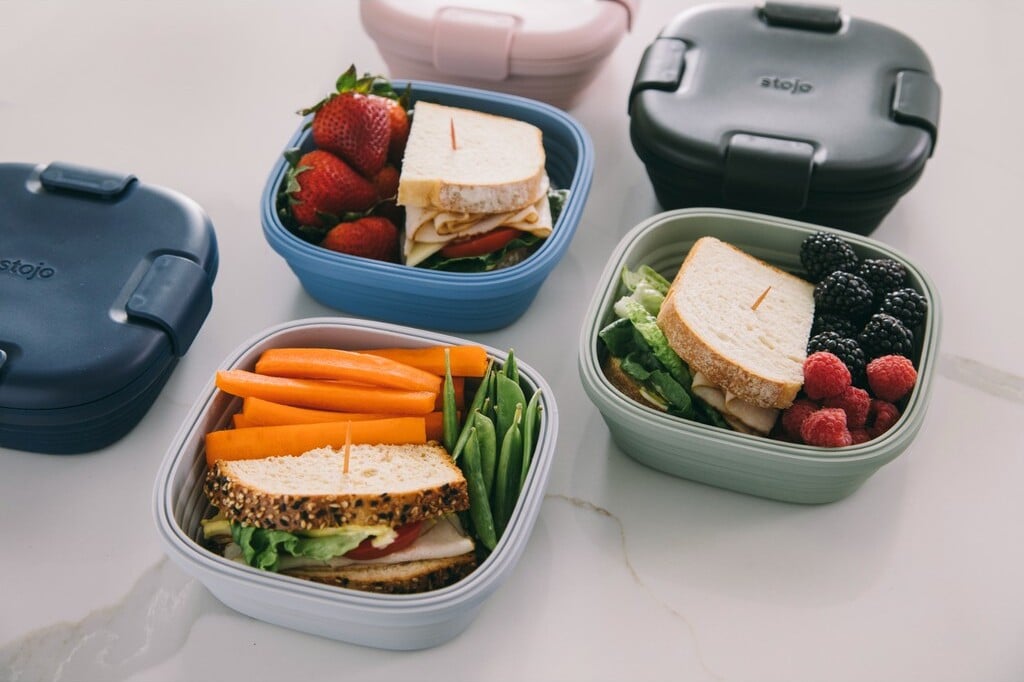 Don't let the box's minimalistic design fool you. This lunch box has got it where it counts. There are measurements on the interior sides for portion control, and the Stojo logo imprinted on the top is subtle yet stylish.
The box is microwave, freezer and dishwasher-safe, the golden trio of every best lunch box for adults (with one exception). Plus, it has LFGB food-grade certification, which is even harder to obtain than the US FDA certification.
In conclusion, the Stojo Collapsible Lunch Box is a must-have for anyone who values convenience, versatility, and style in their meal prep. Its collapsible design, safety certifications, and sturdy construction make it an outstanding choice.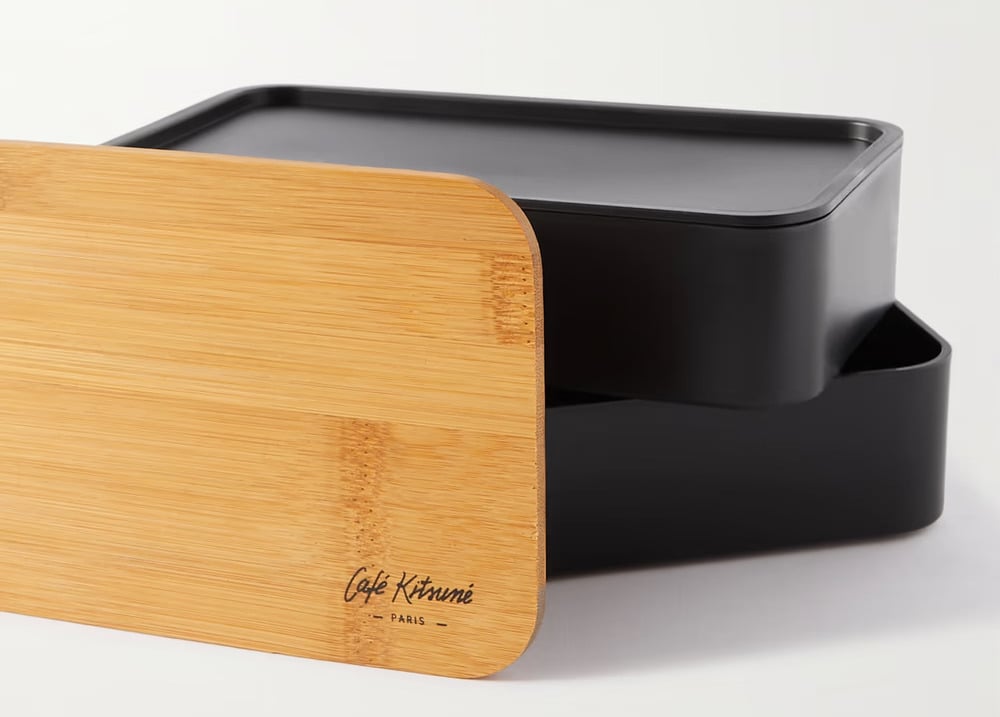 Cafe Kitsuné Lunch Box
Now, we've seen many beautiful lunch boxes so far, but this one is my personal favorite in terms of looks. This isn't just any lunch box. It's a bamboo-blend beauty that screams sophistication while promising practicality. The sleek black box, adorned with the lid of bamboo, embellished with the words "Café Kitsuné". That's not just a food container, I'll tell you that.
But let's move past its good looks and dive into the nitty-gritty. This baby comes equipped with two black compartments with lids, giving you ample space to pack your favorite meals. Imagine one ​compartment filled with a​ hearty portion of ​grilled chicken and ​quinoa and the other brimming with a ​colorful medley of fresh veggies. ​Some might say this lunch box is meant only for sushi rolls paired with a side of edamame.​ It certainly looks the part, but ​there are many other tasty things​ you can put in there.
The Cafe Kitsuné Lunchbox​ is also a master of packability. Its​ dimensions – 18.7 x 10.7 x 9.5cm – make it ​compact enough to fit ​snugly into your bag, yet ​roomy enough​ to hold a lunch. ​And with a handy nylon​ elastic band keeping everything together, you​ won't have ​to worry about any lunchtime mishaps.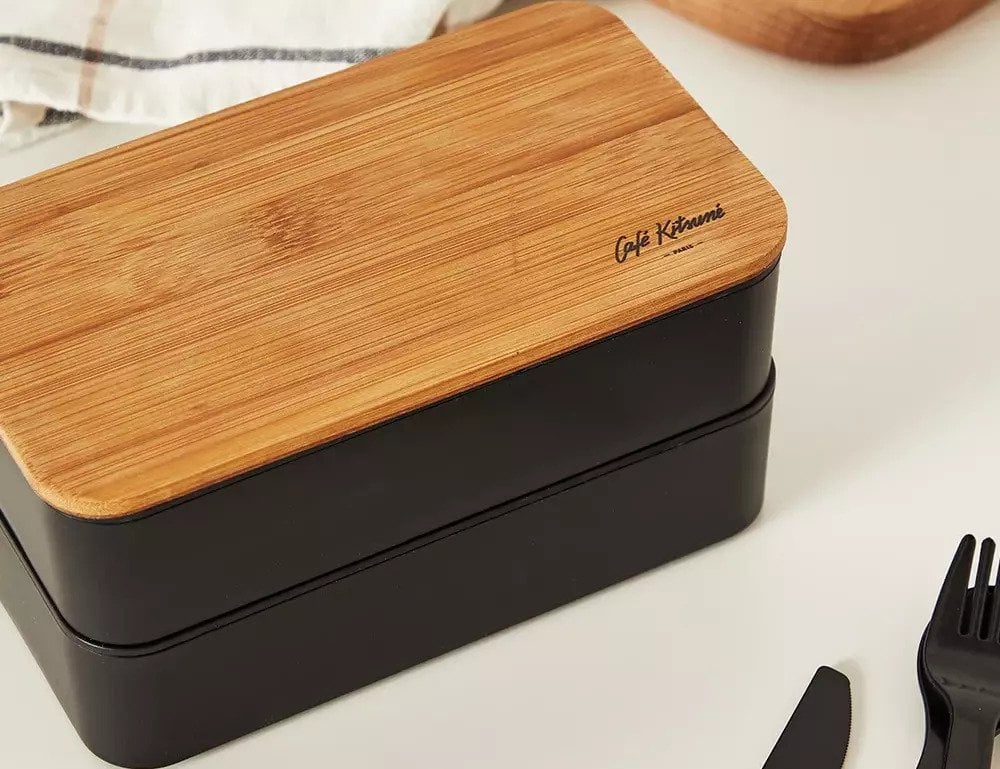 The Cafe Kitsuné ​Lunchbox is perfectly safe for reheating your​ meals in the microwave, ​as well as for having it dishwashed​ and frozen in a freezer. It also​ comes with a spoon, knife, and fork, making it perfect for those who ​prefer to dine in style.
There's only ​one caveat – this​ lunchbox is made in China,​ which might be​ a concern ​for some people. But rest ​assured, the quality ​is quite commendable.​
In conclusion, ​the Cafe Kitsuné Lunchbox ​is a stylish and ​practical ​solution for ​anyone ​who wants to ​enjoy a homemade​ meal on the go. It's ​sleek and roomy ​and comes with all ​the utensils you need.​
Speaking of home-made food, if you are looking for a way to bring diversity into your kitchen, check out our guide to Top 5 Non-Conventional Kitchen Accessories For Your Home.
Conclusion 
Finding​ the best lunchbox ​for adults depends on a ​variety of factors. While it's ​hard to write off the looks as​ one of the factors, there are more important aspects​ you should pay​ attention to. Whether you're​ aiming for hot meals on the go​, maximum compactness, ​or a stylish way to carry​ your lunch, there's a​​ lunch box out there that suits your​ requirements. The Hot​ Bento Self-Heated Lunch Box, ​Stojo Collapsible Lunch​ Box, and Cafe Kitsuné Lunchbox​ all bring something unique to the table. ​And of course, there is​ the Takenaka Lunch Box family ​with their unparalleled sleek design. ​Ultimately, the ​decision lies in ​identifying what ​features matter the most to you. There are many ​other noteworthy lunch boxes,​ but should you choose any from this list, you'll ​most likely stay satisfied with your ​decision.
FAQs
Are these​ lunch boxes ​BPA-free?
Yes, all the lunch ​boxes we recommend are BPA-free​ to ensure your food​ stays safe and ​free from harmful​ chemicals.
How do I clean ​and maintain these​ lunch boxes?
Each​ lunch box has its specific cleaning​ instructions, typically provided ​by the manufacturer. Most are​ either dishwasher-safe ​or can be​ easily cleaned with ​mild soap and warm ​water. We've mentioned​ the cleaning and maintenance ​details for each product​ in our article.
Are these ​lunch boxes​ leak-proof?
Most of the lunch boxes ​we recommend are not ​completely leak-proof,​ except for one. However, it's always a ​good idea to double-check​ the product description and​ customer reviews to​ ensure the lunch box​ meets your specific​ needs.
Do these lunch​ boxes come with​ compartments or separators?
Many of the lunch boxes​ we recommend come with​ compartments or​ separators. However,​ the number and size of​ these compartments vary. We've detailed​ this information for each ​product in our list.