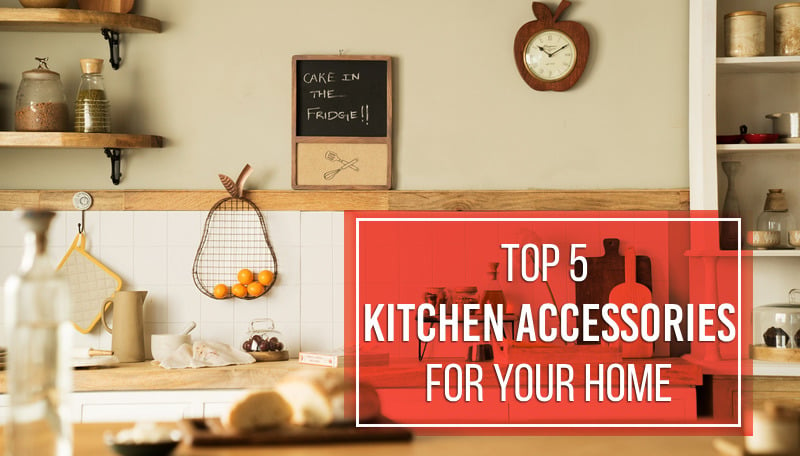 Last Updated on
The kitchen has always been the central space in a home. Since the time humanity harnessed fire, people have been gathering around campfires (that evolved into stoves) to share a meal enjoying the security of home. There is a list of must-have pieces of equipment and accessories every kitchen should boast. At the same time, there are many little niceties one can easily do without but which nonetheless make life more comfortable, even if slightly. Here's our list of 5 kitchen accessories that will open new ways of approaching food.
Kitchen Accessories List
Knife Sharpener
Fondue Set
Fruit Peeler
Coastal Kitchen Tool Set
Heated Lunch Box
Conclusion
FAQs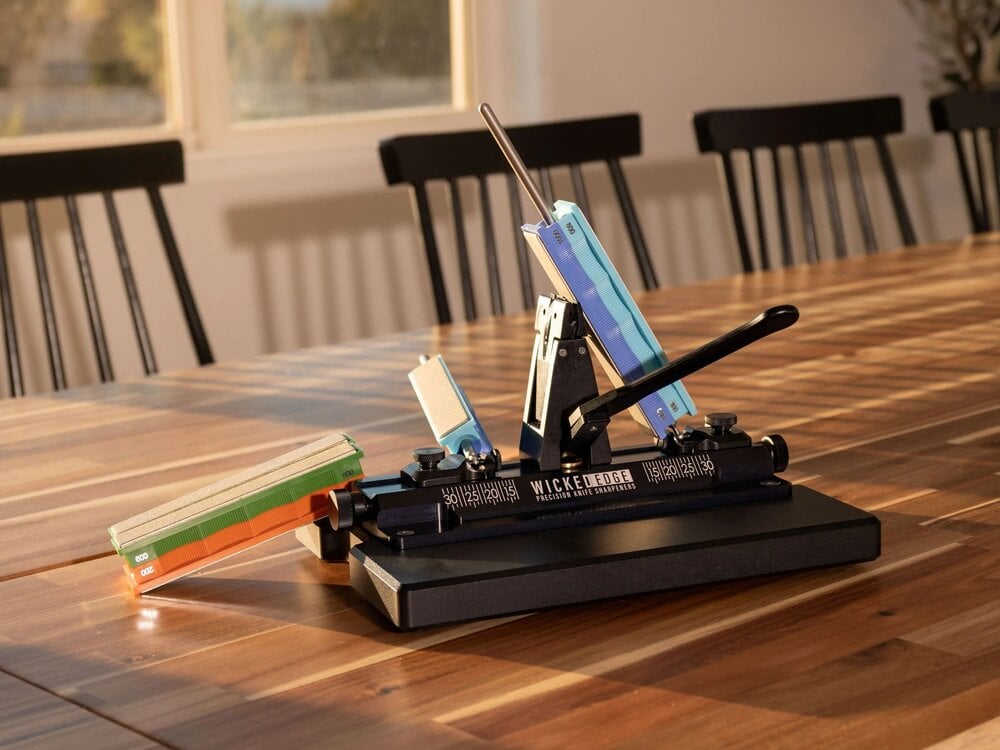 Knife Sharpener
A knife sharpener crowns our list of kitchen accessories, for it is as crucial as that trusty cutting board or your favorite spatula. Why? For starters, trying to cut anything with a dull knife is torture. Instead of vegetable slices, you get nothing, but mash and bread suddenly acquires the resistance of adamantium – you know the story. In addition to that, not only is a dull knife frustrating but also dangerous. With a blunt blade, you're more likely to slip and cut yourself, and knives are known to become uncharacteristically sharp for that moment of injury inflicting. Plus, let's be honest, nobody wants to serve a beautifully cooked meal with mangled ingredients.
Who can become that knight vigilante for your knives? Wicked Edge Sharpener, a game-changer in the world of knife maintenance. This nifty tool stands out from the crowd, thanks to its innovative design and top-notch performance. What makes the Wicked Edge Sharpener so special? Quite a few things
Well, for starters, it's got a rock-solid vise designed with aerospace technology that securely clamps all types of blades. Speaking of perfection, the Wicked Edge Sharpener offers repeatable sharpening with recordable depth, angle, and position settings. 
If you don't want to get into the specifics of choosing the right grid, there is a middle-ground option. The Wicked Edge Precision Sharpener WE120, ladies and gentlemen. This versatile gadget is perfect for those with a wide range of blades in their collection. It boasts the widest range of angles offered by Wicked Edge, allowing you to match factory angles, reprofile to your desired angle, or even go asymmetrical.
The WE120 comes with 100/200 and 400/600 grit diamond stones, ensuring that your knives stay razor-sharp for up to 600 sharpening sessions. And the best part? The patented, dual-sided design means you can sharpen both sides of your blade simultaneously, preventing any weakening or damage. Don't leave your knife hanging dull – a sharpener is an easy and effective solution.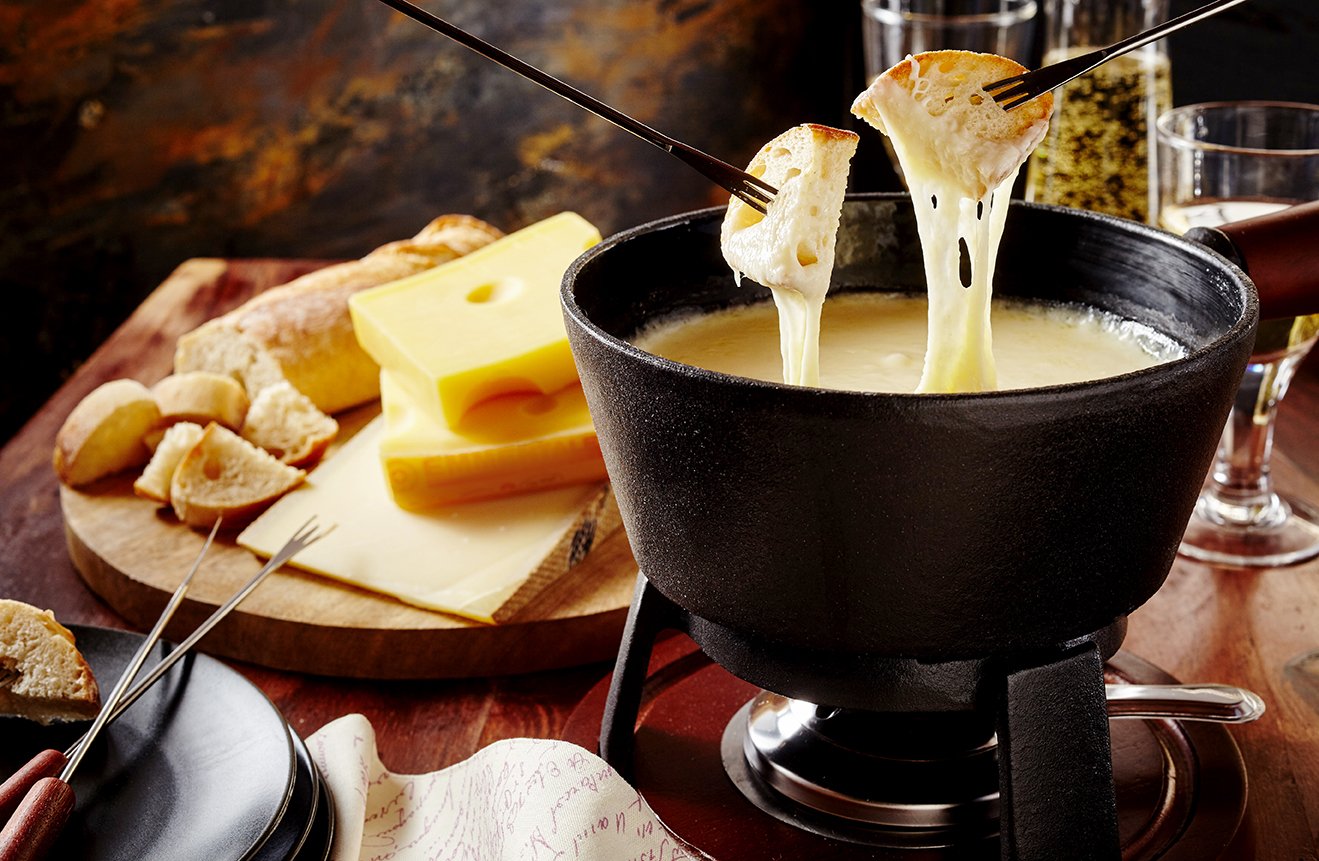 Fondue Set 
Looking for a way to add a touch of elegance and fun to your evening gathering? If there is a better way to achieve this than with a fondue set, we are not aware of it. Not only does a fondue set diversify the look of your kitchen, but it also expands your repertoire of entertaining activities. It brings an interactive, delicious experience that will leave your guests craving more.
A fondue set will fit nicely into any family of kitchen accessories. It can be used for a romantic date night, a family get-together, or screw people, use it for your own indulgence. With options for cheese, chocolate, and even meat fondues, the possibilities are plentiful.
Let's take a look at a tangible example. Swissmar Gruyere 9 Pc Ceramic Fondue Set. is an authentic Swiss fondue set that brings a touch of tradition and sophistication to your table. Crafted with quality and style in mind, the fondue set cannot but stand out among its competitors. The Gruyere set features a stunning ceramic pot with a 2.65 L / 2.8 QT capacity, ensuring there's enough space for all your favorite dipping treats. The pot is safe for use on cooktops, in the oven, in the microwave, and with traditional fondue-fueled burners.
The set also includes a traditional wrought iron rechaud, adding a touch of rustic grace to your dining table. Six heat-resistant, 11″ / 27 cm stainless steel 3-tine fondue forks are provided, perfect for friends and family to join in on the delicacies treat. You'll also find an 8-hole fondue burner designed to distribute heat evenly, ensuring your fondue remains smooth and at the perfect temperature.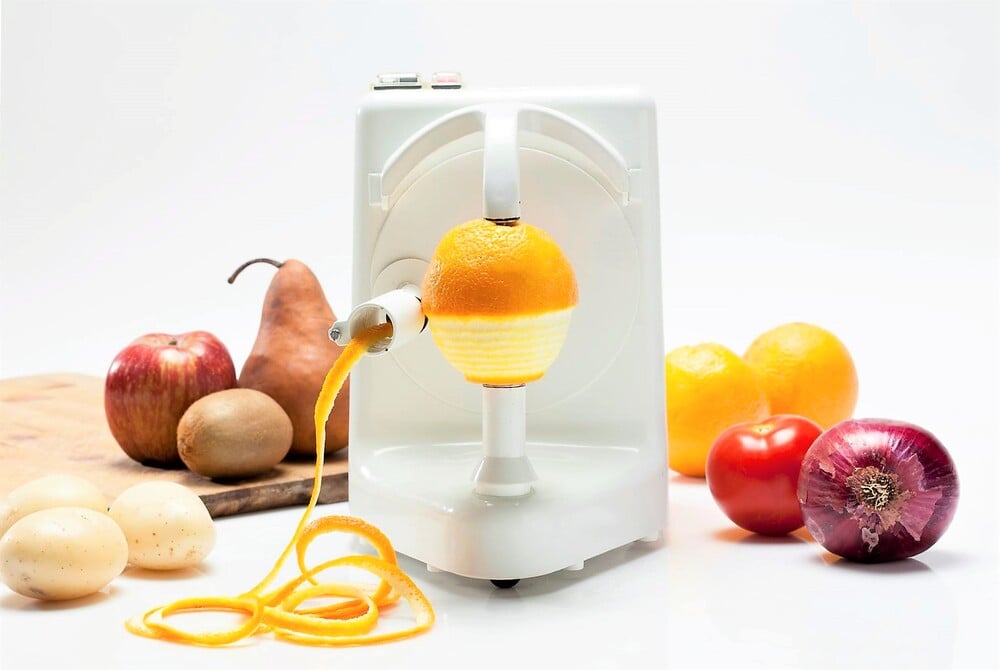 Fruit Peeler
The number of people who would call fruit peeling an enjoyable activity. It's time-consuming, messy, and let's face it – a bit of a bore. But what if we told you there's a kitchen accessory that can save you from this laborious task? Meet the fruit peeler, a must-have gadget that can drastically reduce the time and effort spent on peeling fruits.
A fruit peeler is a useful tool for any home cook that will turn the tedious chore of peeling into a quick and efficient process. Say goodbye to uneven peels, wasted fruit, and sticky fingers. With a fruit peeler in your arsenal, you'll be enjoying your fresh produce effortlessly and in no time.
One fantastic option to consider is the Pelamatic Orange Peel Pro. This innovative device is designed to make peeling a breeze, handling a wide range of fruits and vegetables. You can peel oranges, apples, persimmons, plums, peaches, pears, lemons and even potatoes and tomatoes. The device is incredibly easy to use. With just the push of a button, the peeler gets to work, gently and efficiently removing the skin from your fruit or vegetable. The peeler accommodates various sizes and shapes, ensuring a perfect peel regardless of the fruit size.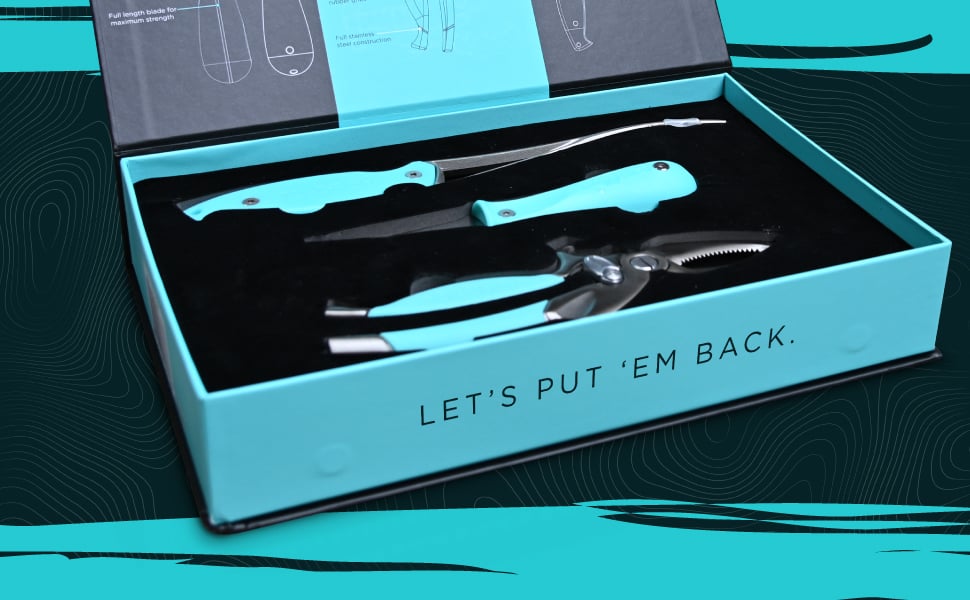 Coastal Kitchen Tool Set
Seafood is considered to be a delicacy, especially by people whom Fate placed far from the coast. However, our regular cutlery isn't always suitable for working with coastal food. But as always, somebody has already solved this problem by creating dedicated tools. These handy kitchen accessories can significantly improve your experience of preparing seafood, making your next coastal meal preparation a pleasant breeze.
Seafood tools are specifically designed to tackle the unique challenges that come with preparing seafood dishes. From cracking crab shells to deveining shrimp and opening oysters, these specialized gadgets will save you time, effort, and frustration, allowing you to focus on the joy of cooking and savoring your sumptuous seafood creations afterward.
One exceptional option to consider is the Toadfish Coastal Kitchen Collection. This set combines the most innovative seafood tools on the market into one convenient package, making coastal food preparation easier, safer, and more enjoyable. Toadfish has designed this kitchen accessories collection to promote the coastal lifestyle and sustainability that comes hand in hand with enjoying and appreciating nature.
The Toadfish Coastal Kitchen Collection includes:
Put 'Em Back Oyster Knife: This ergonomically designed oyster knife features a bent tip and a handle made from recycled plastic bottles, making it easy to open oysters while staying a friend of the environment.
Frogmore Shrimp Cleaner: A first-of-its-kind tool that peels, deveins, and butterflies shrimp in one smooth motion, ensuring perfectly prepared shrimp every time. 
Toadfish Crab Cutter: This innovative tool flawlessly cuts crab shells instead of smashing them, resulting in less mess and stunning presentations.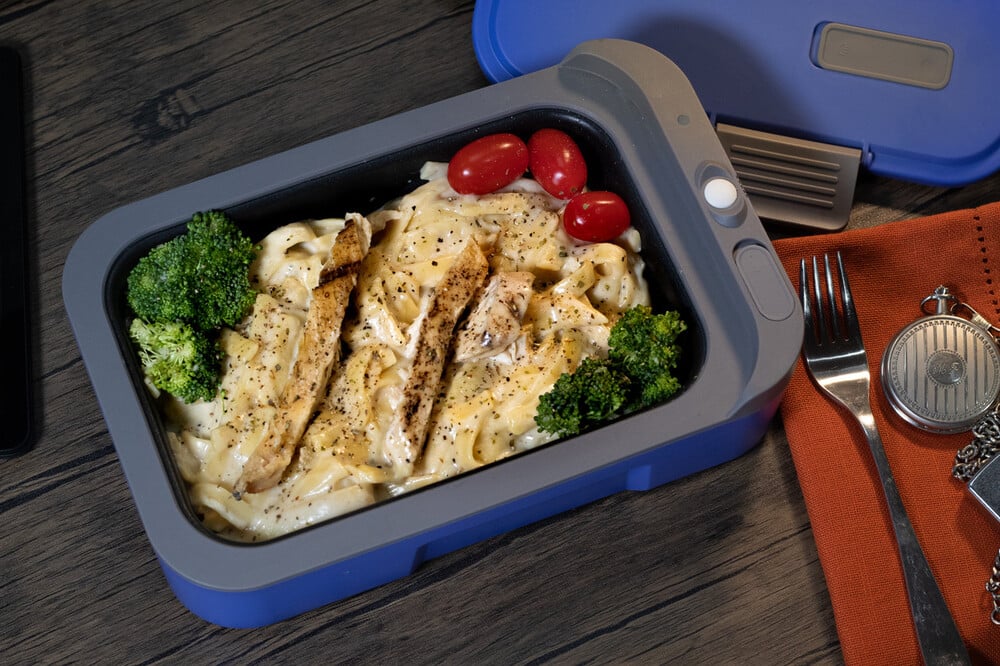 Heated Lunch Box
Even though the nutritional value remains the same, hot and warm food is generally believed to be tastier (given the dish isn't meant to be eaten cold). Unfortunately, our lunch boxes don't retain heat too well, and a microwave isn't always around. But what if there was a way to enjoy a hot, delicious meal without depending on anything but the box? Wait, there is already one. The self-heated lunch box is a game-changing kitchen accessory that transforms the experience of having lunches on the go.
A self-heated lunch box is a convenient and practical solution for busy individuals who want to enjoy warm meals away from home. Whether you're at the office, traveling, or enjoying outdoor activities, this innovative container ensures that your lunch stays heated and ready to eat whenever you are. Make lukewarm meals a thing of the past and say hello to warm lunches.
One excellent option to consider is the HOT BENTO Self-Heated Lunch Box. This state-of-the-art lunch box is designed for those who lead busy lifestyles. The self-heated lunch box is incredibly user-friendly. Simply double-press the power button – and within 10-15 minutes, your meal will be heated to a perfect temperature of 145-165°F. The built-in stainless steel food tray is coated with a non-stick surface, making it efficient in heating food and easy to clean.
Additionally, the HOT BENTO set includes a Primus Cutlery set, made of 18/8 stainless steel, featuring a knife, fork, and spoon. The accompanying leather sleeve keeps the cutlery compact and organized, ensuring you have everything you need for a satisfying meal experience. Should you be interested in other worthy lunch boxes, check out our 6 Best Lunch Boxes of 2023 guide. 
Conclusion
As you can see, there are plenty of kitchen accessories that can bring diversity into your home's scenery or optimize various aspects of preparing and consuming food. They affect a variety of spaces: some are meant to remain in the kitchen, while others stay there until needed elsewhere. While calling them must-haves would be an overstatement, they can significantly improve your experience with food in a great number of ways.
FAQs
Are diamond sharpeners superior to stone ones?
Diamond sharpeners and stone sharpeners each have their own advantages. Diamond sharpeners offer faster sharpening, durability, low maintenance, and work well with hard steel. Stone sharpeners provide a variety of grits and materials, a traditional feel, and are generally more cost-effective. The choice between the two depends on personal preferences, sharpening needs, and budget.
What do you use to heat a fondue set?
To heat a fondue set, you typically use a heat source like an alcohol burner, gel fuel, or small butane burner placed under the fondue pot to maintain a consistent temperature for the melted ingredients. Many of the sets come with dedicated fondue burners.
What tool do you use to eat crab?
To eat crab, you typically use a crab cracker or cutter to break open the shells and a crab pick or small fork to extract the meat from the shell.